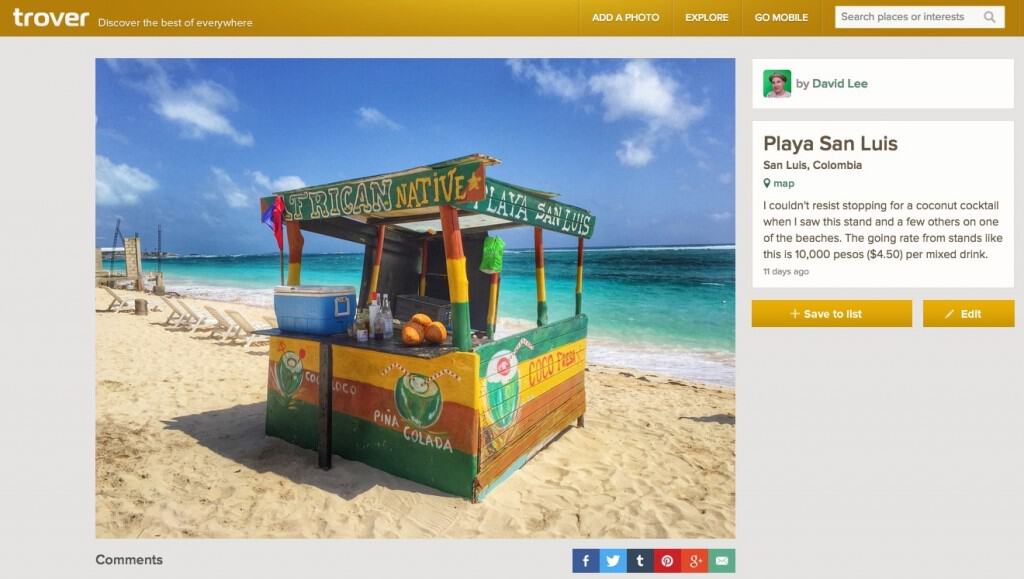 Though they lie closer to the coast of Nicaragua than Colombia, San Andres and Providenia are two Caribbean islands belonging to the latter.
I'd been wanting to visit them for years, and last month, I finally booked a roundtrip flight from Medellín for a week-long working vacation.
Soon after, Trover invited me to learn more about their travel app and asked that I share my experience here. The timing was perfect.
Based in Seattle, Washington, Trover was founded in 2011 by Jason Karas and Richard Barton, the latter of whom founded Expedia at the age of 26 while at Microsoft.
These men have a proven track record and the company has already raised $5 million in funding, which bodes well for Trover and its users (referred to as "trovers").
As described on Crunchbase.com, "Trover is a visual guide to the best of everywhere, powered by travel geeks and culture hounds, gut-checked by peers, and lusted after by aspirational newbies."
In short, it fills the need for an inspirational photo-sharing app which also serves to help travelers plan their next trip (or meal for that matter).
Pinterest and Instagram are great if all you want to do is look at photos of far off places, however, neither offers consistently actionable advice from users.
I was already a little familiar with Trover, as several of my fellow travel geeks, including Matthew Karsten, Earl Baron, and Kiersten Rich have been actively using it.
The Mobile App
I immediately installed Trover's free iPhone app from iTunes (also available for Android) and began to get my bearings.
Newsfeed
The first screen you see when opening the app is a Newsfeed featuring up to six new photos per person you're following.
There are several ways photos can show up here, including:
Photos uploaded by others, called "discoveries."
Photos uploaded by others that a person you're following discovered.
Photos added to a list maintained by someone you follow.
If Trover shares it as the "Discovery of the Day," which is also an example of how they promote community members.
It also shows when a person you follow begins following others, with each name linked to the person's profile.
I understand the reasoning behind this as it helps expose one to new users, however, in practice, I never click on those names; they only serve to take up space I prefer to be dedicated to photos.
For example, one woman I follow added at least 50 people at once (enough to fill the full screen of my iPhone 6), which I suspect happened automatically as a result of her connecting the app to her Facebook account (something I did too).
I'd like to see Trover disable this or allow us the ability to control which types of updates appear in their newsfeed.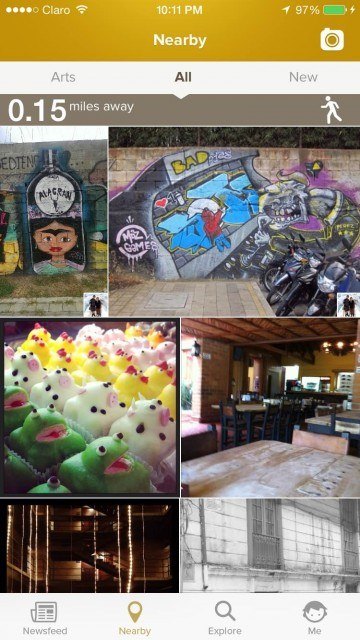 Nearby
The second navigation option at the bottom of the app is my favorite. Click "Nearby" and Trover delivers results based on your location thanks to geotagged photos.
Geotagging is the addition of GPS data to a digital photo you take, thereby allowing social media sites to display the photos on a map or organize them by location.
Being in Medellín, the first thing I saw were photos of street art in my backyard (0.15 miles away).
People who know me know I love this city. I'm always on the lookout for new restaurants, bars, events and so on.
As much as I like Instagram for photo sharing, it's not good at presenting location-specific information in an organized fashion.
If I want to casually look for new restaurants to try in Medellín, I have to scroll through a lot of selfies, spam and nonsense on the #medellin hashtag. It's so inefficient, I stopped using it this way.
Trover solves this problem in an easy, elegant way. As you scroll down, a mileage counter increases and you're exposed to photos from places further and further away.
The default group is "all" however you also have the option to filter photos based on what's new and categories including food, the outdoors and arts.
In addition to viewing photos and information by others, I also enjoy sharing my own. The Nearby search allows me to quickly see what, if any, places have been shared on Trover.
There are a handful of photos for Medellín, but I see it as a near-blank canvas for me to paint with my favorite photos and travel tips.
This speaks to both the size of the community (relatively small, but growing) as well as the opportunity to showcase one's photos and knowledge of a specific destination.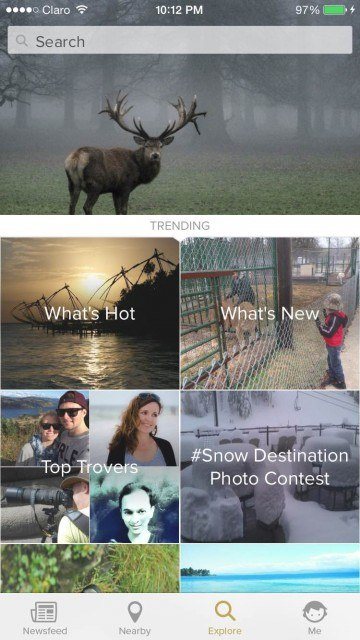 Explore
The third navigation option is "Explore" which features a search box at the top, set against the photo selected as the "Discovery of the Day."
This is where you go to search for inspiration and information when you know where you are going. In my case, I used it to search for the islands of San Andres and Providencia.
I found a few photos between both islands, which again I saw as an opportunity to be the one to fill this void to the benefit of the Trover community.
Below the search area are six options for searching based on what's trending at the moment.
Today, those options include:
What's Hot
What's New
Top Trovers
Explore Iceland
#Snow Destination Photo Contest (ends Feb 22, 2015)
#Beach Photo Contest (ended Jan 27, 2015)
Here again, you see Trover is actively promoting their users to help them reach a wider audience.
It's also clear Trover is looking to build the community by running thematic contests.
The #Snow Destination Photo Contest invites trovers to send a photo of a snowy destination for the chance to win a $1,500 grand prize.
Below the trends are text-based options categorized under "Places to Visit," "Activities" and "History and Culture."
Me (User Settings)
The fourth and final tab on the Trover iPhone app is user's profile where you can see your number of followers, the number of people you're following, range map (pins of your photos on a world map), notifications, your discoveries, lists and activity (the discoveries by others you've "thanked" which is Trover's unique way of indicating you liked a photo).
On this screen, you'll also see a gear setting in the upper left corner where you can invite friends, edit your profile, connect your social networks (Facebook, Twitter, Tumblr), log out and send feedback to Trover.
Using Trover in San Andres and Providencia
The 90-minute flight from Medellín to San Andres was a breeze.
I checked into El Viajero Hostel, the larger of the island's two hostels and immediately tested their Wi-Fi.
I expected it to be slow, and it was at about 1 MB download speed (and a mere 0.1 MB upload). Thankfully, I had 3G access through Claro, which was a bit faster.
As I mentioned before, there were only a handful of photos from the island, so I spent the next five days snapping hundreds with my iPhone 6, though I uploaded no more than one or two per day given the low bandwidth.
I immediately began to receive some "thank you's" within the app for my first photos.
The photo at the top of this post of the drink stand on Playa San Luis was also picked to appear on the "What's Hot" list which was cool.
Despite staying in Providencia's only luxury hotel, the satellite internet access was all but non-existent, so I had to wait until I was back on San Andres, and later Medellín, to begin sharing photos from that island.
Trover's app worked fine for me. The only hiccup I ran into was due to the lack of consistent internet access as I explored the islands.
Some geotags on San Andres were inaccurate, and my phone automatically geotagged photos taken in Providencia as being taken at the airport on San Andres (my last point of 3G access).
Once I was back in Medellín, I manually edited the map markers through the Trover website to ensure they were in the proper places.
If they're not correct, they're not as useful, so it's something to keep an eye on if you plan to go off the grid.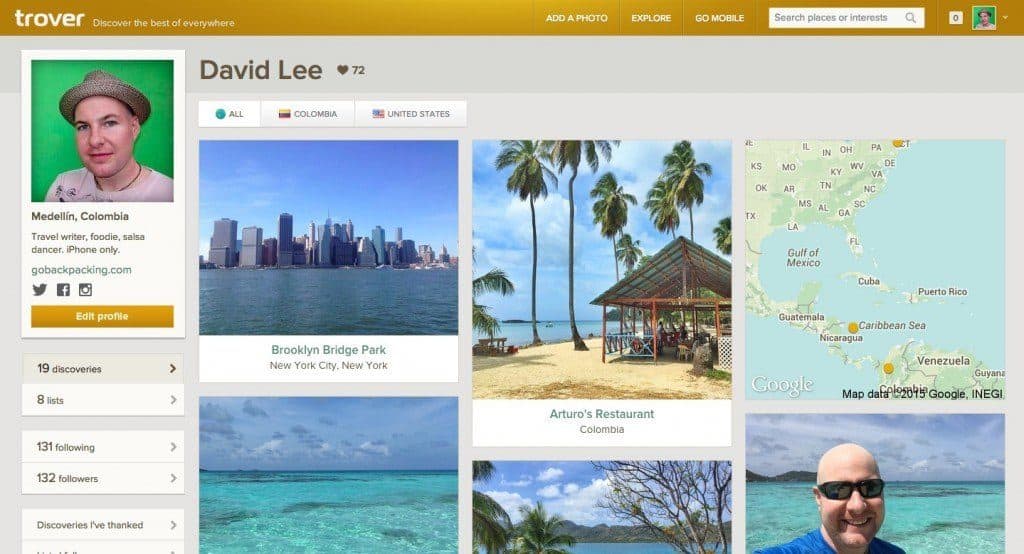 Features of Trover.com
Speaking of Trover's website, it's another means to access the community and manage your photos.
There are a few benefits you get with the website that don't exist with the mobile app.
First and foremost, you can add photos from your computer, Facebook or Instagram.
This process is super easy, and Trover even pulls your descriptions from the social media sites and pre-populates the comments field so you don't have to re-write anything (though you can edit or add more if you choose).
Another cool feature is the ability to filter your discoveries by country. In the screenshot of my profile above, you can see country names and flags run along the top. Click on any of them and you'll only see the photos from that country.
The website experience also offers more breathing room to manage your discoveries, lists, and exploration of others' photos.
After spending my first week solely on the mobile app, it felt good to switch to the website.
The rest of the design, functionality, and navigation is similar to the mobile app so I won't go over it again.
Conclusion
Trover's focus on creating a community of passionate travelers who love to share their photos AND advice is evident.
Whether you choose to use the mobile app, the website, or a mix of both, it's intuitively designed and easy to get started.
My favorite aspect of joining Trover is the feeling that I've tapped into a new and growing community of travel geeks like me; we love to both travel and share what we discover about our world.
If that sounds like you too, join Trover today.
Once you do, find me at http://www.trover.com/users/rtwdave
And if you're already using Trover, please share your experience in the comments section below.
________
This post was written in partnership with Trover. As always, all opinions are my own.
Planning a trip? Go Backpacking uses and recommends: