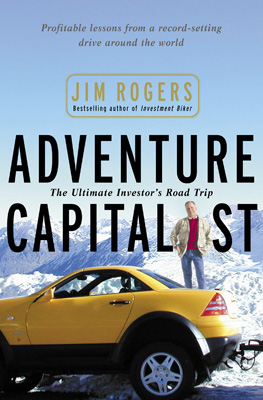 Adventure Capitalist is the story of Jim Rogers, a Wall Street investor who made a gazillion dollars, retired at 37, and then proceeded to spend three years driving around the world with his soon-to-be wife.
It wasn't his first long term trip.
That one came in the early 90's when he rode a motorcycle around the world, a journey documented in his first book, Investment Biker: Around the World with Jim Rogers.
Getting back to Adventure Capitalist, I first heard about the book a few months ago, when my day trading friend, Marcello, passed through Lima.
My curiosity piqued, I bought a Kindle copy, and dug in.
Jim kicks off his tale with some brief biographical info, as well as the story of how he met his wife, Paige, and invited her along on his upcoming trip.
He also details, in great length, why he wanted to drive a Mercedes, and how he was gifted a custom model by the company.
I didn't think much of the car, until I saw some of the photos later in the book, at which point it looked silly. It was a hardtop convertible on a monster truck's suspension.
But it was clearly a hit with the locals wherever he went, and it managed to get them through blizzards in Iceland, as well as the desert sands of Africa.
The trip begins with a circumnavigation of Iceland (where I'll be heading in September), and continues on through Europe.
It gets more interesting as he crosses into Africa, and proceeds down the west coast, through the south, and then up the east coast. Their time in Africa reminded me of one of my favorite books, Dark Star Safari, by Paul Theroux.
After Africa, they drove into the Middle East, having managed against all odds to get a visa for Saudi Arabia, among other countries.
From there, it's through central Asia and China, and down to Australia. The journey ends with a classic drive across the USA.
Throughout Adventure Capitalist, which covers more than 100 countries, Jim shares his perspectives and observations on each destination as both a tourist, and a potential investor.
The book cover has a tagline that states "profitable lessons from a record-setting drive around the world" but I think that's more marketing than reality.
He offered high level observations, and a few pieces of practical advice from time to time, but this is hardly a practical guide to foreign investment.
I'm not much of a finance guy, so I was glad he didn't go into too much detail in that regard. The only part of the book where I found the financial talk overbearing was at the end, once he'd arrived back in the USA, and felt the need to provide a history lesson.
Adventure Capitalist offers readers the chance to join Jim and Paige on an epic journey, through some of the most dangerous, worn-torn parts of the world. Whether you're an armchair traveler, or a serious investor, it's an entertaining read.
Adventure Capitalist is available in Kindle and paperback on Amazon.com.
Dave is the Founder and Editor in Chief of Go Backpacking and Feastio. He's been to 66 countries and lived in Colombia and Peru. Read the full story of how he became a travel blogger.
Planning a trip? Go Backpacking recommends: