Tokyo teems with dozens of markets and shopping areas, and sometimes it feels like the entire city is a single mega shopping district.
While I was exploring Tokyo, I spent quite a lot of time in the Ameyayokocho Market, a series of walking shopping streets.
The name of the market translates to "candy shop alley," and while you will find some sweets vendors, it's now turned into an everything alley.
Located in the Ueno district of town, adjacent to the Ueno train station (a major rail transport hub in Tokyo), the market is made up of several streets that parallel the elevated railroad track.
The market is more of an afternoon and night market, so if you go in the morning, most things will be closed and the streets empty.
Go in the afternoon or evening, and it's an entirely different story.
One of the things I loved about the Ameyayokocho Market was the variety of what was available.
Next to a shop filled with nail polish, you'll find a fishmonger slicing up fresh sashimi.
There are cosmetic shops, clothing stores, shoe stores, military gear stores, casinos, comic book stores, anime character shops, snacks and street food vendors, and everything in-between.
Along with the variety of what was available at the market, I also enjoyed how international it was.
There appeared to be people from around the entire world walking through the market and enjoying the lively atmosphere. The action is always exciting to experience.
A market would not be complete without some street food snacks, and one of the most beloved Japanese savory treats is an octopus pancake cooked in the shape of a golf ball, known as takoyaki.
The takoyaki I had at the market was not the best version I've ever had, but it was one of the cheapest versions I had in all of Tokyo.
Plus, the self-service on toppings, like seaweed flakes and mayo, was a bonus.
For a sweet snack, you can try the fish-shaped taiyaki pancakes, filled with a choice of creamy custard or sweet red beans.
I'm more of a salty kind of snacker, but my wife loved the fish-shaped snacks.
Underneath the railroad track at the Ameyayokocho Market, especially in the late afternoon, when most people finish work, there are many Izakaya bars where you can sample delicious skewers of yakitori and chase them down with beer or sake.
In the evening, these places are packed out, and it can even be a challenge to find an empty table.
After some people watching, shopping, drinking, and street food snacking, you'll probably want to sit down for a more fulfilling meal. The market has plenty of options for the hungry.
There are many mid-range dining options, some of which are located up a flight or two of stairs, where you can choose to eat just about any Japanese food you're craving.
The ground level is home to numerous fast-food type restaurants serving things like rice and Japanese curry, bowls of ramen, and conveyor belt sushi. It's safe to say, you won't go hungry.
Since I was staying at a hotel just a short walk from the Ameyayokocho Market, I ate at numerous restaurants in the area, including Go!Go!Curry!, and a bunch of places that I couldn't read the names of.
There was even a cluster of fantastic looking shack-sized Chinese street food stalls within the market that looked good, but I never had a chance to eat at.
If you're unsure about going on your own, you can always join a Tokyo food tour in Ueno.
Ameyayokocho Market is one of the best markets to experience in Tokyo if you love shopping, food, and culture, in an action-filled environment.
Planning to explore more of Japan? Book budget-friendly train passes here!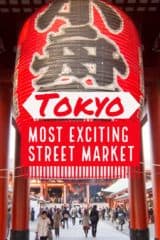 Mark was raised in central Africa before migrating back to the U.S. for University. After graduating, he decided to continue traveling the world. On Migrationology, he shares the cultural side of travel from a slow-paced local perspective that often revolves around his love for eating all forms of food. Join him on Facebook and follow him on Twitter @migrationology.
Planning a trip? Go Backpacking recommends: