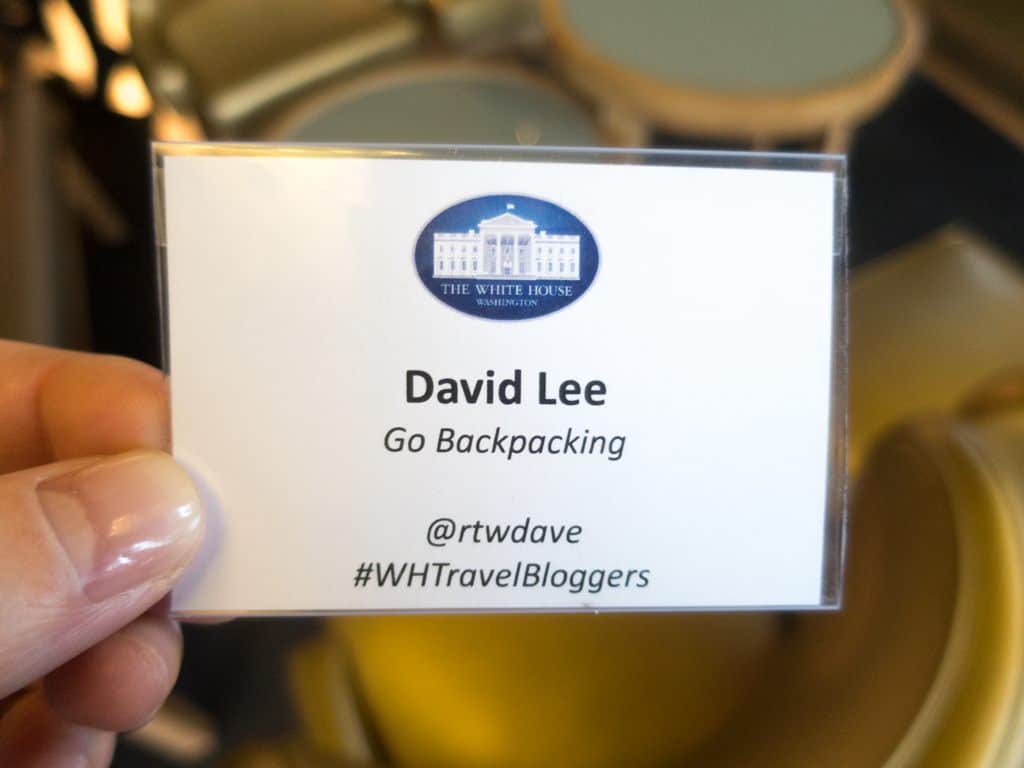 It's been a little over a month since The White House hosted 100 of the most influential travel bloggers and digital media outlets in Washington, DC, to discuss the importance of study abroad and global citizenship.
The experience was a whirlwind of networking, listening, and discussions while eating, drinking, and keeping my suit and shoes clean despite the winter rain.
Why would the White House host many bloggers when there are dictators, wars, and the threat of ISIS to manage?
It's a fair question and having taken the time to attend, I can say it's because they are thinking long-term.
The study, volunteer, and work abroad programs often introduce traveling and living abroad for many young people. They're the gateway drugs of the travel world.
But before we get into the Summit itself, which was filled with high-level officials and famous travel personalities, I want to rewind so that I can take you through the entire experience.
After all, it's not every day one gets invited to a summit at the White House.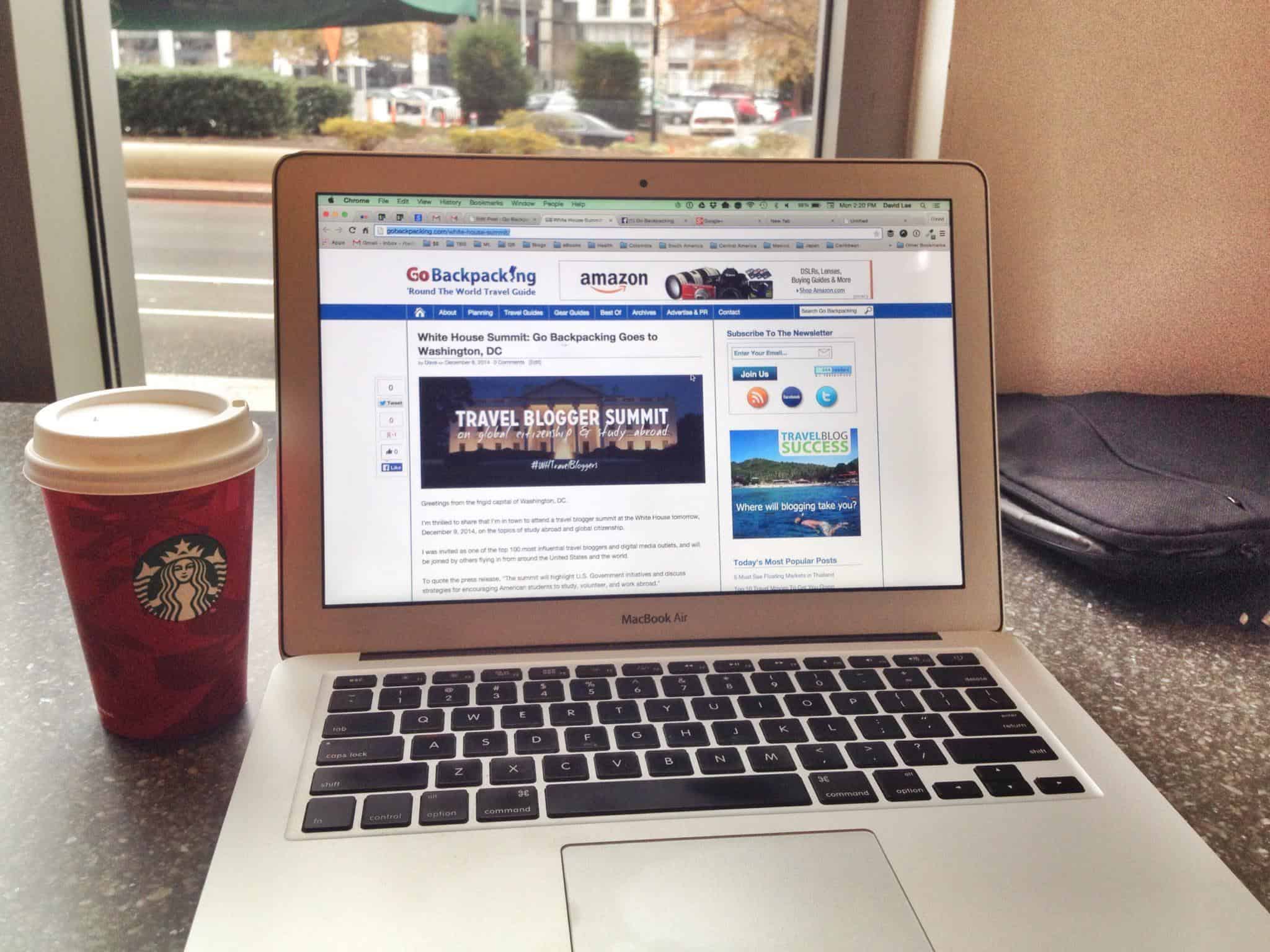 Arriving in Washington, DC
I departed Medellín, Colombia on Sunday, December 7, 2014, for Reagan National Airport, which I chose over Dulles for its proximity to the city.
Flying past the waterfront of Alexandria, Virginia, where I used to work, brought back many memories from my pre-blogger life.
I quickly got a taxi for the short ride to Hostelling International's Washington, DC hostel, where I had a dorm bed waiting for me.
The hostel is located a ten-minute walk from The White House and recently underwent renovations.
What I cared about most was the ability to get a warm and quiet night's sleep after spending the last 12 hours in transit.
The following day was a buffer I built in should there have been a flight delay. I spent my time working at the hostel and a nearby Starbucks.
I also stopped in the city's Tesla Motors shop, conveniently located across the street from the hostel.
The young salesman gave me a full rundown of this gorgeous and efficient electric car we all hope will save us from global warming.
While we were both sitting inside, he asked me about my line of work, to which I said "travel blogger."
He responded that to travel for a living would be a dream. I couldn't agree more.
Travel Massive Meetup
That evening, many of the bloggers in town for the Summit attended a Travel Massive event at Poste.
I finally had the chance to meet Australia's Caz and Craig, who I've known since 2010, and met one of my favorite travel writers, Rolf Potts, who wrote the book on Vagabonding.
And I saw old friends like Marilyn Terrell of National Geographic Traveler and Michael Yessis of World Hum.
Breakfast at the W Hotel
The following day, I was up bright and early. I put on my new Colombian suit and recruited Nathaniel Boyle, one of my bunkmates, along with Matthew Karsten and Lillie Marshall, to help me tie a Windsor knot.
The weather was cold and wet, so we shared a taxi to the W Hotel for breakfast on the roof, which turned out to be an excellent way to warm up for what was to be a long and fast-moving day.
I ran into more friends, including Stefanie Michaels, who hosted me on my first visit to Los Angeles, and new acquaintances like Paula Froelich of Yahoo Travel.
Here, we also received an official welcome from the fashionable Fran Holuba, summit organizer and the youngest member of the National Security Council.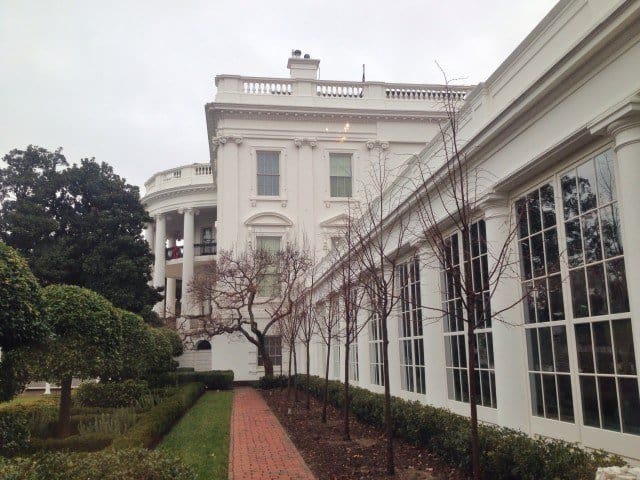 White House Tour
Our next stop was a White House tour of the East Wing decorated for the holidays.
Thankfully, enough people had umbrellas to make up for those of us who forgot to bring or buy one (guilty as charged).
As you might expect, one can't simply walk into the home of The President; therefore, we had to navigate multiple security checks by Secret Service before reaching our primary objective.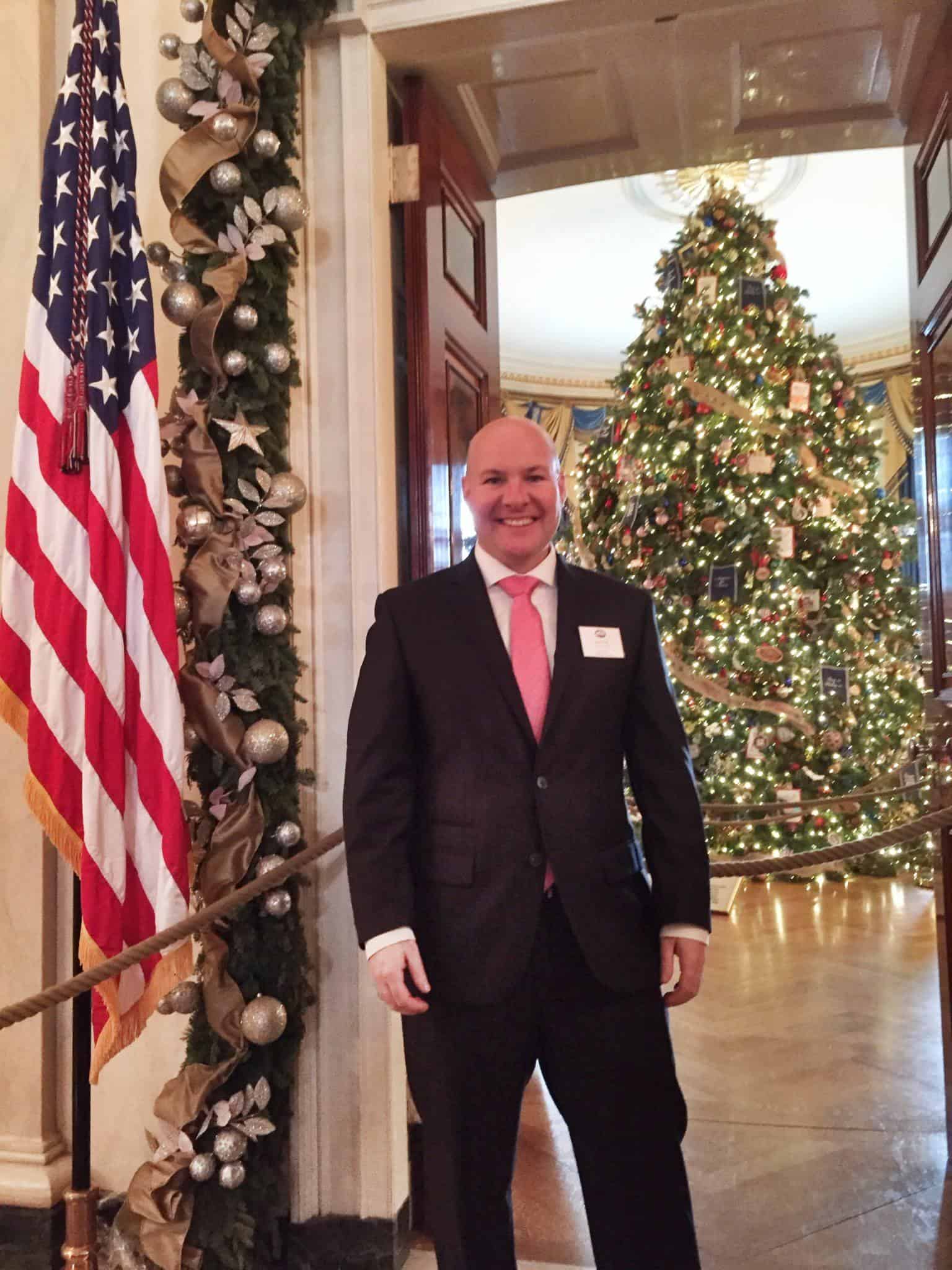 The tours are self-guided, with each room staffed by a member of the Secret Service who is also available to share historical info and take questions.
There were 14 decorated Christmas trees. While we were informed cameras were not allowed, apparently that's not the rule around the holidays as there was a sign with a White House hashtag encouraging visitors to share photos.
Lunch at the National Press Club
Once the walkthrough had been completed, it was time for lunch at the National Press Club, a few blocks away.
Lunch was even quicker than breakfast, though there was enough time for Hostelling International to introduce their Give Back, Stay Free initiative for January and February 2015.
"Qualifying groups of 10 or more people are eligible to receive one free night's stay (up to five nights) at a HI USA hostel for each day its members spend volunteering at least two hours in the surrounding community.
The Summit
A little after 1 p.m., we walked from the Press Club to the Old Executive Office Building, where I spent a summer in the early 90s opening mail for President Clinton.
The schedule for the afternoon, the reason we were in Washington, was impressive.
Fran highlighted that it's not often so many high-level officials participate in an event like ours.
The video above features the first three speakers (in this order):
Ben Rhodes, Deputy National Security Advisor for Strategic Communications and Speechwriting
Denis McDonough, Chief of Staff, White House
Evan Ryan, Assistant Secretary of State for Educational and Cultural Affairs
Listening to Ben Rhodes again reminds me of how well each of the speakers articulated the government's position while at the same time infusing anecdotes from their own lives and travels into their comments.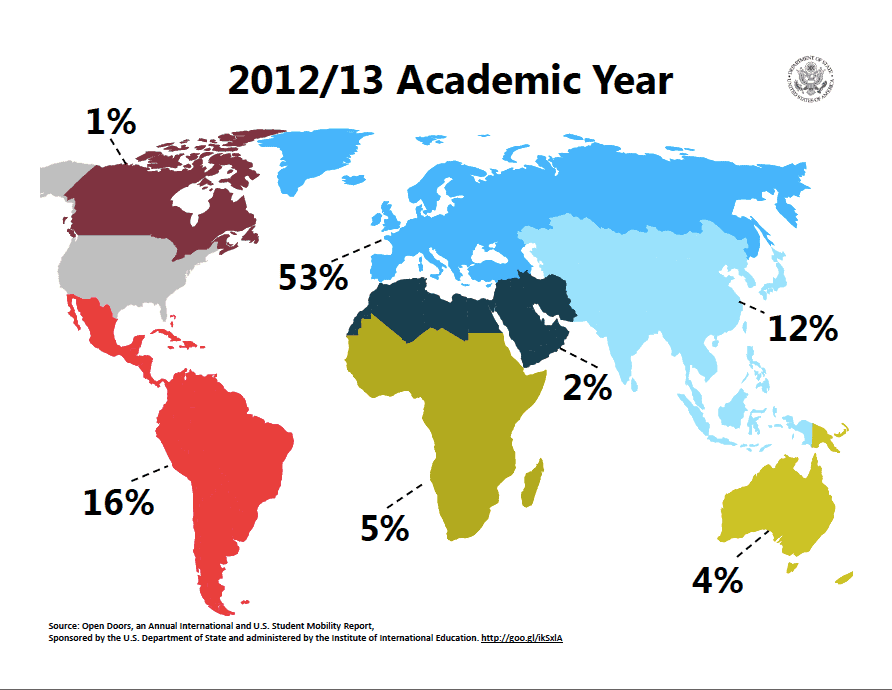 Two questions he posed to us start the Summit were:
How do we get more Americans engaged overseas?
How do we make sure we're looking at the whole world, including emerging destinations in addition to traditional countries? (The UK, Spain, and Italy account for 32 percent of study abroad experiences.)
Additional government speakers included:
Secretary Penny Pritzker, Secretary of Commerce
Tina Tchen, Chief of Staff to the First Lady
Carrie Hessler-Radelet, Director of the Peace Corps
Jonathan Greenblatt, Director of the Office of Social Innovation and Civic Participation
Most of the remarks were prepared and highlighted the government's case for promoting study abroad more aggressively.
Namely, it gives American students a competitive advantage in the workplace after they graduate and better positions in the United States as a leader in global commerce.
And it's fun. While I didn't study abroad during my four years at Colgate University, I did try to make up for it by spending the summer after graduation traveling through Europe.
It was my first experience spending a significant amount of time outside my home country and gave me the space to see the United States, our culture, and our politics from a European perspective.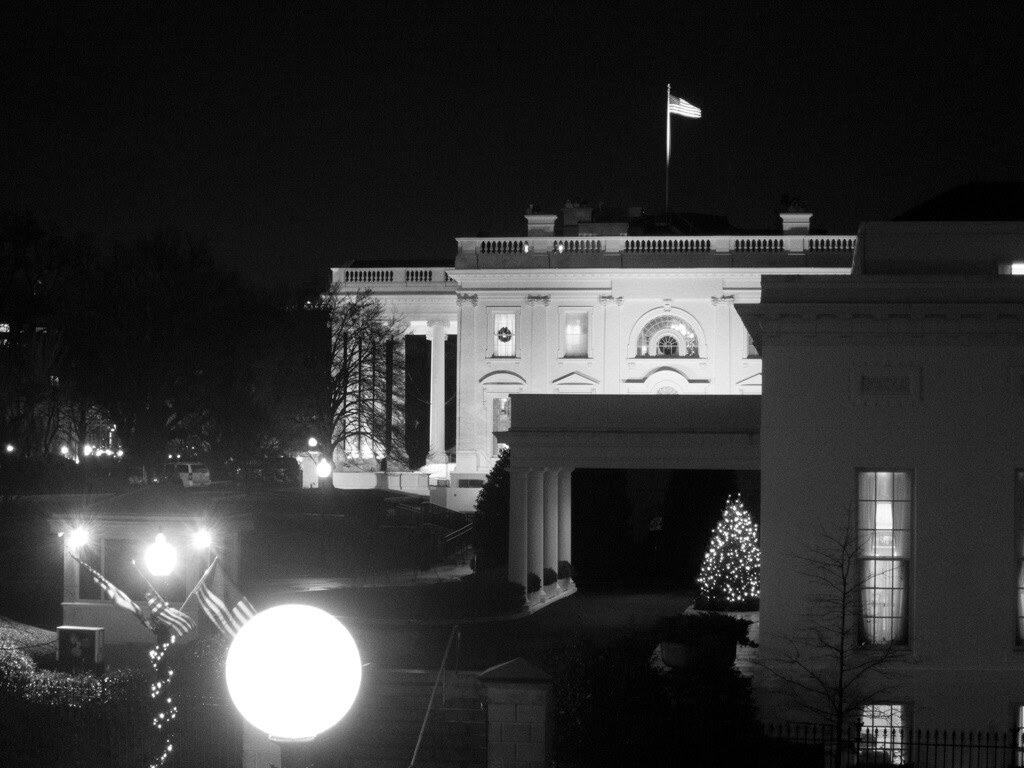 In between key government, speakers were three-panel discussions, which allowed for Q&A from the audience.
Panel #1: Studying, Volunteering, and Working Abroad as a Civic and Economic Imperative
Panel #2: Pushing Greater Diversity of Travelers, Destinations, and Fields
Panel #3: Cultural Exploration
These discussions highlighted some critical challenges to increasing the number of students studying abroad, specifically the problems of income inequality and the disproportionate number of white Americans studying abroad versus minorities.
There are no easy answers to these questions, nor was the Summit meant to solve such deeply rooted problems in U.S. society, at least not overnight.
The Summit was meant to spark a conversation, a conversation I'm happy to be a part of if it helps inspire more college students to study abroad and more Americans to consider the option of working or volunteering in foreign countries.
Departing the Old Executive Office Building, we found ourselves facing the West Wing, which was a remarkable moment I took the time to capture with a photo.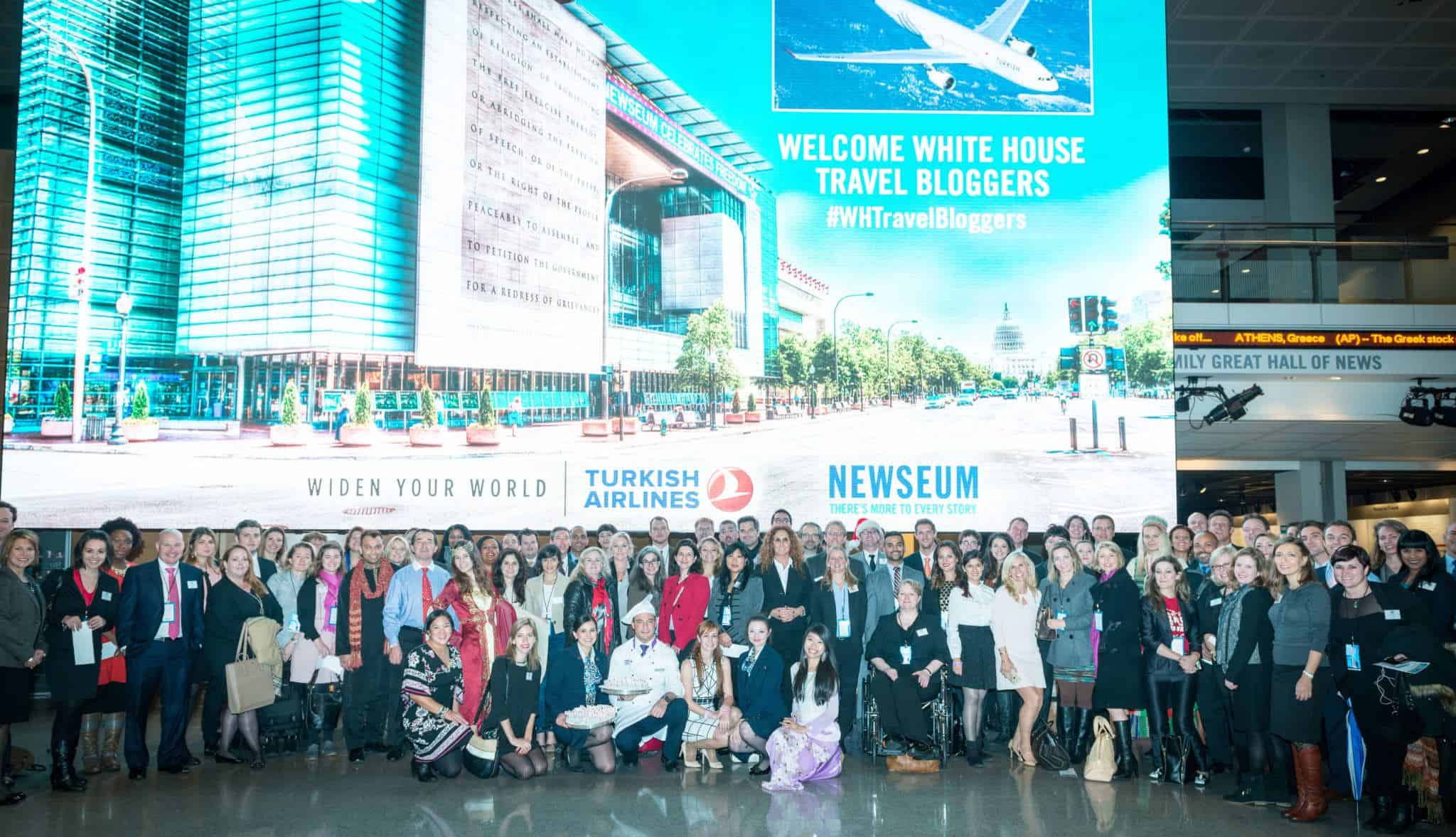 Reception at the Newseum
The evening's reception and dinner were held at the Newseum, a museum dedicated to journalism and sponsored by Turkish Airlines.
It gave us all a chance to continue getting to know one another, take some photos, and at this point, enjoy a drink or two and the food of Wolfgang Puck Catering.
Fran spoke again during dinner, as did a representative from Turkish Airlines.
It was a wonderfully put-together event, and I only wish I had more time to walk through the Newseum's exhibits.
_________
I received a complimentary stay at the HI Washington, DC.
Dave is the Founder and Editor in Chief of Go Backpacking and Feastio. He's been to 66 countries and lived in Colombia and Peru. Read the full story of how he became a travel blogger.
Planning a trip? Go Backpacking recommends: