Let's face it: Women have to be more cautious than men while on the road. It hurts to admit it, but we are inherently more physically vulnerable than our male counterparts.
These ten travel safety items for women will help give you peace of mind and protect you as you explore the world.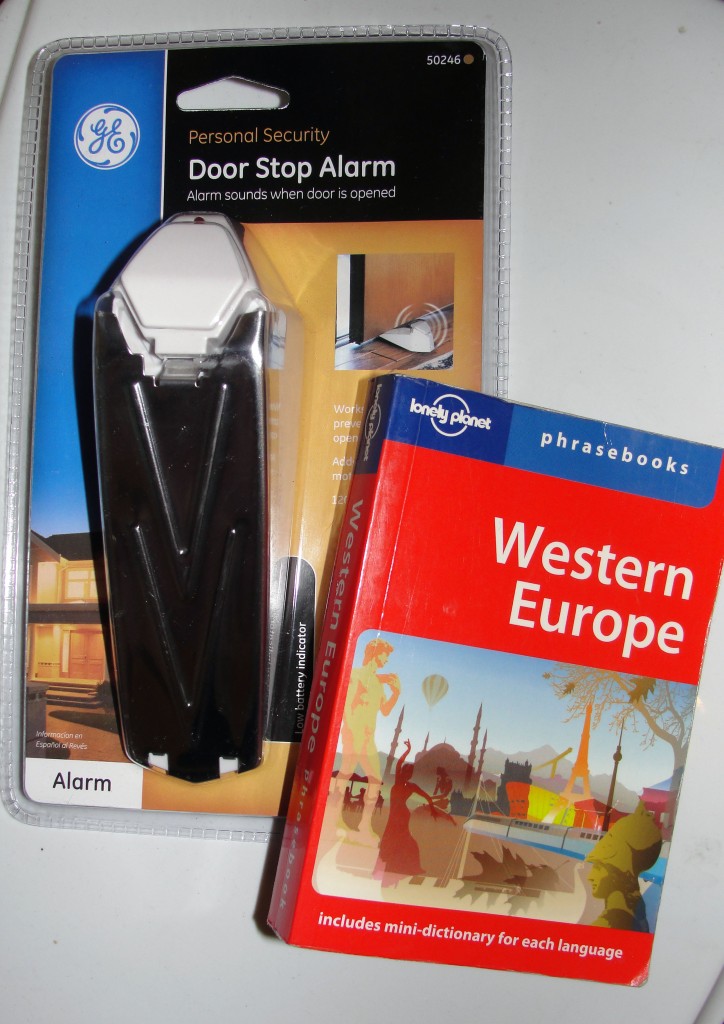 1. Doorstopper alarm
Some women feel vulnerable staying in a hotel room alone, especially if they get stuck in a room on the first floor.
Buy a doorstopper alarm and push the bottom of it under your door from the inside.
If anyone tries to open the door while you're in the room, a loud alarm will sound.
The wedge-shaped stopper will also jam the door, preventing the intruder from opening it.
2. Personal alarm or whistle
Walking in a dark alley or street alone at night isn't wise, but sometimes it's inevitable.
Carry a personal alarm that goes around your neck or on a keychain, or wear a small whistle under your shirt.
This allows you to easily make noise and indicate that you need help should someone unsavory approach you or try to hurt you.
3. Small flashlight
Carrying a small flashlight is also a must when walking alone at night.
Besides helping light your way, it should also make criminals less inclined to take advantage of you. There are many bright flashlights that can attach to your keychain or bag.
A few manufacturers make a personal alarm/flashlight combo.
4. Portable hotel door & drawer travel lock
This portable lock allows you to add extra protection to your hotel room door at night.
You can also use it to lock a drawer inside the hotel room for your valuables when you're staying somewhere without a safe.
We all like to think that our belongings are safe in our hotel rooms, but I've heard countless stories from friends about money, jewelry, cameras, and other belongings being taken from suitcases.
Lock it up and take the key with you while you go out.
5. Fake wedding ring
If you have a nice wedding or engagement ring, leave it at home when you travel so it doesn't risk getting lost or stolen.
But whether you're married or not, you should travel with a plain fake wedding band.
It's said that women are less likely to be harassed if it appears that they're married, as it usually implies that there is a man nearby.
It also allows you to easily make the excuse that you need to leave somewhere because your husband is waiting or around the corner.
Stop by a Target or Claire's Jewelers to get a cheap fashion ring that could look like a wedding band.
6. Bra stash (example)
Money belts can be easily spotted on women who wear form-fitting clothing.
Wear a bra stash instead, which is a small pouch that goes in the middle of your bra between the ladies.
It allows you to unassumingly carry money, credit cards, a hotel room key, and any other small valuables.
7. Travel dictionary
It's very important that you have the ability to communicate with locals who can help you in an emergency.
While it's vital to memorize key phrases such as "help me" and "leave me alone," it's also a smart move to keep a foreign dictionary in your travel bag for easy reference for more complex important phrases.
8. Pacsafe Backpack & Bag Protector
It's frightening how easily someone can snatch a bag from you while on a train or subway, or even for someone to pickpocket you from your backpack.
The Pacsafe bag is covered in a mesh cage that makes it impossible for someone to get into any of the bag's pockets.
It also has cables that allow you to securely lock it to a pole, perfect for if you're on a train alone and want to doze off–it prevents someone from running off with it.
9. First aid kit
This one's a no-brainer, but every woman should have a small first-aid kit in her backpack.
Tote along some Neosporin, bandages, anti-histamine, aspirin, antiseptic, etc.
You can buy small pre-assembled kits or put together your own.
10. An anti-theft messenger bag
Purses are easy pickpocket targets; their straps are easy to cut quickly, and we often carry them in a way that someone could reach in from behind to grab something.
Backpacks are even easier to get into if someone is walking behind you—they can just unzip a pocket.
Invest in a travel messenger bag that's front-facing and has cut-proof straps for while you're out and about during the day.
Some travel messenger bags also have locking zippers.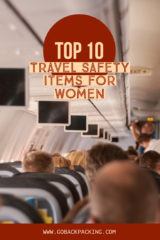 Emily Starbuck Gerson is a 20-something professional writer and editor based in Austin, Texas.
Planning a trip? Go Backpacking recommends: