Malaysia is hands down one of the finest destinations in the world to satisfy any culinary yearning.
The dynamic mixture of Malay, Chinese, and Indian cuisines are just a few of the popular influencing flavors.
Throughout my stay in Malaysia and several recurring visits to Kuala Lumpur, I developed an acute addiction to the powerful tastes of Malaysian foods.
1. Roti Canai
A roti canai is made from thin dough, cooked into a pasty-like bread, and dipped into a fragrant curry sauce for a burst of tastiness.
A roti canai makes a delicious treat any time of the day, but it is commonly eaten for breakfast along with a cup of milky tea (teh tarik).
2. Chili Pan Mee
It all begins with a foundation of freshly cooked noodles followed by a handful of ingredients like minced pork, fried garlic, a runny half-poached egg, and a sprinkle of green onions.
The signature dried flaky chili sauce is what truly makes chili pan mee one of the great Malaysian dishes, a flavor so delectable that it's impossible not to boast about.
Super Kitchen chili pan mee is one of the best Kuala Lumpur restaurants to eat the dish!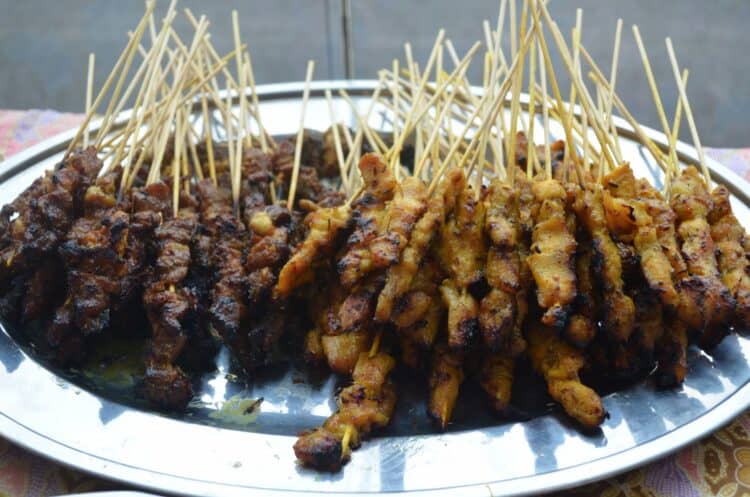 3. Malaysian Satay
Usually made with beef or chicken, Malay satays are mildly marinated and lightly barbecued.
They are enjoyed best with a tangy peanut sauce that melts in your mouth.
Be careful. Before you know it, you will have eaten countless skewers without even noticing!
4. Grilled Stingray
It's a fish that can be fatal in the waters but is nothing short of pure pleasure when it reaches the grill.
Wrapped in a banana leaf with a combination of spices, the stingray sops up all of its fish juices and retains the brilliant taste of the marinade.
5. Char Kuay Teow
Char kuay teow is a wonderful mixture of stir-fried rice noodles and a choice of meat or seafood and is flavored with dark soy sauce.
Often an egg is added to the dish, coating the noodles with an even more brilliant taste!
6. Nasi Campur
There are a few things that I get more excited about in life than Nasi Campur.
It's an all-out feasting competition involving a few of the most powerfully flavorful dishes in the Malay food repertoire.
You are given a plate of plain rice and instructed to pile on whatever pre-made dish suits your liking.
I tend to go straight for the chili fish, spiced eggplant, jack fruit coconut curry, and fried okra!
7. Nasi Kandar
Especially famous in Penang, Malaysia, Nasi Kandar is a dish consisting of rice and different fried meats or Indian-style curries.
There's usually an option to order other Malay-Indian delicacies like daal, naan, biryani, or tandoori chicken to accompany a nasi kandar feast!
8. Nasi Lemak
Known as one of the national dishes of Malaysia, nasi lemak is comfort food and a dish to truly look forward to.
The dish has several variations: the traditional triangle of rice wrapped in a banana leaf (kind of as a snack) and a meal version served on a plate.
The plate begins with a scoop of fragrant coconut rice and is accompanied by sides such as dried anchovies, hard-boiled eggs, fried chicken, roasted peanuts, and another Malaysian chili sauce to die for!
9. Curry Laksa
All the flavors one could dream of are represented in a single bowl of luscious Malaysian curry laksa.
The version I love the most starts with thin rice noodles covered in rich coconut cream curry.
The list of ambrosial toppings includes shredded chicken, shrimp, fried tofu, a handful of cilantro, and finally, a juicy squeeze of lime!
This is merely a sample of the meals within the staggering array of Malaysian cuisine.
There's so much food to explore in Malaysia from Penang to Ipoh, Kuala Lumpur to Malacca!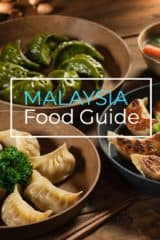 Mark was raised in central Africa before migrating back to the U.S. for University. After graduating, he decided to continue traveling the world. On Migrationology, he shares the cultural side of travel from a slow-paced local perspective that often revolves around his love for eating all forms of food. Join him on Facebook and follow him on Twitter @migrationology.
Planning a trip? Go Backpacking recommends: