Peru is the darling of South America. Throughout the year, tourists arrive by the plane and bus load for a chance to visit Machu Picchu. And why not? With a variety of Peru tour packages available, that shouldn't be surprising. But there's much more to Peru than these famous Inca ruins. In recent years, for example, Peruvian cuisine has gained popularity around the world.
North of Lima lies the Cordillera Blanca, one of South America's most popular mountaineering destinations, as well as the ruins of ancient civilizations that pre-date the Incas by hundreds of years.
South of Lima, the Nazca Lines continue to amaze all who view them from above, while hikers marvel at the depths of the Colca Canyon outside Arequipa. In addition to the coast and mountains, the Amazon jungle runs all along the Eastern edge of the country.
Come to Peru for Machu Picchu, and stay to discover everything else the country has to offer.
Peru Travel Guides
Things To Do
Food & Drink
Nightlife
Cost of Travel
Regional Travel Guides
Chachapoyas
Cusco
Huaraz
Trujillo
Recommended Reading & Movies
Related Blog Posts
Click here to view all blog posts for Peru
____________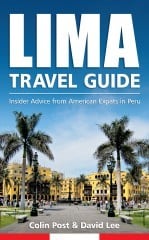 Dave's 160-page, all-original Lima Travel Guide is now available for Kindle and PDF.
Last Updated on December 3, 2018 by Maria Laborde
Dave is the Founder and Editor in Chief of Go Backpacking and Feastio. He's been to 66 countries and lived in Colombia and Peru. Read the full story of how he became a travel blogger.