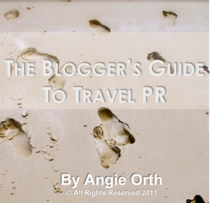 As travel blogging continues to gain credibility as a profession, the number of opportunities opening up continues to increase.
Once the domain of freelancers and print travel writers, working with PR companies and tourism boards is starting to become the norm.
Since most bloggers don't have a clue about the PR world, conferences such as TBEX have helped to educate them and bridge the gap. Last week, a new resource became available, and out of curiosity, I picked up a virtual copy.
Written by Angie Orth, The Blogger's Guide to Travel PR is the perfect primer for blogger's looking to capitalize on their growing audiences and influence in the online world.
Angie's professional background is in travel PR, and before leaving on her current trip around the world, she spent 4 years working at Weber Shandwick, the world's biggest public relations agency.
This makes her uniquely qualified to share the in's and outs of working with PR companies and tourism boards to try and arrange reduced cost, or even free, trips and tours.
Topics Covered
Intro to PR
Intro to press trips (ie. free, or sponsored travel) and what to expect
What publicists look for in a travel blogger
Ethics of press trips
How to pitch PR companies
Proper behavior on press trips
Lots of funny anecdotes
What I Liked
Trust — Given Angie's PR background, I feel completely comfortable acting on her guidance.
Length & Format — It's quick and easy to read. I got through the 63 pages in about 30 minutes.
PR Agency Contacts — In the Appendix, Angie includes the names and contacts for top travel PR agencies.
Humor — Angie's personality comes through, making for a fun read.
Price — it's only $12.
Areas for Improvement
Depth — It's like a good first date — you learn the basics, but you're left wanting to know more.
Details — I was hoping to find a template, or real world example of a successful pitch made by a blogger to a PR agency for a free or subsidized trip or tour. I think that would go a long way in helping travel blogger's approach PR contacts more confidently.
Bottom Line
At just $12, The Blogger's Guide to Travel PR is the perfect primer for new travel bloggers, or those without prior knowledge of the public relations world.
Experienced bloggers should buy the guide for the PR agency names and contacts in the Appendix.
Dave is the Founder and Editor in Chief of Go Backpacking and Feastio. He's been to 66 countries and lived in Colombia and Peru. Read the full story of how he became a travel blogger.
Planning a trip? Go Backpacking recommends: