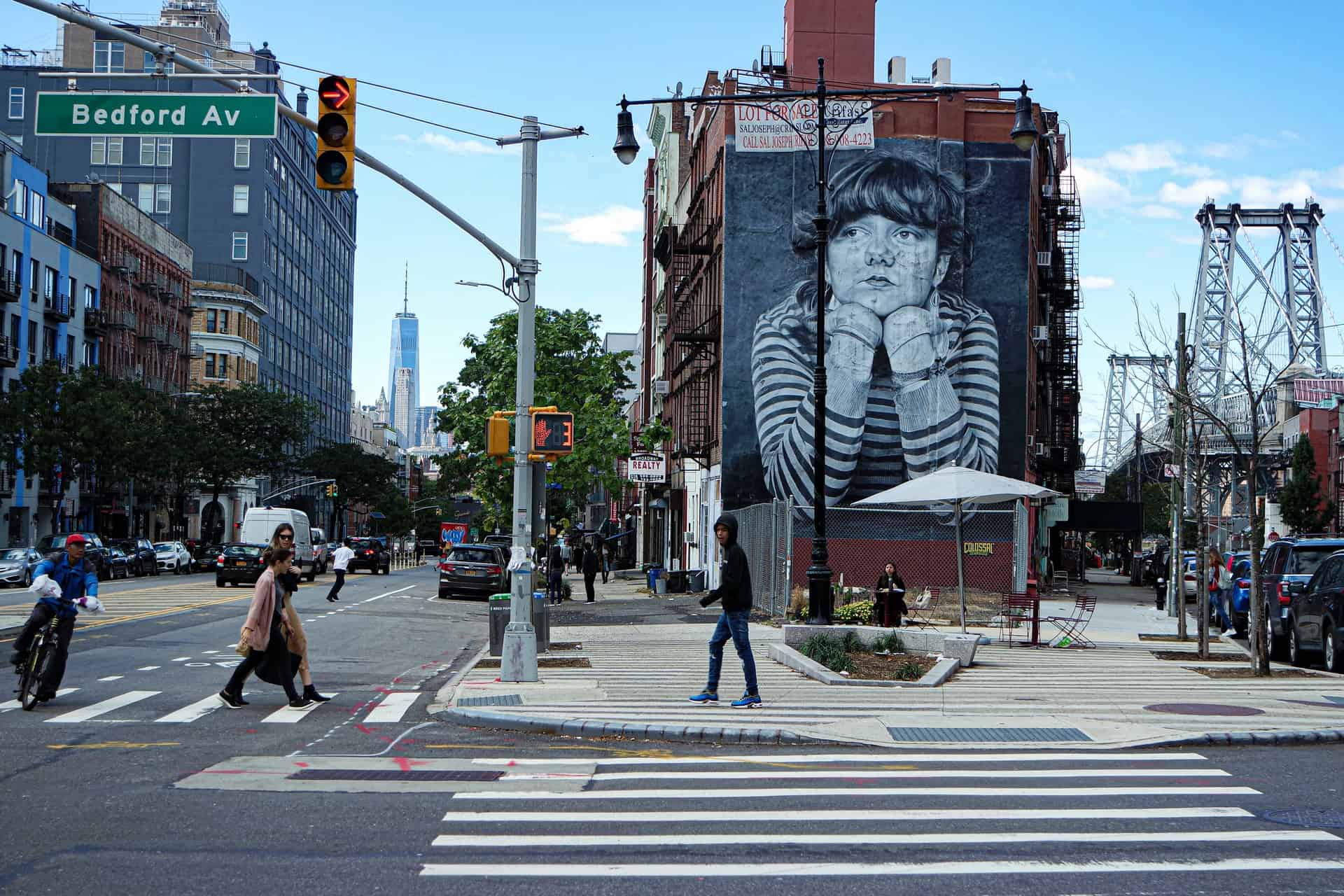 Brooklyn may not be the first place you think of staying when planning a trip to New York City; however, this borough has much to offer.
Located across the East River, Brooklyn covers a sprawling area three times the size of Manhattan. It boasts a larger population, too, at 2.6 million people.
The neighborhood of Williamsburg is as close to Lower Manhattan as you can get without actually being on the island.
It's connected by the massive Williamsburg Bridge, which allows for cars, cyclists, and pedestrians.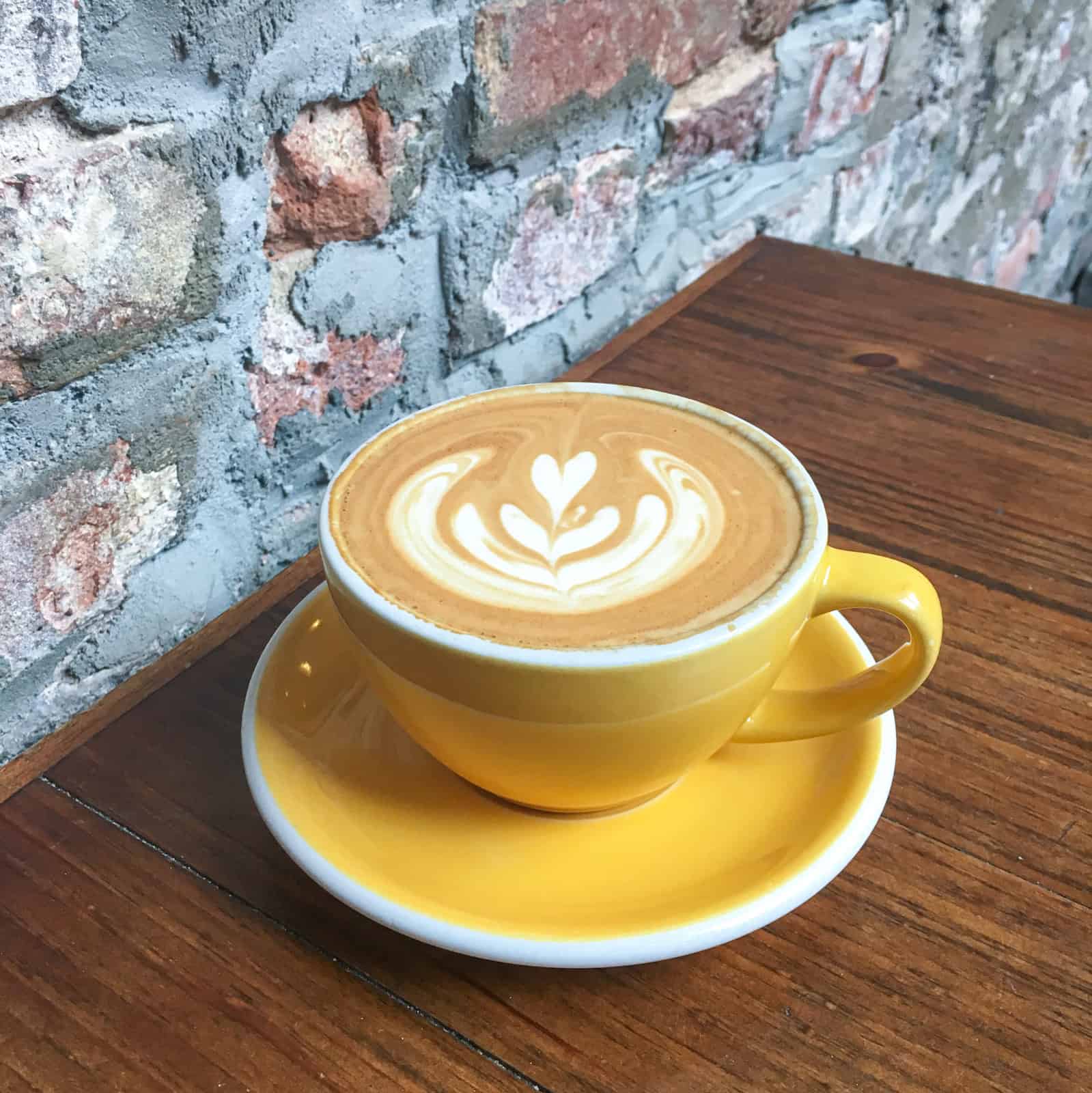 I grew up in a suburb of New York City and have tried to visit friends and family annually for the last 20 years.
One year, I visited while my brother was living in Williamsburg, which gave me a chance to walk around this trendy area in person. Numerous Brooklyn coffee shops, bars, and restaurants caught my eye.
Devocion was one of them. This Latin American cafe sourced their beans from Colombia, where I used to live, and first gained an appreciation for coffee.
The interior featured exposed brick and a skylight, allowing natural light to fill the space occupied with folks on their laptops. It was my kind of place!
Side note: a few years after I stopped into Devocion in Williamsburg, I came across a Devocion cafe in Bogota!
Other notable neighborhoods include Greenpoint, Brooklyn Heights, Prospect Heights, Park Slope, and Bushwick.
Beyond the hipster hangouts, cool cafes, and incredible eats, here are seven more reasons to base yourself in Brooklyn.
Why Brooklyn?
1. It's More Affordable
I'll just put it out there for the few readers who don't already know. Hotel prices in Manhattan are insanely high.
Staying in Brooklyn is the more budget-friendly choice, thereby allowing you to keep your overall trip cost in check.
The NYC subway system is easily accessible, so you're not losing anything in terms of getting around.
And, as you'll see below, there are plenty of fun things to do in Brooklyn that won't cost you much at all.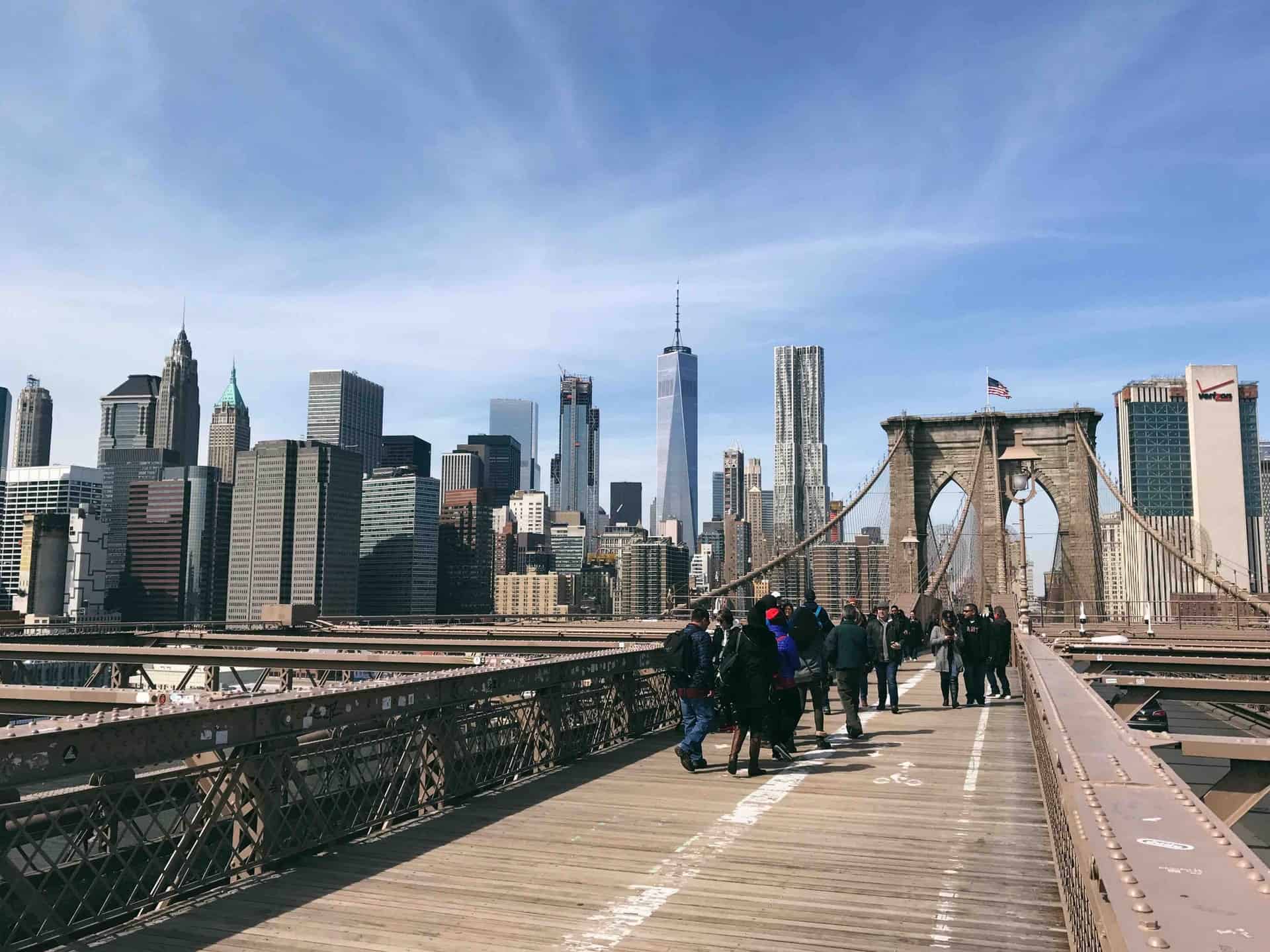 2. The Brooklyn Bridge
An icon of New York City, the Brooklyn Bridge spans the East River, connecting Lower Manhattan with downtown Brooklyn.
This neo-Gothic suspension/cable-hybrid bridge took 14 years to build. It opened more than 138 years ago, on May 24, 1883.
Walking across the Brooklyn Bridge is a popular and free experience available to anyone visiting the city. The bridge is 6,000 feet long, or about 1.1 miles.
If you're staying in Brooklyn, give yourself some extra time to explore the Brooklyn Bridge Park before your crossing.
Check out Jane's Carousel, a fully-restored (and working) carousel that dates back to 1922.
Once you're on the bridge, you'll be treated to beautiful views of Manhattan, including One World Trade Center.
3. The Scenic Views
Manhattan has one of the world's best skylines, yet it's hard to appreciate when you're in it.
Base yourself in Brooklyn, and you'll be better able to enjoy the view. Beyond a walk across the Brooklyn Bridge, you can take in views from the park and piers below it.
Plus, you'll also be able to see the Statue of Liberty and Ellis Island too.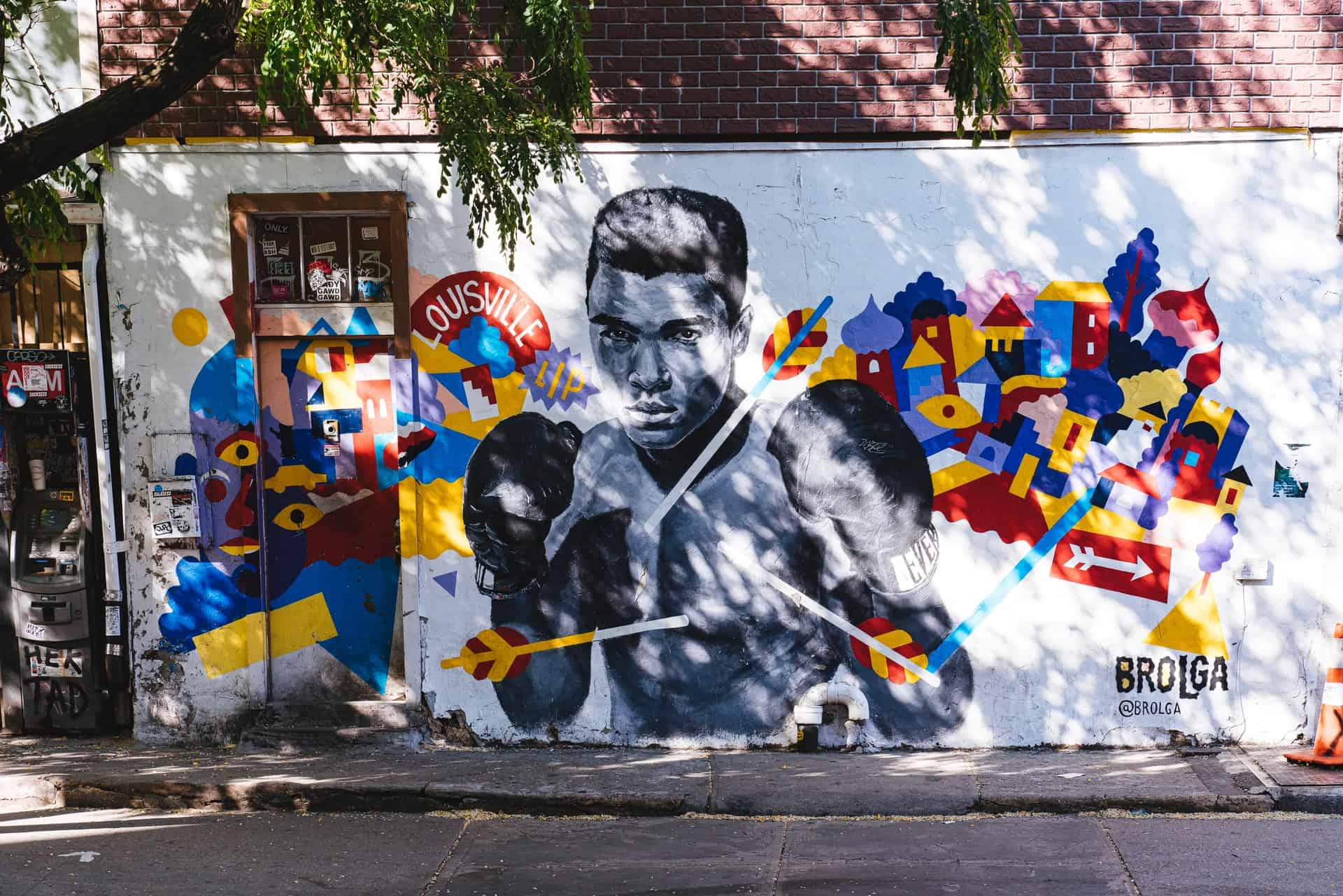 4. Street Art and Galleries
If you like street art and monumental murals, then you're better off in Brooklyn, where local artists brighten the streets with their thoughtful pieces.
Casual fans can soak up the artsy atmosphere as they go about their day, while those more interested in the local scene can try a self-guided walking tour or a paid one with a company like Graff Tours.
After taking a graffiti tour in Buenos Aires, I gained a much greater appreciation for these artists.
But, there's more to Brooklyn's art scene than what you see on the streets. There's a thriving gallery scene, too.
Timeout highlighted 16 of the best art galleries in Brooklyn, so you can get a feel for what's available.
5. The Brooklyn Museum
Located at the northeast edge of Prospect Park, the Brooklyn Museum is New York City's third-largest museum by physical size and has a collection of 1.5 million works.
The Egyptian collection covers 3,000 years, while American luminaries such as Norman Rockwell, Winslow Homer, and Georgia O'Keefe are well represented.
General admission is $16 for adults and $10 for students (with a valid ID). Ticketed exhibitions are extra.
6. Prospect Park
Prospect Park is to Brooklyn as Central Park is to Manhattan. This sprawling green space includes the Brooklyn Botanic Garden, Brooklyn Museum, historical landmarks, and a lake.
Take a break from the city with a leisurely walk through the park. There are plenty of street vendors, or you could buy some food at a local deli and make a picnic.
7. Coney Island and the Beach
Visiting Coney Island is a quintessential NYC experience, especially in the summer when the beach is packed.
The amusement park is home to the famous Nathan's Hot Dog Eating Contest, held every July 4th since 1967. But you don't need to eat 76 hot dogs to get a feel for it. One will do just fine!
When I visited Coney Island in my twenties, it was to get over my fear of roller coasters.
Coney Island is home to the Cyclone, the world's second steepest wooden coaster, which reaches 60 mph. Not bad for a ride that opened nearly 100 years ago (in 1927).
The Coney Island boardwalk is home to the New York Aquarium. And if you keep walking east, you'll hit Brighton Beach.
***
As you can see, there are plenty of good reasons to base yourself in Brooklyn when visiting New York City.
Each neighborhood has its own vibe and culture, and you could easily spend months (or years) trying to get a feel for them all.
______
This story is brought to you in partnership with Condor Hotel.
Dave is the Founder and Editor in Chief of Go Backpacking and Feastio. He's been to 66 countries and lived in Colombia and Peru. Read the full story of how he became a travel blogger.
Planning a trip? Go Backpacking recommends: