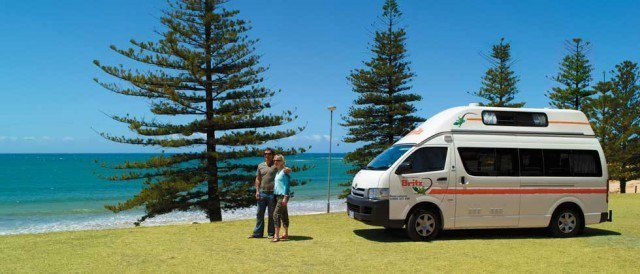 The Easter weekend is creeping up quickly but that doesn't mean that it is too late to plan an exciting holiday over the four-day break.
While some people may take a quick trip to see friends and family, those after a larger adventure should look no further than an exciting campervan trip.
Hire company, Britz, offer campervans to suit all types of travelers. To illustrate, the Britz "Explorer" campervan is a great option for families or small groups.
It comfortably sleeps four people and has a built-in kitchen, including fridge/freezer, a 4-burner gas stove as well as full bathroom facilities.
With your mode of transport sorted, we've compiled the top four destinations for Easter 2014, giving you the freedom to tailor your holiday to your group.
Jervis Bay
Jervis Bay is one of the hidden gems of NSW's South Coast.
Said to have the whitest sand in the world as well as crystal clear water, there is a lot to do here over the Easter break.
Jump on one of the expertly skippered chartered cruise tours to catch a glimpse of wild dolphins, seals or migrating humpback whales just off the coast, or hike to the ruins of the Cape St George Lighthouse in the Booderee National Park.
The town offers plenty of camping spots, allowing you to park your campervan within walking distance to the beaches.
For example, the Jervis Bay Caravan Park has powered sites starting from as low as $30AUD ($28 USD) a night.
Surfers Paradise
Surfers Paradise is an iconic beach town in Queensland's Gold Coast and from April 2 – 26, 2014, the city holds its annual 'Surfers Paradise Festival'.
Focussing on the Easter weekend, you can catch all the action of the Australian Street Entertainment Championships, which is a four-day tournament featuring clowns, mimes, jugglers, and dancers.
The whole event makes for a wild and exciting carnival atmosphere.
If talent competitions are not your thing then why not check out some of Australia's best theme parks?
Until June 30 you can pick up a 28-day unlimited entry pass from only $99AUD ($92 USD), which gives you access to Wet and Wild, Sea World, Movie World, and Dream World.
Each theme park offers thrilling rides and spectacular experiences for young and old.
Toowoomba
Beautiful Toowoomba is Australia's largest inland city and has been a traditionally popular destination over the Easter long weekend.
The reason is the vibrant 'Easterfest', an annual three-day music festival that takes place in Queens Park.
A three-day pass will only set you back $140AUD ($130) and this year you can catch Aussie band, Evermore, headlining the stage and pushing their latest album, 'Follow the Sun'.
Joining them are the Underoaths spinoff band, The Almost, as well as Young&Free and crowd favorite, New Empire.
There will also be Xtreme sports on show, including freestyle BMX and skateboarding.
Camping is available at the festival grounds but space is limited so make sure you book early.
Bendigo
If you would prefer to head south over the long weekend, then set the GPS for the Victorian town of Bendigo.
Over Easter, Bendigo puts on a show like no other, coming alive with activities and attractions for everyone.
The oldest running festival in Australia, the Bendigo Festival offers everything from magicians and performing arts shows.
Check out the workshops on African Drumming and SkateBeat, and don't miss the famous Bendigo Easter Parade featuring Sun Loong, the giant Chinese dragon.
Camping in Bendigo is as easy as setting up shop at Big4 Bendigo Ascot Holiday Park.
Powered sites for the campervan begin at $40AUD ($37 USD) during peak seasons and the Park is located just four kilometers from the town center.
No matter where you choose to spend Easter, enjoying four full days of freedom is something to look forward to.
You can choose to be as relaxed or busy as you like, and choosing a campervan gives you the freedom to do what you want.
_________
This post was brought to you by Britz.
This post was written by a guest contributor. Please reference the author's byline in the post above for more information. If you would like to guest post on Go Backpacking, please read our submission guidelines. For information on advertising opportunities, go here.
Planning a trip? Go Backpacking recommends: