In my twenties, the National Geographic map taped to the wall in my apartment had me daydreaming of a trip around the world.
I'd stare at it and imagine all the adventures that awaited me, like island-hopping in Thailand, hiking in the Himalayas, and going on safari in South Africa.
Visualizing a dream trip meant cutting up travel magazines and creating a collage. Today, there are easier ways to visualize and plan memorable trips.
Introducing Framey, a social networking app for travelers to get you inspired for and planning your next vacation, close to home or across the globe.

What is Framey?
Whether your travel plans are to go backpacking solo, with a partner, or with friends, Framey can help you find cool spots, create travel itineraries, and connect with other travelers.
If you're already curious, download it for free on the App Store for iPhones or Google Play for Android phones. Otherwise, continue reading to learn more.
Key Features
The Framey app allows you to:
Create a personal profile.
Follow other travelers and see their photos.
Publish photos with descriptions of your own.
Discover curated lists of top attractions near you (or anywhere).
Plan an itinerary.
Let's look at some of these features more closely.
Create a Profile
When you first install Framey and sign in, I recommend customizing your app profile so other users can learn a little about you.
Your profile includes a profile photo and cover image you upload, your name, username (I'm @rtwdave), space to add info about yourself, your city, website (if you have one), and the countries you've visited.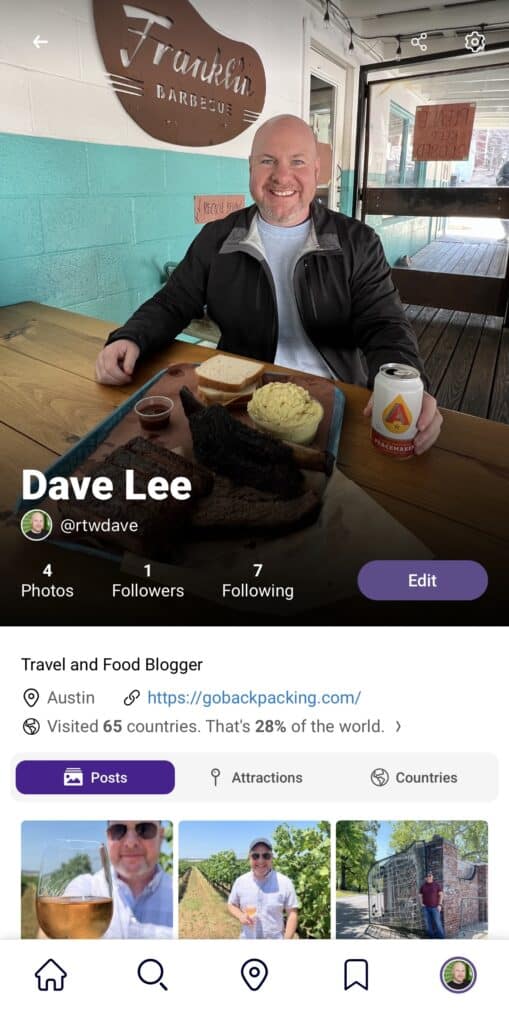 I never miss an opportunity to reflect on where I've been. Today, that's 65 countries according to the options available in the app (about 28% of the world).
Under your profile, you'll see Posts where images you upload will appear, Attractions (same), and Countries you've visited.
Clicking on a country is a quick way to get a feel for the app, as you'll see popular attractions there.
A share icon and a gear icon are in the top right corner of your profile page. The gear icon is for updating your profile and notification settings.
Legal info like terms of service and Framey's privacy policy are also available here. Plus, you can connect there if you want to send feedback or get support.
Follow Other Travelers
Whether or not you're actively planning a trip, following other travelers on Framey can be fun and helpful.
When you first open Framey, you won't be following anyone yet, so you'll see a default screen with destinations at the top, followed by a scrollable "Meet our Creators" section.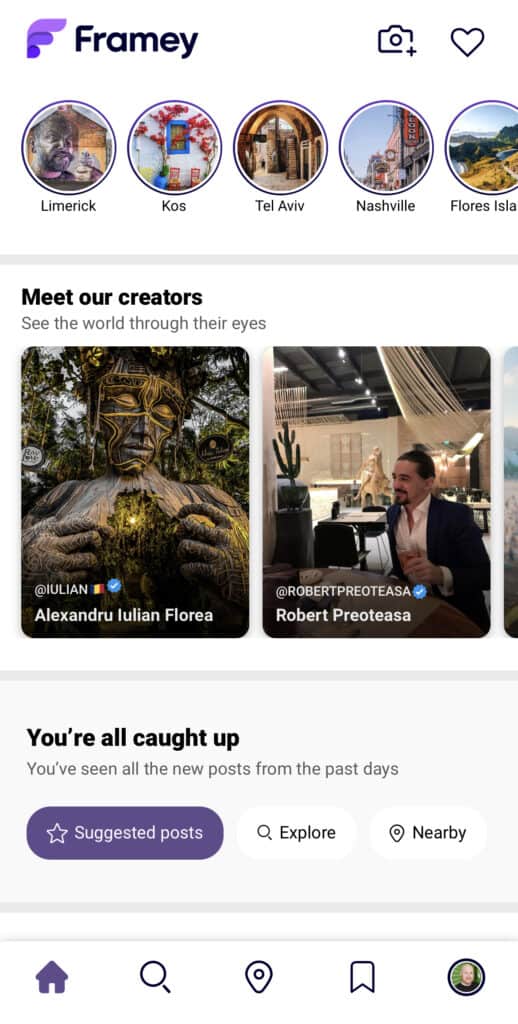 Creators are users verified by Framey who share their photos in the app.
They're distinguished by a blue check mark next to their username, and their photography tends to be of a higher quality than the average user.
The first two Creators are Framey's co-founders, Robert Preoteasa and Alexandru Iulian Florea, based in Bucharest, Romania. Continue scrolling to the right to see more Creators from around the world.
Once you start following people, whether they're Creators or regular users, this initial screen will show a feed of their photos.
It's a similar experience to Instagram but specific to travel and without all the annoying ads.
Publish Your Photos
Sharing photos is simple. When you're on the home screen, click the camera icon in the upper right corner of the app.
Add up to 10 photos per post, choose a pre-existing location (or add a new one), and, optionally, write a description of what you're sharing.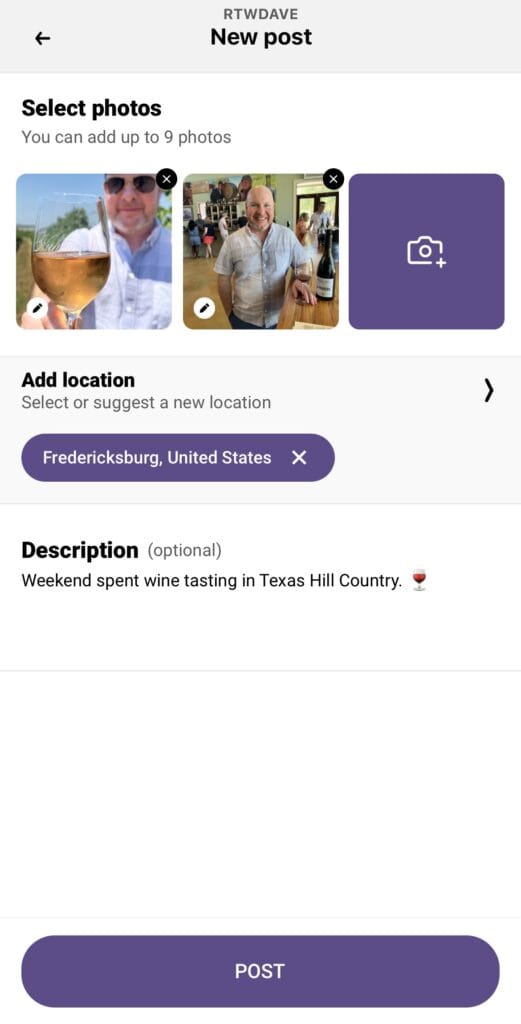 Once the photo is live, you'll see it on your profile page, and those following you will see it in their feed.
Search Places and Attractions
Search the Framey app by clicking the magnifying glass icon at the bottom.
Choose the "Top" option with a star to its left to see a curated list of top attractions in your area and country.
For example, you can find a list of the best destinations throughout the United States, different museums to visit, the most colorful places throughout the world, etc.
Searching the top attractions in a country or city can help you familiarize yourself with what's there and perhaps help you start to prioritize what you want to see.
You can also search by Users, Collections (ex: "Best photos spots in San Francisco"), Destinations, Attractions, and Countries.
Every attraction has at least one photo and connects you to photos shared by other travelers on the app.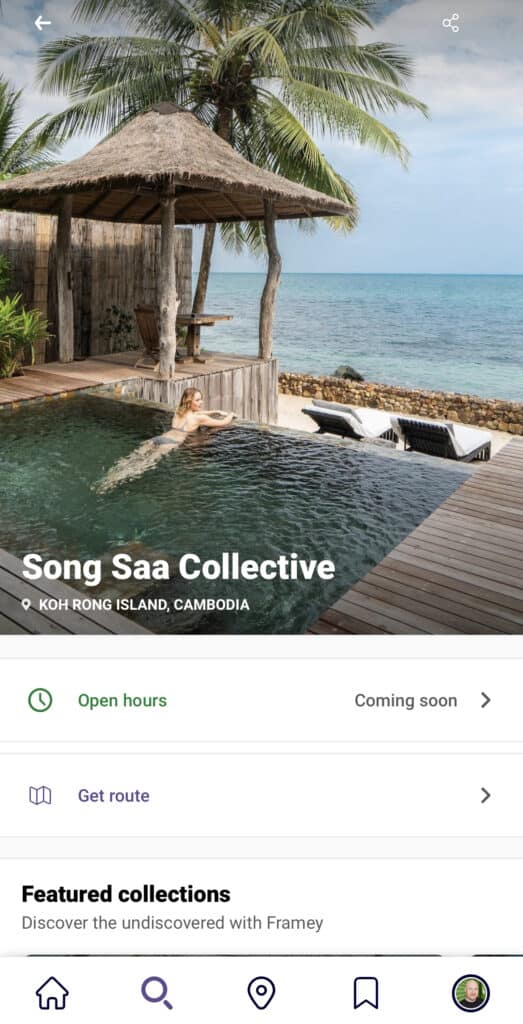 There's also the option to get accurate directions or a ride using your preferred app:
Apple Maps
Google Maps
Uber
Lyft
Maps Me
Future updates to the app will provide additional information, including the opening hours of the attraction, if applicable.
Click on the map marker icon next to the magnifying glass at the bottom of the app to be taken to a world map. You'll see an opt-in screen first, as you need to allow location services on your phone for this feature to work.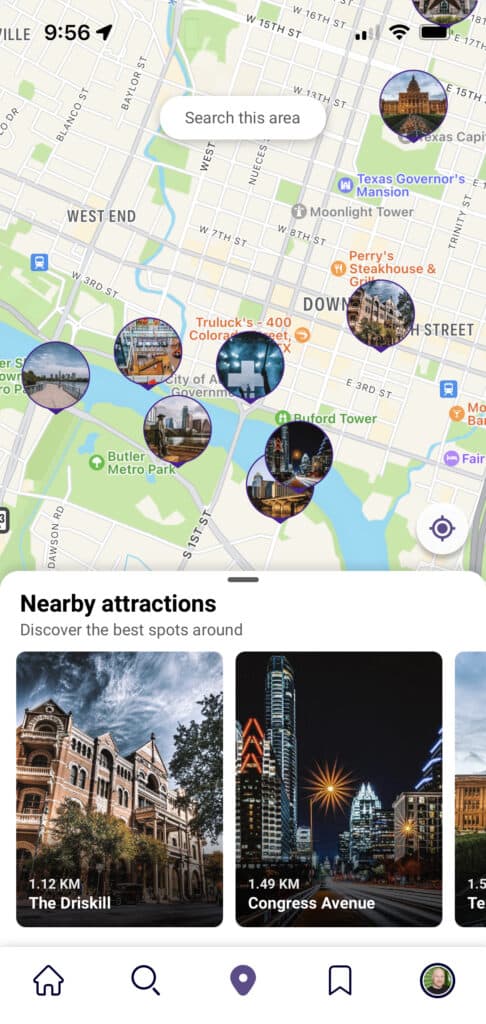 Saved Places
Go to the bookmark icon at the bottom of the app to review the Collections of photos and Destinations you've saved while browsing.
Benefits of Using Framey
Researching a trip can help clarify what you'd like to experience, whether your trip is several months or years away.
Framey allows you to:
Visualize the places you can go.
Get inspired by travelers from around the world.
Create a travel itinerary based on images that excite you.
Bookmark every site and attraction that interests you, so you can always return to them under the "Saved" section.
Share photos from your trips to help inspire others (pay it forward).
In addition to the mobile app, Framey recently launched a travel blog on its website to provide destination-specific stories.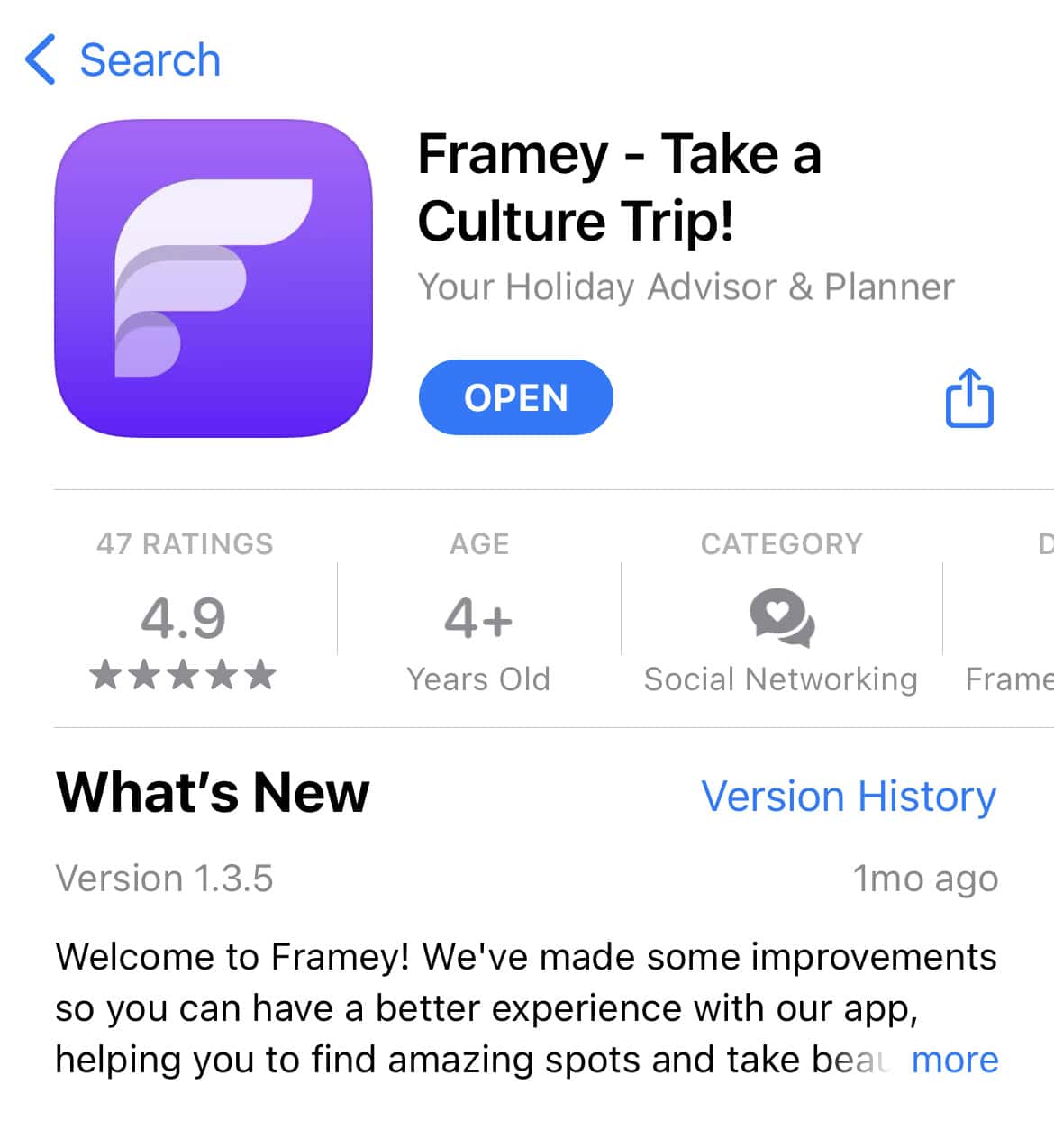 Impressions
Overall, the Framey app is well thought out and easy to use. It's less than a year old, and there are already thousands of users on it and enough photos to keep a well-traveled guy like me interested.
Framey allows travelers to get back to the experience of enjoying one another's photos without the distraction of ads that have become so common on other apps.
Plus, it's designed by travelers for travelers, so you won't get bombarded with unrelated photos based on that one time you clicked on a cute picture of Bernese Mountain Dog puppies.
Framey is free to download for iOS (iPhones) and Android phones.
_____
This story is brought to you in partnership with Framey and based on my personal experience using the app.
Dave is the Founder and Editor in Chief of Go Backpacking and Feastio. He's been to 66 countries and lived in Colombia and Peru. Read the full story of how he became a travel blogger.
Planning a trip? Go Backpacking recommends: