A few weeks ago, I had the pleasure of joining fashion and travel writers and editors at a Robert Verdi Twitter Party.
It was unlike anything I've ever been to: the apartment was chic and decorated with beach, as well as exotic accents.
There were platters of sliced vegetables, bread, meats, and cheeses.
Bacardi Torched Cherries were served generously as men and women sat on smartphones updating their Twitter accounts by the minute.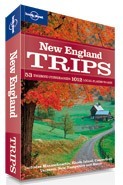 Before long, the real fun began, as Robert sat fabulously at the front of the room and introduced the best in products and services for every traveler– creative, stylish, luxe, and coastal, amongst others.
The selection was above and beyond what I've become accustomed to, a.k.a. there was no speak of hostels.
That's not to say, however, that I couldn't relate. The travel they spoke of reminded me of family vacations and the kind of trips I hoped to be able to take one day.
Along the way, I also learned a few invaluable tips from experts like how to spruce up a limited clothing selection, scarves, or when booking flights, try midnight, when traffic is low, or early morning when systems reset.
I also walked away with quite a few valuable getaway items, including a face moisturizer with sunscreen, luggage tags, a bathing suit, and one of Lonely Planet's freshest new guides, New England Trips.
As Robert Reed explained, the series provides unique itineraries on exciting trips across the United States and, in this case, specifically within the New England region.
Each page of this comprehensive guide features insiders tips and expert advice on how to get to the heart of historical, modern America.
There are iconic trips, regional music playlists, a green index, and even pet-friendly listings.
For many, like myself, it is perfect for a weekend escape and reveals a lot of gems within my local area.
If you happen to live in the northeast or plan on visiting soon and are in the market for a quick travel thrill, please leave a comment below about what makes your hometown special.
One winner will be randomly chosen to win a Lonely Planet New England Trips guide of their own in two weeks!
Update: Congratulations to Two Backpackers! Enjoy and have multiple great trips.
Danielle is a globetrotter with a healthy appetite. In addition to writing about her travel and foodie experiences, she enjoys reading, indulging in the arts, and channeling her inner-yogi. Read more from Danielle at her blog, Danielle Abroad.
Planning a trip? Go Backpacking recommends: