See a calm, soothing side of Vietnam with an extraordinary cruise in Ha Long Bay. The UNESCO World Heritage Site is famous for its spectacular and mesmerizing scenery—rugged limestone islands encircled by emerald green waters.
Located in the Gulf of Tonkin in Northern Vietnam, Ha Long Bay has more than 1,600 karsts and islets covered with jungle vegetation.
The neighboring Lan Ha Bay sports about 300 limestone islets. And northeast of both is the less visited Bai Tu Long Bay, which boasts 3,000 rocky islets.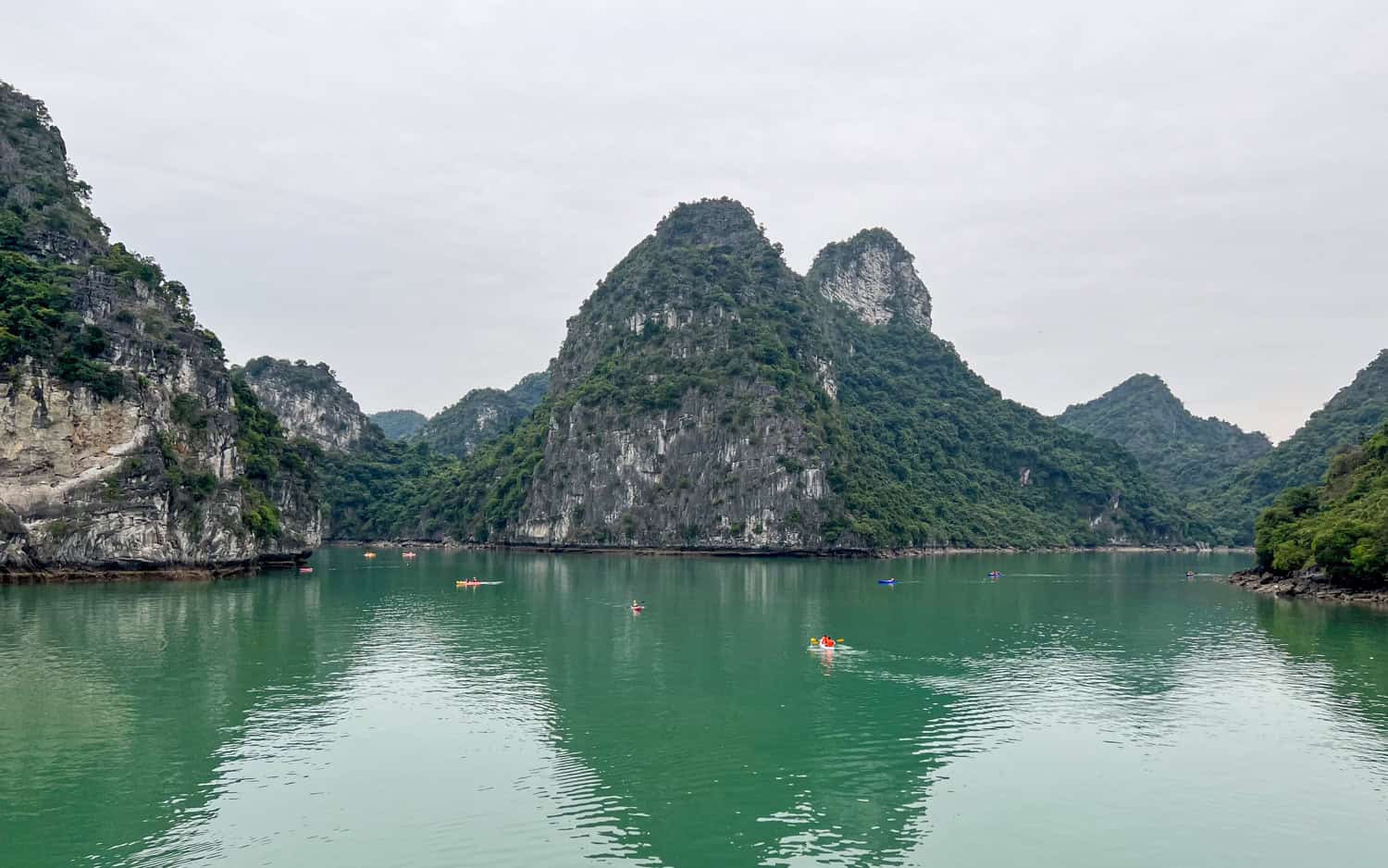 These natural wonders of Southeast Asia developed over a period of 20 million years, with the sea sculpting the rocks.
The jagged islets and ancient karsts have been notched and carved by rain and seawater, creating hollow islands and caves.
Two popular caves accessible to tourists on a Ha Long Bay tour are Sung Sot Cave ("Surprise Cave") and Luon Cave.
Famous for its vibrant green water and epic scenery, Ha Long Bay and La Ha Bay look like scenes from a movie. If you've seen the 2017 film Kong: Skull Island, you know it has been.
The magical scenery became the central set for the action film. Helicopters fly over the island mountains and eventually land on one lush islet, where a King Kong surprise awaits.
Rosy Cruise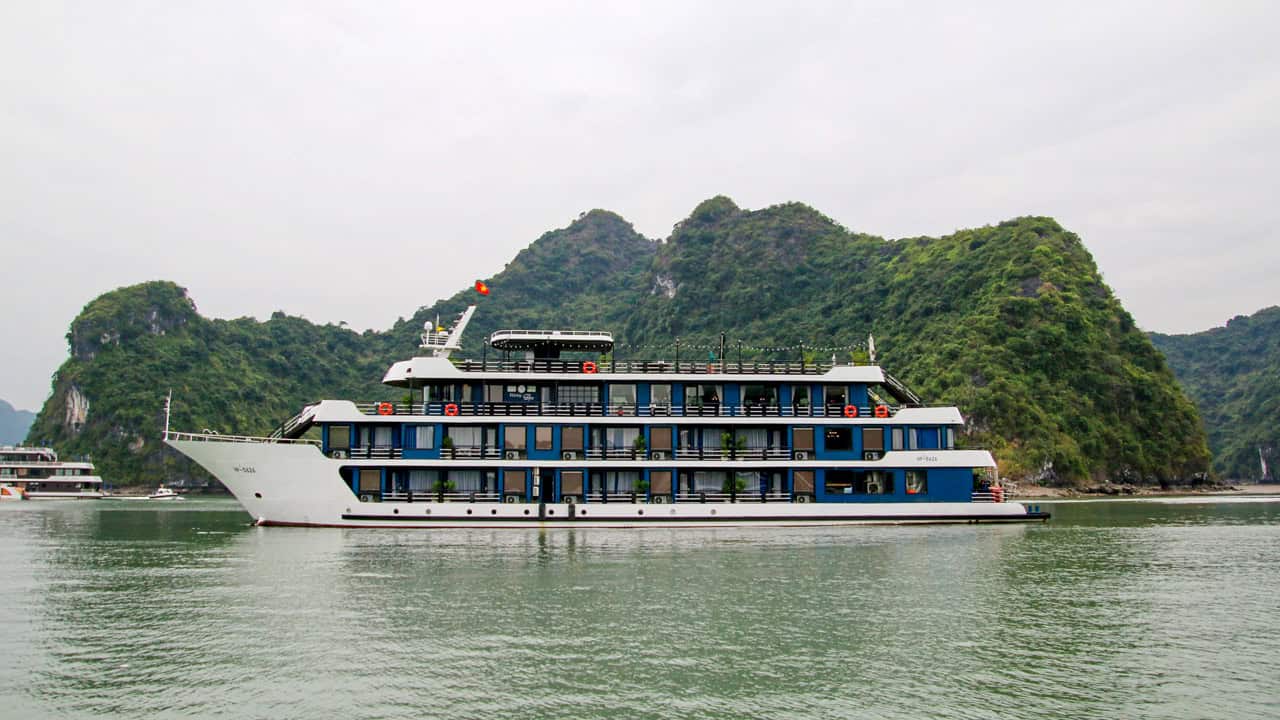 We ventured to see the myriad of islets with a two-day, one-night Rosy Cruise. The boutique cruise company operates out of Ha Long Bay and Lan Ha Bay, offering sweeping views of the beautiful scenery.
Built in 2020, Rosy Cruise features 22 luxury suites that meet international standards. With a maximum of 52 guests, the ship provides an intimate sailing experience, and wandering the boat never feels crowded.
The spacious cabins are draped in comfy bedding and decor with ensuite marble bathrooms and stand-alone bathtubs with showerheads. Western-style toilets ensure a comfortable experience.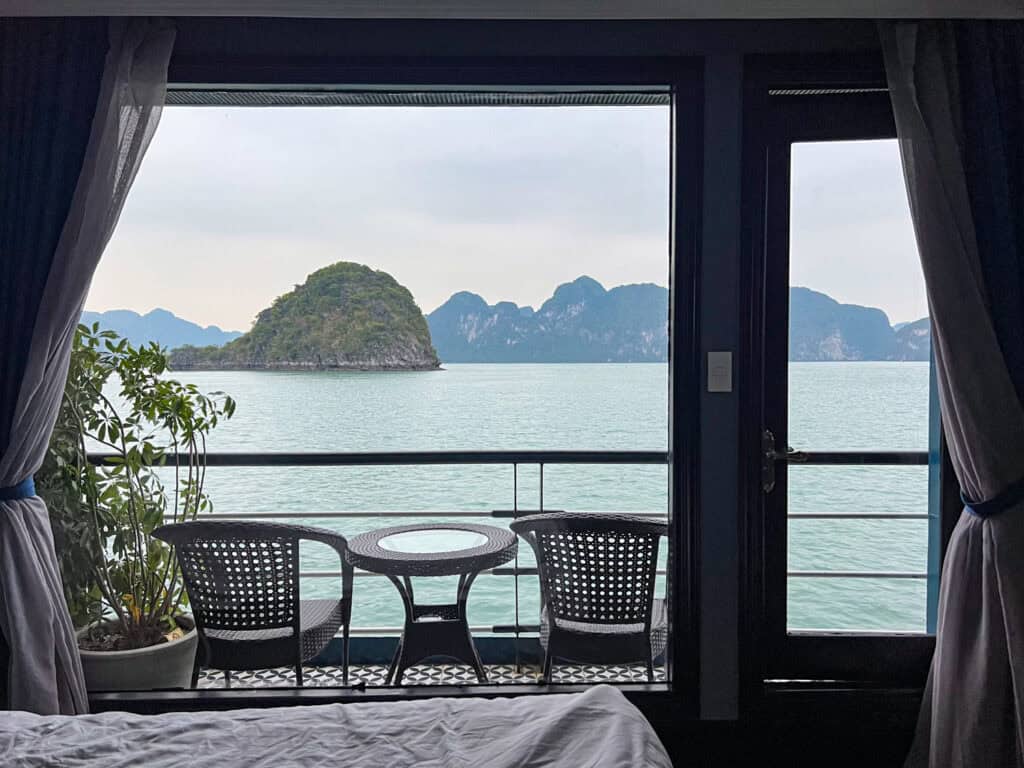 Every suite features floor-to-ceiling windows and private balconies, offering incredible, up-close views of the monolithic islands and the lapping green water of the bay.
The steel vessel boasts five decks with an outdoor jacuzzi on the third deck, a restaurant on the fourth, and a sundeck on the fifth.
All meals are served in the spacious dining room, with bay views on three sides. On the fifth floor, the sundeck offers a place to relax, enjoy a drink at the Skybar, and capture 360 views of the natural beauty.
Day 1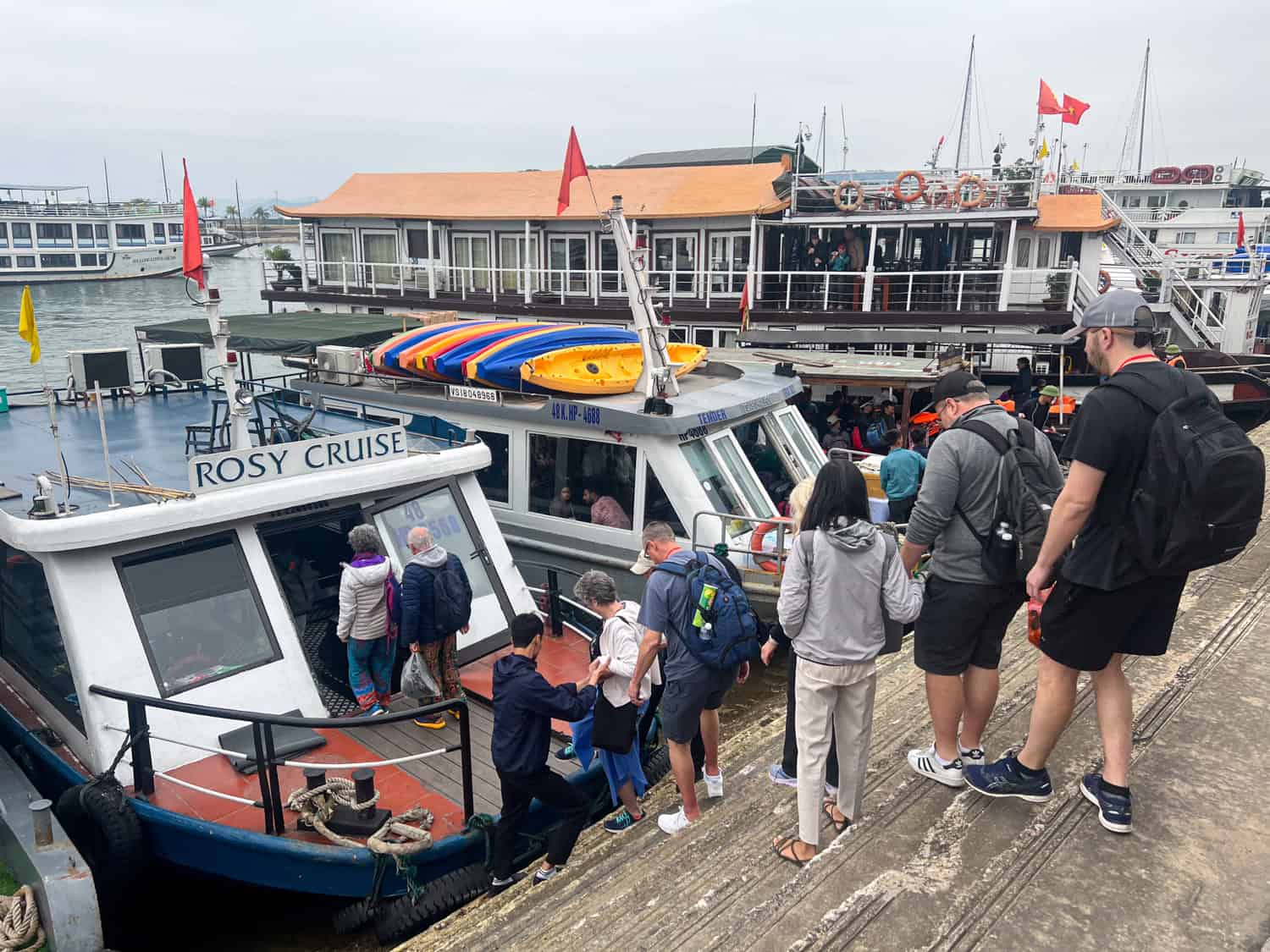 Our overnight cruise began at Tuan Chau International Marina in Ha Long Bay, located in the Quang Ninh Province, about 100 miles east of Hanoi.
After a short wait at the Rosy Waiting Lounge in Terminal 2, we were led by our English-speaking cruise manager onto the dock.
We hopped on Rosy Cruise's tender (a small boat) and took our seats on flat benches there.
As the tender sped away from the busy harbor and docked boats, we got our first glimpses of the monolithic islands covered in green vegetation.
Our home for the next few days stood out among the natural scenery. As we approached, the crew crowded the back of the ship, enthusiastically waving at us. We transferred from the tender to begin our cruise.
Lunch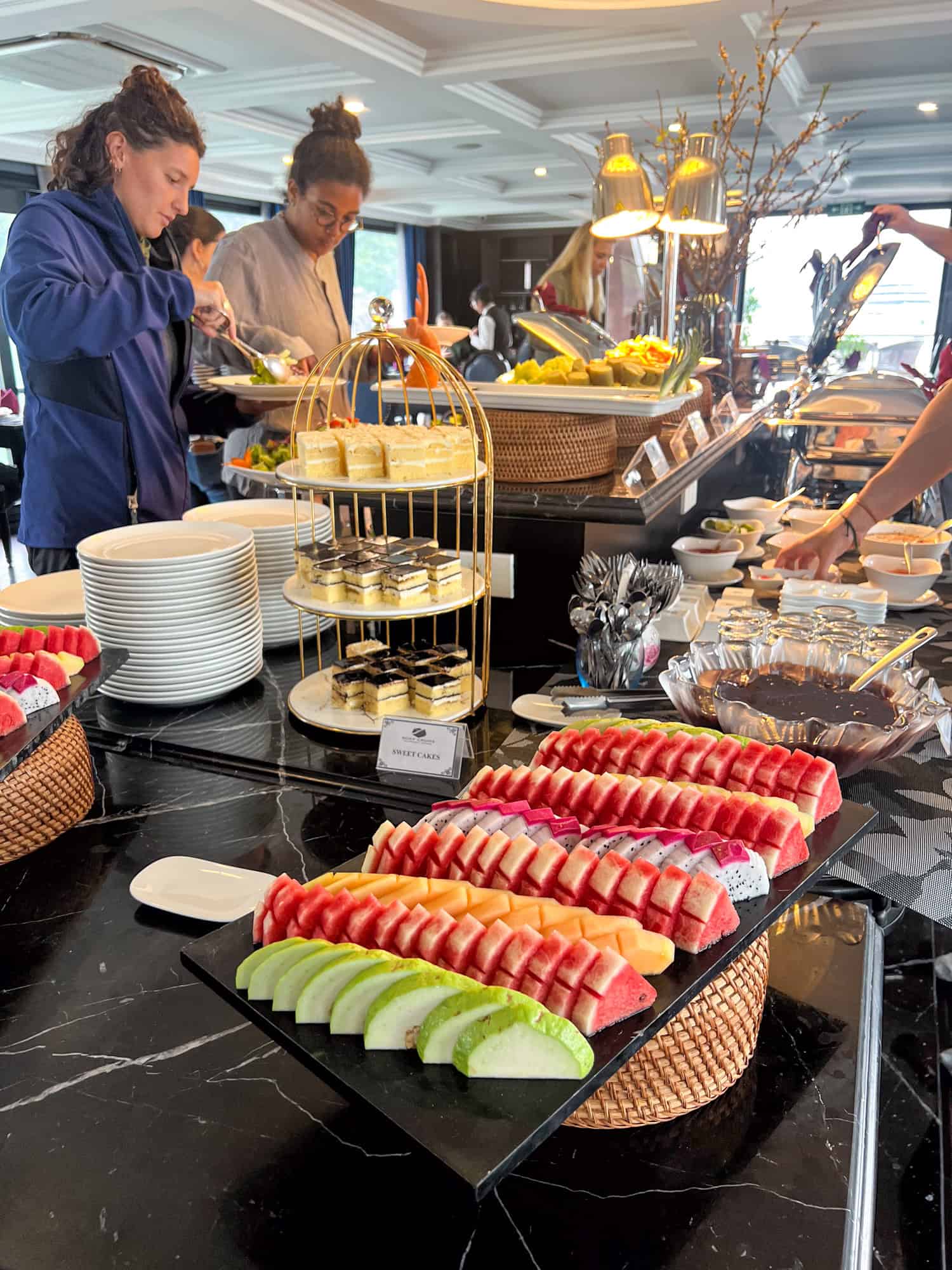 After dropping luggage in our cabin, we enjoyed a welcome buffet in the dining room, with various hot and cold dishes, including fresh fruit, pumpkin soup, stir-fried vegetables, rice, potatoes, and barbecue chicken breast.
With windows on three sides of the restaurant, we could admire the beauty and isolation as we glided by limestone cliffs.
After lunch, we dropped anchor on the east side of Cat Ba Island, allowing passengers their first opportunity to venture out independently.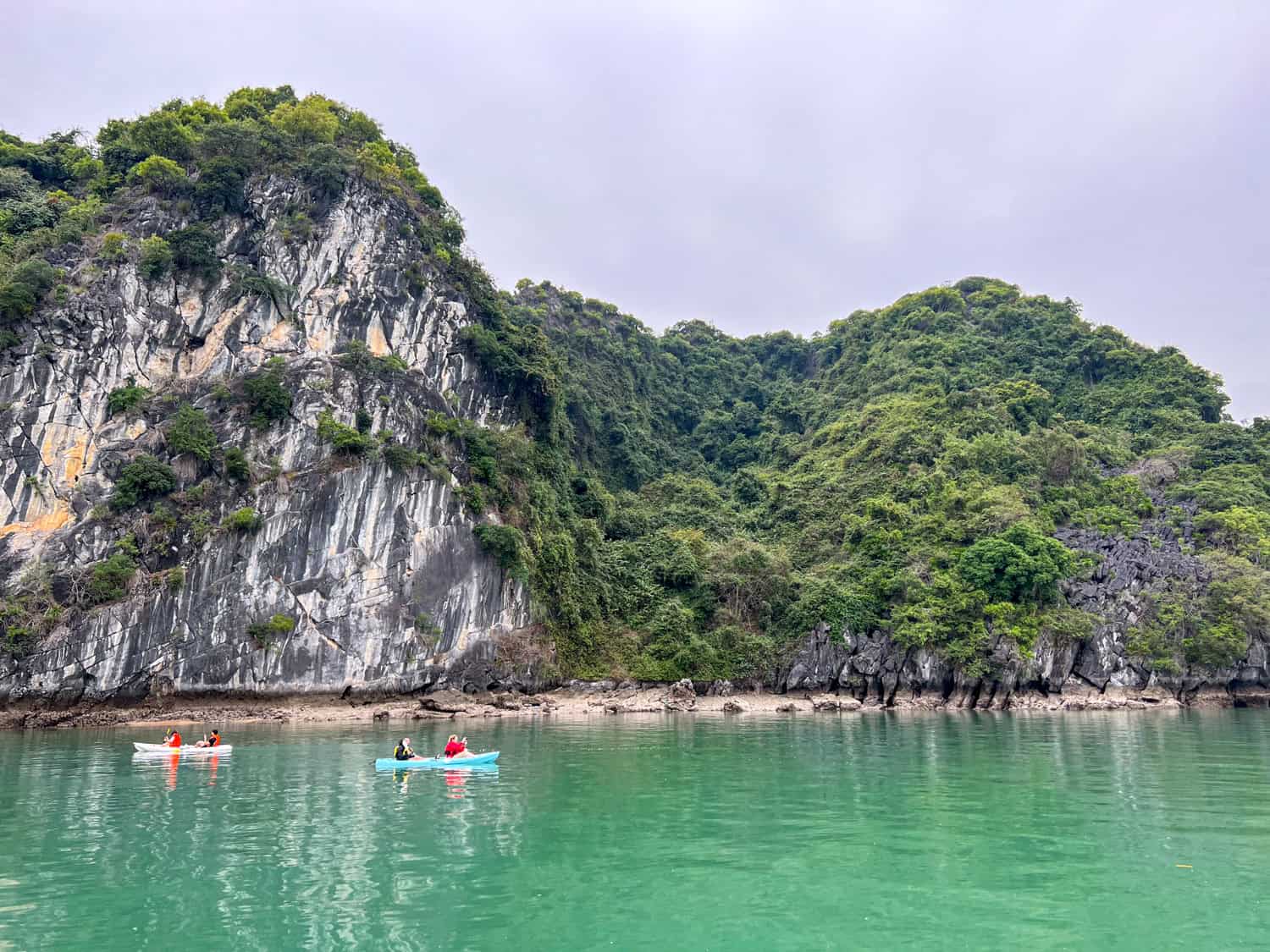 A few hopped into kayaks, enjoying close-up views of the rugged islets surrounding us. We took the free time to enjoy our private balcony and the stunning scenery.
In the early evening, we ventured up to the sundeck for the first time, taking in the full-circle views. We enjoyed tropical cocktails, fresh fruit, and rice crisps, a local snack.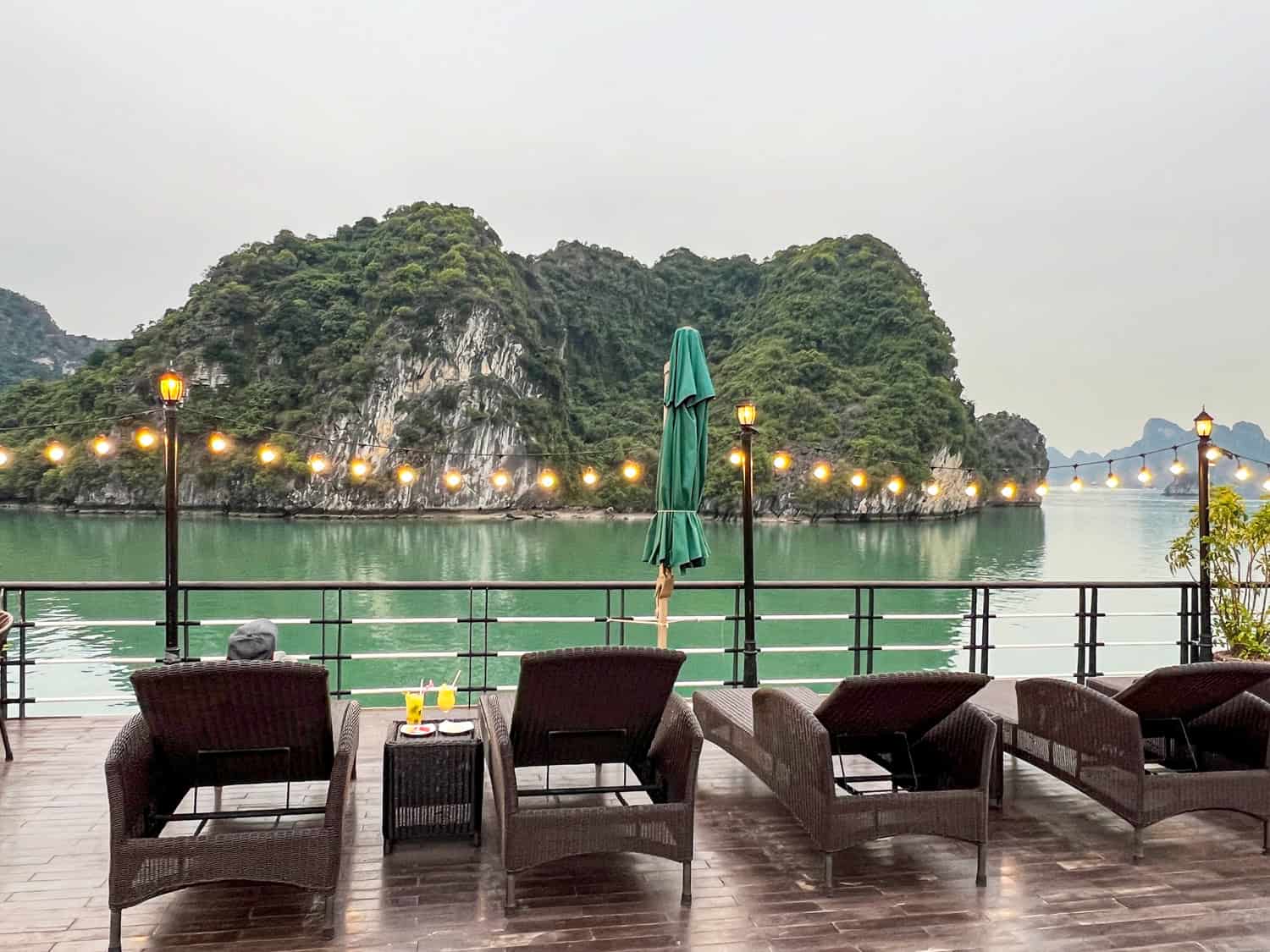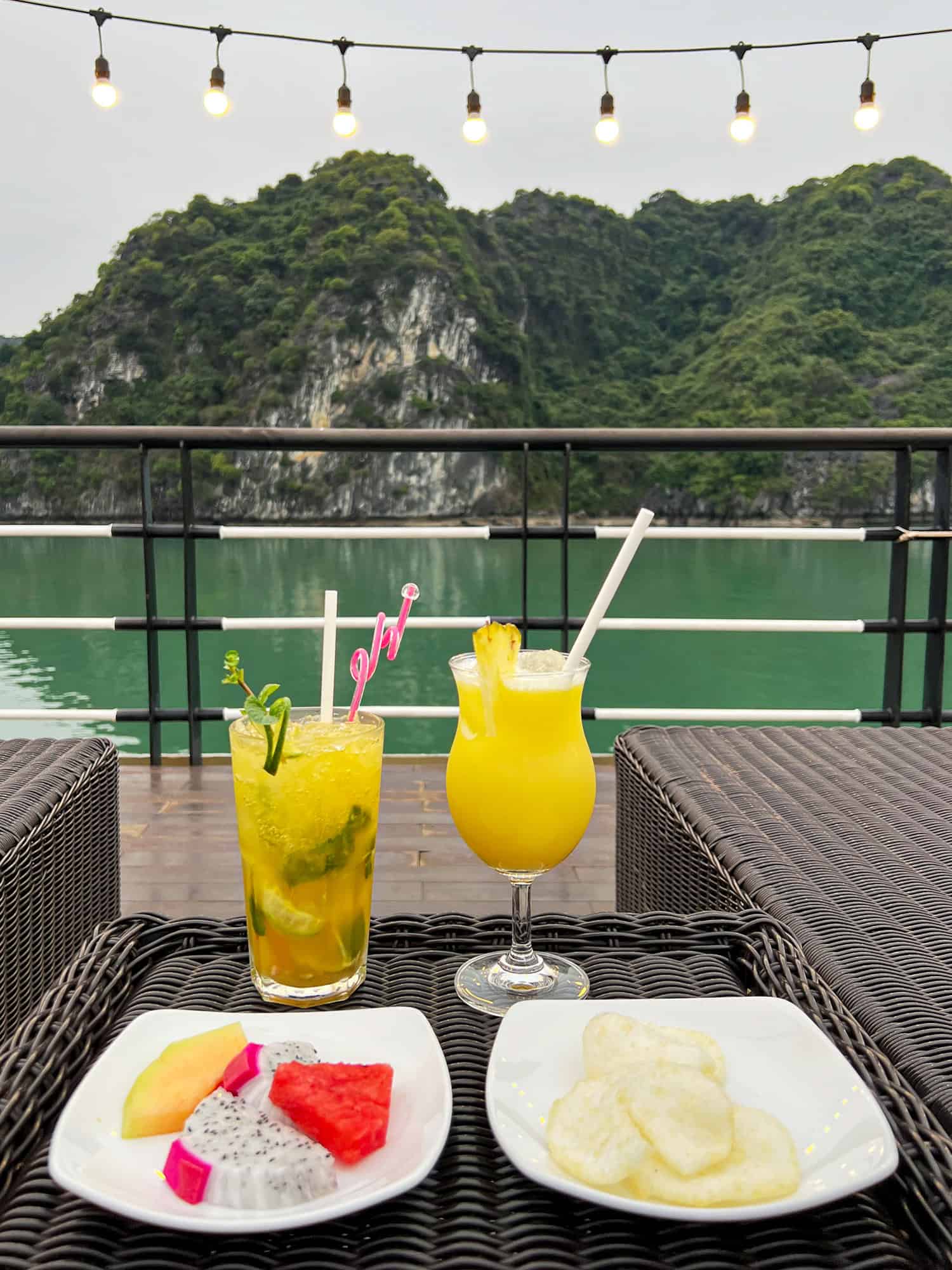 Note the cocktails were not included in our cruise price, but they did offer a 2-for-1 happy hour price. Mocktails, soft drinks, and iced tea were available as well.
The chaise lounge chairs were optimal for taking in the view, the limestone islands jutting up from the calming waters.
Cooking Demo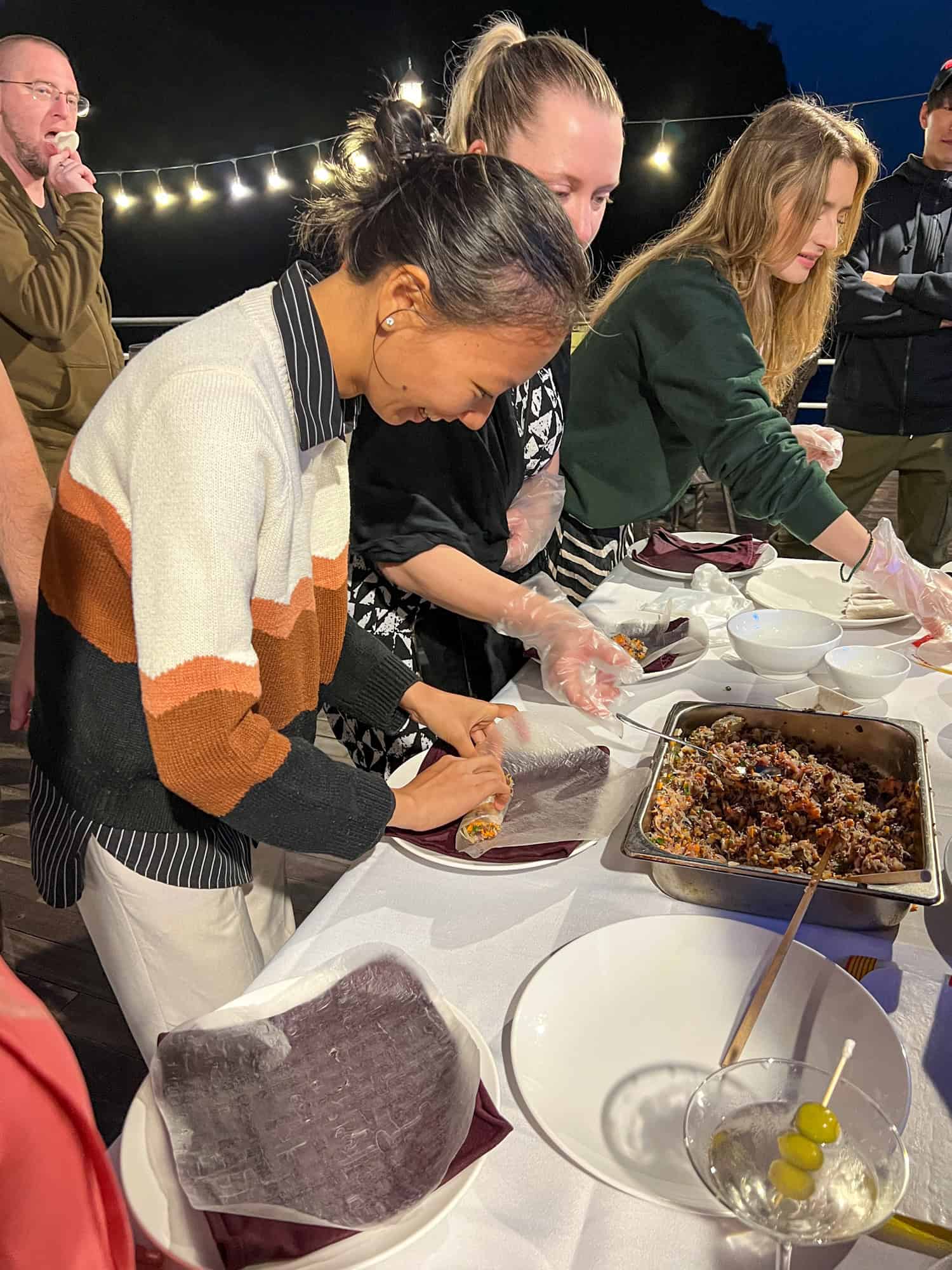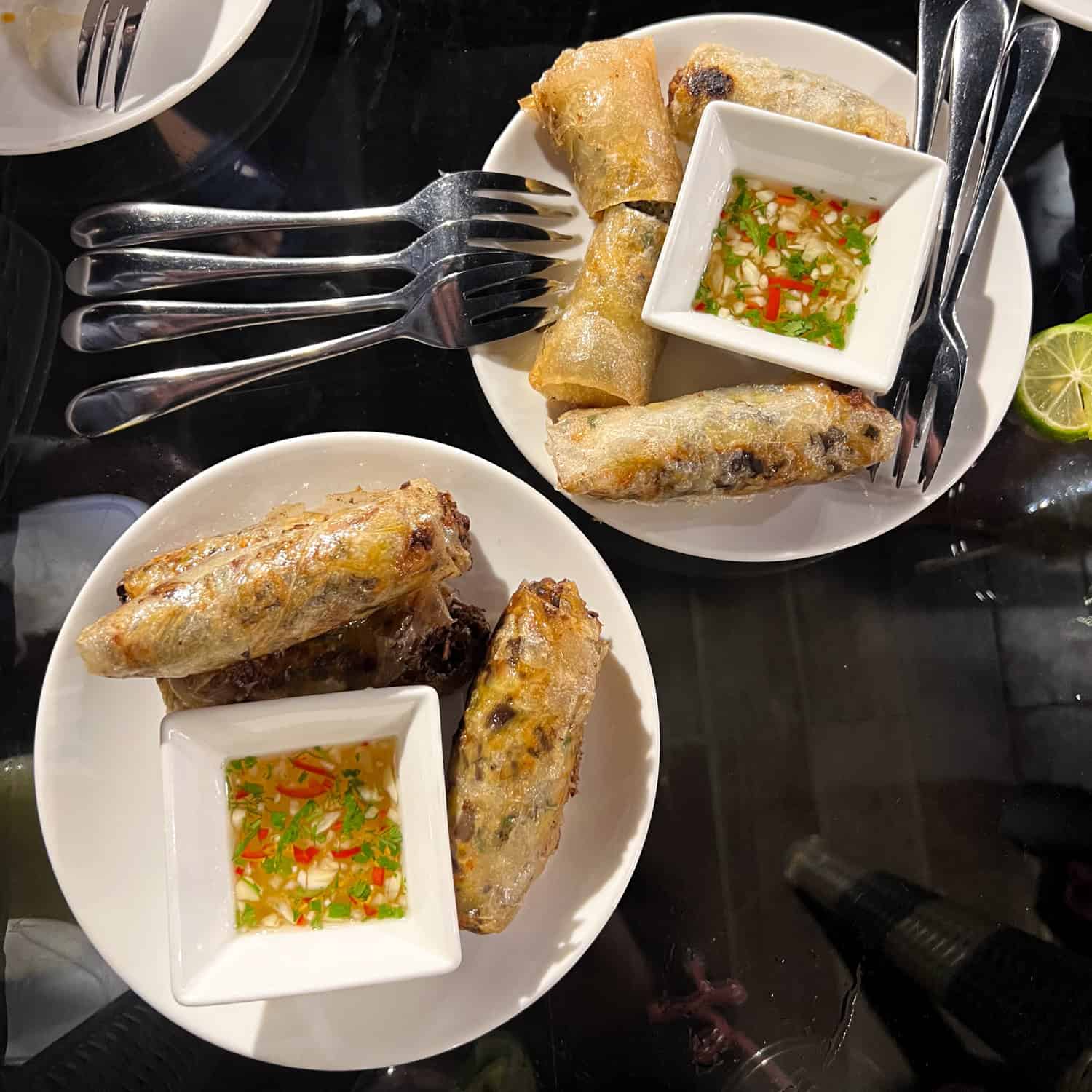 In the early evening, we got a taste of the local culture with a cooking demo for spring rolls, a traditional Vietnamese dish. We learned how to pack the spring roll paper and properly roll it, laughing at our messy attempts.
Smartly, a Rosy Cruise employee deep-fried the rolls for us. But we got to enjoy the spoils of our labor, dipping the rolls into a spicy, tangy sauce.
Dinner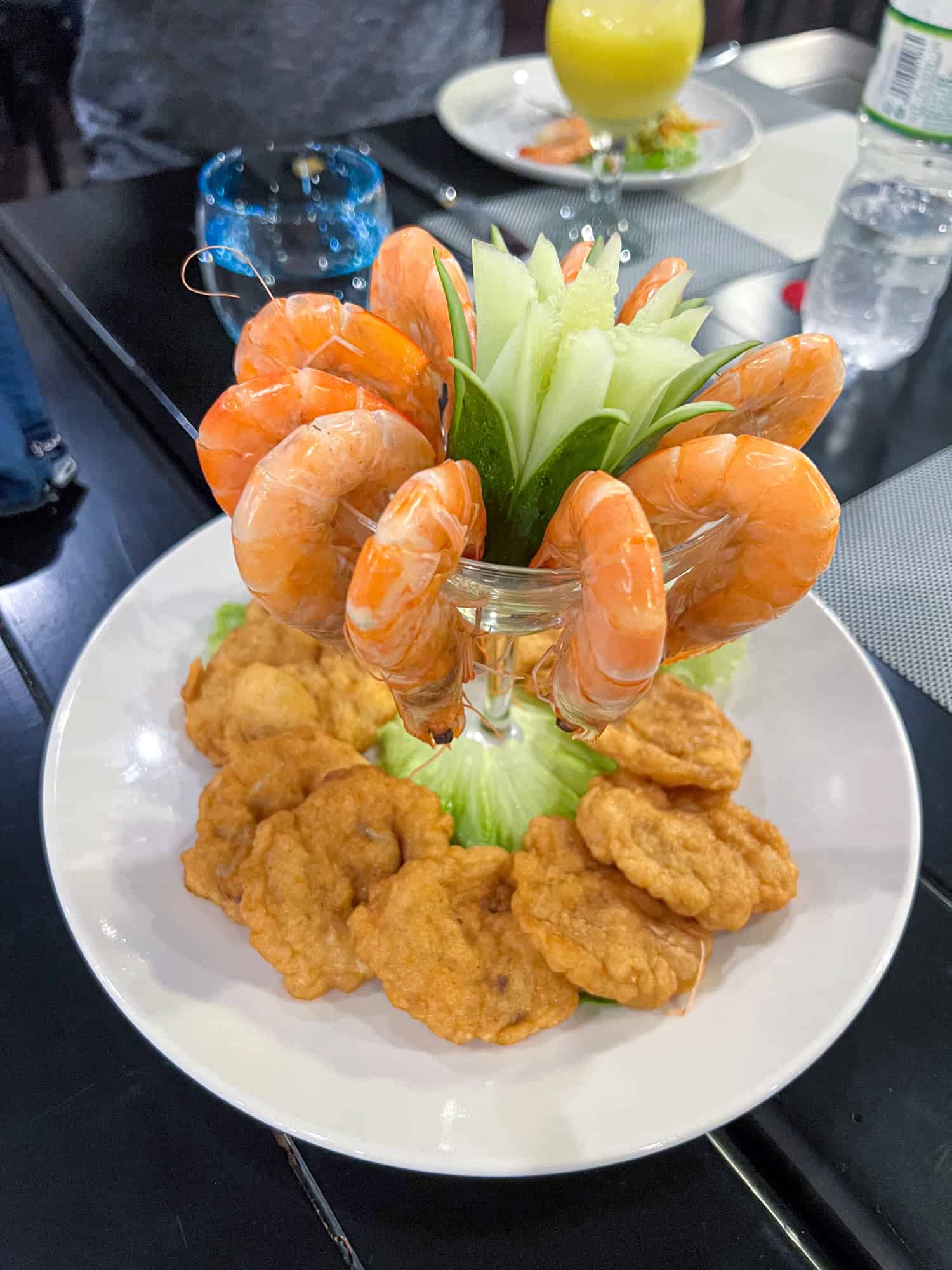 We ventured back down a floor for a five-course gourmet dinner. We started with a seafood soup and a green mango salad topped with shrimp.
A third course featured a steamed shrimp cocktail and a fried squid cake. The entree included grilled sea bass with passion fruit sauce and vegetables. Dessert was a spongy cake with bananas and a caramel sauce.
After dinner, guests could enjoy additional cocktails at the bar and try their hand at squid fishing. Tired, we skipped the unique experience of squid fishing. The next day, we heard they didn't have much luck.
Day 2
Guests awake at sunrise had the opportunity to enjoy tai chi on the sundeck.
A lovely breakfast awaited us in the dining room, with fresh fruit, croissants, pastries, and pho. We took advantage of the local availability to savor dragon fruit, a pricey tropical sweet in the United States.
After tai chi and breakfast, guests could board a tender to visit nearby caves and karsts, a noted area for some of the Skull Island filming.
The small vessels allowed people to come closer to the islets, venturing further into the bay. The crisp air and calm water made it a lovely way to spend the afternoon.
Warned we might get wet, we opted to skip the trip because of the chilly weather. We took advantage of the time to relax and enjoy the quiet of the boat and surroundings.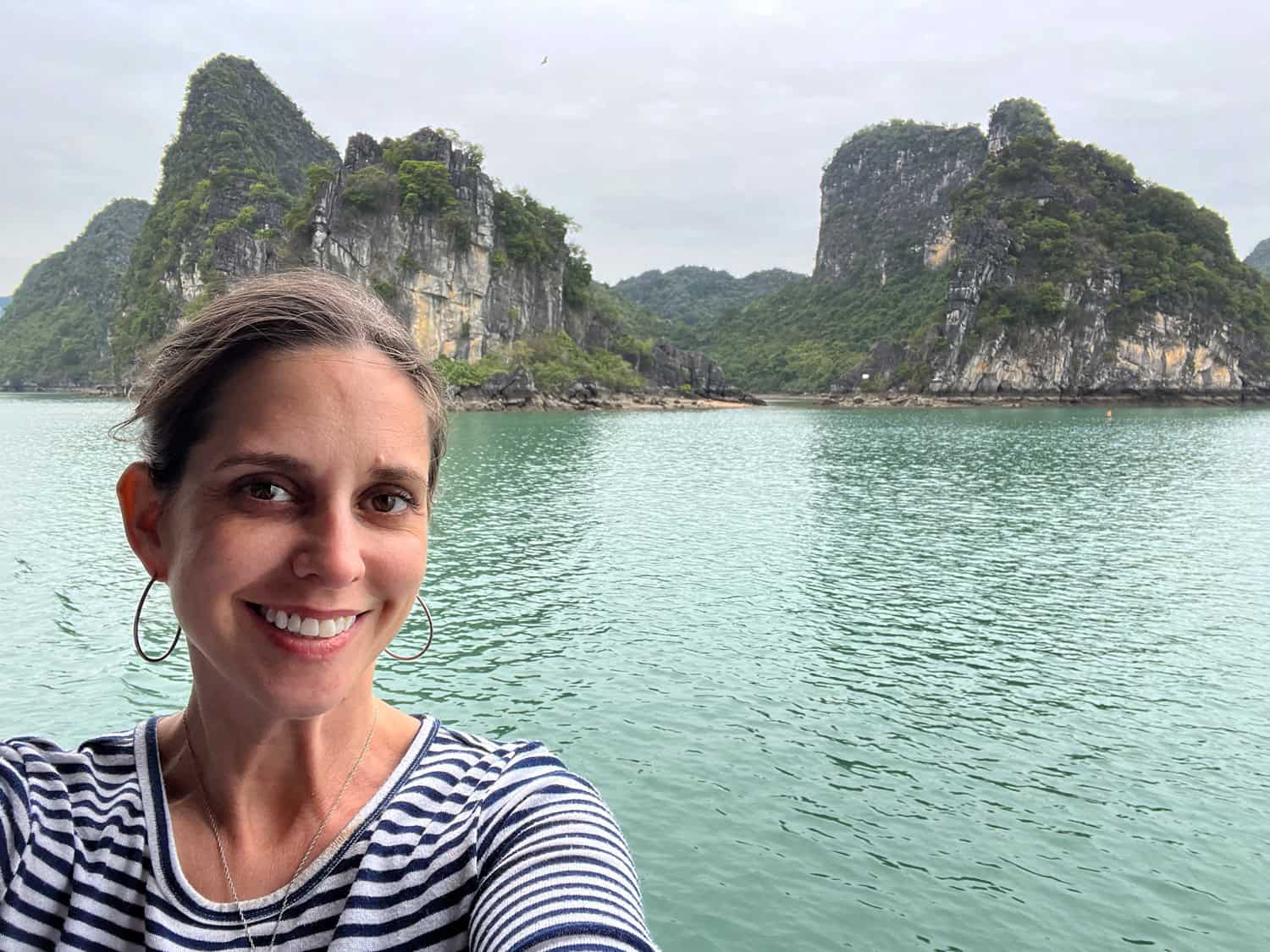 However, we regretted the decision after seeing the cool pictures our friends took. In bamboo boats, locals rowed the guests into the Light Cave, letting them see the limestone landscape hollowed out by the water.
A slight chill kept us from swimming, but several passengers opted to kayak around Lan Ha Bay.
Brunch
A final five-course brunch was served in the dining room before we disembarked for the mainland.
We began with potato and beetroot soup. A green papaya salad with beef followed, a refreshing dish. Slivers of smoked duck breast with orange sauce came next.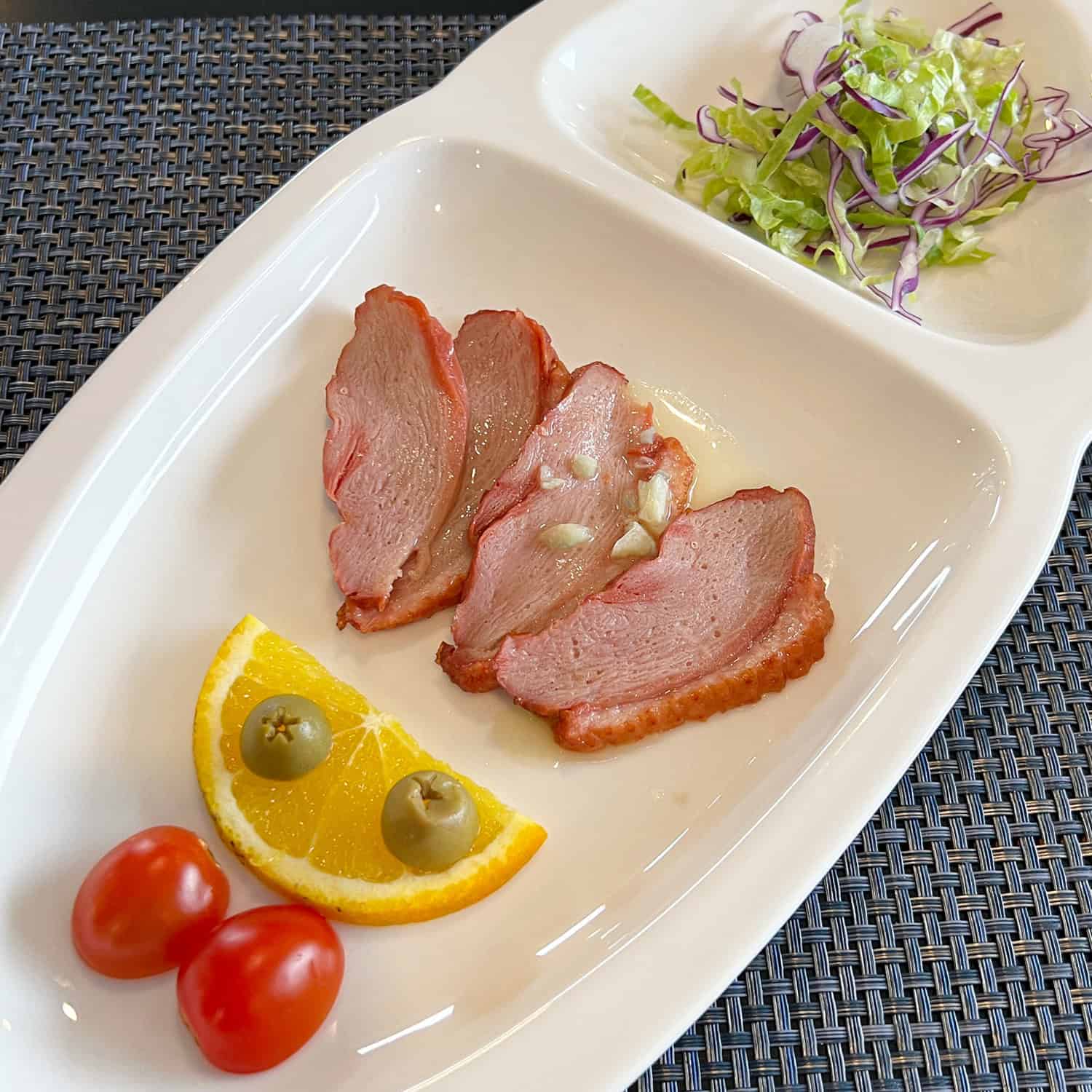 And the main course was a cordon bleu-like chicken dish with a cheesy sauce, rice, and bok choy.
A sweet, delicious mousse with slices of watermelon and dragon fruit wrapped-up lunch on our last day.
Then, we headed back to the marina, taking final glances at our floating home flanked by the small islands made of limestone.
The travel time for our return shuttle ride to Hanoi was about two hours. Our roundtrip shuttles to/from Hanoi were organized through Rosy Cruise.
Cruising Notes
We met a few other people who chose the two-day trip, but the three-day cruise seems like a better value in terms of money and time.
Still, we loved the relaxed, leisurely trip. Sitting on our balcony as we sailed around Ha Long Bay, lounging on the sundeck with a cocktail—everyday worries and the frantic cacophony of the city noise washed away. It all made for an unforgettable experience in Vietnam.
The cruise itinerary can change because of weather and water conditions. In the warmer months, swimming is more widely available.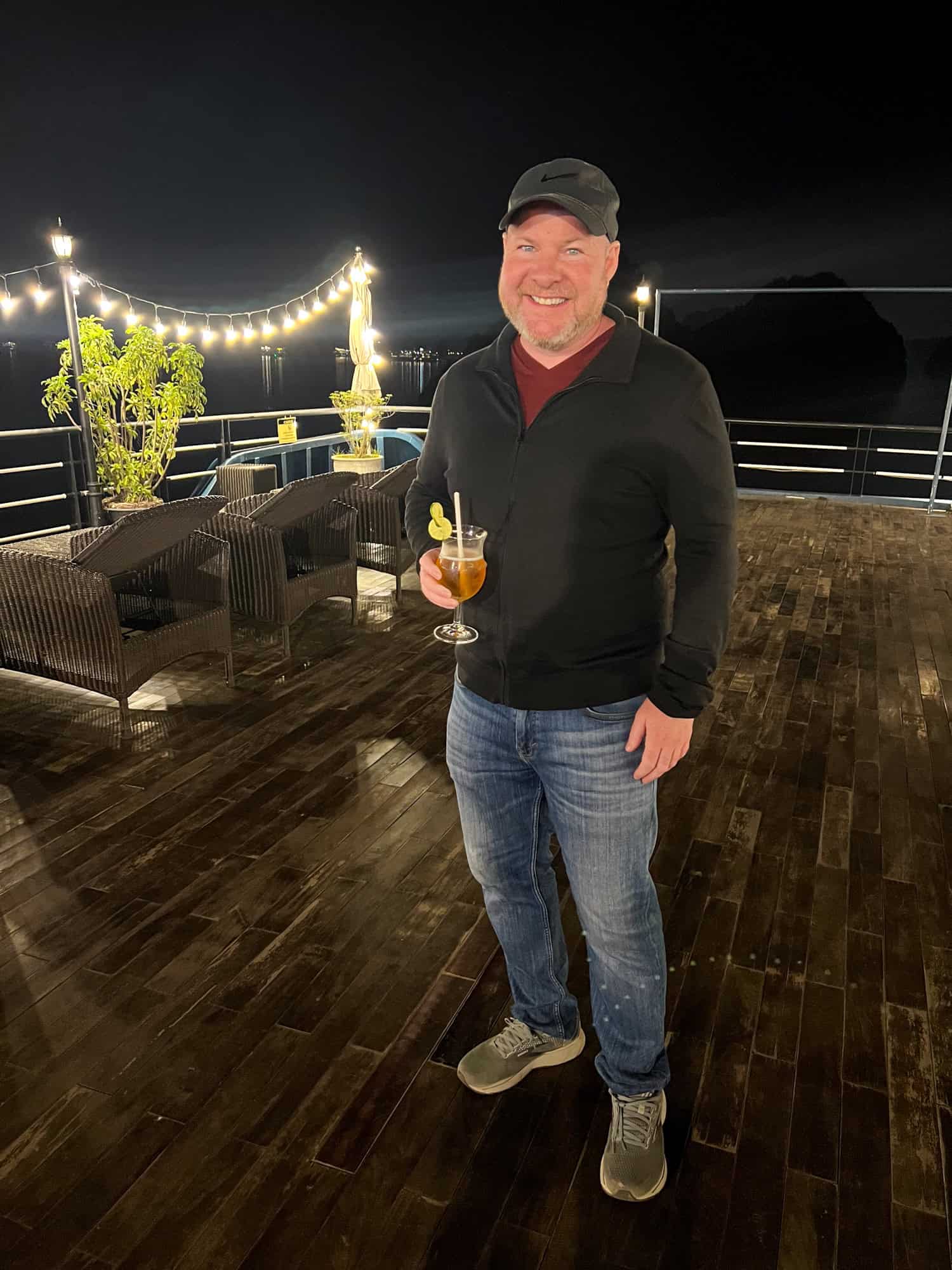 The cruise line also sometimes visits Three Peaches Beach and Viet Hai village, a remote fishing village in the jungle of Cat Ba National Park.
Less than three percent of the islets are inhabited, with people living on 40 of the larger islands. Less than 2,000 Vietnamese citizens live in the Ha Long Bay area, making it a haven for isolated beauty.
Despite the seclusion, wasps of daily life are visible. Other cruise ships sail past, and smaller fishing boats weave through the waters.
At one point during our trip, a woman in a small canoe paddled along our ship, selling water and snacks. We marveled at her transferring goods to balconies on a higher deck.
When To Visit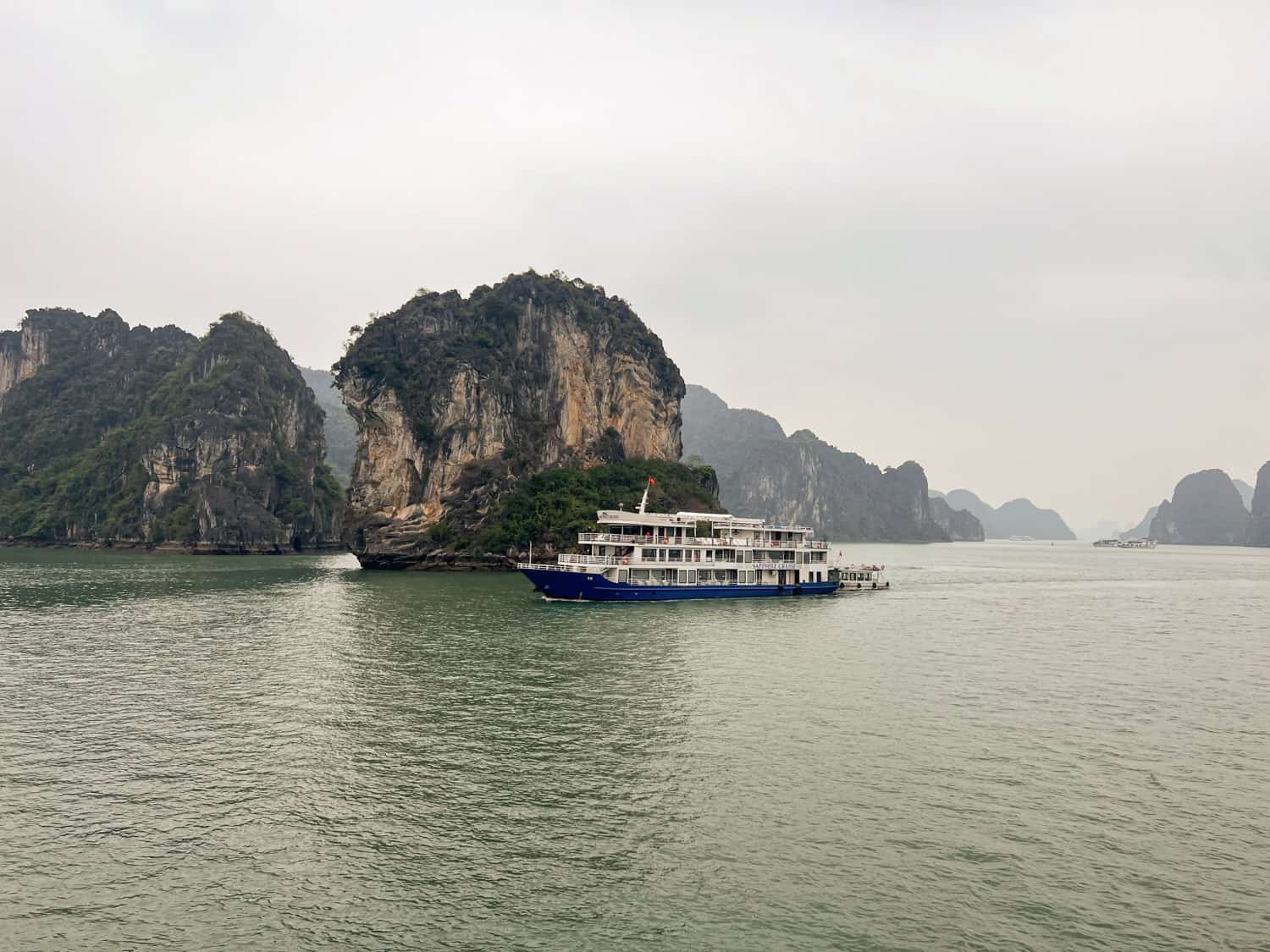 Our two-day cruise was part of a five-day group tour of Vietnam planned by friends. Regarding cruise options, we recommend the three-day cruise in Ha Long Bay for $345.
This will give you one full day on the cruise ship to enjoy this unique environment.
The best time for a Ha Long Bay cruise is April and May when there's plenty of sunshine and blue skies. This is also peak season, so cruise boats will likely be full.
September to November offers cool, clear skies. It's gray and misty in winter, from December to March.
Our February trip was clear, but the sky was a flat, muted gray. We enjoyed our first cruise but would love to return for brilliant blue skies in late spring.
We highly recommend avoiding June through August, which is monsoon season, making the weather unpredictable.
Planning a trip? Go Backpacking recommends: