Hawaii boasts a diverse collection of foods that come from cultures all around the globe.
If you're here on vacation, don't leave until you've tried some Hawaiian food dishes that only the locals seem to understand.
If you're booked in a hotel, it may be of interest to you to know that most Hawaiian restaurants follow a particular style of cooking that's a fusion of the different ethnic culinary influences on the islands.
Dubbed "Hawaii Regional Cuisine" or HRC, this trademarked cooking style follows authentic Hawaiian food recipes using locally grown and locally sourced food ingredients.
But to complete your vacation, try stepping out of the comfort zone and sample some staple Hawaiian comfort street foods.
Don't leave the islands without trying these ten truly Hawaiian foods:
1. Poke, which is like a cold seafood salad, is typically made with raw yellowfin tuna as well as with a variety of other fresh seafood selections like octopus, shrimp, salmon, and more.
It is prepared with shoyu or sweet soy sauce, salt, sea urchin roe, kukui not relish, chopped white onion, fresh ginger, minced garlic, sesame seeds, sesame oil, furikake, and different types of limu or seaweed.
There is a vast range of poke styles to choose from.
2. Laulau, one of Hawaii's popular comfort foods, is traditionally prepared by wrapping pork and taro greens into luau leaves then steaming them.
It can also be made with chicken, beef, and salted fish.
It is typically served with steamed white Calrose rice, macaroni salad, and other traditional Hawaiian food items like poi, Lomi Lomi salmon, squid luau, haupia, and more yummy grinds.
Related: 5 of the Tastiest Hawaiian Fusion Foods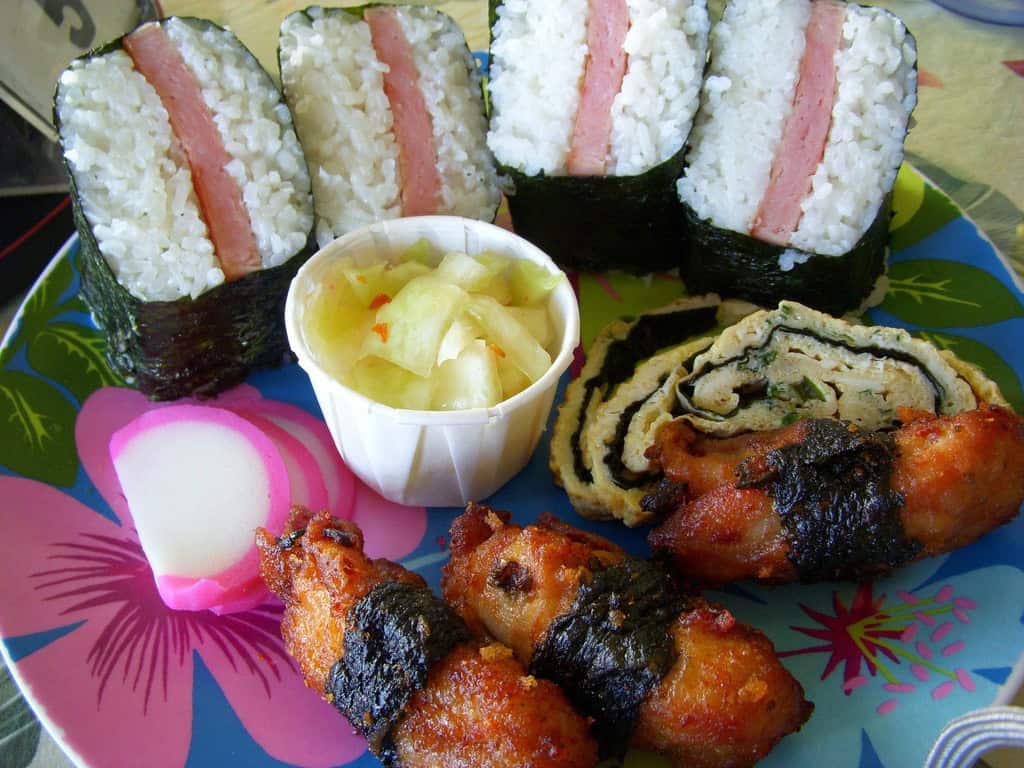 3. Spam musubi, another favorite comfort food, is based on the traditional Japanese snack of rice balls wrapped in seaweed and stuffed with powerfully flavored ingredients.
But instead of pickled plums or salted fish roe, inside you'll find a slab of grilled Spam, glazed with a little soy sauce and sugar.
4. Chicken Long Rice, originally a Chinese dish that was brought to Hawaii by immigrants in the mid-1800's, it has since evolved into a Hawaiian local fare staple.
This dish is made with chicken thighs, smashed ginger, garlic, green onions, sweet soy sauce, chili pepper water, and bean thread noodles.
5. Saimin is a noodle and soup dish inspired by Japanese ramen, but thinner, milder and salty, drawing on dried shrimp and fish for flavor.
It is made with thin Chinese rice noodles or Japanese ramen noodles, sweet soy sauce, green onions, sliced Portuguese sausage, sliced deli ham or SPAM, egg, and Korean cabbage.
6. Huli Huli Chicken is the Hawaiian version of grilled teriyaki chicken.
Typically served with steamed Calrose rice and a salad, Huli Huli Chicken is grilled twice, once on each side.
7. Garlic Shrimp, plump, curled shrimp sauteed with an entire head of garlic, diced finely, this favorite street food is made even more popular with TV's Hawaii Five-O where it is a staple at Kamekona's Shrimp Truck, a frequent setting for most episodes.
8. Coconut Haupia, a Hawaiian dessert that's traditionally made by mixing heated coconut milk with ground arrowroot, served cut into squares and chilled like gelatin.
9. Kulolo, a traditional Hawaiian dessert made from taro, coconut, sugar, and milk.
10. Shave Ice, made with shaved, not crushed ice, the dessert typically comes with a scoop of ice cream, azuki beans, mochi balls, and sweetened condensed milk.
Syrup flavors range from local fruits like lilikoi to more exotic ones such as Thai tea.
If you're a foodie like us, you will surely enjoy these unique foods that you can taste in beautiful Hawaii.
So, make sure you plan your future trip properly, which includes researching your travel destination, purchasing reliable travel insurance, and staying for as long as needed in order not to leave the islands without trying Hawaii's most famous dishes.
__________
This story was brought to you in partnership with Globelink.
This post was written by a guest contributor. Please reference the author's byline in the post above for more information. If you would like to guest post on Go Backpacking, please read our submission guidelines. For information on advertising opportunities, go here.
Planning a trip? Go Backpacking recommends: