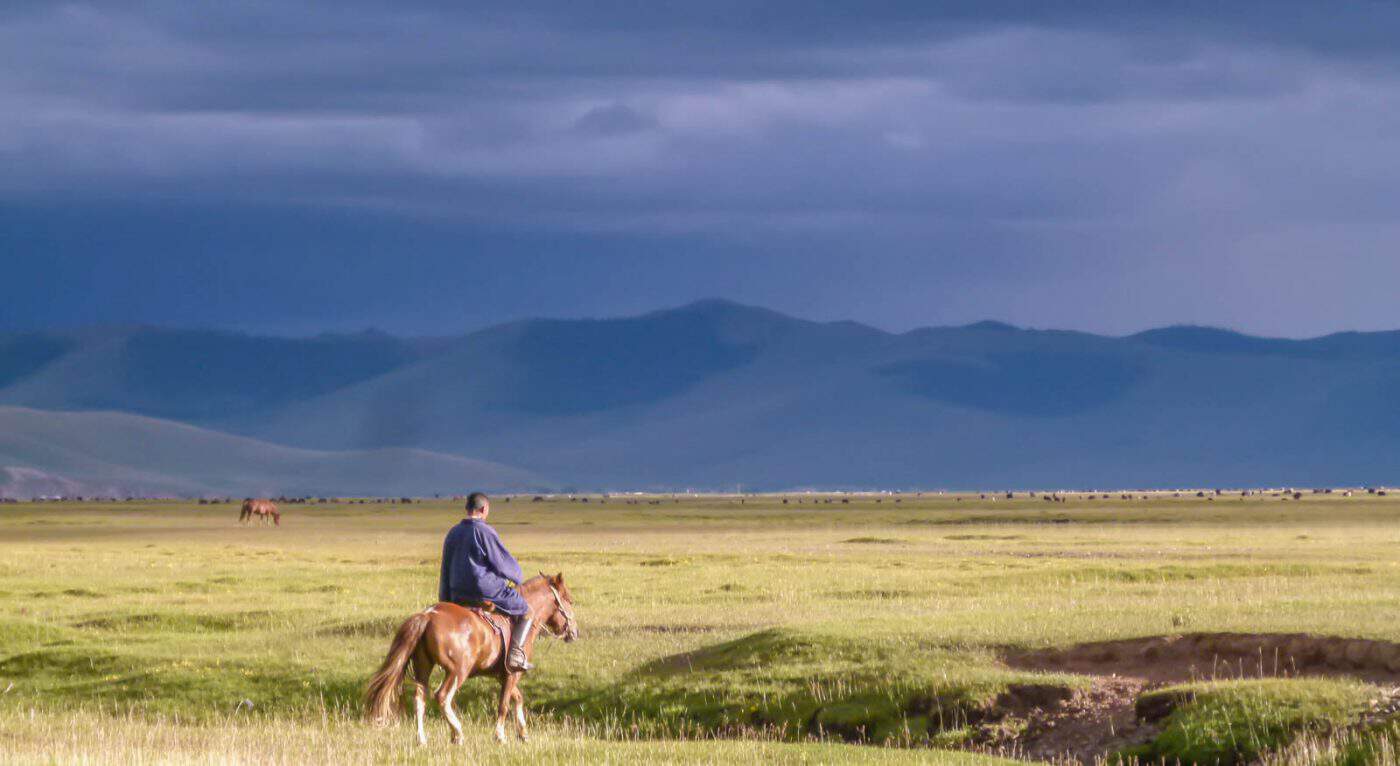 Rain poured down on the tent, and lightning was striking the rolling hills in the distance, setting the Mongolian steppe aglow.
We wondered if we had made a mistake trying to hike 120 kilometers of "trail" in Mongolia that had never been visited by tourists.
Just as our doubts started creeping in, we heard the trit-trot of horse hooves outside.
We unzipped the tent and there in the rain was a man on a horse. He came bearing gifts.
Without a word, he hopped off his horse and handed me a ridiculously large bag of strong-smelling dried cheese before smiling, hopping back on his horse and galloping off into the horizon.
This was the first of many visits on a hiking adventure that would go down in our books as one of the best experiences in our 12 years of travel.
This story starts in 2012 and while that may seem like a long time ago, the great thing about Mongolia is that it hasn't changed much in the past thousand years, let alone in the past decade.
We were finishing up a one-year teaching contract in China, and we decided to head to Mongolia to get away from the polluted cities of Central China and into the vast emptiness of the Mongolian steppe.
But we didn't want to just join a tour or hire a guide.
No, we decided we were going to use Google Satellites to locate a river that connects two towns and plot our route along that river.
It took us about two weeks of zooming in and out of Google Maps to find the perfect river.
It would be about 120 kilometers of trekking in the middle of nowhere.
We figured we'd be completely alone.
Was this a brilliant plan or a stupid and potentially fatal idea cooked up in the brains of two self-proclaimed "intrepid travelers?"
Only time would tell.
Arriving in Mongolia
Like most travelers to Mongolia, our first stop was the capital of Ulan Bator.
But instead of coming by plane, we hopped on the Trans-Mongolian train, an extension of the famed Trans-Siberian Express route.
Chugging along on the tracks in the countryside of one of the least populated countries on Earth gave us a good idea of what we were going to be experiencing on this trek.
The emptiness of the step was broken up only by small nomadic yurt camps, and the rolling green hills seemed to go on forever.
Stocking Up in Ulan Bator
In Ulan Bator, we were able to pick up the remaining supplies that we weren't able to find in China.
There are some good camping stores in the city that have pretty much everything one could need on a multi-day trekking excursion.
We picked up some dehydrated dinners, a small cooking stove, gas, and some other snacks and bits from the store before hopping on a tiny bus that took us to the town of Chuluut Sum.
We didn't pack enough food for the entire trip, because my plan was to catch fish along the way.
I had packed up my best fly fishing rod and brought it from China, so my plan was to try my hand at catching some local Lenok to sustain us while on the hike, which was going to take around eight days.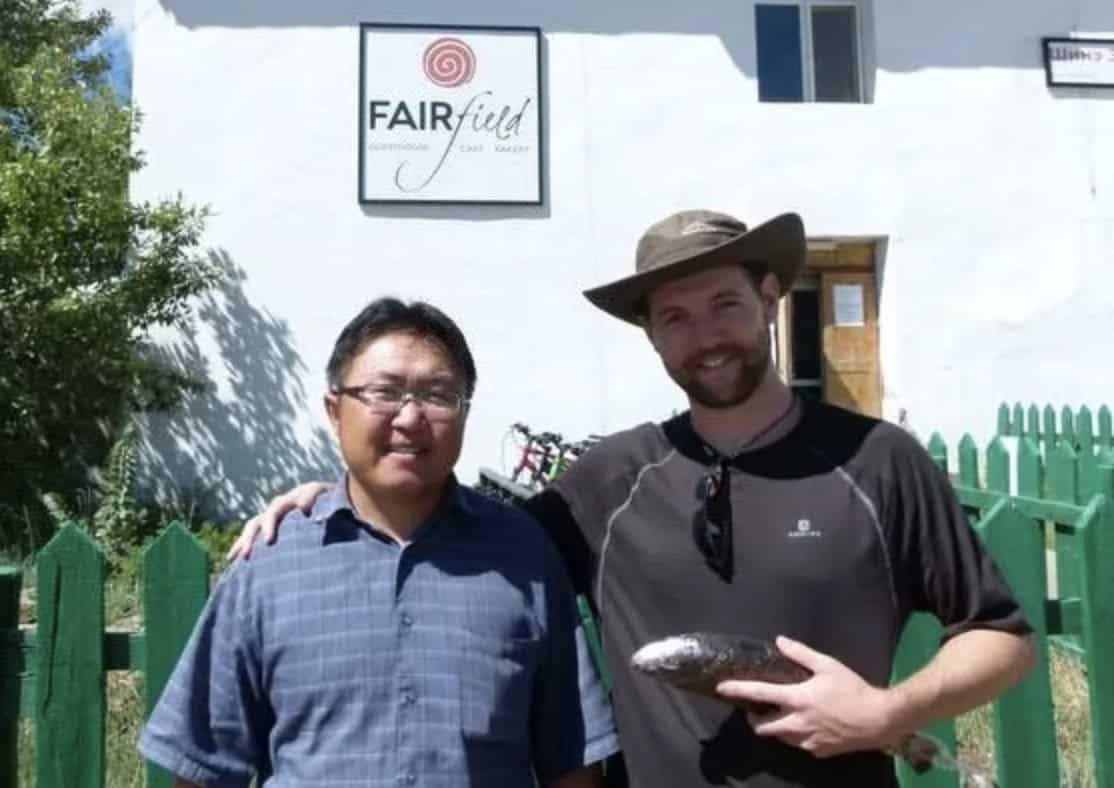 Planning in Tsetserleg
I'd say this is where we got very lucky.
We ended up staying at Fairfield Guest House in Tsetserleg (the only real hostel-type accommodation in town), and the owner was an Australian expat who had close relationships with a lot of the nomadic families in the area.
He put us in touch with a local fisherman, Bayara, who had been on the Chuluut River many times.
He helped us procure our local fishing license and also helped us a lot with the planning of the trip.
We told him our plan (translated through the hostel owner) for hiking in Mongolia, and his first reaction was that we were crazy.
Why not just do it on a horse?
After explaining to Bayara that it would be more dangerous for two inexperienced riders to head out on the steppe for days on end on horses they don't know how to take care of, he actually became fascinated by our idea and was eager to help.
He showed us some parts of the river that would be boggy and hard to cross and explained that on the last two days of the trek, the river would be at the bottom of a canyon, and we wouldn't have access to it.
He showed us where to stock up on water and supplies for the last two days and also shared some of his favorite fishing pools and marked them on the map.
After speaking with Bayara for a few hours, we figured we were as ready as we were going to be to embark on this epic journey.
The Adventure Begins…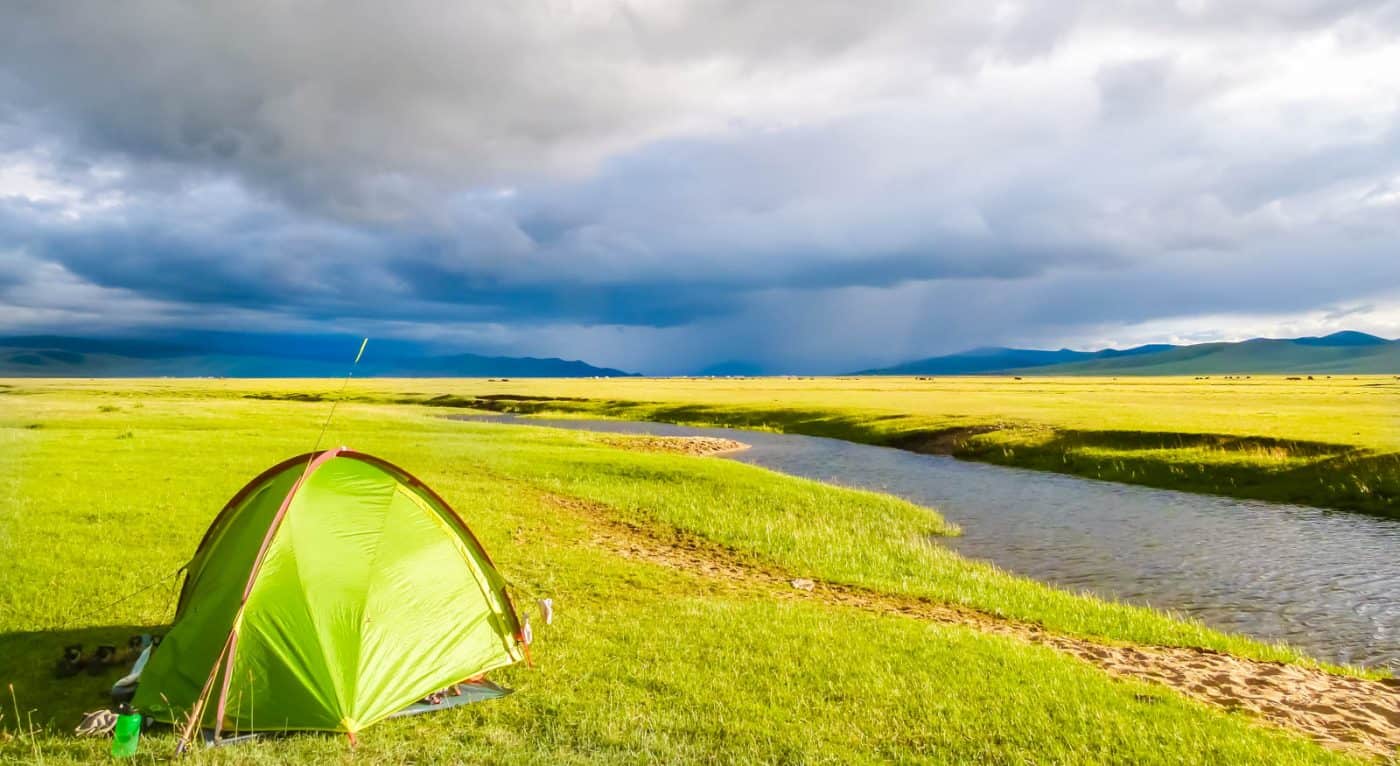 Bayara set us up with a driver who took us to the start of our proposed trail which started on the Chuluut River just outside of Chuluut Sum, a small, nondescript village in the middle of nowhere.
We were dropped off in the village, and with our compass in hand, we started heading north along the river.
Within 30 minutes of being on the trail, dark clouds started forming on the horizon, and we quickly realized we were in for a storm.
We set up our first camp after only about an hour of hiking in Mongolia and pitched the tent just in time to avoid the rain.
It rained for about an hour and after that, we had our first visitor.
The lone horseman was one of about a dozen or so people who would come to see us during this eight-day hike.
Will The Rain Ever End?
For the first five days of the trek, we had almost constant rain.
There was a 24 hour period where we could do nothing but sit in the tent and wait for the downpour to relent before finally packing our backpacks and hiking for about an hour before the rain started again.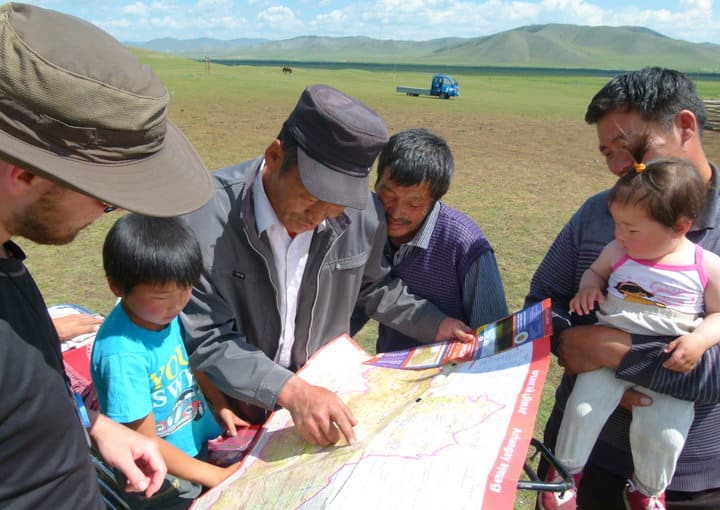 The amazing thing was that even though we were in the middle of nowhere, we were never far from other nomadic families.
No matter where we would set up camp, there would be a camp of yurts way off in the distance, and without fail, when the rains would stop, we would have a curious visitor or three at our campsite.
Local Interactions
I don't know how many people came to see us in total over the eight-day trek in the Mongolian steppe, but one thing was for sure, we were the only foreign faces they had ever seen.
The children who came on the back of their fathers' horse or motorbike were always in awe – their mouths open and their eyes following our every move in complete disbelief.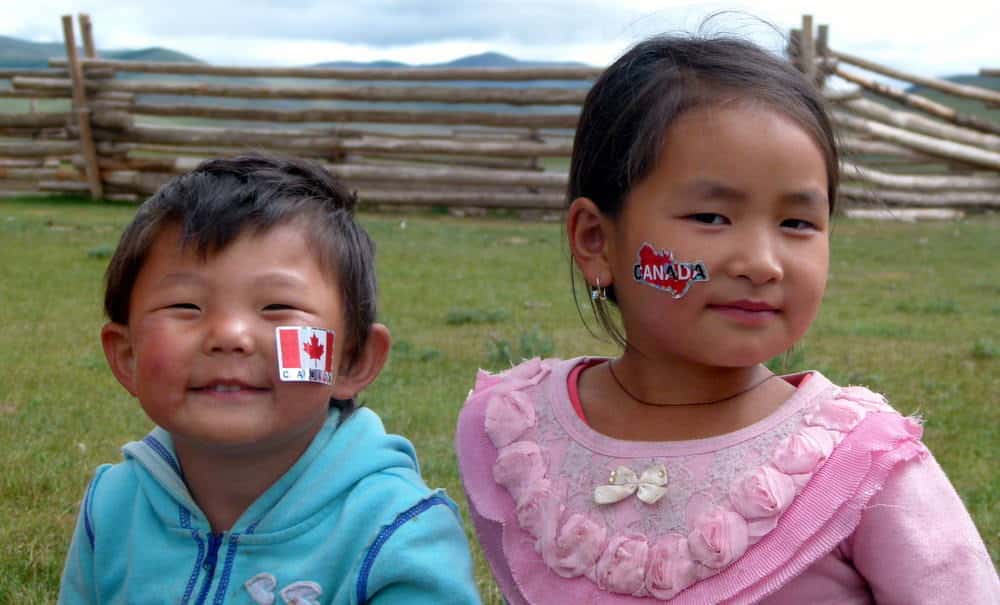 There was only one girl who visited us who we knew had seen foreigners before.
She grew up in the nomadic life traveling up and down the Chuluut River and around the steppe, but her parents had managed to save enough money to send her to school in Ulan Bator.
There, she had British teachers who taught her how to speak English very well.
She invited us into her yurt and showed us how they make cheeses, yogurts, and milk.
Her 20-year-old brother, who hadn't had the privilege of going to school in the big city, couldn't speak any English and was as fascinated by us as the young children who had visited us previously.
The young girl explained to us that her brother, and likely every other person we had met on this journey, had never seen a foreign face before.
He was equally interested in my fly rod, which he saw packed on the side of my bag.
I asked him if he enjoyed fishing and he said he loved it, so we went out to the river together.
First, he showed me his fishing techniques, and then I explained to him as much as I could about fly fishing, without being able to speak any local language.
There, on the banks of the Chuluut River, I taught a Mongolian nomad how to cast a fly rod.
It was incredible. There's a lot of technique involved, but there he was, dressed in his deel (traditional Mongolian clothing) and casting a rod back and forth trying to get the fly out on the water.
As I sat there watching the scene unfold, I felt truly blessed to be in such a remote part of the world and having such a transformative cultural exchange moment with a man who was born into a completely different life than myself.
And yet, there we were, sharing a common passion.
This was just one of a dozen or so interactions we had with the local Mongolians on this journey, and I have to say that we left the country with a great appreciation for Mongolian hospitality and warmth.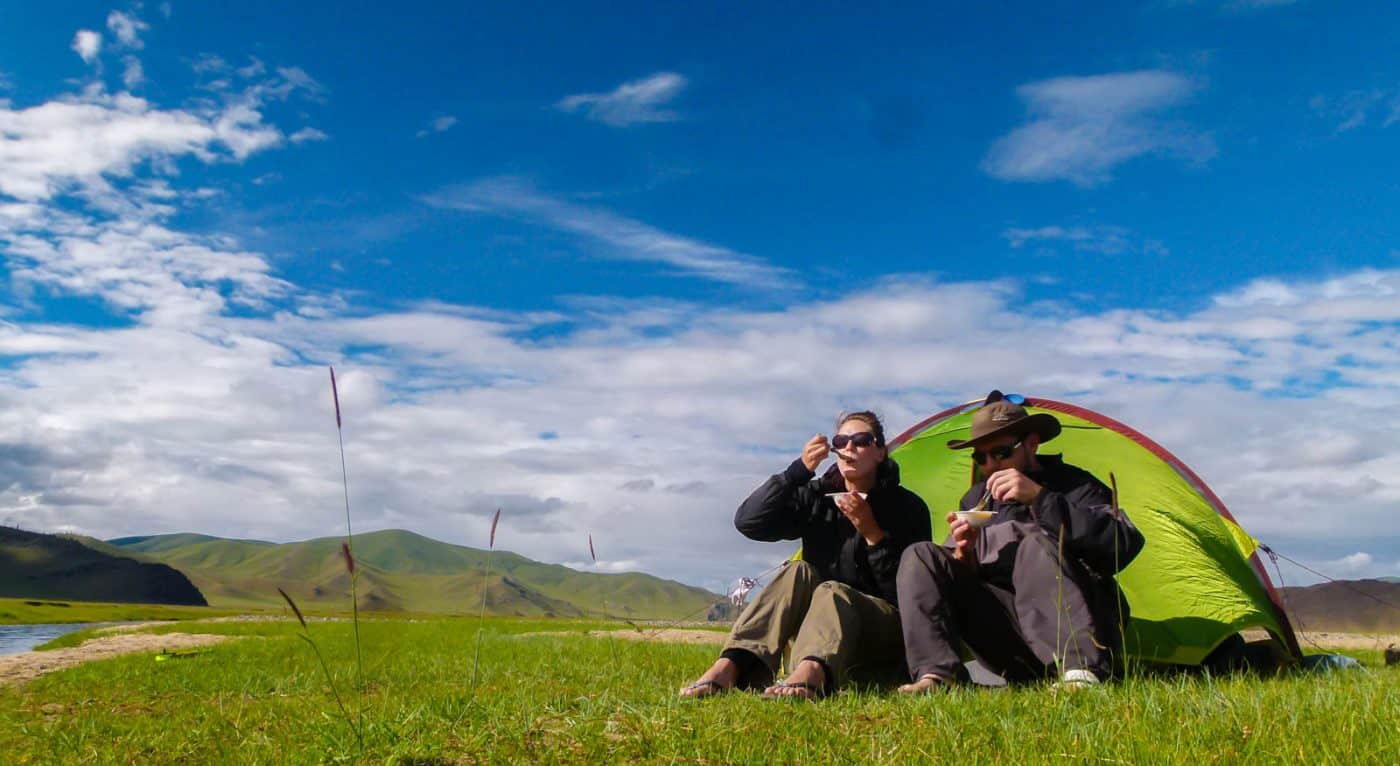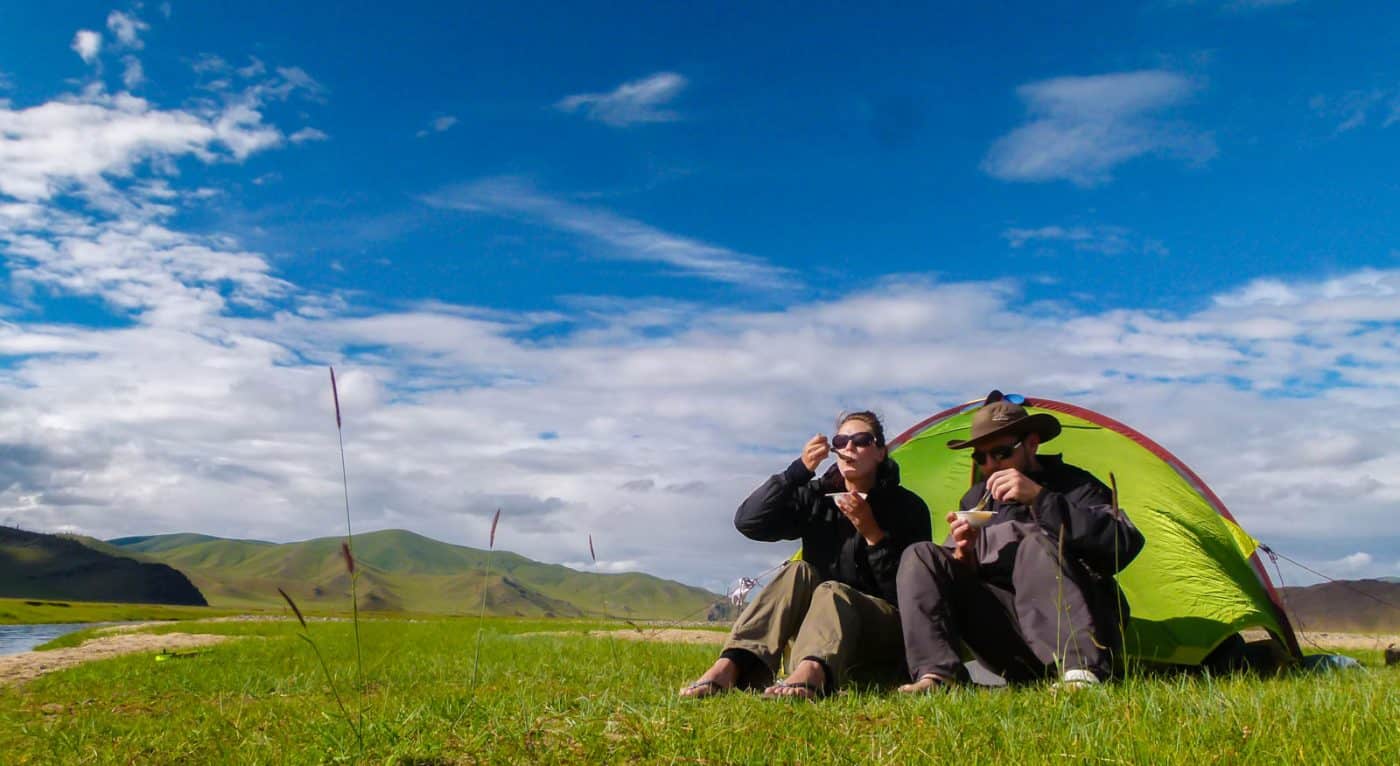 It seems ingrained in their culture that when you see a fellow nomad, trekking on foot or horseback, you come over and see how they're doing.
Even though in our case, no words could be exchanged, their gestures and gift-giving made it clear that they wanted to make sure we were okay when adventuring into the vast wilderness that they all call their backyard.
We would repay their generosity with small gifts of stickers and pens from Canada, but we could never repay them for the experiences they gave us, which have stuck with us for nearly a decade and which we'll always remember.
In Conclusion
Despite the rain and the tough hiking over flooded terrain, this eight-day trek will always remain as one of our best travel experiences.
We were lucky that during the entire trip, we were never far from nomadic families who made us feel welcomed and a little less crazy for being so far from civilization.
We gained new respect not just for Mongolian people and their generosity, but for their incredible way of life.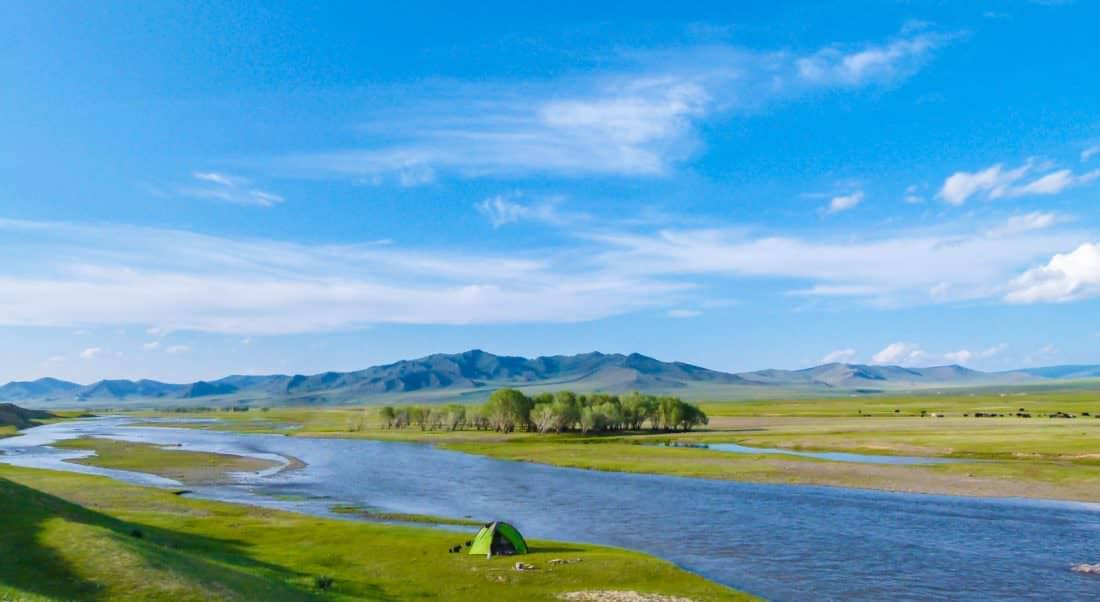 Sure, we had a week away from our devices and away from society, and it felt like it cleansed our souls, but for many Mongolians, this is simply life.
Moving from place to place with the seasons and being self-sustaining is something they've mastered over the millennia.
Our freeze-dried meals and polyester waterproof tents were all interesting to them, but their beautifully decorated yurts and herds of animals that supplied them with sustenance were a constant reminder to us of how far we've departed from our roots.
There was a time when everyone lived more like Mongolians. A simpler time.
Perhaps there's nowhere left in the world where that remarkable lifestyle can be witnessed as freely as in the Mongolian Steppe.
Traveller Tips
If you want to plan a similar trip hiking in Mongolia, here are some useful tips to help you on your way.
Follow a River: There's a reason we decided to follow the Chuluut River. It connected two relatively well-known sums (towns): the southern Chuluut Sum where we started and the northern Terkhiin Tsagaan Nuur, where the trek ended. By following a river in Mongolia, you'll better your chances of having many nomadic families around you, which is excellent in case of emergency. Also, all of their camps have dogs that help to keep wolves away.
Pack Waders: While I did bring my fly rod and fly fishing gear, I wish I had also packed a good pair of fly fishing waders. Parts of the river were quite wide, and it would have been nice to have waterproof wading pants to be able to wade into deeper waters and cast at larger fish.
Don't Do Laundry in The Rivers: This is something we found out after we had already done it, but Mongolians consider the rivers sacred, so you should carry water away from the river to clean your clothes. A plastic garbage bag would work well for this, but it will take a lot longer to do a load!
Pack Waterproof Boots: There were plenty of parts of our hike where the river had flooded, and we were trudging through ankle-deep water. Our boots at the time weren't waterproof, so we wish we had packed a better pair of hiking boots.
Learn a Bit of Russian: There's absolutely no way we would've been able to correctly pronounce many Mongolian words (it's a tough language to learn), but even in the Steppe, most Mongolians can speak Russian. By simply being able to say "thank you, hello and goodbye in Mongolian, you'll impress them. If you know a bit more in Russian, even better.
Bring Gifts: We were delighted to have some Canadian stickers, pens, and note pads. The children's faces lit up when we gave them the pens, and one of the local nomads proudly posted the Canada sticker on the gas tank of his motorbike!
Nick is an avid angler and traveler who has been on the road since 2008, seeking the outdoors and great fishing spots everywhere he goes. He started his own blog all about fly fishing where he shares his knowledge about the sport and his favorite fly fishing destinations.
Planning a trip? Go Backpacking recommends: