Fly fishing knee-deep in the chilly waters of the Poudre River, surrounded by the rugged landscape west of Fort Collins, Colorado, I was having a moment of reflection.
I wasn't carving down a mountain in 12″ of fresh powder as I'd dreamed of as a kid, but instead enjoying nature's serenity as a 40-year-old man.
As a young adult, I was an avid reader of National Geographic Adventure and could recall advertisements for fly fishing.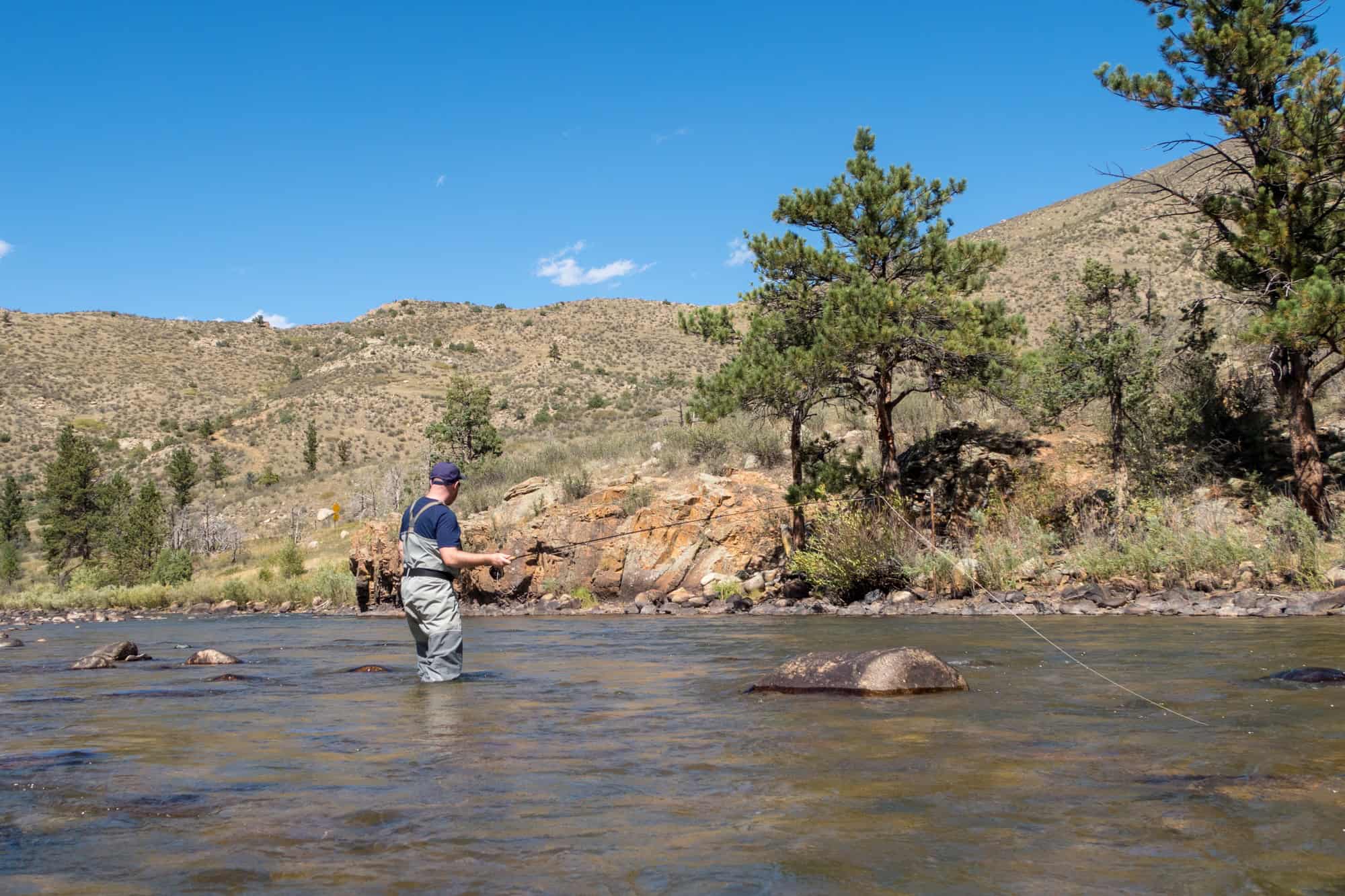 The scenic images of a man in a river appealed to me amidst the magazine's stories of mountaineering and extreme expeditions, most of which were well beyond the realm of ordinary men.
So it was no surprise that one of the first activities that popped into my mind when I was invited to spend a week in Colorado last Fall was fly fishing.
I'd only been fishing a handful of times before then, including deep-sea fishing in Florida as a kid and catching snapper off Caye Caulker in Belize as an adult. However, I enjoyed both experiences immensely.
There's something primal about catching one's dinner, and fishing feels like the most easily accessible way to have that experience.
Fly Fishing Tour
After my Fort Collins beer and bike tour, I was up bright and early for breakfast at Lucile's, a creole cafe.
The hot spiced house tea, beignets, and eggs Benedict were a delicious start to the day.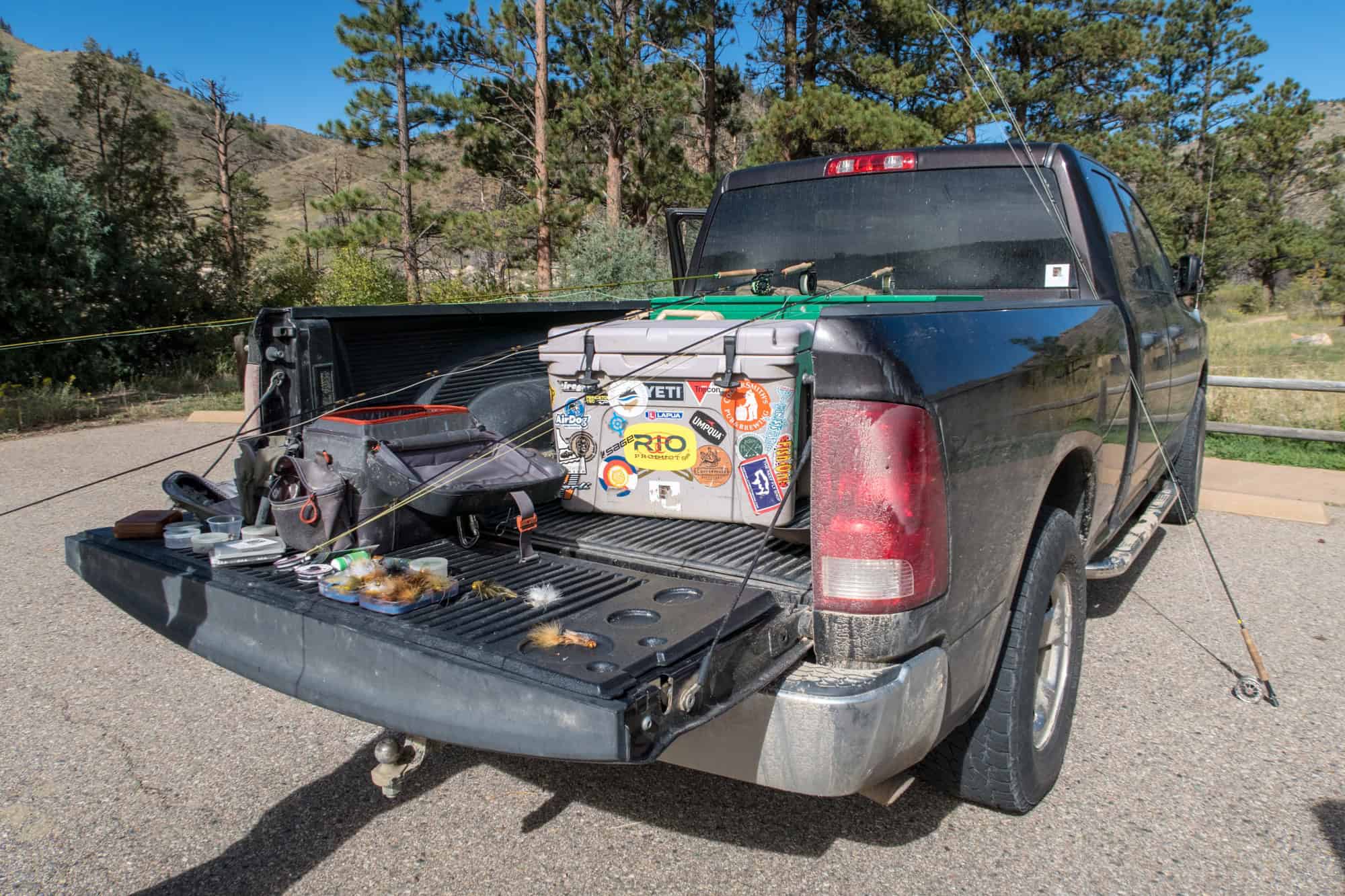 Gearing Up at St Peter's Fly Shop
My next stop was St Peter's Fly Shop in old town Fort Collins, Colorado. The main floor was filled with fly fishing gear, including faux flies of all shapes and sizes, rods, and custom fishing apparel.
I was sized for waterproof overalls and boots, obtained a one-day fishing license ($9), and met Rex, my enthusiastic fly fishing guide for the day.
We hopped in Rex's pickup truck, picked up our bagged lunches from Backcountry Delicatessen (a deli I became a fan of in Steamboat Springs), and headed west of Fort Collins.
Related: Packing for a Fall Trip to Colorado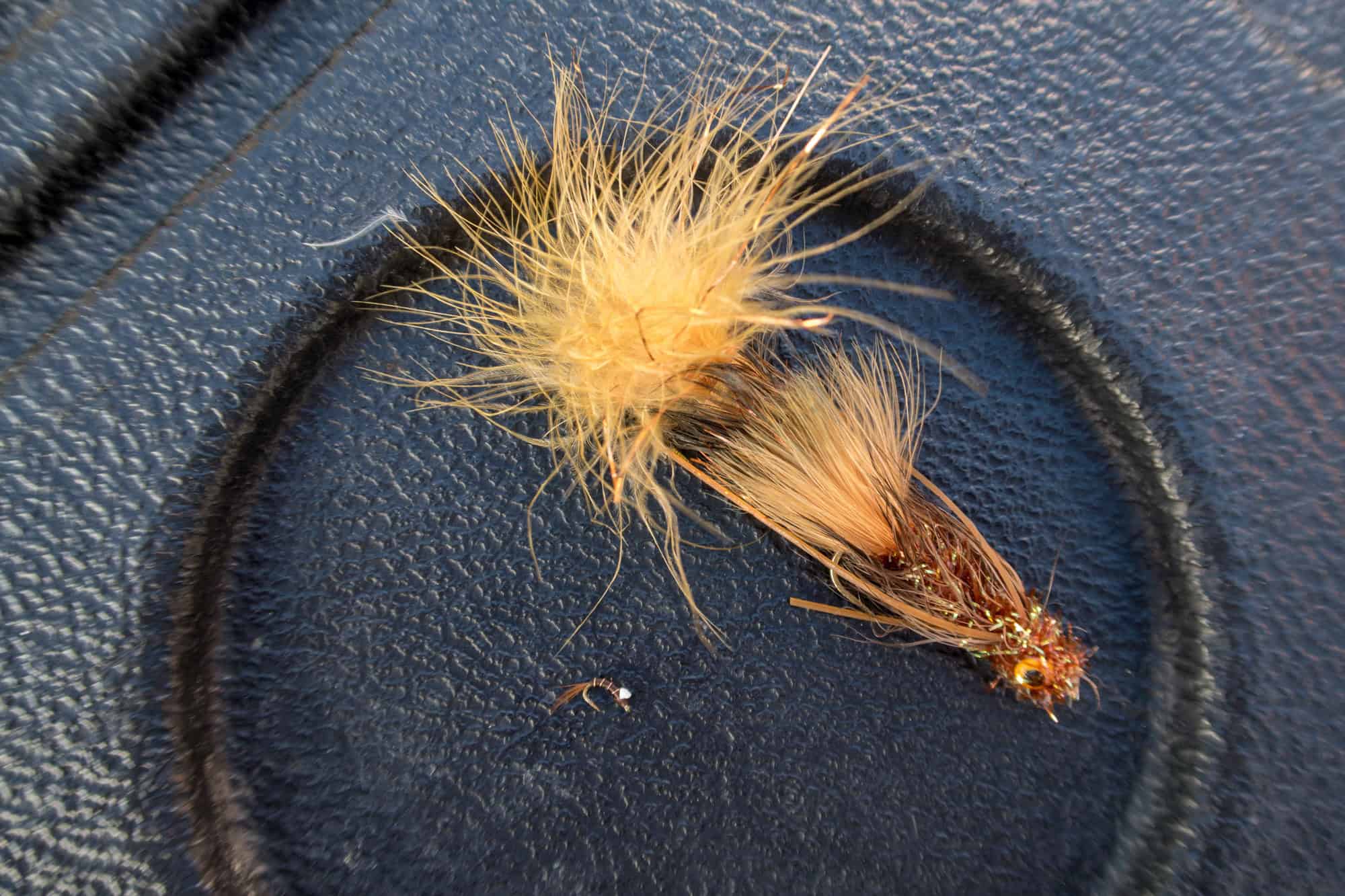 Fly Fishing on the Poudre River
An hour later, we pulled off Route 14 into a parking lot and suited up in our waterproof overalls and boots, which turned out to be surprisingly comfortable.
The overalls included the feet, so it didn't matter that water would get into the boots.
The boots were thick enough to protect against stubbed toes and had a layer of felt-like substance on the soles to give grip while walking across slippery stones.
Outside the shop, where it was easier to focus, I gained a better appreciation for just how small and detailed the flies can be.
For example, the one pictured above was smaller than the size of my pinky fingernail. It dawned on me that we weren't fishing for a thousand-pound marlin with hooks that small.
I asked about the size of the fish we'd try to catch, and Rex responded that it was not about the size of the fish; it was about the process. I adopted his frame of mind, and we walked over to the gently flowing Poudre River.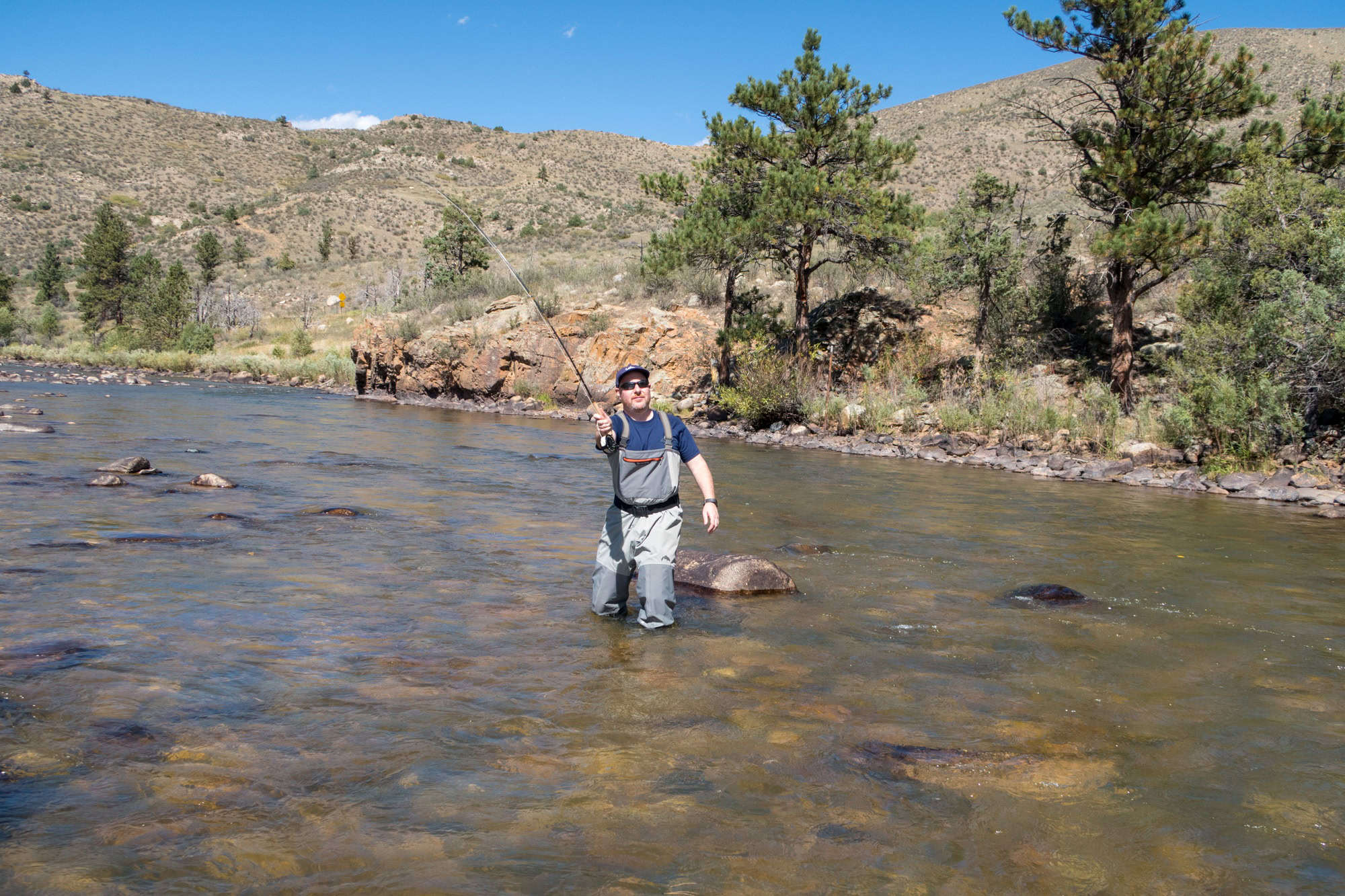 Upon wading halfway across the river and slightly upstream, Rex demonstrated how to cast the fly out and reel it in.
He then pointed out a spot to target, further upstream about five meters, along an exposed rock.
I gripped the handle far too tightly for the first hour or two and used more force than necessary to cast my line.
I know this because my right hand would start to go numb, at which point I was forced to take a break and allow healthy circulation to resume.
Related: Fishing in Wales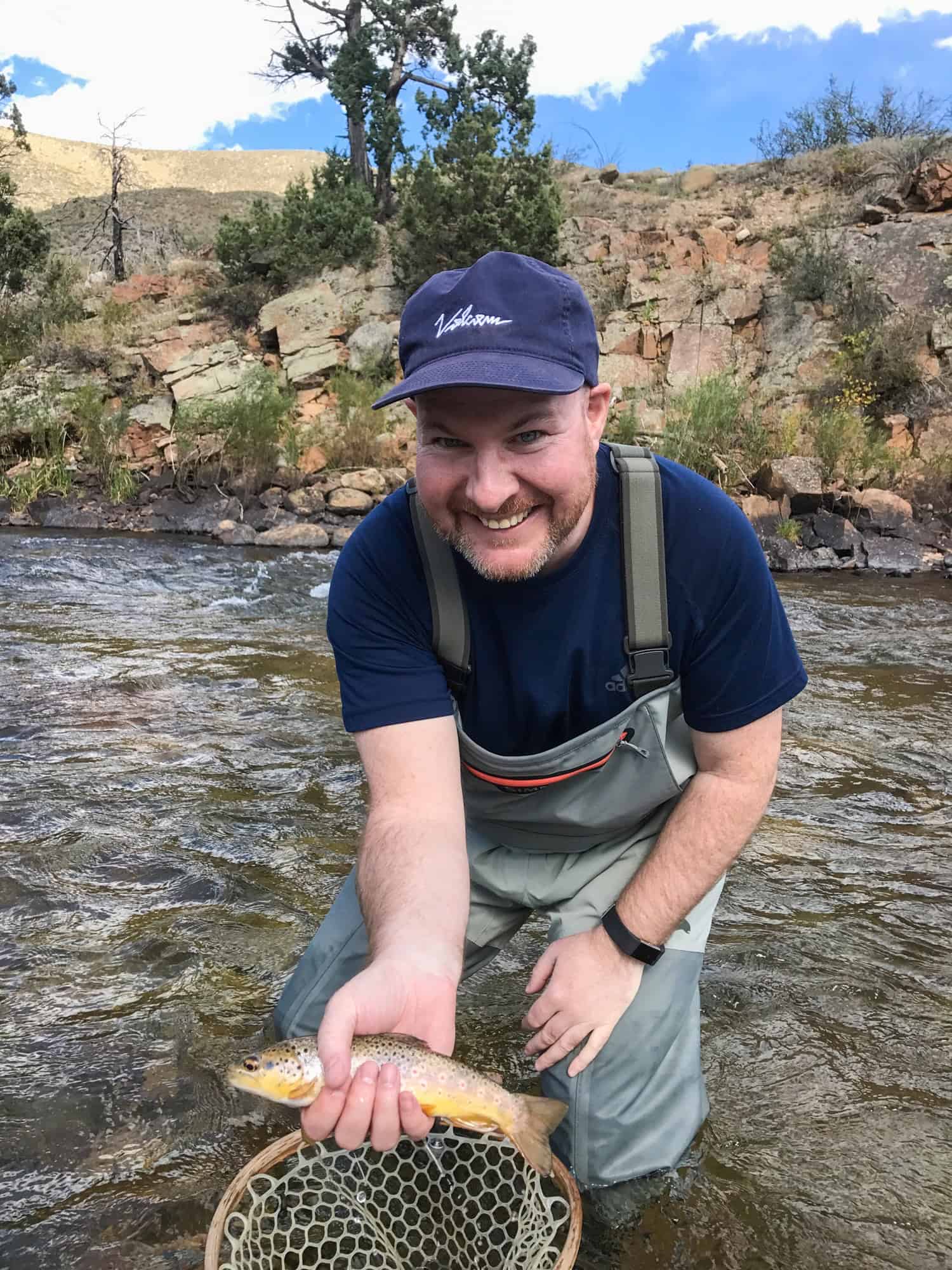 Within a few hours on the river, I felt a tug. A 12-inch wild brown trout had taken the bait.
I shouted, "I got one!" Rex began wading over while instructing me to reel it in slowly.
As he arrived and I brought the fish close enough, he scooped it up with a handheld net, removed the hook, and handed it to me for a photo-op. I then released the little guy to continue on his way.
Wild brown trout are the most common fish in Colorado's Poudre River. According to Wikipedia, they can grow up to five to eight pounds here. Farm-raised rainbow trout are also present.
Fly fishing is available year-round on the Poudre River, though the appeal of being out there in the winter is lost on me. So it should come as no surprise Summer is the most popular season.
Following lunch on the river bank and a little more time in the water, we drove to another nearby spot, where a rocky canyon wall rose steeply above us.
It was mid-afternoon, and my right hand and shoulder were tired of the repetitive motion.
I'd about reached my limit, so we exited the second spot after 30 minutes and headed back to Fort Collins.
All in all, fly fishing in Colorado was a lot of fun. It lived up to my expectations as a quiet, relaxing way to commune with nature, though my form could certainly use some work.
As a beginner, a guided trip is absolutely the way to go. Aside from an experienced guide like Rex being an encyclopedia of knowledge, he directed me to fish in places that gave me the best chance of catching something.
Websites like Dream Guides can also help improve one's fly fishing knowledge.
And while it would've been an enjoyable experience regardless of whether I caught a few little trout, it certainly made it more exciting.
---
My tour was courtesy of St. Peter's Fly Shop and organized as part of my trip hosted by the Steamboat Springs Chamber Resort Association and Visit Fort Collins.
Dave is the Founder and Editor in Chief of Go Backpacking and Feastio. He's been to 66 countries and lived in Colombia and Peru. Read the full story of how he became a travel blogger.
Planning a trip? Go Backpacking recommends: