[M]y slouched body slides from side to side in the tuk-tuk as Auddie, my driver, whirls around corners, cuts across parking lots and goes the wrong way down one-way streets to get to me to my destination in Chiang Mai, Thailand on time.
Auddie grins broadly at me, looking back at me. I wish he would keep his eyes on the road!
Traffic darts head-on at us, but Auddie is not concerned. He knows these roads better than anyone and he has become my Hoke from Driving Miss Daisy.
Auddie was my first friend when I moved to Chiang Mai. He was the security man at my condo, and he proudly let me know he also had a tuk-tuk and would take me anywhere I needed to go in Chiang Mai for the local price of 50 baht.
He would often leave his post of security card to rush across town to pick me up somewhere and laugh as he told me that he left a note for his boss that he went out for smokes.
This is how the Thai people are. Hardworking. Crafty entrepreneurs. They are often juggling two or three jobs at once.
Auddie is a perfect example of why it's important to hire a good tuk-tuk driver for your local tours in Thailand.
He has shown me the hidden and local spots of Chiang Mai, the places I wouldn't have known to visit on my own. And he has charged me a fair price to do so.
The first weekend I met him, I asked him to take me for khao soi, that bubbling, coconut curry soup that Thailand is famous for. He told me he would take me to where the locals go, not the tourists, and I swear I heard his stomach growl.
We wound through the remote countryside where there were no tourists, only signs of local life.
Old women with weathered lines adorning their faces waved from their market stalls. Children played with sticks in the streets and I let myself sink into the potholes of the dusty streets only to be shot right up again.
Auddie took me to the Thai people's favorite, Khao Soi Lam Duan Fah Ham. It was the best khao soi I've ever had, and a place I wouldn't have found if it wasn't for him.
The next weekend he took me to see one of his favorite spots, the Sankampaeng Hot Springs.
We raced through some of the most stunning countryside I've ever seen. Rice fields and village life led the way to this magical spot.
His excitement was contagious, as he showed me the Thai way of eating eggs boiled right in the hot springs.
I soaked my feet in the bubbling waters, letting my cares and worries wash away.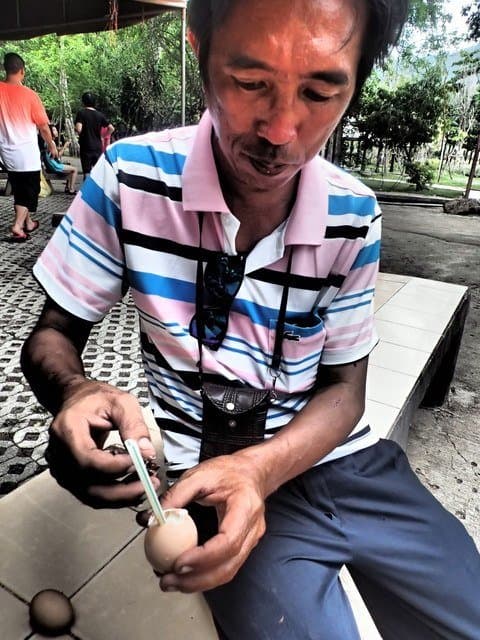 Auddie is one of the rare tuk-tuk drivers who puts the experiences of his customers before his need to make money.
He loves his country and his enthusiasm for it shows.
Whether he's showing me the hidden waterfalls, markets, or street stalls, he has helped me to fall in love with Chiang Mai, Thailand just a little bit more.
______
This post was brought to you by Withlocals.com.
Valen Dawson is a slow traveler and has lived in the US, San Miguel, Mexico, and now, Chiang Mai, Thailand. On her website, This Way To Paradise, she helps people discover exotic islands, beaches, tropical locations, and other hidden vacation spots. You can also follow her adventures on Facebook, and Twitter.
Planning a trip? Go Backpacking recommends: