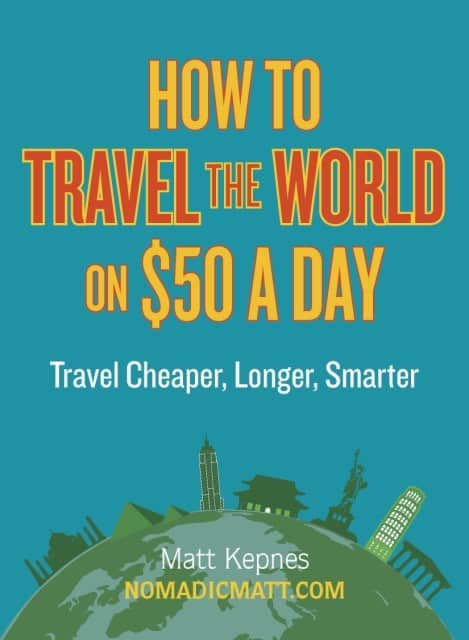 [M]att Kepnes (aka Nomadic Matt) is on a mission to show the world travel doesn't have to be expensive.
In his new and improved book, How to Travel the World on $50 a Day, he goes in-depth to break down the numbers that make such a statement possible.
Our first review of the book was almost two years ago, in April 2011, soon after he self-published it.
Having just finished the expanded version, published by Penguin, I can say a lot of what we thought back then still holds true.
The 272-page book is broken into three major sections.
The first section covers everything from getting over any fear of travel you may have to pick the right bank and credit cards to stretch your savings on the road.
Matt's tips on choosing the best bank and cards are some of the best in the book.
He explains the benefits of buying round-the-world tickets versus paying as you go, as well as the importance of travel insurance. I remember having a lot of questions about both when planning my RTW trip.
Section two covers how to make your money last longer once you're on the road, including how to save on accommodation, food, transport, and activities.
And lastly, the third section breaks down average costs by region, including Europe, Australia/New Zealand, Southeast Asia, and Central and South America.
I appreciated that he states up front that he's focusing on only the most popular destinations (especially for first time travelers), not the entire world (sorry Uzbekistan).
Throughout the book, he incorporates not only his own advice, learned from six years of traveling the world, but the advice of other world travelers (including yours truly). While the book is most definitely in his own voice and writing style, I like that he presents a variety of perspectives.
The idea that you can travel the world on X dollars per day is not a new one. After all, there was once a book purporting that you could travel Europe on $5 a Day. What Matt's book does is bring us up to date, using data collected through 2012.
If you've been following his blog for several years, you may recognize some of the material in the book. He's covered several topics individually over time, but there's definite value in it all being organized and packaged together.
I'm happy to recommend How to Travel the World on $50 a Day, which I believe is best suited for new backpackers and budget travelers, especially those planning a long-term trip.
It's currently available on Amazon.com in both Kindle and paperback.
Dave is the Founder and Editor in Chief of Go Backpacking and Feastio. He's been to 66 countries and lived in Colombia and Peru. Read the full story of how he became a travel blogger.
Planning a trip? Go Backpacking recommends: