Having kids is probably the most incredible thing there is, and your life will never be the same afterward.
To hold that new life in your hands is a feeling you can't possibly fathom until it happens to you, knowing you brought that soul into the world.
It's not without its challenges, though. Raising children is hard, especially with everything that goes on in the world today, and it's going to take a lot of effort on your end.
Sometimes you'll want to break free and enjoy a little peace and quiet, but there are no such things once you're a parent.
A particular challenge a lot of parents face, though, is going on a vacation with their kids, mostly because there aren't many children-appropriate hotels out there.
There are plenty of kid-friendly hotels, but you'll need to make sure that the one you're checking into includes all the right things for you to have a nice vacation.
Lisa of Family Destinations Guide explains that Vegas is one of the most popular destinations with a lot of family-friendly hotels providing services that cater to everyone.
These are some of the things you can expect to find in a kid-friendly hotel.
1. Location
Location is the first and one of the most important things you should look for in a kid-friendly hotel.
It has to be a central location in the heart of everything, and this is one point that you can't overlook when you're looking for a hotel for you and the family.
For starters, a hotel in the heart of the town provides easy access to local attractions, which is definitely something you'll appreciate when you want to take your kids to museums, zoos, etc.
On the other hand, a hotel that is centrally located will put you closer to public transportation, which is another thing you have to consider.
You need to be able to move freely to and from the hotel without having to worry about whether or not you can make it back.
Most kid-friendly hotels will be close to local attractions, or at least a bus ride away, not to mention very close to bus and subway stations.
The hotel will also have anything you might need around it, especially for emergencies.
That means 24/7 pharmacies, hospitals nearby, and supermarkets in case the kids get hungry at 4 a.m.
These details about location may seem trivial, but you can expect to find all of those boxes checked if you stay in any major hotel that is kid-friendly.
Don't expect to find such luxuries if you're going to a cabin in the woods, which may be better suited for travel without the kids.
2. Babysitting Service
Now this one might be a bit more difficult to find, but it's essential nonetheless.
Some hotels have babysitting services or kids' clubs. All you need to do is call in advance to make a reservation. This can allow you to get some quality time with your spouse or partner.
You naturally love your children, and you want to spend as much time as possible with them, but you also could use some time alone with your significant other.
Just imagine being in Paris and not being able to have a romantic dinner and walk with your spouse because you're too busy watching the kids.
A babysitting service will make for a happier vacation, and it'll give you a much-needed break from the grueling responsibility of being a parent.
3. Equipped Rooms
You need to have high expectations when it comes to hotel rooms. If it's any decent place that cares about being kid-friendly, you will not be disappointed.
For starters, you can expect larger rooms to accommodate families traveling with children, and this is one angle you can't overlook.
You didn't travel all that way to barely have room to move around with your family in your hotel room.
The room also needs to be soundproofed, which is an option a lot of hotels have.
That way, you ensure that your kids' loud noise or baby's crying won't disturb the neighbors and keep everybody up at night.
It might seem like a small detail to you, but soundproofed rooms are available in several hotels to avoid the disputes that arise from guests being disturbed by kids' noise.
Separate toilets are welcome because a family of four would have a hard time using one bathroom. It could be a long line before your turn comes up.
Most kid-friendly hotels will also provide rooms with bathtubs, which isn't always the case if you're traveling with your spouse.
But a bathtub is vital if you want to bathe your kids after playing outside for too long, and it will save you a lot of grief throughout your trip.
4. Kid-Friendly Menu
There's nothing quite like a hungry kid asking for food in the middle of the night.
If you don't have anything to feed them, you'll need to buy something, which can be frustrating, especially if you're far from a store.
Fortunately, most kid-friendly hotels now provide kid-friendly menus in their room services.
The great thing about these hotel room services is that they are open for services 24/7, so whenever you or your little ones get hungry, there's always an answer.
And now you can all stay in the comfort of your hotel room, without having to drive to the nearest supermarket—if you even found one open late at night.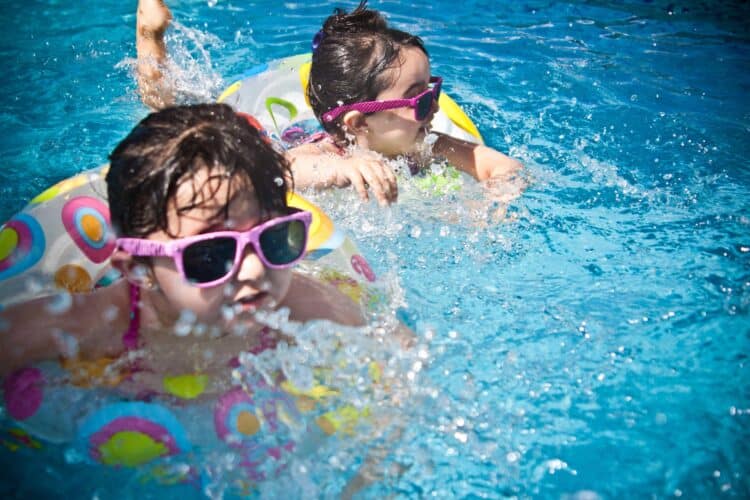 5. Kids' Camps
Babysitting aside, a lot of kid-friendly hotels put effort into creating some exceptional programs for children. These allow them to spend all day having fun and enjoying themselves, while the parents go off to explore or relax.
Vegas is one of the destinations that is known for hotels that provide visitors with this kind of service all the time, which is why many love coming back.
The article at https://familydestinationsguide.com/best-vegas-hotels-kids/ explains that some hotels have unique camps and fun activities for children, including treasure hunts, live performances by magicians and entertainment performers, carnivals, and a lot more.
These activities allow the kids to be outdoors under supervision, having fun, and learning new things. Meanwhile, you and your spouse can enjoy some quality time on your own.
Some hotels have swimming lessons for preteens. They may also offer exciting water sports and interactive activities that ensure the kids learn something or walk out with an interesting experience under their belts.
6. Kids' Items
You'd be surprised at the number of things kid-friendly hotels provide to make your child's stay more enjoyable. More importantly, they'll make you feel safe that your kids are in good hands.
They start by handing out welcome gifts for the little ones, including a lot of toys and things to play with, which will make your kids happy.
More importantly, a hotel that genuinely cares about children will baby proof the entire room and as much of the premises as possible.
So, you get safer corners and tables that you won't have to worry about your toddler tripping over or bumping into. The floors are reliable, and there are no sharp objects in sight.
Some hotels even go as far as providing diaper genies and step stools, and a host of other products that aim to make you relaxed during your time there, not having to worry about the well being of your child.
Having a hotel that pampers you and your kids is quite exciting. And when you and your kid walk out of the shower with matching bathrobes, you'll know just how fun and relaxing this experience can be.
7. Extra Amenities
With the number of hotels around the world these days, it shouldn't come as a surprise that they'd be racing to provide extra amenities for families traveling with kids. This is what separates one from the other.
For instance, you'll find that a lot of hotels provide cribs for babies, and they can be of the highest quality, too.
You'll naturally want to inspect the crib to make sure it is safe for your child to use. But it's a great option to have, and it will save you the trouble of having to bring your own.
Some hotels, on the other hand, offer adjoining rooms for parents who'd like their privacy––and with kids old enough to sleep alone––but would like to keep a close eye on their children still.
Other hotels go about it differently and provide sofa beds or roll away ones in the room so that the kids could sleep in the same room as their parents — a great option either way.
These gestures might not seem like much, but they do make a difference to a lot of parents.
They show that the hotel honestly does care about being child-friendly and providing all available means of comfort for the families that plan on staying there.
You can also expect to find accommodating room service in kid-friendly hotels.
In other words, you'll find that warm cup of milk your kid needs to drink before bed if you want.
And most of them also provide child-appropriate meals for the young ones, and you could order those meals whenever you want through room service.
Regular hotels that don't want to invest in families with kids won't have such options. You may have a hard time finding a proper meal for them to eat throughout the day, especially if they are very young.
8. Preset Tours
Even if you did your research, it could still be challenging to find exciting things to do in a city, especially if you have kids with you.
Fortunately, a lot of hotels prepare packages and tours to help you better explore the city with your kids.
You'll find that they offer tours to tourist spots around town, with a trained guide to help you and your kids learn something and explore new horizons.
You'll most likely get picked up by a shuttle bus from the hotel premises, and they'll also return you safe and sound.
If you want to go to the movies, they'll help you get tickets and find out what's showing in town, and what movies you could take your children to, and so on.
Other tours some hotels provide will include family activities like going to the zoo together, and some even give you discounted prices for such excursions.
Kid-friendly hotels do go above and beyond when it comes to accommodating families with children. This allows you to have a great vacation with your kids without having to feel like they're burdening you—which would come with a lot of guilt.
You need to do a little digging to find a hotel that will be this kid-friendly because when you do, you'll experience a whole other trip.
They will make your life easier, allowing you to enjoy your trip more fully.
_____
This story was brought to you in partnership with Family Destinations Guide.
Arthur is a father of three and writer covering a range of topics including internet marketing, SEO, and more. When not writing, he can be found behind a drum kit.
Planning a trip? Go Backpacking recommends: