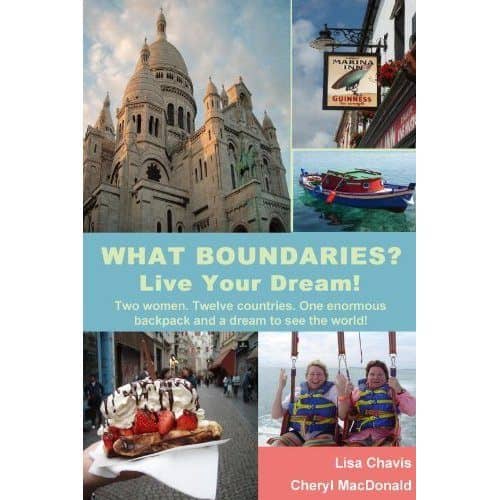 As a reader of travel books and memoirs, I think it's safe to say that I am passionate about other people's journeys.
Keep in mind, however, that these journeys I speak of are hardly ever the physical ones.
Each globetrotter, nomad, and wander-luster explores the world for his or her own unique reasons, experiences it in his or her special way, and grows from it in a defining manner that can only be applied on an individual basis.
Take Lisa Chavis and Cheryl MacDonald, for instance: Two forty-something, house-owning, well-established women who left everything behind to embark on a 12-European-country backpacking excursion that transformed them from naive tourists to experienced globe travelers.
In January of 2010, they published the beginning of their story with What Boundaries, Live Your Dream.
It was not their Irish horror stories of food poisoning that kept me interested.
Not even their recounts of heavenly gelato in Tuscany nor of the beauties of the French coastline kept me hooked. I read for their honesty.
I sympathized as they spent possibly too money purchasing the best of the best backpacker's backpack and ended up regretting the heavy investment.
I understood the feeling as the two ladies bickered from transportation exhaustion.
I laughed as they became stained in red at Spain's La Tomatina Festival or nearly got trampled by wild horses in Austria (don't worry, they were laughing too).
I felt as if I were there because often I had been, and even if I hadn't there was enough dialogue to feel like I was in the middle of their international conversations.
As we rode the bus back to the boat that afternoon, she [Cheryl] explained, "This trip. This time. This place. All these are very meaningful to me. I feel like I was meant to take this journey to find them. And a part of me that was lost."

I [Lisa] understood perfectly.
No matter what your level of travel "expertise" (whatever that is) I doubt that you'd be able to relate either.
Since Europe, the dynamic duo has traveled to 4 continents, 30 countries and over 200 cities.
You are more than welcome to be inspired by part one of their world travels in, What Boundaries, Live Your Dream, and then continue following their adventures on their blog.
And after that? Well, if you want to go backpacking through Europe, or do just about anything else, just do it.
Or rather, in the words of Lisa and Cheryl: Live your dream!
Danielle is a globetrotter with a healthy appetite. In addition to writing about her travel and foodie experiences, she enjoys reading, indulging in the arts, and channeling her inner-yogi. Read more from Danielle at her blog, Danielle Abroad.
Planning a trip? Go Backpacking recommends: