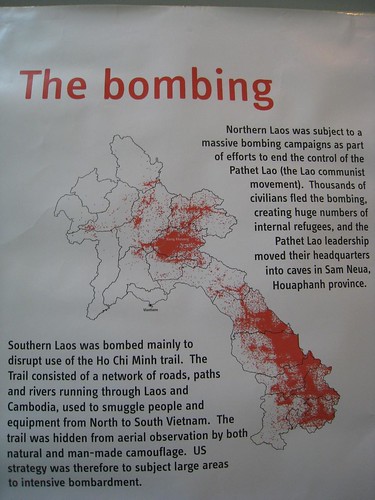 On my last day in Vientiane, I took a few pages from the Stay Another Day – Laos booklet and combined them with the city's main sights. The first stop was MAG (Mine Advisors Group). While the display was small, it was to the point and gave me some background on why Laos was the most heavily bombed country (per capita) on the planet.
Next, I stopped by COPE (Cooperative Orthotic and Prosthetic Enterprise). More than a few wall panels of facts and photos, there was a large interactive display to move through. I began with the first 30 minutes of an Australian documentary about the training of Laos people to disarm and destroy the unexploded ordinance that litters the eastern half of the country.
It was sad to see the residual impact of America's "secret" 9-year bombing campaign in Laos, an unfortunate extension of the Vietnam War. Nowadays, Lao people are unable to cultivate new land for fear of bombies (unexploded cluster bombs). And poor farmers attempt to harvest the bombs for scrap metal which can earn them more than growing crops.
A cloudless blue sky made for great photos at Laos' most important Wat, Pha That Luang, but the intense sunlight was hardly bearable.
There's a big arch (think Arc de Triumph in Paris) I visited as well, but it was never finished, and is recognized as a large mass of concrete useful for housing lots of souvenir vendors. I went to the top, and there were nice views of the city.
Lastly, I undertook my first body wrap at a spa while in Vientiane. It was not quite the relaxing experience I expected. Imagine having to wear disposable briefs five sizes too small (this is a bigger issue for the men reading), being smeared with green mud, encased in plastic wrap, and zipped up in a heated blanket for twenty minutes. I felt like a human hot pocket, and thankfully the only person who bared witness to the whole scene was a friendly, little Lao woman.
Dave is the Founder and Editor in Chief of Go Backpacking and Feastio. He's been to 66 countries and lived in Colombia and Peru. Read the full story of how he became a travel blogger.
Planning a trip? Go Backpacking recommends: