[F]ollowing in the footsteps of my friends Jack and Jill, I departed Chachapoyas in the mountains of northern Peru for Trujillo further south along the coast.
As an aside, I took an overnight bus, which was far more comfortable, modern, and efficient than any bus I've taken in Colombia or Ecuador (or heck, even the USA and Europe for that matter).
Despite the comfort of fully reclining seats, I still found the first few hours of mountain roads to be nauseating.
Since leaving Colombia, I've been traveling without a guidebook for the first time in my entire life.
It has been a liberating experience, and far easier than I imagined. The result, though, is I'll often end up in a new city with only the vaguest idea of what do there. Hardly a bad thing if you've got the time to explore at a relaxed pace.
In Trujillo, I quickly discovered the main tourist attractions are the adobe ruins of two temples, Huaca de la Luna (Temple of the Moon) and Huaca del Sol (Temple of the Sun).
Both part of the former capital city of the Moche people, a civilization that ran from 100 AD to 800 AD, and was based at the foot of Cerro Blanco (White Mountain).
All group tours begin with a visit to the museum located near the ruins. Inside, you'll be able to see artifacts recovered the site, as well as learn about the Moche people and their practices. Information is presented in both English and Spanish.
From the museum, you'll also be able to get a good look and feel for how closely Huaca de la Luna was located to Cerro Blanco, a mountain which was clearly of significant spiritual importance to the Moche people.
While Huaca del Sol may be bigger than Huaca de la Luna, it is not nearly as well preserved, nor as colorful as the latter.
It is also not hollow, so visitors are only able to walk around it, not through it. Composed of an estimated 130 million adobe bricks, archaeologists estimate it's the largest pre-Columbian adobe structure in the Americas.
In between the two temples lay the capital city of the Moche people. Today, due to erosion and limited restoration, only vague outlines of some city structures can be seen.
The colorful, restored religious reliefs within Huaca de la Luna were an unexpected surprise.
Without the color, the ruins would've felt like a big pile of mud and sand. Hardly appealing to all but the most die hard archaeological fans.
Human sacrifices are known to have been a regular part of the Moche civilization. Why, you may wonder?
As I found upon arrival in Trujillo by bus, the coast of Peru (if not all of South America) is one long desert. Water is essential to life, and weather patterns such as El Nino may have exacerbated already dry conditions.
The Moche solution was to sacrifice people, which was considered a privilege at the time, to appease the Gods.
Huaca de la Luna is like a layer cake. The initial temple was just one layer tall. Eventually, that layer was used for graves, and the Moche people built a second layer on top of it.
This process continued up until the 6th or 7th layer. The various layers can be clearly delineated by the different images depicted on the exterior walls in the photo above. The giant hole punched in the middle of this exterior wall was due to looters.
The first layer shows a series of people connected by a rope or wooden structure at their shoulders. They were probably the laborers building the temple.
The fifth layer up from the ground reflects the form of a snake, an animal which would've had a certain religious significance to the Moche.
Between manmade damage from looters and erosion due to natural causes, Huaca de la Luna y Huaca del Sol have taken a beating over the centuries. But, they are still well worth the trip if you'll be passing through Trujillo.
What You Need to Know
You can visit Huaca de la Luna y Huaca del Sol as a 1/2 day trip, or like me, bundle it with a visit to the UNESCO World Heritage site of Chan Chan in the afternoon. The pricing below is based on the full day trip.
How Much: $30 + tip ($16.50 for transport/guide, $1 for museum entrance, $3.50 for ticket to ruins, $5.50 for lunch, $3.50 for entrance to Chan Chan)
Difficulty: Easy
Where to Book: Tours are easy to arrange through any of the offices located around Trujillo's main plaza. If you're not fluent in Spanish, make sure you're getting an English-speaking guide.
What to Bring: Camera, sunglasses, hat, and sunscreen. There are plenty of vendors from which to buy snacks and water along the way.
____________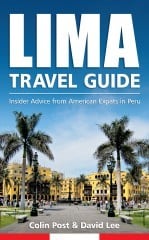 Dave's 160-page, all-original Lima Travel Guide is now available for Kindle and PDF.
Dave is the Founder and Editor in Chief of Go Backpacking and Feastio. He's been to 66 countries and lived in Colombia and Peru. Read the full story of how he became a travel blogger.
Planning a trip? Go Backpacking recommends: