Looking deep into their eyes, knowing you, as a homo sapien, share 97% of the same genetic code, it's hard not to feel a kinship with orangutans.
The endangered orangutans in Borneo first entered my consciousness when I met Gela, my Dutch trekking partner in Nepal.
I remember seeing a photo of her sitting next to one of the large, orange-haired primates and knowing then that I wanted to see them too.
Borneo, the commonly known name of the Asian island shared by both Indonesia and Malaysia, has always sounded extraordinarily remote to me.
My mind conjures up challenging travel conditions, thick jungles, machetes, and remote wilderness. In short, I'd built up a trip to Borneo to be a chore and an expensive one to boot.
But so many of my preconceived notions about travel to Borneo, specifically to see the wild orangutans in Tanjung Puting National Park, were smashed during my three-day.
Commercial tourism has arrived in Borneo, and while it requires an adventurous spirit, it's a surprisingly easy experience for travelers of all ages and budgets.
This is not something I can say about visiting the mountain gorillas in Rwanda, which requires $1,500 for the trekking permit alone.
Flying From Jakarta to Central Kalimantan, Borneo
My journey began in Jakarta, where seven other international travel bloggers and I met with representatives from the Ministry of Tourism and the Creative Economy of Indonesia.
Visiting the orangutans in Borneo was our first stop on a two-week tour of the country.
We departed Jakarta's International airport for Pangkalan Bun on Kal Star Aviation, an Indonesian airline in operation since 2007.
The flight was just one hour, and they even provided us with a snack.
The proliferation of flights offered by regional and discount airlines in Indonesia is helping to improve accessibility to the country's more remote islands.
We landed at Pangkalan Bun's little airport and exited the plane directly onto the tarmac (a process I always associate with landing in remote areas).
Inside the terminal, I saw the world's smallest baggage carousel — it wasn't a full circle but a straight, 15-meter conveyor belt extending from a hole in the wall.
Despite the regular flights, it was good to see the growth in tourism had yet to necessitate a more extensive baggage delivery system.
Adapting to Life on a Klotok
Upon exiting the airport, we jumped into air-conditioned SUVs for the 20 to 30-minute drive to the river dock where we'd be boarding our klotok.
Klotoks are the traditional wooden boats used to navigate the local rivers.
Due to narrow sections and areas of shallow water, the maximum width of a klotok is 4 meters (12 feet).
The standard klotok is two levels. The lower level features the bathroom (with a Western-style toilet), crew quarters, and a "kitchen" where the food is prepped and cooked.
Some larger klotoks also feature showers and air-conditioning, though the generator required to keep guests cool creates noise pollution, thereby drowning out the sounds of nature in the evenings.
If given a choice, skip any attempts at air-conditioning, which will probably increase the cost and the noise.
The upper level is for the guests, where the meals are taken, and sleeping mattresses (with mosquito nets) are laid out at night.
We quickly adapted to life on our klotoks. Our group was large enough to require two, as they could carry four guests each.
There were other klotoks and tourists on the river. Most were occupied by couples, though there were families and what appeared to be the occasional group of backpackers too.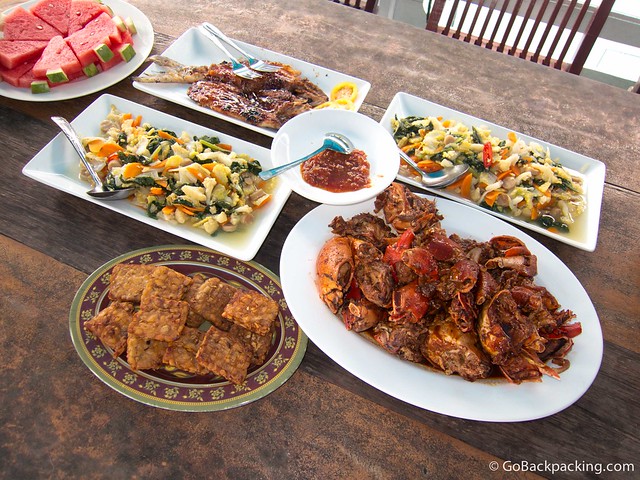 A group of women on one of our klotoks was responsible for preparing the food during our two-day trip.
Given the working conditions, we were impressed with the consistently excellent meals.
It reminded me of the time I went trekking in northern India and experienced some of the best food in the country, all prepared in a rock cave barely big enough to fit four people.
Our first lunch set the stage: fresh crab and fish, vegetable salads, soybean cakes, and fresh watermelon.
In addition to the meals, every time we came back to the klotok from observing the orangutans, there'd be a snack, such as fried bananas, waiting for us.
Cold beverages were also a treat, with Coke, Sprite, and bottled water on offer. Due to religious reasons, beer is not available on the Indonesian side of Borneo.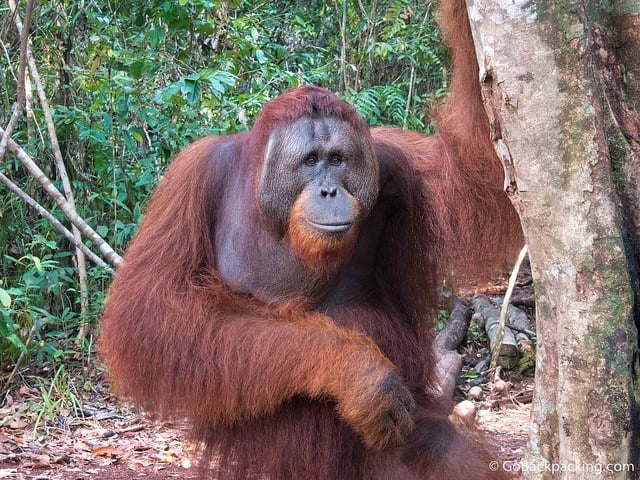 Feeding #1
After a few hours of riding upriver in our klotoks and enjoying a fresh seafood lunch, we crossed back onto land to observe the first of three orangutan feedings.
Park rangers established these feedings for the local orangutans to ensure the population remains strong and healthy.
If no orangutans show up, it's a positive sign because it means they can find enough food on their own.
They gobble up a plentiful supply of bananas and vitamin-fortified milk if they do appear.
Of course, tourists don't appreciate it if none appear, but as long as you avoid the first few months of the year, there's a high probability you'll see them every time as we did.
Being close to them as they did their daily business was a fascinating experience.
We were the last tourists to arrive at that particular camp, so a few dozen other people, who'd already taken their photos, were still around.
A few of these people were especially loud, so I asked them to keep it down. The disbelief on their faces was unforgettable, but I didn't care.
I was annoyed that they were carrying on as though they were drinking cappuccinos at a Starbucks.
Ultimately, it's up to the guides to ensure their customers respect the environment, orangutans, and other visitors around them.
Overnight on the Klotok
Dinner was taken back on the klotok after we motored further upriver, past the other boats, to the dock of the second camp we'd visit the following morning.
The tables and chairs were moved to the old wooden structure, and we ate by candlelight.
The chicken satay was popular with everyone and among the best of our two weeks in Indonesia.
As we ate, the crew set up our beds and mosquito nets for the night.
It may not look like much in the photo above, but I and most of the others slept surprisingly well.
The nets kept the bugs out, and the tarps blocked the three kinds of poisonous snakes, and crocodiles, from boarding our vessel.
The orangutans spend their nights sleeping in nests built in the trees.
They build a new nest every day, a process which can take 20 to 30 minutes (which sounded fast to me, but if you're doing it every night, you must get good at it).
In the morning, I would awaken to a sweet surprise.
________
Note: My visit to Indonesia was in conjunction with a blog trip hosted by the Ministry of Tourism and Creative Economy.
Dave is the Founder and Editor in Chief of Go Backpacking and Feastio. He's been to 66 countries and lived in Colombia and Peru. Read the full story of how he became a travel blogger.
Planning a trip? Go Backpacking recommends: