[P]astoruri Glacier is located a few hours from Huaraz, in Peru's Cordillera Blanca.
Those who have been following me since my 'round the world trip know I've got a fascination with creeping up to higher and higher elevations.
I can still remember when I thought hiking the Tongariro Crossing in New Zealand, which hits 1,800 meters, was a big deal.
Then I trekked in the Annapurna region of Nepal and got above 3,000 meters.
I quickly followed it up with the more treacherous 4-day Indrahar Pass trek in northern India to 4,320 meters.
Mountain biking Cotopaxi Volcano in Ecuador took me to 4,500 meters, but it'd be in Peru that I'd finally crack the 5,000 meter mark.
To be fair, driving to these heights is far, FAR easier than trekking to them, but it's still a thrill to watch the rugged scenery unfold before you.
The trip to Pastoruri Glacier started out with an uneventful drive south of Huaraz.
Slowly, but surely, we gained altitude. In total, we'd be going up 1,900 meters before lunchtime.
Once we hit the dirt road leading up the valley to the national park, and glacier, the landscape began to change more dramatically.
Trees and foliage gave way to open, desolate spaces claimed only by grasses, and a few hearty plants, including the Puya Raimondi (Queen of the Andes).
The parking lot for Pastoruri Glacier is located at an elevation of 4,800 meters, so the final bit must be walked….unless you opt to hire a horse, as many Peruvians choose to do.
The horses run a path parallel to the stone walkway that leads most of the way up to the glacier.
The immediate view of the glacier from the parking lot is unimpressive.
It looks like two flat fields of snow, however after a heart-thumping 30-40 minute walk uphill, you'll arrive at the foot of the glacier, and be treated to more epic views.
Along the walk up, I heard thunder crack in the distance. The sky grew grey, winds picked up, and hail began to pelt me from above.
I pushed on, reminded that even a 40-minute walk is an adventure at these altitudes.
By the time I reached the glacier, it was steadily snowing, and I was getting wet, having left my rain jacket in the van.
With only a few shirts and a fleece to keep me warm, I hurriedly took some photos by the glacier, which is rapidly shrinking due to global warming.
Even just a few years ago, local Peruvians would learn to ski and snowboard on Pastoruri, however those days are long gone. [gbicon]
_______
What You Need to Know
Visiting Pastoruri Glacier is an easy way to start the acclimatization process if you're planning to do any trekking or climbing in the region.
How Much: $22.50 + tip ($15 for transport/guide, $2 for park entrance, $5.50 for lunch)
Difficulty: Moderate
Where to Book: Tours are easy to arrange through any of the hostels, or offices located around Huaraz's main plaza.
What to Bring: Camera, sunglasses, warm hat, and sunscreen. Dress in layers, and bring a waterproof jacket. Bring the jacket on your walk up to the glacier, even if the weather is clear when you arrive at the parking lot, as conditions can change quickly.
____________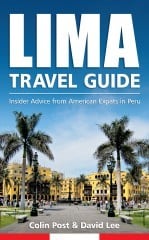 Dave's 160-page, all-original Lima Travel Guide is now available for Kindle and PDF.
Dave is the Founder and Editor in Chief of Go Backpacking and Feastio. He's been to 66 countries and lived in Colombia and Peru. Read the full story of how he became a travel blogger.
Planning a trip? Go Backpacking recommends: