I arrived in Huaraz (elev: 3,100 meters), at the foot of Peru's Cordillera Blanca, just as the rainy season was getting underway.
I didn't care.
This was the gateway to Peru's tallest mountains, including Huascaran at 6,768 meters (22,205 feet), and I wasn't going to miss it on my first visit to the country.
After all, it was here in the Huayhuash region that Joe Simpson's Touching the Void, a legendary tale of mountaineering and survival, took place.
It was the early morning, and despite catching a few hours' sleep on the overnight bus from Trujillo, I immediately closed the curtains and crashed on my bed in Hatun Wasi Hostel.
The following morning, I opened the curtains to a spectacular view of Huascaran looming on the distant horizon. I had to get closer.
At 3:23 PM on May 31, 1970, an undersea earthquake off the coast of Peru rattled the region for 45 seconds.
The force was strong enough to destabilize a large section of rock and glacial ice on the north face of Huascaran.
The resulting avalanche and landslide, traveling at approximately 300 kilometers per hour, buried Yungay and Ranrahirca in the valley below.
In Yungay alone, an estimated 20,000 people were killed. The Peruvian government later declared the original site of Yungay a national cemetery.
Day of the Dead, or Día de Muertos, is a religious holiday that originated in Mexico and is now celebrated throughout Latin America and the world every on the first and second day of every November.
The holiday focuses on gatherings of family and friends to remember loved ones who've passed away.
As fate would have it, I booked my day trip to Huascaran for November 1.
Old Yungay's cemetery was essentially a large, round series of several terraces, like a layer cake.
Built into each terrace were what appeared to be graves marked by small alcoves where flowers could be placed.
I was enamored with the dress of the local women. I'd already been exposed to it on the streets of Huaraz, but it seemed more fitting in the countryside.
The location of the old Yungay is now a memorial. A somber space filled with colorful rose gardens.
Walking around, it's hard not to take your eyes off the omnipresent Huascaran.
After the "sad" part of the tour, as our guide put it, we loaded up the minivan and zoomed toward the valley running along the east side of Huascaran.
The tour is billed as a visit to Laguna Chinacocha (elev: 4,420 meters), so the visit to Yungay had been a surprise.
After a short, off-road drive up the valley adjacent to Huascaran, we were deposited on the shores of the blue lagoon.
As I learned in New Zealand, mineral-rich, glacial lakes, lagoons, and rivers often have an otherworldly color.
Shades of blues and greens you won't find in other bodies of water.
What You Need to Know
You can visit old Yungay and Laguna Chinacocha independently or more easily as part of a group tour.
How Much: $20 + tip ($13 for transport/guide, $0.75 for old Yungay entrance, $1.75 for Huascaran park, $4.50 for lunch)
Difficulty: Easy
Where to Book: Tours are easy to arrange through any hostels or offices located around Huaraz's central plaza. If you're not fluent in Spanish, make sure you're getting an English-speaking guide.
What to Bring: Camera, sunglasses, hat, and sunscreen. There are plenty of vendors from which to buy snacks and water along the way.
***
Dave's 160-page, all-original Lima Travel Guide is available for Kindle.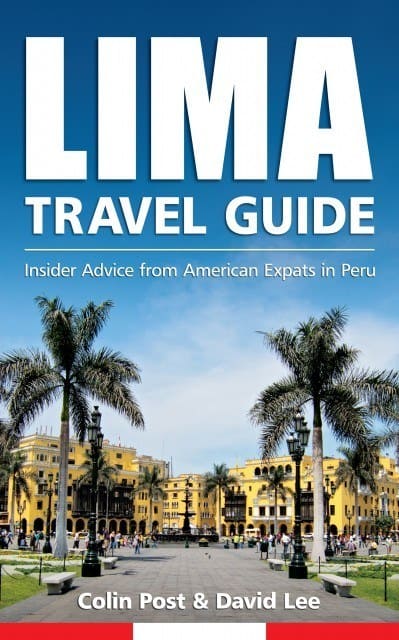 Dave is the Founder and Editor in Chief of Go Backpacking and Feastio. He's been to 66 countries and lived in Colombia and Peru. Read the full story of how he became a travel blogger.
Planning a trip? Go Backpacking recommends: