One of my main goals for the year has been to use less plastic when traveling.
It's taken a bit of practice, but I feel I'm slowly getting there.
I've learned that to avoid using plastic in many situations, one has to be ready, in a manner of different ways.
Prepared to speak up, with confidence – to say no to the disposable container for takeaway food or the plastic straw in your drink.
Prepared to accept that sometimes it's better to go without than to generate more waste in the world.
And finally, prepared with your own reusable items, when faced with the prospect of having to use disposables.
So, I've put together a little kit that I bring with me when I go abroad. Here's what you need to pack for plastic free travel.
1. A Water Bottle
I never leave home without a water bottle.
I have two that I rotate when on the go. One has a filter. The other is made out of stainless steel and doubles up as a thermos.
Whichever one I use depends on the quality of the water within the country I'm visiting.
My two favorite brands are S'well and Kleen Kanteen. I find them to be both practical and aesthetically pleasing.
Many places will have fountains and taps where you can refill your bottle. I also ask staff behind bars, in restaurants and at airports for refills. I've not yet been refused. I hope this continues to be the case!
2. A napkin or handkerchief
Hankies (or handkerchiefs) are what I regard as an essential item for plastic free travel.
I've used mine in place of tissues, or as napkins. When dirty, you only need to chuck them in the washing machine, and they'll be good and ready to go again.
My favorite brand for hankies, as mentioned in the past, are TSHU. They plant a tree for every handkerchief sold.
Sometimes I pack a napkin as well, which can work nicely when buying things like baguettes and wraps.
3. Cloth bags
I have cloth bags of varying sizes which I pack with me when traveling.
I usually take a couple of smaller bags, which can be used in place of paper or plastic for snacks on the go.
My over the shoulder cloth bag has also saved me from having to shop with plastic bags on countless occasions. It doubles up as a bag for when I wish to leave my backpack at my hotel or hostel.
I also have one of around the size of an A4 sheet of paper, which I stuff full of dirty laundry.
These bags are lightweight and take up next to no room in my luggage. Win.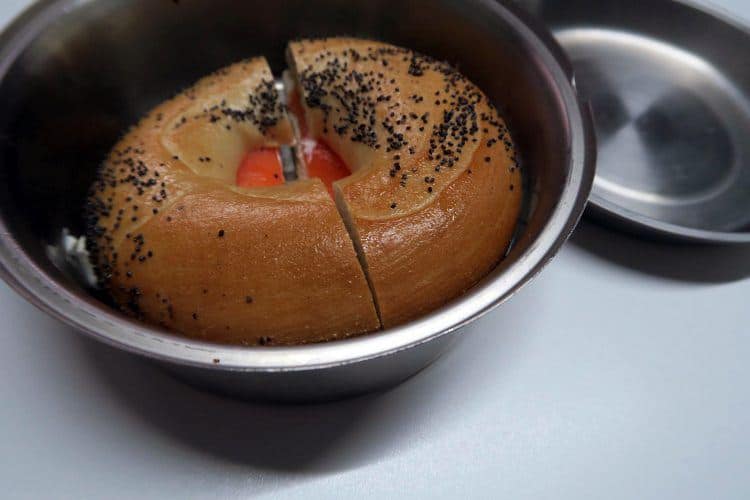 4. A container for snacks
I tend to also pack a small stainless steel container for lunch or snacks.
This is perfect for messier foods that would stain or leak through my cloth bags.
I've stored plenty of items in there, from cheese to fruit or bagels!
5. A spork
How many times have you gone to eat something and had to reach for plastic cutlery? A spork can easily eliminate this need.
If you travel with carry-on only, you can get away with slipping a spork into your bag. As the edges are not serrated, security won't have a problem with them.
They're invaluable during long plane trips, as you can use them in place of the proffered plastic cutlery.
6. A reusable cup
My KeepCup has saved me more times than I can count.
If you're an avid drinker of coffee, just imagine how much plastic you'd avoid if you switched to a reusable cups. Tons! Some coffee shops even offer discounts to any patrons who bring in their own cups.
I don't drink coffee, but I've used my KeepCup on many occasions – notably on planes. The attendants are usually more than happy to pour my drink into my cup, and not wasting yet another one-use plastic item.
Plastic-free travel is not impossible. All it takes is a bit of organization and determination. Be aware that you'll be mostly attempting to change a habit – not only your own but many of those who you'll meet along the way.
It takes a bit of patience and a lot of understanding. Yet, nothing is impossible, and that's the most important thing to remember.
LC is an ex-expat who is currently re-exploring her home country of Australia. Follow her adventures at home and abroad via her blog Birdgehls, where she writes about travel, expat life, gushes on about various animals and bemoans her often futile attempts to go completely green. Or, you can look her up on Facebook.
Planning a trip? Go Backpacking recommends: