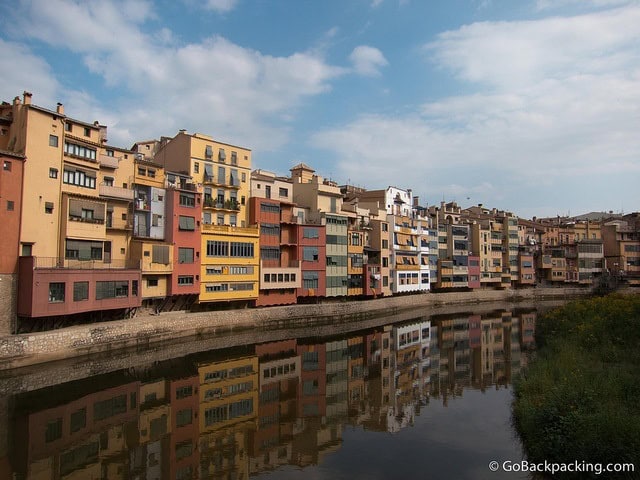 Two weeks ago, travel bloggers from around the world began to congregate in Girona, Spain for the 2012 European TBEX conference.
Here's my review of TBEX in Costa Brava, for those who couldn't make it, and are debating whether to attend in the future.
Location, Location, Location
Girona turned out to be the perfect backdrop for a travel blogging conference.
Everyone seemed to agree on at least that much after spending a few days there.
A city of just 100,000, it offered a much more relaxed atmosphere than if the conference were to have been held in nearby Barcelona.
You were also more likely to bump into other bloggers on the street because the historic downtown area is so small.
I hope Blogworld, the new owners of TBEX, take this approach for future conferences as well.
Opening Night Party
The opening night party was held in an f'ing castle! And it was as cool a setting as it sounds.
It didn't hurt that the event was catered by the #2 ranked restaurant in the world.
I only wish I'd circulated a bit more to try the food. I completely missed the ham room, and the desserts, both of which received rave reviews.
Without trying, I began meeting PR people randomly, including reps for Austria, Germany, and Stockholm.
Only one of these destinations had a speed dating table (Austria, which was a TBEX sponsor), showing me early on that one had to constantly be networking, and not rely on the organized speed dating alone.
Keynote #1 – Peter Shankman
I've been following Peter Shankman for a few years on Twitter, having previously used the HARO service he started.
CEO, angel investor, skydiver, and adventurer, his speech was heavy on the American pop-culture references, but it also included some practical advice I could relate to on my entrepreneurial journey.
Whether you liked his talk or not, it was clear Blogworld's involvement in TBEX meant higher profile speakers were involved then past conferences.
The last conference I attended was the 2010 TBEX in New York, where the speaking highlight for me was Gary Arndt of Everything Everywhere.
It was a nice change of pace to have speakers outside the travel blogging niche to share their perspectives and lessons learned.
The Food and Facilities
The catered lunches, each provided by a different restaurant, offered a taste of the local Catalonian cuisine.
Tables were organized around sponsors, and offered the chance to chat with people in smaller groups.
For my first lunch, I sat at the WordPress table and got to be a geek by professing my love for WordPress to some of the mobile app developers.
The conference facilities were spacious and modern.
All the sound equipment worked fine, and there was working Wi-Fi throughout.
The large auditorium was a comfortable venue for the keynote speeches.
There were clear, easy to follow signs throughout the building, making it was easy to find the various panel discussions as well.
The second evening's party was hosted by Expedia, at a restaurant by the beach. Because we arrived after nightfall (via bus), I couldn't see the beach, nor the water.
We mine as well have saved the commuting time, and stayed around Girona.
Keynote #2 – Amy Porterfield
The second keynote, on Friday afternoon, was delivered by Amy Porterfield.
She presented a ton of practical tips on how to better leverage Facebook to build a brand and audience.
All of the tips may not have been groundbreaking, but I think everyone who attended learned at least one new way to use Facebook.
Plus, she was an excellent speaker, and clearly comfortable on the big stage.
The Nights: Hanging Out with Friends
My main takeaway from attending TBEX in New York City was the ability to connect with people I'd been following online.
This time around, I had a more balanced experience overall, however, I still had a blast hanging out with old friends, and getting to know a new generation of travel bloggers.
I even met several members of Travel Blog Success who said that community was the reason they were attending TBEX! Meeting people is still my #1 reason for attending TBEX.
I think Colm from Hostelworld put it best. To paraphrase, he commented that attending the conference is like hanging out with your mates (friends).
Relationship-building happens a lot faster, and is a lot more fun, in person. I missed these times the last few years I've been in South America.
The Partying
Another takeaway from TBEX in New York was the bloggers' appetite for booze and partying.
Girona, nor the attendees, didn't disappoint in 2012.
Every evening after dinner, bloggers would congregate at The River Cafe for drinks.
Around midnight to 1 AM, whoever was still awake would roll down the cobblestoned streets to a club for more drinks and dancing.
I only made it to a club one of three nights. It was good fun being out with friends and peers until the wee hours.
Keynote #3 – Chris Guillebeau
The third and final keynote was given by Chris Guillebeau of Art of Non-Conformity late Saturday afternoon.
More of an inspirational talk than the others, I enjoyed hearing him speak for the first time.
He also gave us hardcover copies of his new New York Times Bestseller, The $100 Startup.
I just finished reading it, and it's a good mix of practical business advice and inspirational case studies.
I use the term "studies" loosely, as he doesn't drill down into the nuts and bolts of each story, but rather uses them to highlight his key points.
Cannonfire, and the Closing Travel Massive Party
Because Chris's keynote unexpectedly happened at the end of Saturday instead of the start, the whole conference ran a little late.
As we dispersed, walking toward the city cathedral for a final ham and beer party thrown by Travel Massive, we ran into a Spanish-French war re-enactment.
This was partly planned, but most of us had no idea what we were in for.
Guns and cannons were going off right next to us, and it was deafening at times.
I heard so many explosions, I was starting to shake. In retrospect, I wish I'd distanced myself from the commotion a lot sooner.
The confusion around this time, as bloggers mixed with the locals there for the show, meant a lot of people didn't make it to the farewell party.
I, for one, ended up at a dinner with about a dozen other bloggers, including Dave and Deb from The Planet D, Matt Long of Landlopers (who now works for TBEX), and Peter Shankman.
Final Thoughts
My 2012 TBEX experience was a vast departure from the party and gossip atmosphere that consumed my 2010 TBEX experience.
It was a more balanced mix of networking opportunities, learning, and hanging out with friends.
The entire conference was well organized, with the minor exception of running us through the re-enactment gauntlet to try and reach the closing party.
I'm excited about Blogworld's committment to TBEX going forward, especially after speaking with the co-founders, Rick and Dave, one on one.
They are super-friendly guys who are clearly committed to growing the pre-eminent conference for travel bloggers.
To my blogging friends, we're in good hands, and I'll see you in Toronto next June!
Dave is the Founder and Editor in Chief of Go Backpacking and Feastio. He's been to 66 countries and lived in Colombia and Peru. Read the full story of how he became a travel blogger.
Planning a trip? Go Backpacking recommends: