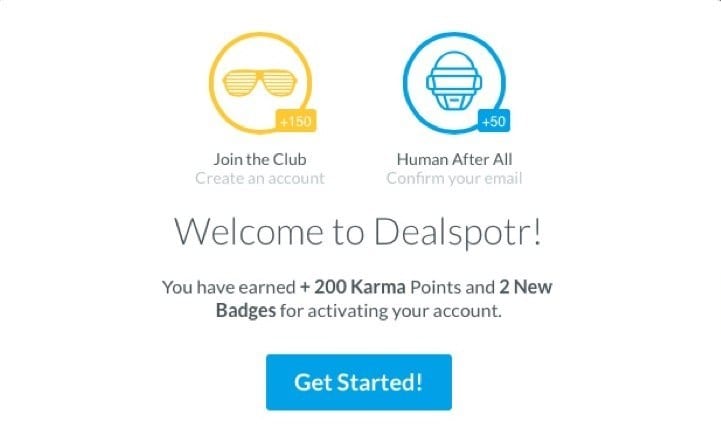 I like to think that I am a typical backpacker, always trying to find the best deal. After all, the more money I save, the longer I can stay on the road.
Even a $10 savings can be one night's accommodation somewhere as cheap as Thailand.
So when I was invited to review Dealspotr for Go Backpacking, I jumped at the chance to learn how to save more money.
Dealspotr is a new site that gives shoppers cashback in the form of Amazon gift cards just for sharing the great deals they find, including travel deals.
It claims it's the best community for finding and sharing deals, and unlike so many other cashback sites, no purchase is required.
It's built as a Twitter-like social media platform for bargain hunters, and you get compensated for participating in the community and sharing any deals that you find.
Signing Up
The home page is easy to use, and setting up an account is effortless.
You choose whether you want to sign in with your Facebook account or email.
For signing up, I received several hundred Karma points and two new badges for activating my account. Not bad for 30 seconds' work.
Each karma point earned is a step towards an Amazon gift card. For example, I needed 1,000 karma points to get my $5 gift card reward.
The right-hand box on the home page has suggestions for "a few things you can do to be awesome."
I really like the conversational tone as it sounds friendly and made me smile when reading it.
The "ways to be awesome" are incentives to earn more karma points such as:
Follow at least 20 stores.

Follow 10 people.

Post your first deal.

Upvote five good deals.

Comment on a deal.

Add a profile image & a bio.
Following a store means that the store will appear in your recommended daily feed so that you can keep up to date with any store discounts and deals, whether online or in-store.
Hot Deals allowed me to choose coupons that you can either use in-store or online. I chose coupons for online deals with travel and events.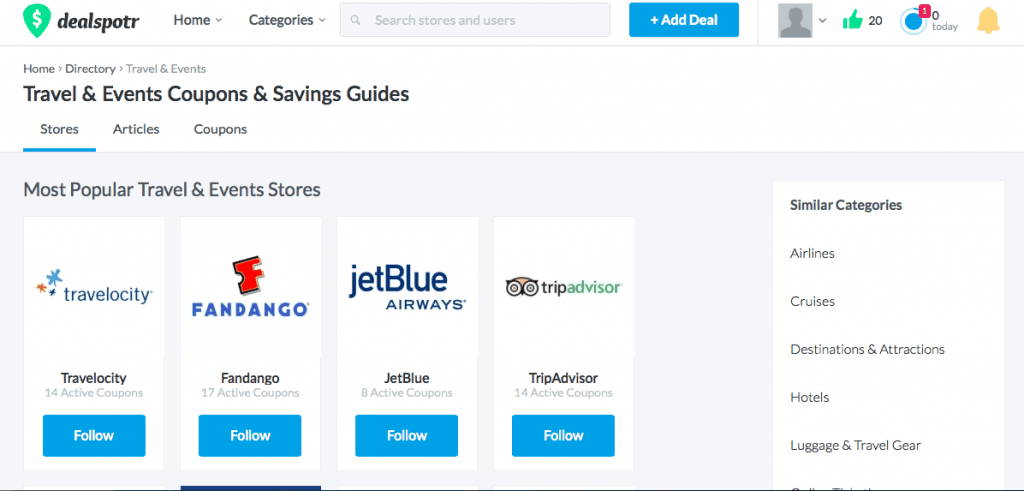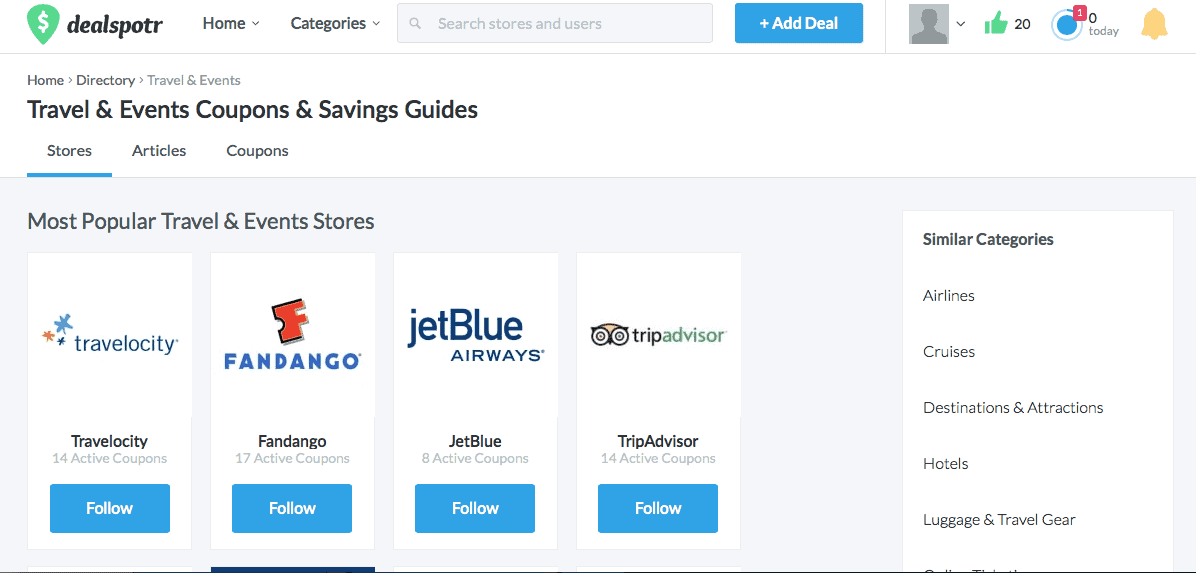 Saving Money When You're Traveling
There was a wide choice of coupons from familiar sites such as Travelocity, Fandango, and TripAdvisor.
Car hire coupons were available from Enterprise, Avis, and Budget; airline coupons from the likes of Emirates, Delta, and Southwest; and hotels including Hilton, Westin Hotels & Resorts, and Hotels.com – a meta-search engine.
Clicking on the blue "Follow" button allowed me to add a company to my list of organizations that I'm following.
When I clicked on Booking.com, it showed me a list of savings for that particular website from 20% off to save on Miami Beach hotels.
All I had to do was click on the green "Activate" button to be sent directly to the page and the deals.
I especially like this section, which is perfect for saving money when you're already on the road and traveling.
Before going on a trip, it's also a good way to save money on products such as shoes.
In the option for in-store, there was a deal for "Women's clearance items: up to 80% off at Nordstrom Rack."
I could then click directly on the website for Nordstrom Rack and check out the boots and clothing, which had significant savings, such as a fringe trim boot reduced from $79.00 to $31.60 – a 60% savings.
Just clicking on Hot Deals showed me dozens of offers to choose from.
There were discounts on books such as Paper Towns by John Green for $12.62 and 15% off a wireless mouse.
Target appeared to have the best offers, especially the one for $10 off any purchase of $20 – great savings!
The site gives you promo codes, and free shipping offers too.
The "Verify and Earn" function helps the Dealspotr community by testing, verifying, and recommending each day's best deals.
You can earn bonus Karma points for spotting winning deals and also by flagging bad ones.
One way of earning extra karma points is to "Post a New Deal" by pressing the blue button on the right-hand side.
This is a way of adding a new deal if you see it in a store or on a store's website.
You can link directly to the deal and describe the discount so that others can also benefit from the deal.
This brings you even closer to an Amazon gift card.
My Conclusion
I like the concept, and I think this is a great website if you are looking for things to buy before you travel and take with you, such as footwear, clothes, items from Target, etc.
It's also ideal when you're on the road for discounts on flights and hotels when planning the next stage of your journey.
It's easy to use, and I will certainly be staying logged in and claiming as many bargains as I can.
__________
This story was brought to you in partnership with Dealspotr; all opinions are of the author.
Lisa Eldridge is a travel journalist specialising in solo travel. Her background in the travel industry fuelled her passion to see the world and for the last seventeen years, she has travelled extensively as a solo traveller, living and working in numerous countries. She has now been to 100 countries and 60 of these solo.
Planning a trip? Go Backpacking recommends: