The following is a guest post by Jade Scully. If you'd like to guest post on Go Backpacking, please read our submission guidelines.
Earlier this year, my boyfriend and I spent two and a half weeks backpacking through Thailand. It was a short trip, but just long enough to open my heart and eyes to the idea of seeing the world.
As soon as we landed in Bangkok, I was in awe of the amount of Thai people getting around on scooters; it seemed there were more of them on the road than cars and buses put together! What was even more shocking was that none of them wore helmets even when a whole family of five (including a baby of a few months and a little child) was squeezed onto the back, holding onto one another tightly so as not to slip off. It was a scene we'd have to get used to, and when I stopped to think about it the entire transport system the cars, scooters, and tuk-tuks they moved smoothly within the chaos. There were very few actual traffic jams, and even less hooting and screaming at each other.
In fact, it was only the overwhelming number of foreigners on scooters that created any kind of on-the-road friction, especially those found on the islands.
It's so cheap and easy to rent a scooter (assuming one doesn't mind parting with his or her passport for the duration of the rental; this is their insurance policy), and it may honestly be the best way to explore the islands. But, combine the reckless abandon of young travelers with equally as cheap and easily-accessible alcohol, and then add the freedom to drink and drive, and there are bound to be some clashes. I know from personal experience.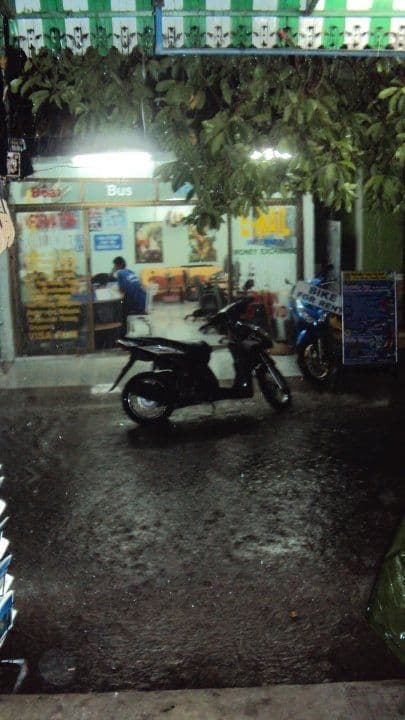 During our time on the first of the islands we visited Koh Phangan we met up with a group of burly, ready-to-party guys from New Zealand and an even crazier Scotsman. Since we were all staying next to one another, we decided to head to Haad Rin (the venue of the Full Moon Party madness) together. The roads there were curvy and steep, and even on the back of the open taxi we'd all chipped in together to hire, I felt uneasy. We got there safely though and ended up partying until sunrise.
The next night the boys decided to head back to the drunken craziness on their scooters. My boyfriend and I, on the other hand, had had a relaxed evening in and were in bed by the time they arrived back. It wasn't until the next morning that we heard the news: Tim (one of the New Zealanders) had been driving back completely drunk, hit something on the road, and flown headfirst over the handlebars. He barely missed going over the edge. When we checked up on him he had bandages on his legs and arms, and cuts everywhere else.
But that didn't stop the boys heading out for another drunken night adventure on their scooters. Sure enough, two of them crashed on their way backs as well.
It was only when we were on Koh Tao and heard about the recent death of young traveler in a scooter accident that I really stopped to think about it. Although the Thai people may not ride their scooters in the safest of ways, they knew the roads and weather conditions like the back of their hands. They'd probably even been living this sort of lifestyle since they were born. Visitors to the islands, however, are just there to have a good time which generally involves drinking way more than a few drinks, dancing the night away, and coming " home" to their bungalows early the next morning by whatever means they saw fit. In most of their home countries, they probably would never consider drinking and driving as an option, but for whatever reason such rules as well as most common sense washes away with each swig of an ice cold Chang Beer.
My advice to anyone planning a trip to Thailand go, have fun, drink you little hearts away if you must, but please, please don't think you're invincible enough to have too many beers and drive you little scooter home. Many have tried and failed before. The majority of them ended up in physical pain with the financial wounds of having to pay back the expense of the damage done, but some, including the one unfortunate traveler that I know of, are no longer with us as a result.
Enjoy the buckets and then pay that extra 300Baht for a taxi or tuk-tuk home. It's worth it.
___________
About the Author: Jade Scully is a copywriter, blogger and online marketing enthusiast who has published her work on a series of online publications and websites including the Africa Adventure blog.
This post was written by a guest contributor. Please reference the author's byline in the post above for more information. If you would like to guest post on Go Backpacking, please read our submission guidelines. For information on advertising opportunities, go here.
Planning a trip? Go Backpacking recommends: