Plan a three-day Sierra Nevada adventure to hike one of the most accessible 14,000-foot peaks in the United States and experience the world's oldest trees in the Ancient Bristlecone Pine Forest.
A 2-for-1 Adventure
White Mountain Peak and the nearby Ancient Bristlecone Pine Forest will give any adventurer a two-for-one accomplishment over a three-day trip.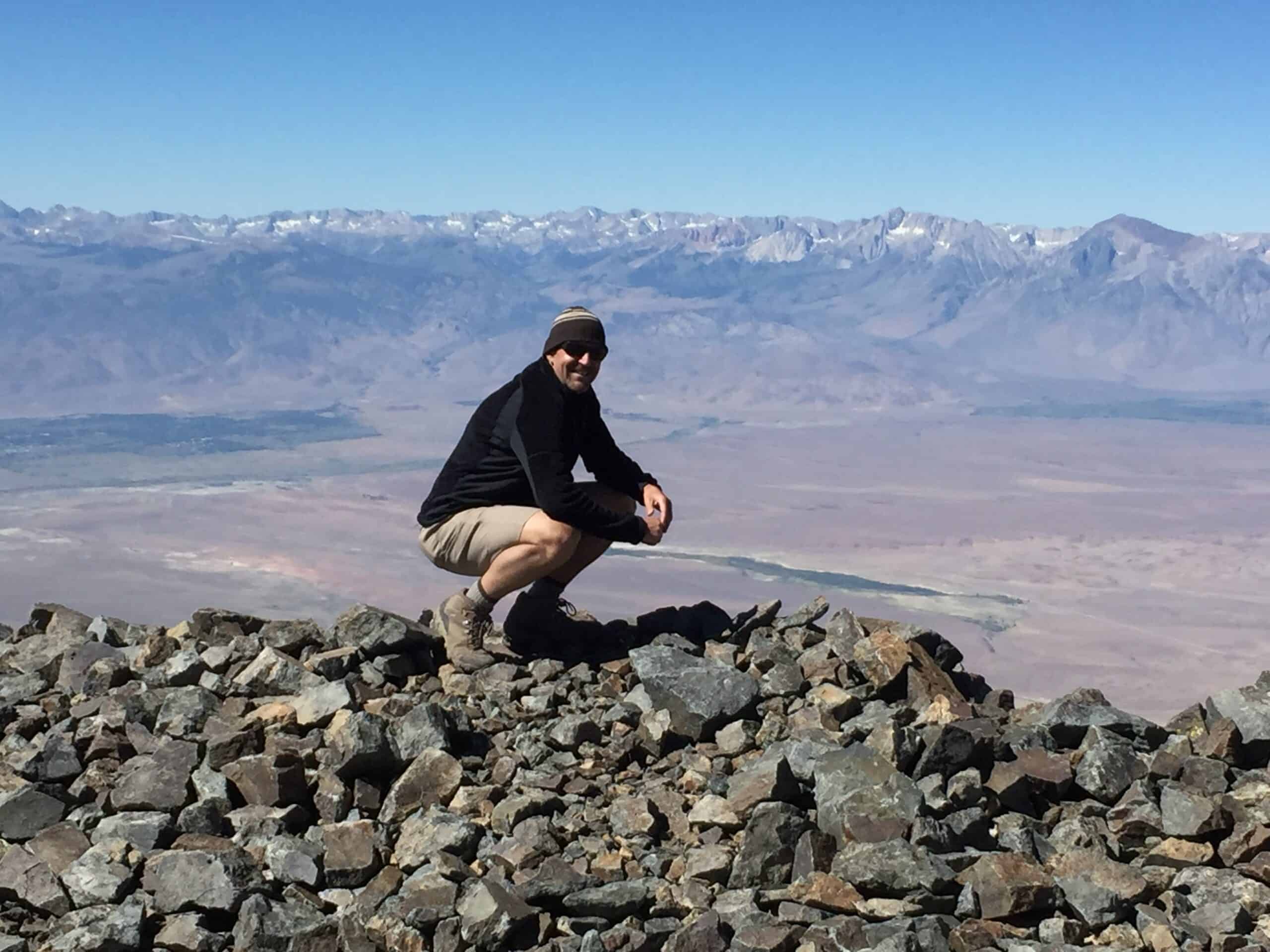 For starters, White Mountain Peak and the Bristlecone Forest are very remote.
We found this out the hard way when we went for the first time.
But, we were determined to climb to the top of one of the 14 or so 14,000+ foot peaks in California.
Getting to the top will not only secure bragging rights and provide storytelling prowess around the next campfire, but you can also share how you stopped along the way to see the world's oldest living trees.
The Bristlecone Pines in the White Mountain Range are 4,000 to 5,000 years old.
Scientists have concluded that they are the oldest living things on planet Earth.
Where Is White Mountain Peak?
White Mountain Peak and the Ancient Bristlecone Pine Forest are nestled in the Inyo National Forest on the California/Nevada border.
Getting to these unique places for an adventure in the Sierra Nevada mountains takes some driving.
When coming from the north or south, travelers will approach via the world-famous Highway 395.
There is no way to come from the other directions as the mountains provide a huge natural barrier to roads and automobiles.
Any good internet map apps will guide you to each destination.
The nearest city with a hotel is Big Pine, California, but trips could originate from touristy outdoor adventure places like Yosemite National Park or Mammoth Mountain Resort.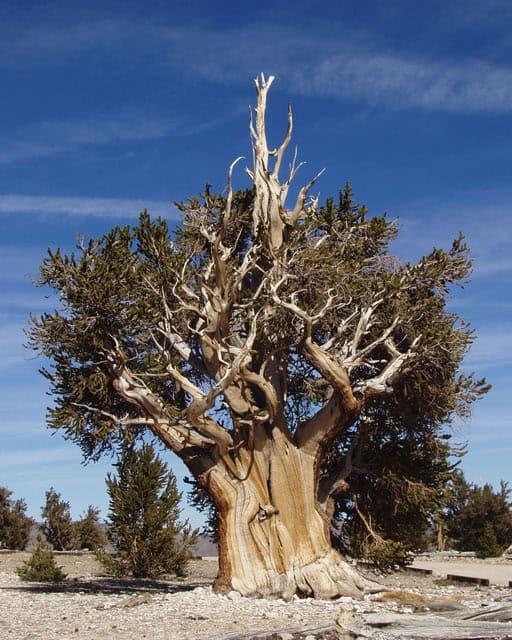 Not as Easy as It Seems
White Mountain Peak is the third tallest mountain in California at 14,252 feet (4,344 meters).
It is just below the elevation of Mount Whitney, the highest point in the contiguous 48 states, and it can be seen across the valley from the peak of White Mountain.
White Mountain is often called the easiest 14,000+ foot peak in California to climb.
Since hikers can drive to the trailhead at 11,680 feet (3,560 meters), getting to the summit requires much less elevation gain than most big mountains.
However, this can cause significant problems with altitude sickness.
Acclimatization Is Key
To make for a more pleasant hike, spend a couple of nights up on the mountain at mid-level altitudes to acclimatize to the lack of oxygen.
Grandview Campground is the best place to spend your first night.
Sitting at 8,600 feet (2,775 meters), Grandview Campground is the perfect place to enjoy a night under the stars and acclimatize.
There are no reservations required to camp in one of the 23 sites, and the Inyo National Forest managers classify the campground as "very lightly used."
There is a $5 fee per night, and there are developed toilets but no running water. Bring your own H2O in gallon jugs.
There are no city lights visible from the campground, and the stars, planets, and Milky Way galaxy are stunningly bright on cloudless nights.
The road to Grandview Campground and beyond to Schulman Grove Visitors Center is paved but steep and narrow.
Large recreational vehicles are discouraged.
Besides, getting to the trailhead for White Mountain over dirt and rocks will require a short wheelbase and high clearance or another very hardy mode of transportation.
See also: How to Get Ready for a High-Altitude Mountain Climb
The Ancient Bristlecone Pine Forest
Methuselah, the world's oldest tree, was our first stop after a night at Grandview Campground.
The Visitor's Center is just a few minutes up the road, and we went intending to hike the 4-mile (6.5-kilometer) trail to see Methuselah.
While we probably saw it, the tree is intentionally not signed to prevent vandals from marking it up or taking pieces of it away.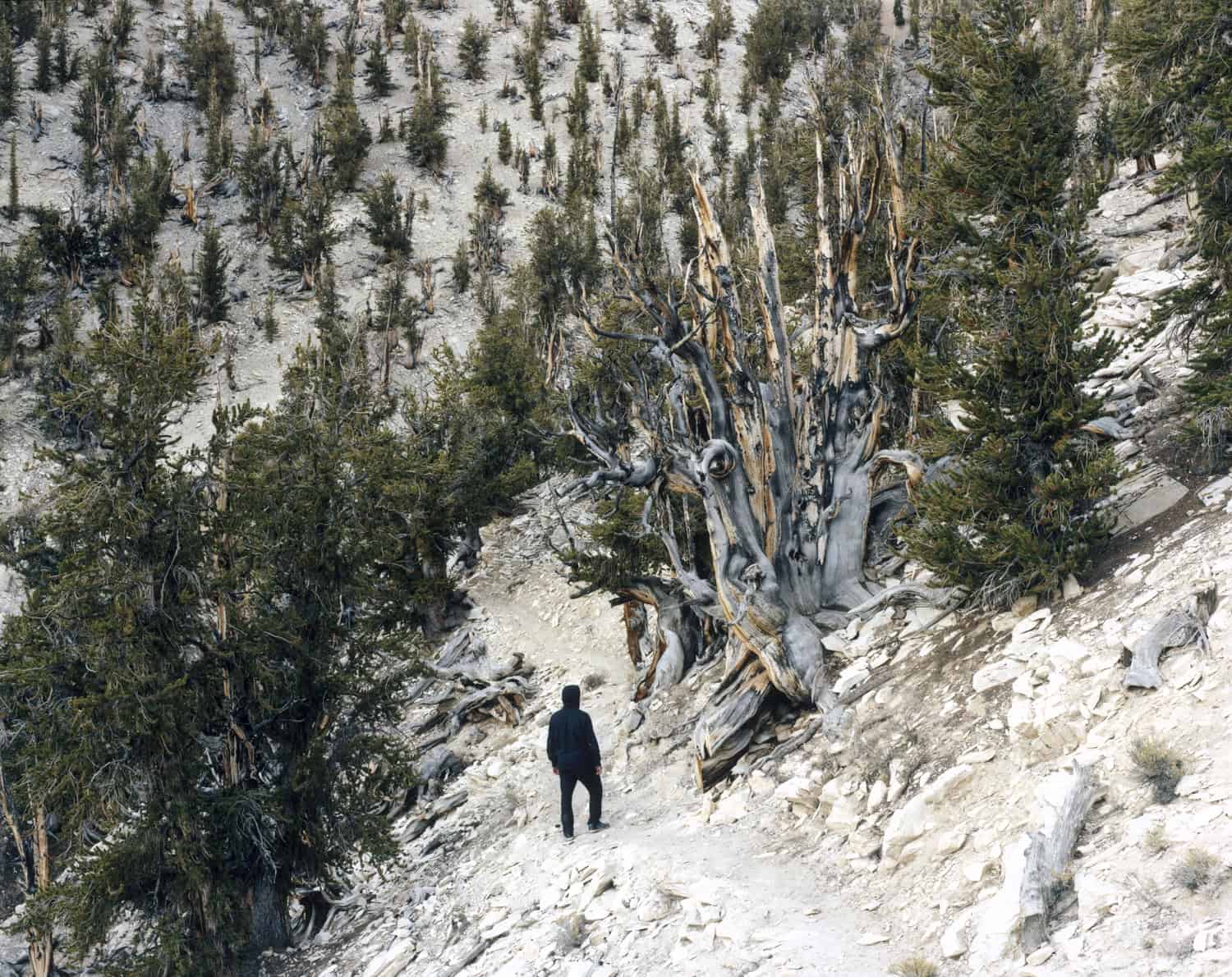 The old trees are gnarled and exotic – and at times, do not even seem alive at all, as the oldest trees no longer produce many needles.
After the hike through and around the oldest living things on earth, we made our way back to camp to eat lunch and lounge around in the tent.
Later on, we packed up for the long dirt road journey to the trailhead at Barcroft Gate.
Barcroft Gate Trailhead
Beyond Grandview Campground, it is another 21 miles (34 kilometers) to the next campsite at the Barcroft Gate.
Most of those miles are on winding, muddy, rocky, dirty roads. Drive slowly to avoid punctures and suspension damage.
It took us more than 1.5 hours to arrive at the gate.
When we pulled off to the side of the road to set up our tents, the sun was already setting behind the Eastern Sierra mountain peaks, and it was also getting really cold.
Even though this trip was taking place in late July, at an 11,680-foot elevation, it got down to 16 F (-9 C) overnight.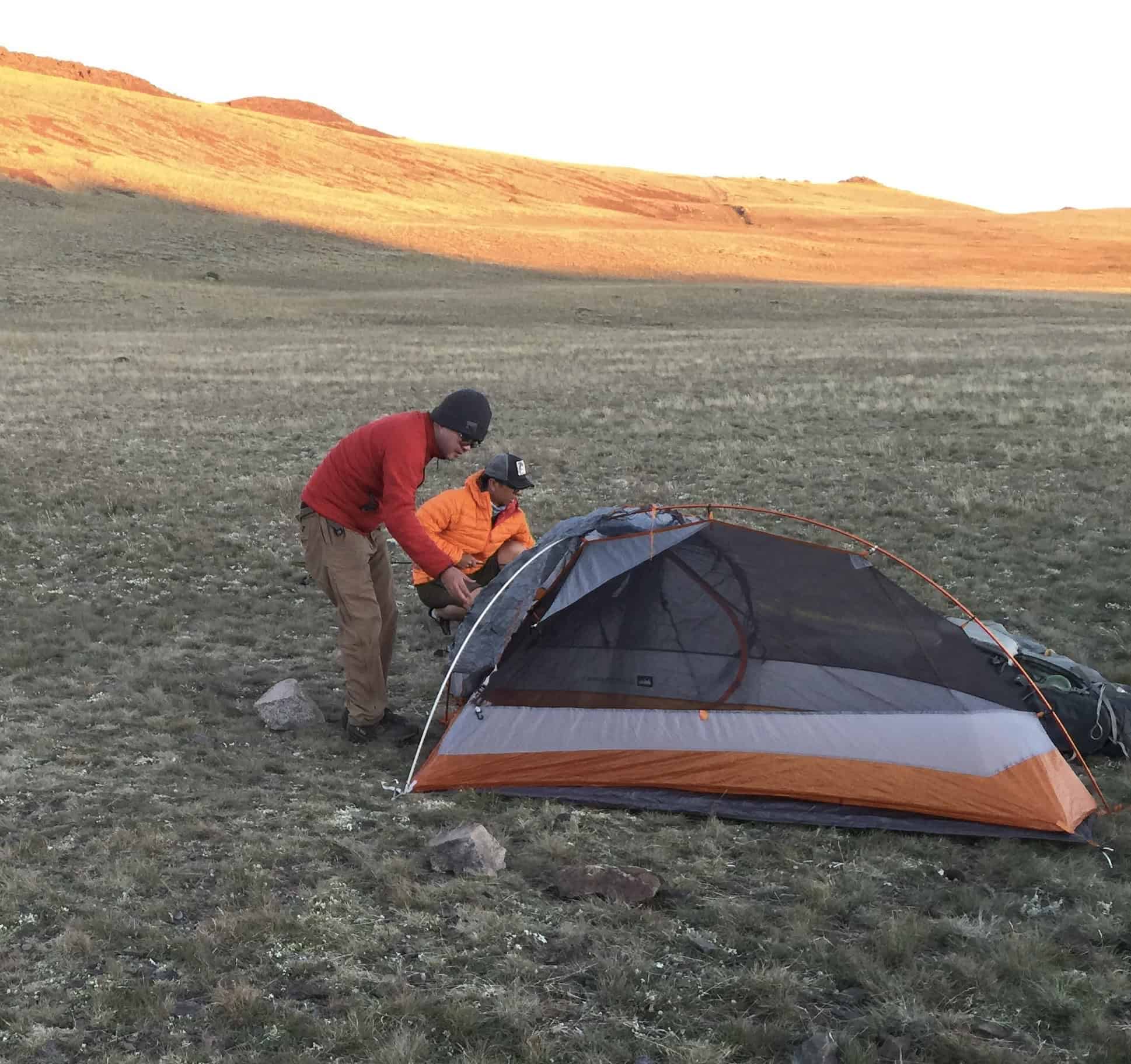 This night spent sleeping in our tents gave us more time to fully adapt our respiratory system to the thin air.
The White Mountain Peak hike was waiting for us when we got up the following day.
We all shivered through coffee and breakfast.
There is no way to build a fire to warm up as there are no trees or wood of any kind at this elevation.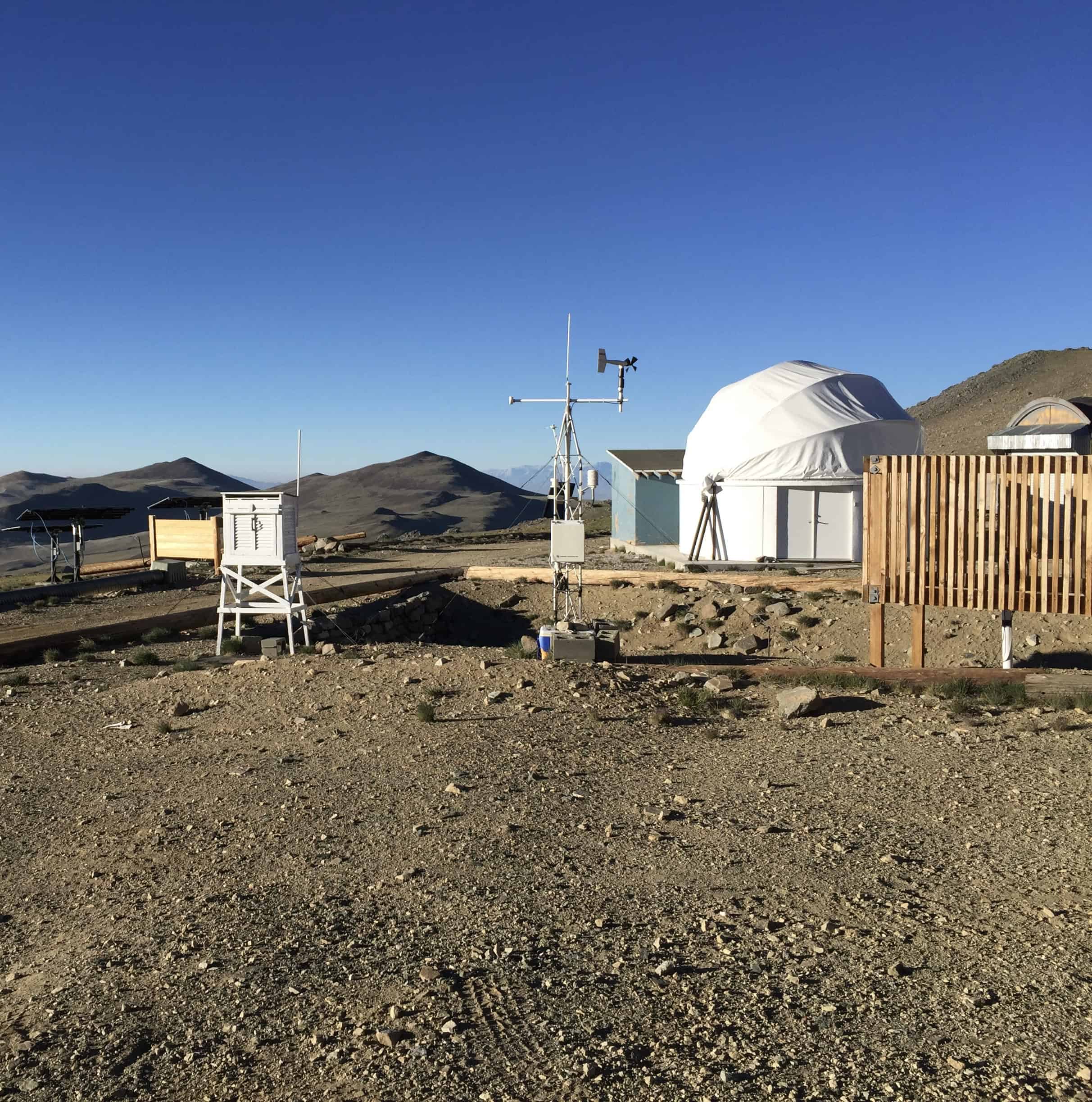 Climbing White Mountain Peak
The White Mountain Peak hike would be just over 14 miles (22 kilometers) round trip on an old jeep road.
After just an hour of steady work, we came across the Barcroft Research Facility, where Sir Joseph Barcroft, a British physiologist, started a program to study the effect of high altitude on the human body.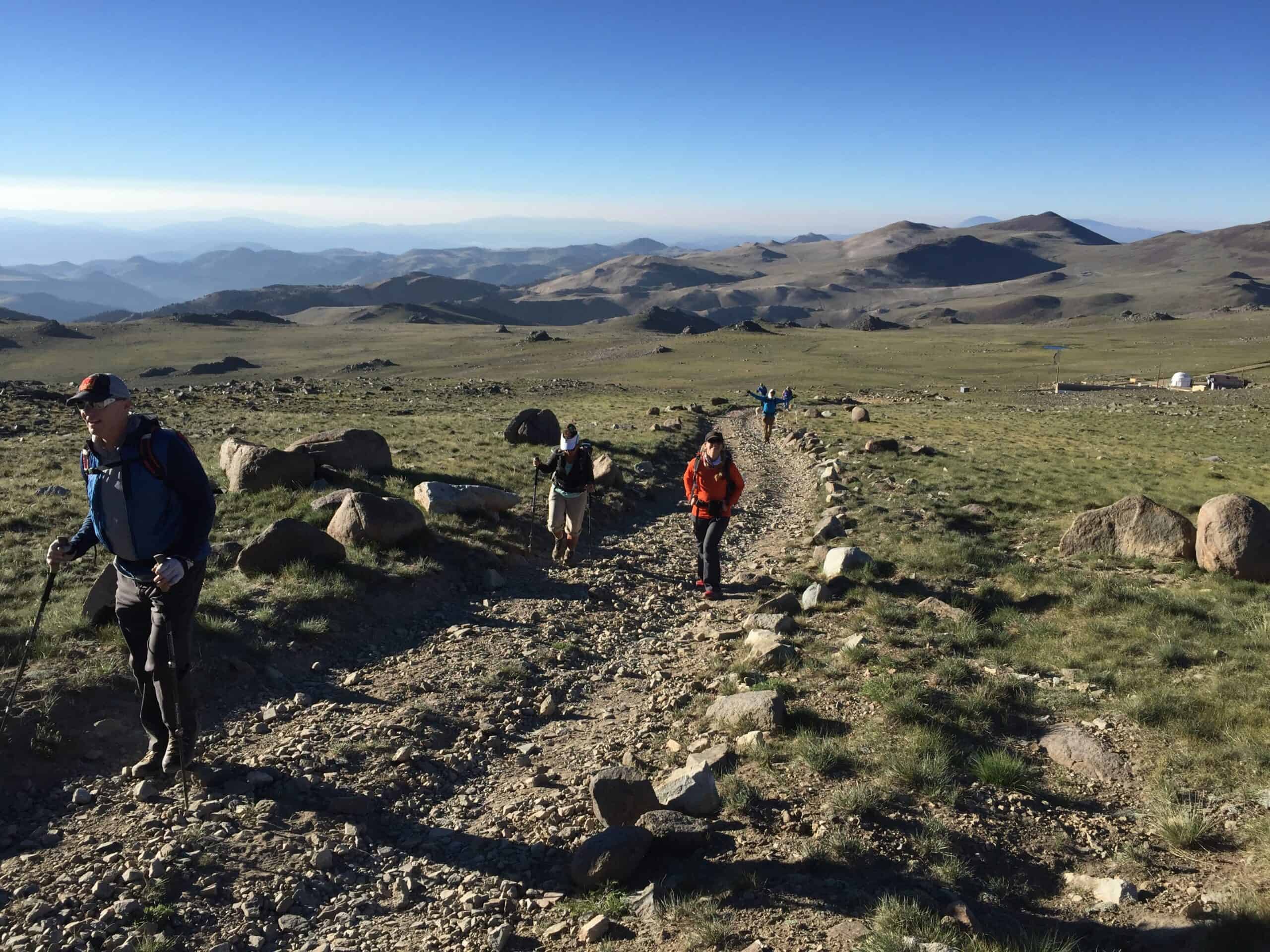 Scientists also built a rock and mortar summit hut at the top of the mountain.
Our group of 12 hikers found the going relatively easy as we were on an old road graded for cars, and we had spent two nights acclimatizing for the high elevation.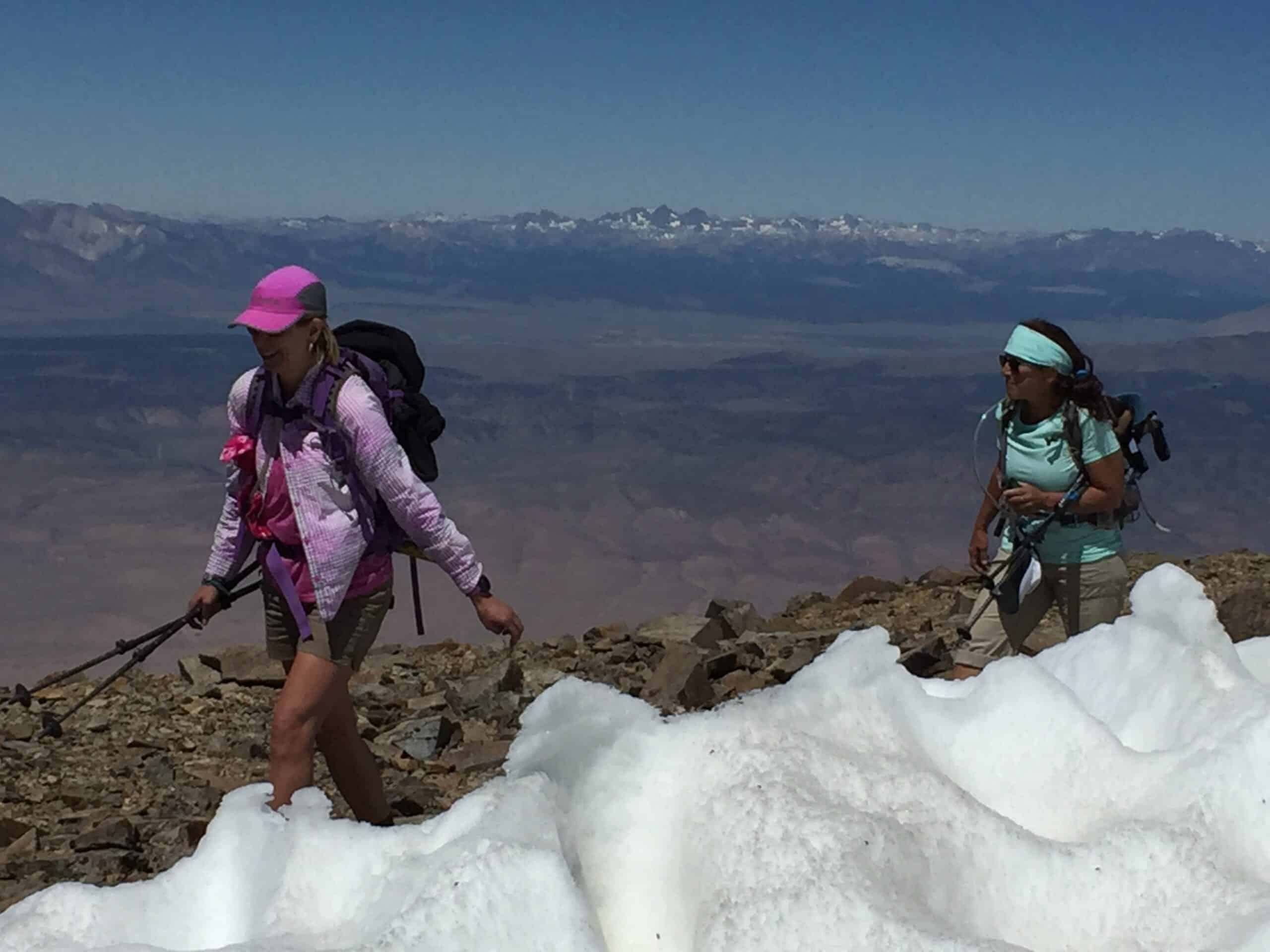 Near the top of the mountain, we ran into snow.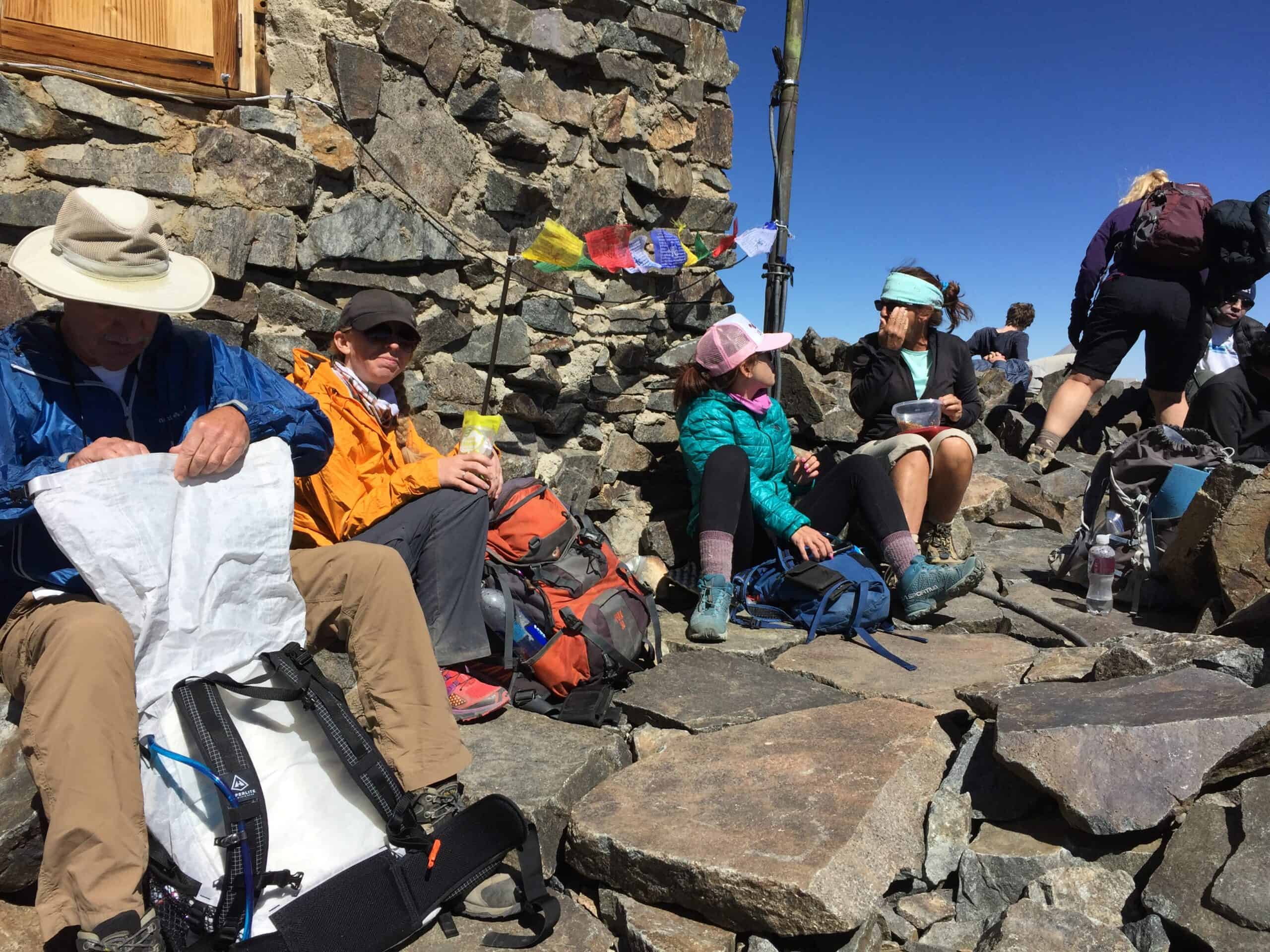 We reached the peak's summit hut just before noon and enjoyed lunch behind the rock walls out of the brisk wind.
It was the third different 14,000 peak climbed for CT and I.
We had previously climbed both Mount Whitney and Mount Langley twice each.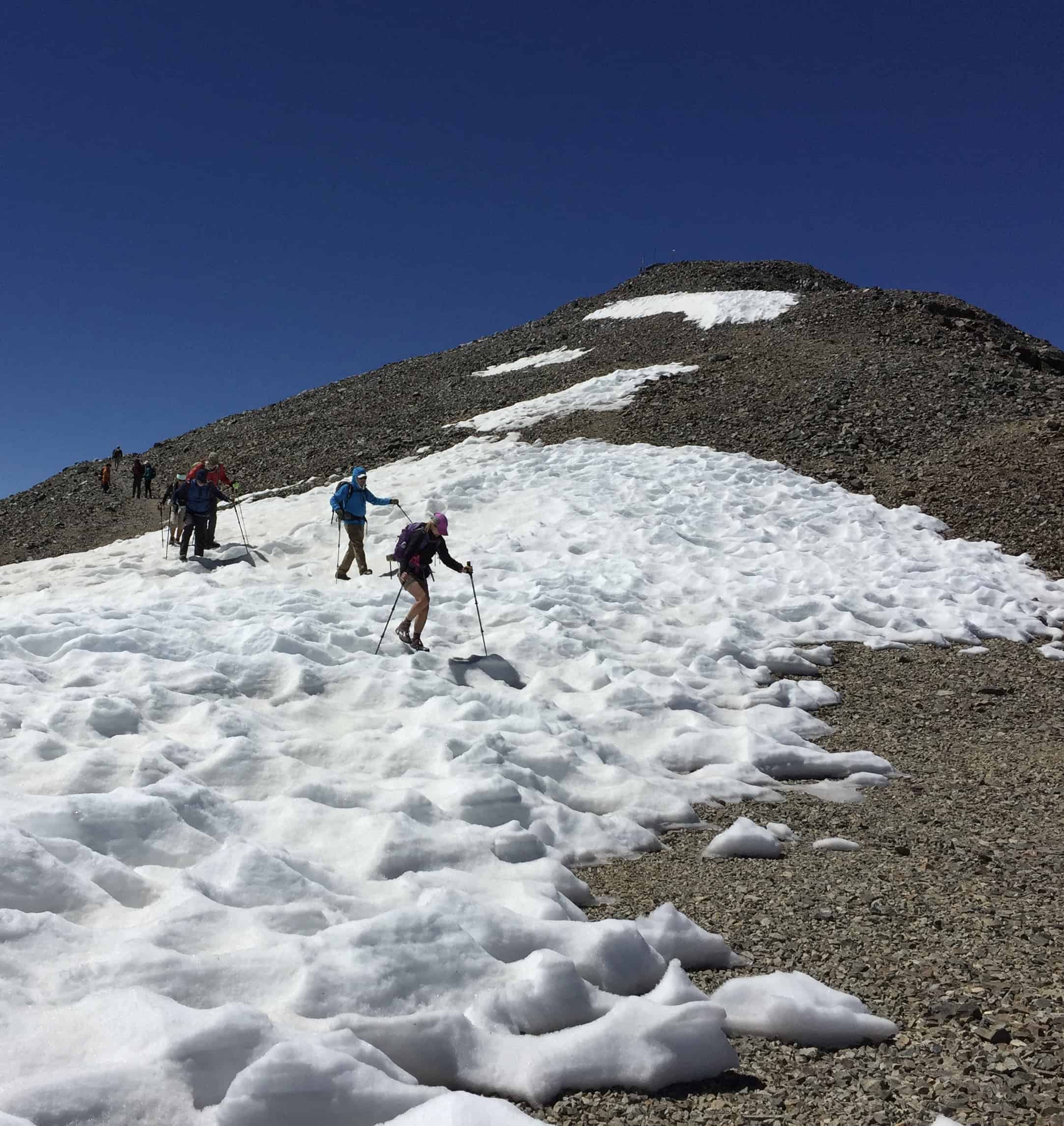 Since the snow near the summit had fallen deeply a long time ago, the sun's rays for the weeks and weeks of summer had melted it into what is known as sun cups.
Sun cups are peaks and valleys about 1-2 feet high and are usually rock-hard ice. They are challenging to walk on.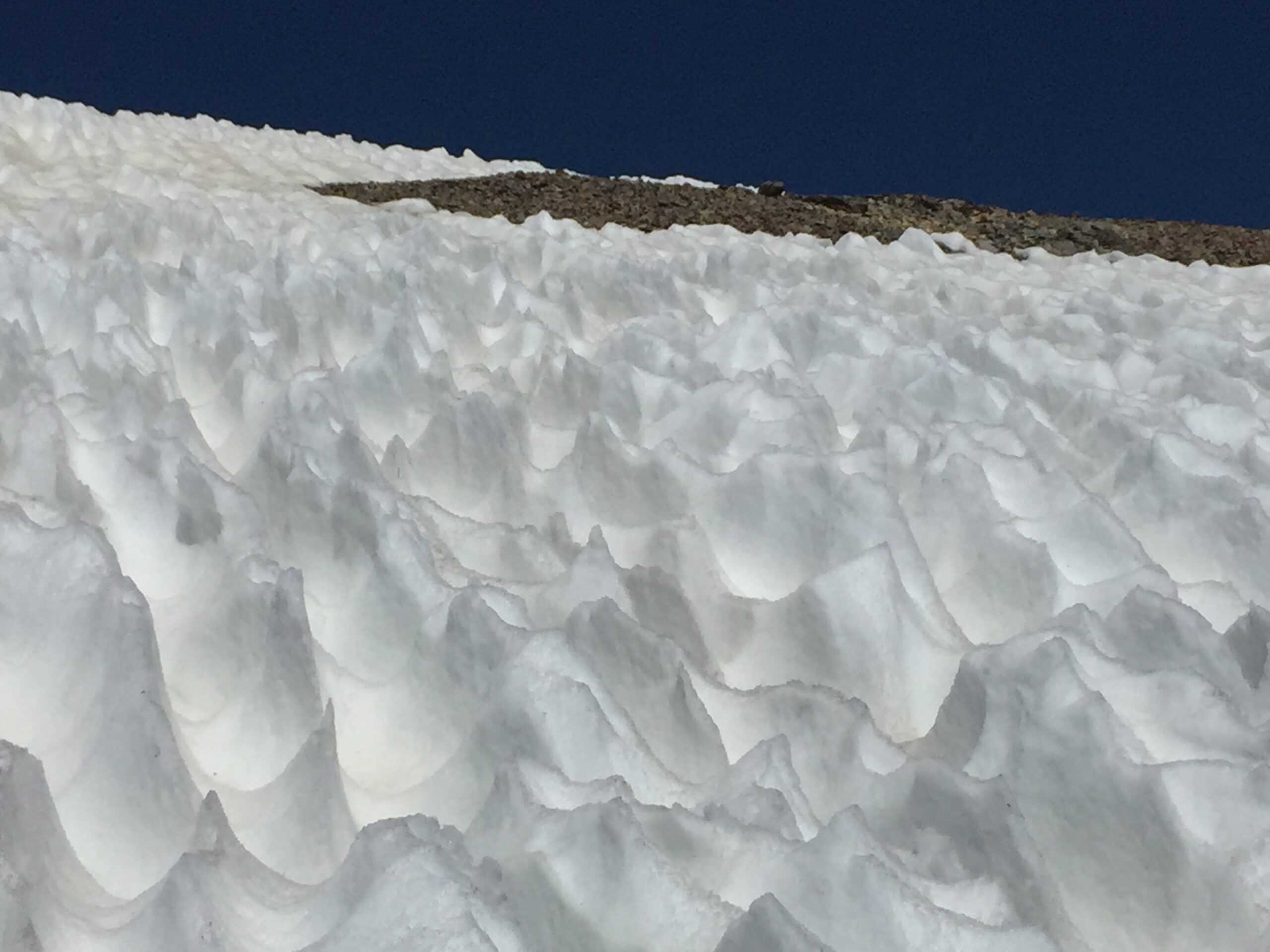 Adding Mount Barcroft
As the members of our group made their way down the trail back to the cars in the afternoon sun, CT and I decided to make a 3-mile (5-kilometer) detour and climb to the top of Mount Barcroft at 13,040 feet. (3,975 meters).
We would meet the other ten group members back at the trailhead, but with an additional peak on our accomplishment list.
We invited the others, but none came as there was no trail to the top or any defined route. That issue never bothers us.
Climbing both White Mountain Peak and Mount Barcroft in one day felt good.
We were disappointed that no one else joined us. However, it was a Sierra Nevada adventure to remember for our entire group.
Our long journey to Inyo National Forest to see the world's oldest trees and climb a big White Mountain Peak was one of our best trips ever.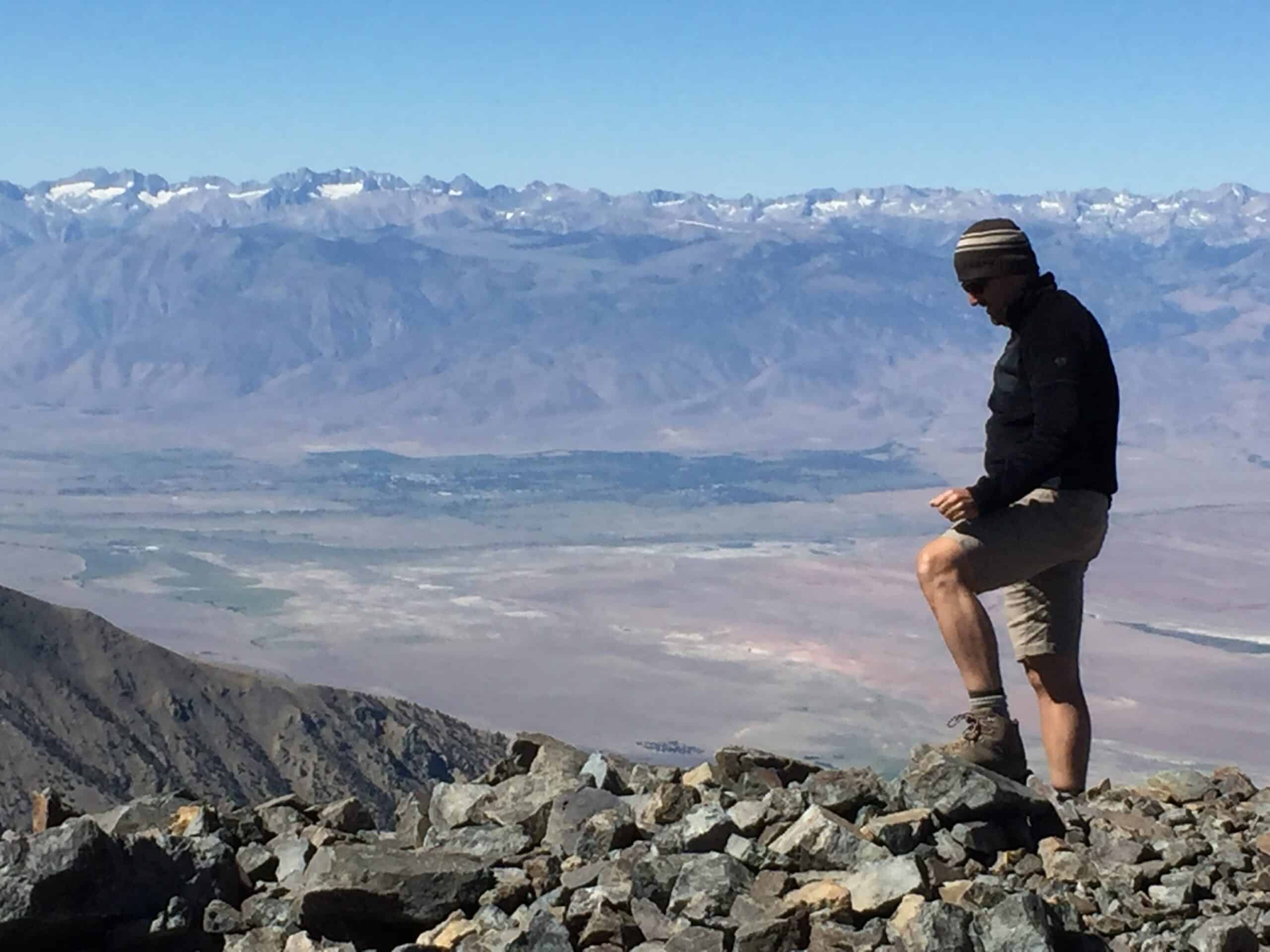 This journey also offers some features that many iconic mountain peaks do not:
Camping Reservations: None needed for both Grandview Campground and scattered camping at Barcroft Gate.
Wilderness Hiking Permits: None needed. This area is in the Inyo National Forest and not inside a Federal Wilderness Designation.
Dogs and Bicycles: Yes! This excursion to the Ancient Bristlecone Pine Forest and the climb to White Mountain Peak are accessible for dogs and you can even ride your ATB to the summit.
White Mountain Visitors Center: 1-760-873-2500
Information on Inyo National Forest
Traveler, Adventurer, Writer, Photographer
Planning a trip? Go Backpacking recommends: