Yosemite National Park was one of those places that completely blew us away. We heard about how incredible it was before visiting, but nothing compares to being there and seeing it for ourselves. From waterfalls to wildlife, here are my favorite things to do in one of the world's most beautiful places.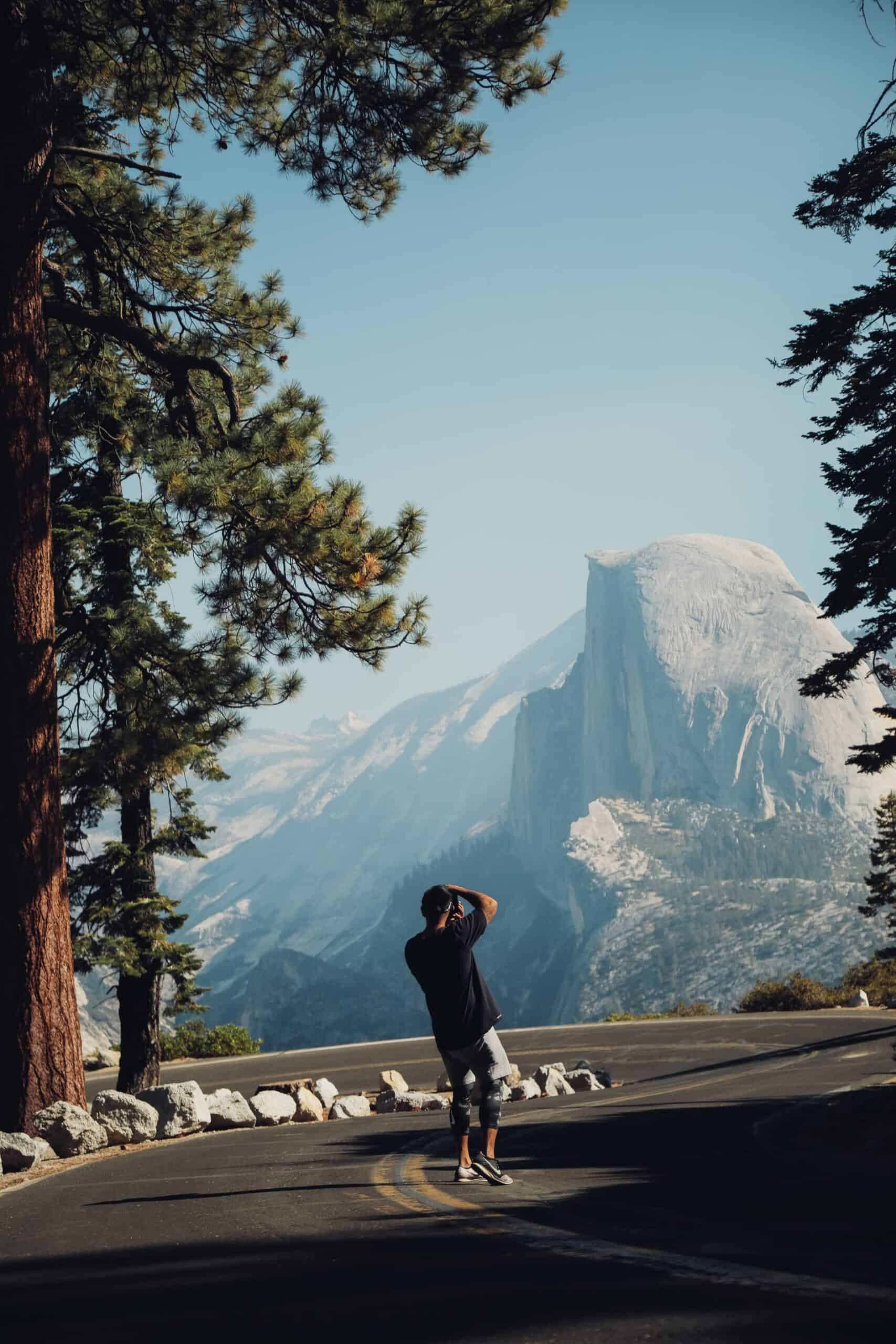 Yosemite National Park Attractions
1. Take your camera up to Glacier Point
We began our visit with a drive up to Glacier Point. This road is closed much of the year, opening around the end of May when all the snow has melted.
It is a beautiful drive, twisting in parts, with some stopping points to take in the ever-expanding views.
The higher you get, the more the trails appear leading off the road. But avoid the temptation to start exploring, as the best is at the top.
At the end of this road, there's a parking lot, restrooms, a small museum and store, and a gentle path leading to the viewpoint overlooking Yosemite Valley.
Grab your camera. You've probably seen this view on National Geographic – but nothing can surpass the panoramic grandeur of just standing and staring from here.
We got some trail maps from the store and took a short hike. The trails up here are marked, but you need those maps as it can be easy to get lost. As an aside, you can learn more about maps by checking out what Muir Way offers.
2. Go camping
There are multiple campsites throughout Yosemite National Park (you can find a complete list at Recreation.gov). Some have excellent facilities, and some are located in absolute wilderness.
If you want to hike and camp in the wild, you need to get a Wilderness Permit for the overnight stays; these are free, and you can pick one up from a Wilderness Center, facilities that are dotted around the park.
We pitched for our first night at the Bridalveil Creek site down the road from Glacier Point—a lovely remote campsite with plenty of space and basic facilities in stunning woodland.
We were lucky to show up and get a pitch – a week later, and it would have been reservations only.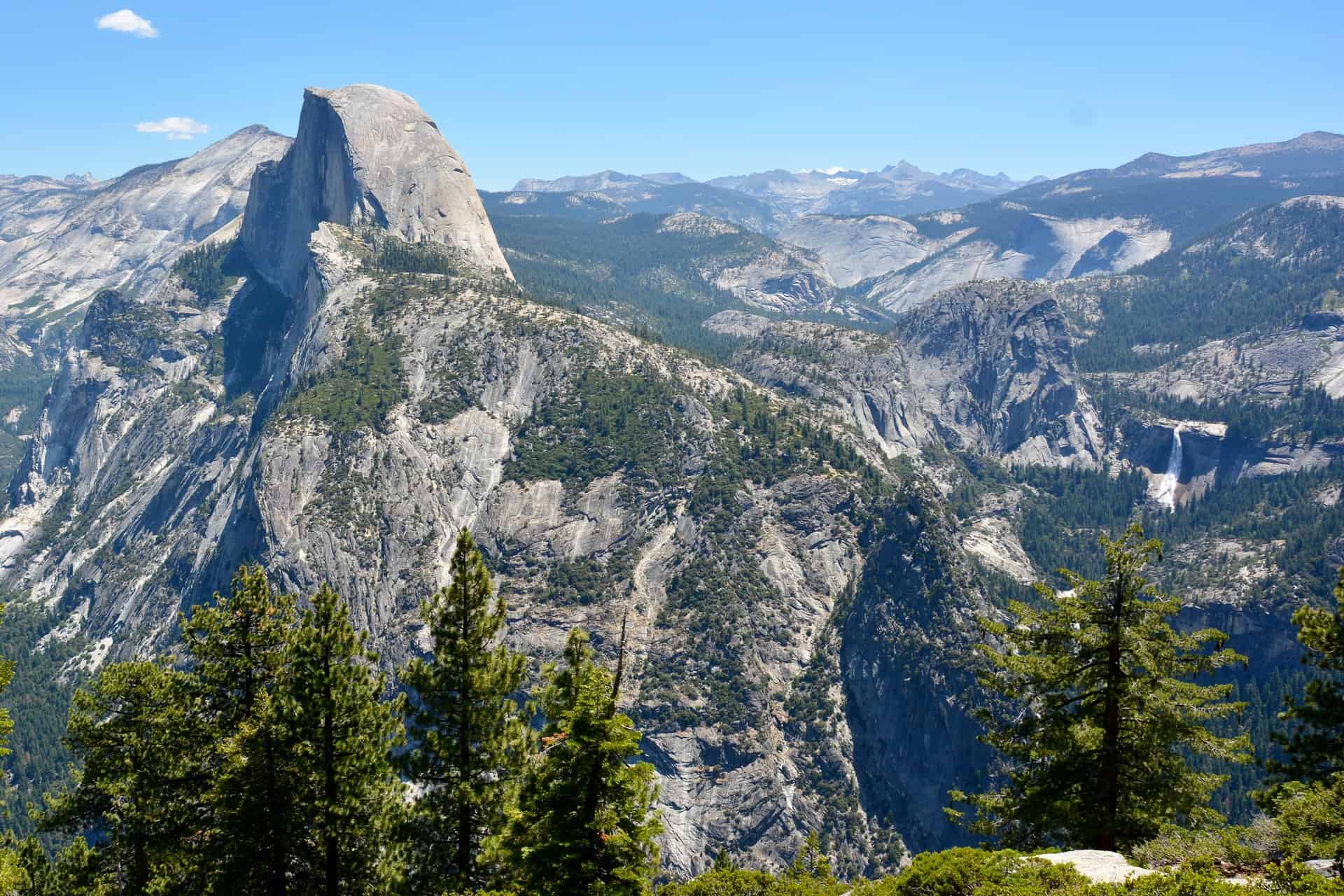 3. Climb the Half Dome
We left early for the Half Dome for some serious backpacking the following day. You need an advance permit for the Half Dome trail.
We were lucky enough to get this with our Wilderness Permit because it was early in the season. It's a challenging but fantastic trail with views you will never forget.
At the Half Dome itself, there's a cable walkway to help with the climb, and it is so worth it for the sense of achievement on reaching the top.
You will need gloves for those cables, sturdy boots for the rocks, and plenty of water as it got hot out there!
We found a great place to pitch our tent on the valley floor and watched the sunset slowly change the colors of the rocks around us.
4. Explore Yosemite Valley
West of Half Dome is Yosemite Valley, an exquisite narrow valley with an excellent Visitor Center and village stores. There are many small hiking trails, campsites, and picnic areas.
We rented some bikes and cycled around the area, stopping for a picnic at Mirror Lake, which was fun and much less strenuous than the previous day's backpacking.
5. Marvel at El Capitan
Fully refreshed from a leisurely day biking, we headed downriver to see El Capitan, a massive sheer plug of rock carved by ancient glaciers in the valley.
This is a classic Yosemite view where the Merced River widens before curving around El Capitan, producing photo opportunities since the 1860s for that essential social media post.
We weren't going to attempt it, but El Cap is world-famous for rock climbing. Numerous routes of varying difficulties wind up its vertical faces.
In June 2017, rock climbing phenom Alex Honnold became the first person to free solo the 3,000-foot face of El Capitan. This meant he climbed it without the use of ropes.
The movie produced about his incredible feat, Free Solo, won an Academy Award for Best Documentary.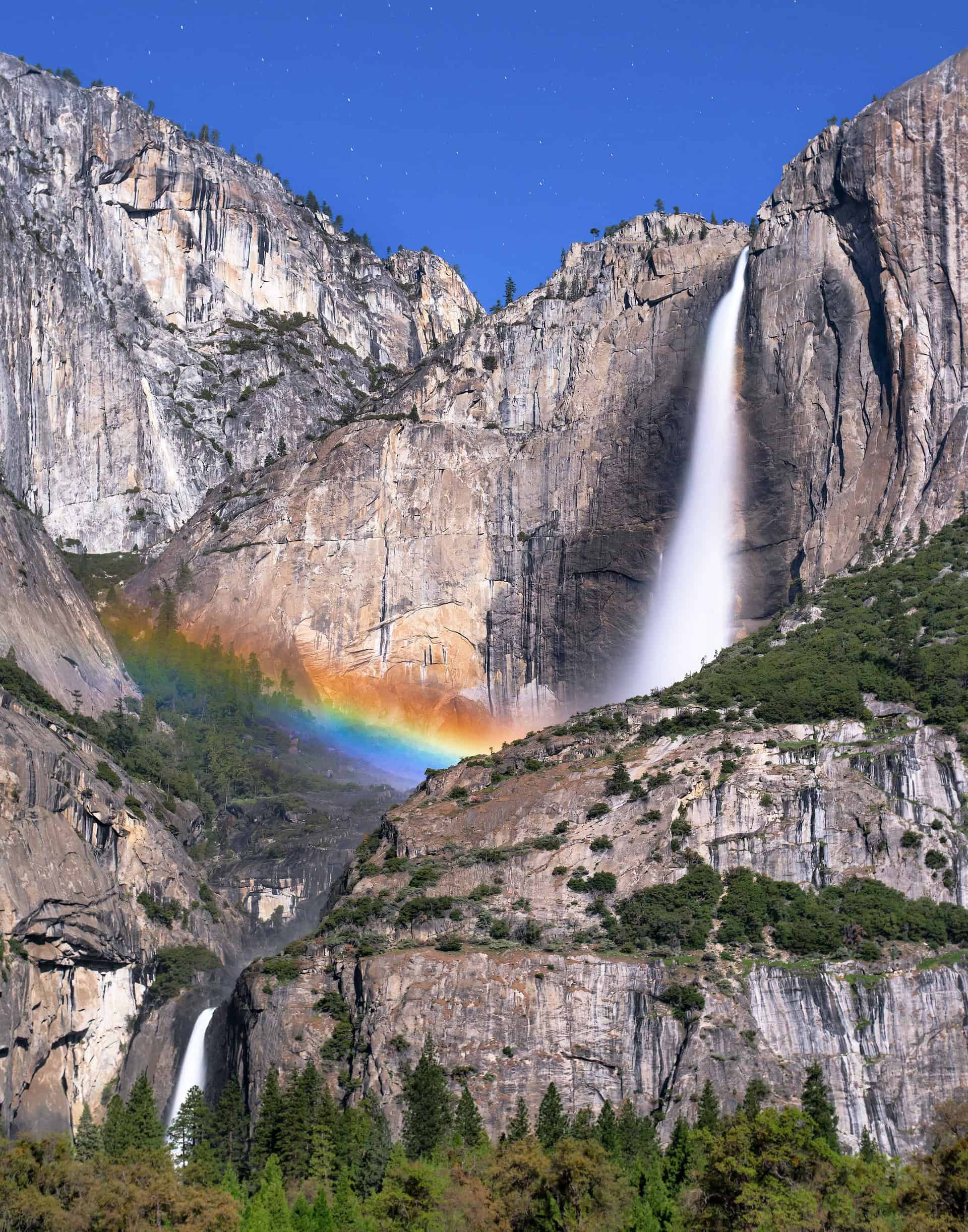 6. Visit Yosemite Falls
Probably one of my favorite hikes was the route to Yosemite Falls. We were lucky to be here in June when the last winter waters are still crashing through – they can be significantly reduced in the summer months.
It is a beautiful hike through changing terrain with stunning vistas and, of course, the faves.
A few different trails leading from Yosemite Valley past the lower and upper falls cross each other and have varying difficulty levels, so you can make the hike as long or as short as you want.
You are going to need a map. Your cellphone might work perfectly in the village, but it's not far up here before the signal, data, and even GPS become unreliable.
7. Try to spot bears
Like all visitors, I guess part of me desperately wanted to encounter a black bear, and part of me also felt a bit uneasy about it.
We ensured all our food was in airtight canisters so it wouldn't attract them; my biggest fear was being woken at night by a bear clawing the tent.
While on the trails, we kept an eye out for tracks and movement in the undergrowth, but it always turned out to be a raccoon or deer.
The Yosemite National Park is 750,000 acres; we saw less than 4,000 acres in our tour of Yosemite Valley, so maybe those bears were hiding elsewhere!
8. Hike the Four Mile Trail
The Four Mile Trail runs from Sentinel Beach on the Yosemite Valley floor up around 3,500ft to Glacier Point.
We saw the trailhead at Glacier Point on our first day and picked up a map of the route. It's closer to 4.5 miles each way and took us just under eight hours for the round trip.
It's a good, strong trail with spectacular views of the valley, falls, and Half Dome at every step. You'll need plenty of water and plenty of energy to make it to the top.
Much of the trail runs through the forest, and parts are steep and twisting, slippery when wet. Allow enough time to get up and back before sunset, as you don't want to do this in the dark.
9. Kayak along the Merced River
One of the best things to do in Yosemite is go kayaking, and the best place to do that is Merced River after hiring a kayak from the activities kiosk at Curry Village, the same place where you can also hire bikes.
Alternatively, you can hire an inflatable raft, which we did. We gently paddled downriver for a mile and stopped on a sandy bank for lunch; it's a fantastic way to take in some of Yosemite National Park's incredible scenery.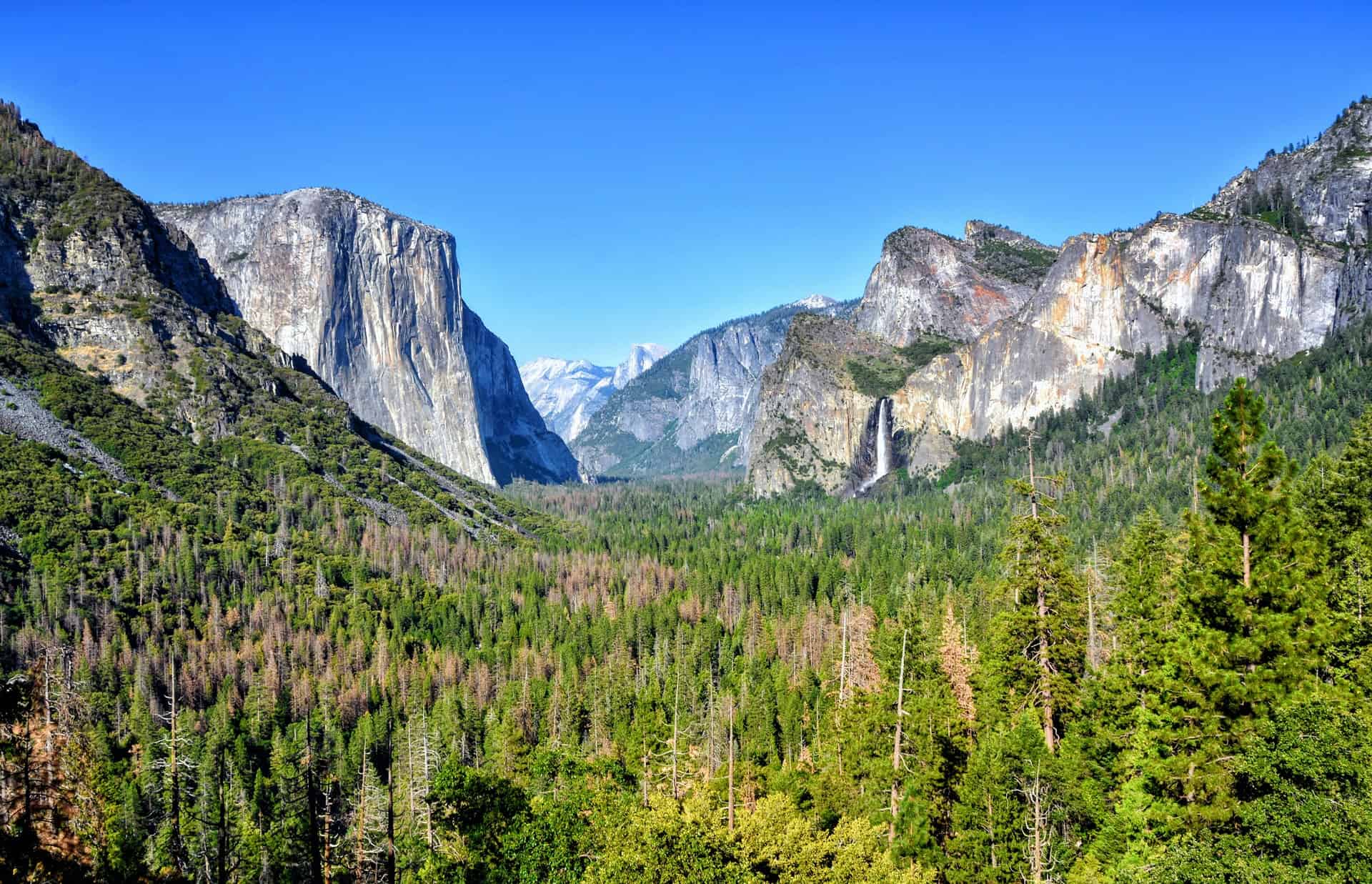 10. Stop at Tunnel View
We began at Tunnel View with the sunrise for our last day in Yosemite. It was a truly magnificent experience, with views of the valley coming to life and vistas revealing themselves as the sun rose.
It's almost impossible to describe this place in words or photographs because it's about the sounds, smells, and feelings just as much as the sights.
From Tunnel View, the little-known Artist Trail rises 500 feet at the start and then flattens to impressive views with almost nobody else around.
It was a short hike of fewer than three miles, but we enjoyed it as much as any for the relaxed solitude and closeness to nature. We probably spotted more wildlife on this short hike than on any other trail.
11. Check out the legendary Ahwahnee Hotel
We checked into the Ahwahnee Hotel for our last night in Yosemite Valley. It is a beautiful and quaint 1920s mountain hotel with a bar, pool, restaurant, and decor that can only be described as a whacky Tibetan monastery—a perfect end to our wonderful Yosemite National Park trip.
Conclusion
From the awe-inspiring vantage points of Glacier Point and Tunnel View to the adrenaline-pumping climb up Half Dome, our adventure in Yosemite National Park was nothing short of breathtaking.
Whether you're an avid hiker looking to tackle challenging trails or someone who wants to enjoy the serenity of nature, Yosemite offers an array of experiences that cater to all levels of outdoor enthusiasm.
There's something for everyone: camping under the stars, kayaking down the Merced River, or simply taking in the sunset with a cocktail at the legendary Ahwahnee Hotel.
This list is just a starting point regarding things to do in Yosemite National Park. With its 750,000 acres of rugged wilderness, dramatic cliffs, and tranquil meadows, the park is a living testament to the grandeur of the natural world.
Trust us, each visit reveals something new, so don't be surprised if you find yourself coming back to explore more of what this national treasure has to offer. After all, we've only scratched the surface and can't wait to return. Cheers to your Yosemite adventure!
Becky Moore. Becky owns the award-winning long-running travel site GlobalGrasshopper which focuses on unique, under-the-radar and beautiful places around the world.
Planning a trip? Go Backpacking recommends: