[S]ince my first visit in 1998, Ireland has and will always be one of my favorite countries. And I'm not just saying that because I appreciate a good Guinness. Ireland has events, activities and festivals to cater to a wide variety of interests.
This year, Tourism Ireland is launching a creative new campaign called The Gathering.
The idea is to open Ireland up to tourists through promoting gatherings or meetups around common interests, whether they be art exhibitions, annual cultural festivals, sporting events, or just about anything you can think of.
The whole interactive campaign is available to view on Ireland's Facebook page (which you can visit by clicking the video above).
After playing around with it for a while, I think it's quite an amazing setup. Basically, once you approve the app, you are able to view the calendar of gatherings through Facebook. It's very elaborate too, like a whole website within Facebook.
As you can see in the screenshot above, you can search by date, category, or location. When you find an event you like, you can click the green "Attend" button, the orange "wishlist" button, or the blue "share" button to share the event on your Facebook page.
The app keeps a running list of which events you want to attend, or keep on your wishlist. Plus, because it's on Facebook, it also shows you how many of your friends plan to attend.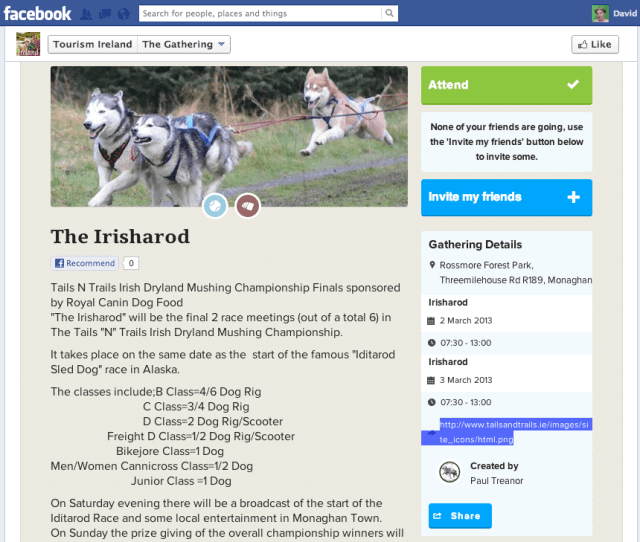 For further details about any given event, you can click on the title, and get a synopsis, along with details of where and when the gathering will take place.
I never would've guessed there's such a thing as "The Irisharod" (Tails N Trails Irish Dryland Mushing Championship Finals).
In addition to readers who may be interested in going to Ireland this year, hundreds of travel bloggers will be descending upon Dublin in early October for the 2013 European TBEX conference.
The Gathering ensures everyone planning a visit to Ireland will have no shortage of interesting activities to attend.
__________
This post was written by Dave and brought to you by Ireland Tourism.
Dave is the Founder and Editor in Chief of Go Backpacking and Feastio. He's been to 66 countries and lived in Colombia and Peru. Read the full story of how he became a travel blogger.
Planning a trip? Go Backpacking recommends: