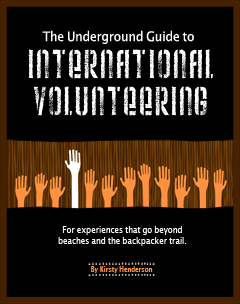 As I wrap up my senior year of college, the question, "What are you planning on doing after school?" has come up a lot.
Every one seems to be wondering about my plan, from my professors to my parents friends, even the occasional nosy classmate every now and again.
And the best part? I hardly have any idea.
What I do know is that I want to do something that will positively affect the world.
I'm not alone. According to the USA's Corporation for National and Community Service, over 441,000 more young adults volunteered in 2008 than 2007, equating 8.2 million volunteers that were all younger than 24. That same year, they found that 26.4% of the adult population contributed 8 billion hours of volunteer service. Keep in mind, that these numbers only measure volunteering within the United States, so you can only imagine how much people can give!
For the travel-minded, becoming a global volunteer is a common consideration for all ages. The tough part then, is figuring how to volunteer abroad. With all of the gimmicks and contradicting advice articles, I wouldn't begin to know where to start, and living in a foreign country making very little, if any, money is not something I would go into blind-sighted. If only there were to be an expert…
There is. Meet Kirsty, as quintessential of a travel and volunteer expert as there could be. Beginning in her home country of Canada, Kirsty has been traveling since 2002 and helping a cause while doing it. Last month she completed her 63-page ebook, The Underground Guide to International Volunteering.
It is both thorough and concise, the pages filled with information about motivations, challenges, volunteer types, volunteering opportunities, economic logistics, and legal practicalities. In her own words, the "ebook is aimed at introducing travellers to the wonders of volunteering abroad and to help them break away from the usual backpacker trail, get involved with local communities around the world and make a difference in people's lives in a variety of ways."
I, personally, could not get enough of her honest opinions and kind cultural appreciation. Beyond that, she includes other blogging travel volunteers as resources with consideration and options for poor post-grads, retired do-gooders, unemployed humanitarians, and optimistic gap-year students.
No matter how committed you are to global volunteering, I suggest you take a glance at The Underground Guide to International Volunteering.
I may not know what I'm doing after school, but some day I will travel, volunteer, and make a difference. Hopefully more than once.
Danielle is a globetrotter with a healthy appetite. In addition to writing about her travel and foodie experiences, she enjoys reading, indulging in the arts, and channeling her inner-yogi. Read more from Danielle at her blog, Danielle Abroad.
Planning a trip? Go Backpacking recommends: