Lucinda (Australia) and I ate lunch at the V&A waterfront before boarding the ferry to Robben Island. We both opted to organize the trip as part of our township tour given the waiting list for boat tickets can be several days. The prison tour was guided by an ex-political prisoner who was once held on the island along with Nelson Mandela and many others. Surprisingly, he and most of the island's employees live there today.
Our 3pm boat was split into two, creating a tour group size larger than I expected. Made up of families, couples, and a few younger backpackers, we walked through the prison which had recently undergone a makeover. Unlike the eerie feelings I felt in Cambodia's S-21, this prison's new interior paint job did little to give a dreary view of life there.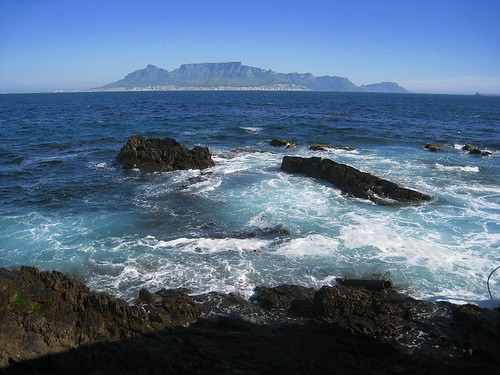 In addition to the walking tour, we took a bus ride around the island, passing through the current residents' village, along the coast for great views of Cape Town, and past World War II embattlments and the limestone quarry where prisoners would work. Amazingly, the island is host to 148 different species of birds.
And up to 10,000 bunny rabbits. It has been in the news that the island will be closed for the first two weeks of November to cull the furry critters. Apparently a non-indigenous cat was removed, leading to an explosion of the non-indigenous bunnies. They've been destroying the island's vegetation so it's time for them to go.
During the 6pm ferry back to Cape Town, the sun was setting and I had my first view of the new stadium being build for the 2010 World Cup.
Dave is the Founder and Editor in Chief of Go Backpacking and Feastio. He's been to 66 countries and lived in Colombia and Peru. Read the full story of how he became a travel blogger.
Planning a trip? Go Backpacking recommends: