There is a wide array of places to visit in Colombia, from million-plus person cities to tranquil pueblos, and deserted beaches.
While everyone will have a different opinion, this is mine based on 18 months of living in Medellin and traveling around Colombia.
Top 5 Places to Visit in Colombia
1. Cartagena
The old, walled city center in Cartagena is a UNESCO World Heritage Site and tops most traveler's lists for places to visit in Colombia.
Truly a "must-see", walking through old Cartagena both day and night is like taking a walk back in time.
Nearby beaches allow travelers to enjoy time in the surf, watersports such as scuba diving, or to simply relax and work on their tans.
2. Medellin
The former home of Pablo Escobar, Medellin rose to prominence for all the wrong reasons in the 1980s.
In the 21st century, thanks to a much-improved security situation, the city is thriving, and travelers are once again discovering the natural beauty and laid back lifestyle of the paisas.
3. Salento (Eje Cafetero)
A top contender for best-preserved pueblo in Colombia, Salento is the perfect place from which to explore Colombia's Eje Cafetero (coffee region).
Hiking and horseback riding through nearby Valle de Cocora, as well as coffee plantation tours, are a must when visiting.
4. Bogota
Colombia's sprawling capital features the historic La Candelaria district, the country's best (and biggest) gold museum, a cable car to the top of Montserrat mountain for city views, and a unique Salt Cathedral.
You'll find the greatest variety of restaurants and cuisines here, and plenty of nightlife options for the party people.
5. Cali
Known as the salsa dancing capital of Colombia, and by many the world, Cali features the best dance academies in the country, and options for salsa dancing every night of the week.
Cali also has Colombia's best zoo, a happening restaurant and food scene, as well as some of the country's best overall nightlife.
Honorable Mentions
Guatape, Jardin, Santa Fe de Antioquia, Popayan
There are countless pueblos dotting the Colombian countryside, and many of them are fine places to visit for a dose of country life.
Horses will often be seen trotting around, and city dwelling Colombians love to escape to their favorite pueblos on the weekends.
Santa Marta, Taganga, & Parque Tayrona
Santa Marta is situated on the eastern side of Colombia's Caribbean Coast, and is the perfect jumping off point for travelers planning to visit the sleepy fishing village of Taganga, or venture further to the undeveloped beaches of Parque Tayrona.
____________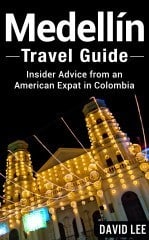 The 138-page, all-original Medellín Travel Guide by David Lee is now available for Kindle and PDF.
.
Last Updated on November 10, 2019 by Dave Lee
Dave is the Founder and Editor in Chief of Go Backpacking and Feastio. He's been to 66 countries and lived in Colombia and Peru. Read the full story of how he became a travel blogger.