Montanita has long been one of Ecuador's premier surf and beach destinations. And this quiet beach community has evolved into the country's top party destination. For these reasons, I created a Montanita travel guide.
In addition to the influx of foreign travelers to this small coastal town, including many South Americans, Ecuadorians of all ages begin arriving to enjoy the sun, surf, and cocktails every Wednesday.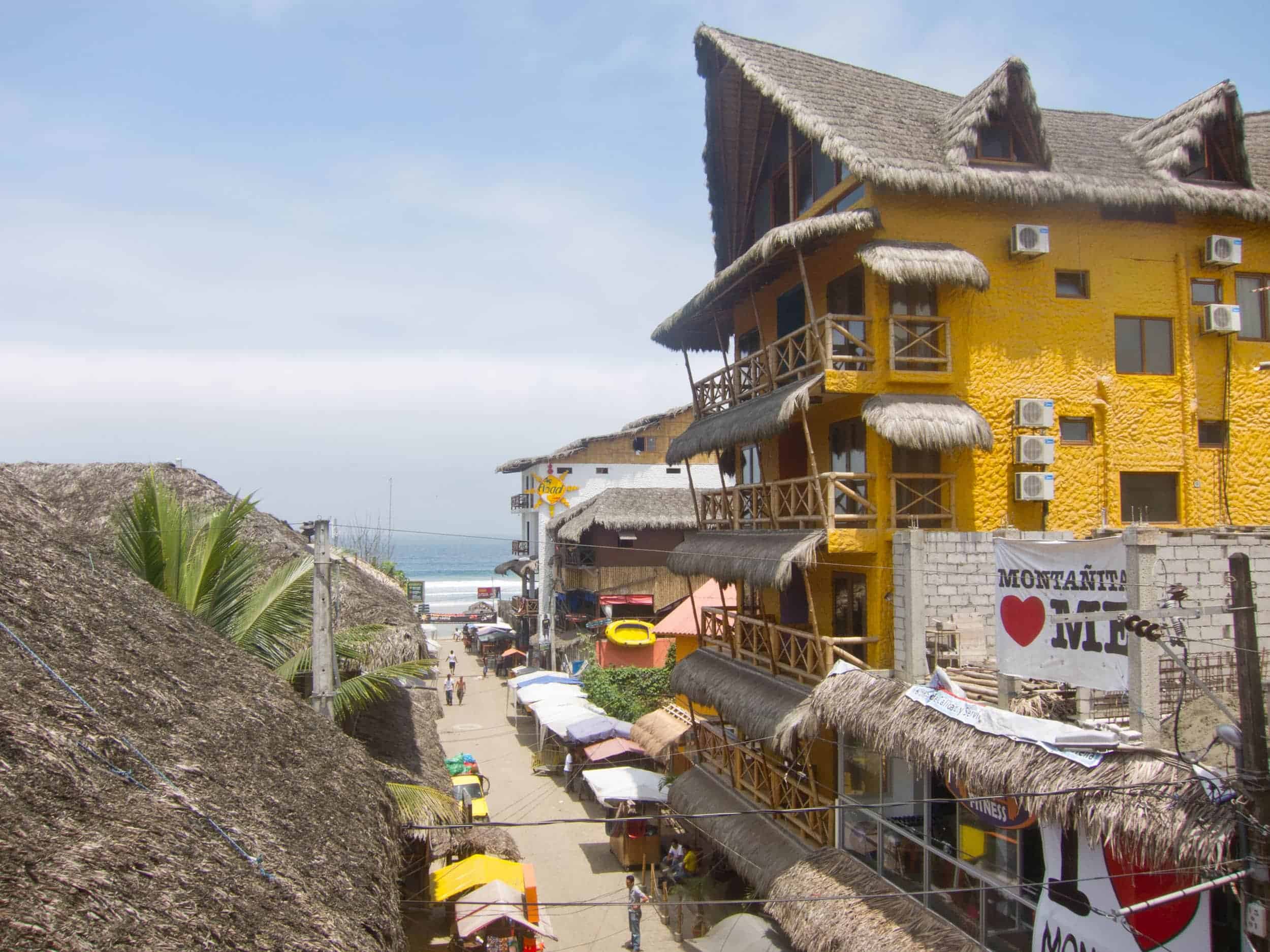 Plus, and this might explain Montanita's popularity with hippies, the area is a worry-free zone when it comes to drug enforcement by the police.
Marijuana is often smoked openly, and you'll see "happy" (pot) brownies and cakes for sale on the street. Ecstasy and harder drugs are also commonly available.
Compared to the rest of Ecuador, Montanita has a reputation for being safe and relaxed despite the drug use.
Within a few hours of arrival, you'll probably feel comfortable using your smartphone, camera, or laptop in the open, day or night.
Most of the restaurants and hostels in the center of town have Wi-Fi. As a result, this beach town is a great place for digital nomads to hang out and get some work done.
Getting There & Away
By Bus
The CLP (Coop Libertad Peninsular) bus company runs direct, daily service between Guayaquil and Montanita for $6. The ride time is about 2.5 hours. Double-check the times below to confirm, as they may have changed.
Departures from Guayaquil: at the top of the hour from 5 a.m. to 4 p.m., plus 4:30 p.m., 5 p.m., 5:30 p.m., 6:30 p.m., and 7:30 p.m.
Departures from Montanita: 6 a.m., 7 a.m., 9 a.m., 11 a.m., 1 p.m., 4 p.m., 6:30 p.m.
The drop-off point for Montanita is the main road. Once you get off, collect your bag and cross the street. The center of Montanita is only about nine square blocks, so the best way to find a place to stay is to take a short walk around.
Buy your ticket out of Montanita at the CLP office, in a building along the main highway, about 20 meters from where you were dropped off.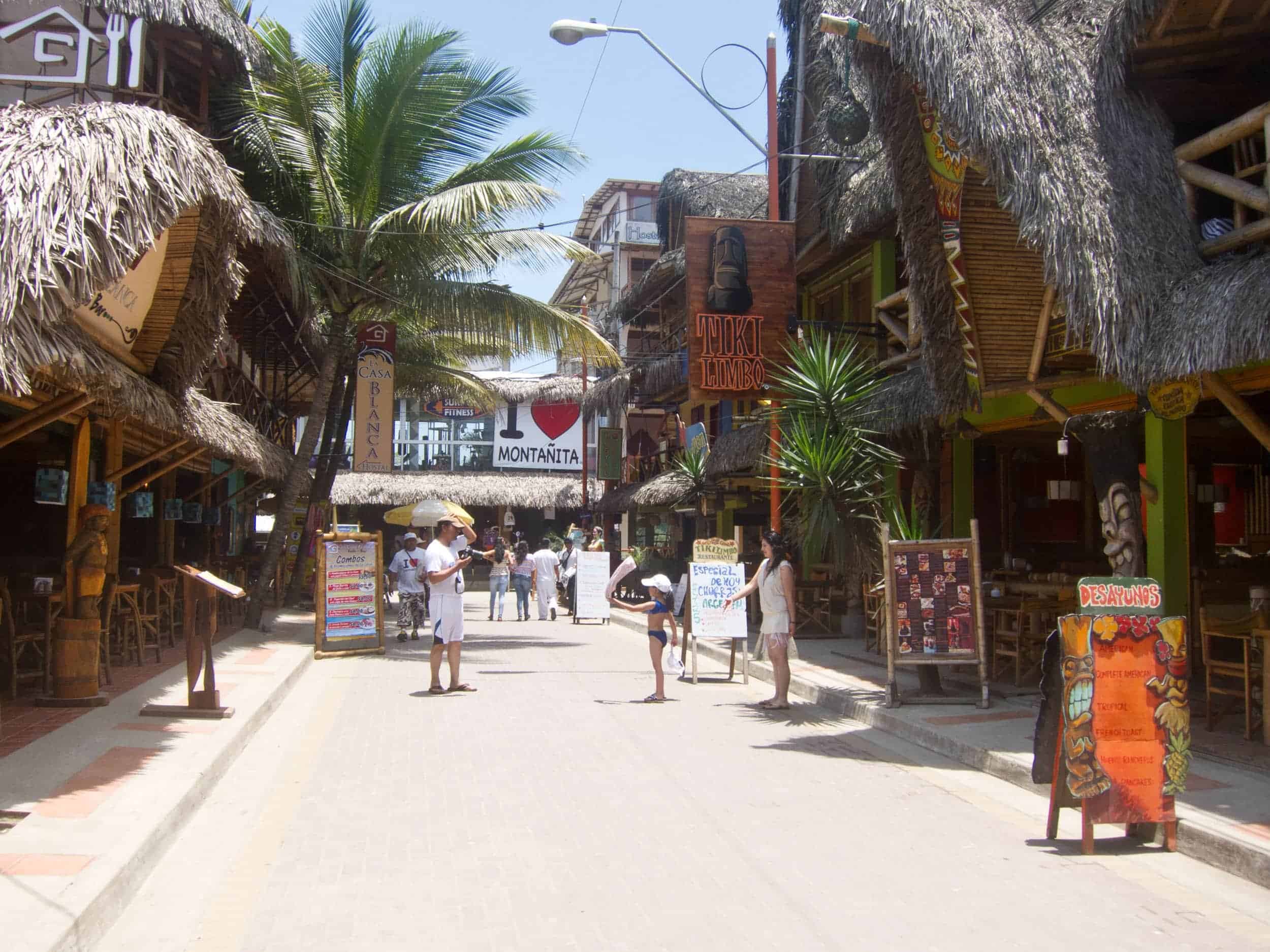 Getting Around Montanita, Ecuador
By Foot
Walking is the easiest way to get around. The length of the entire town can be walked in 10 minutes, and the duration of the beach can be walked in 10-15 minutes.
By Bicycle
Travelers and expats in neighboring towns typically use bicycles and motorbikes.
By Taxi
There's a taxi stand in Montanita near the main coastal highway. However, they're only necessary if you plan to visit neighboring towns.
By Bus
Local buses are helpful for visiting other towns along Ecuador's south coast, including Puerto Lopez.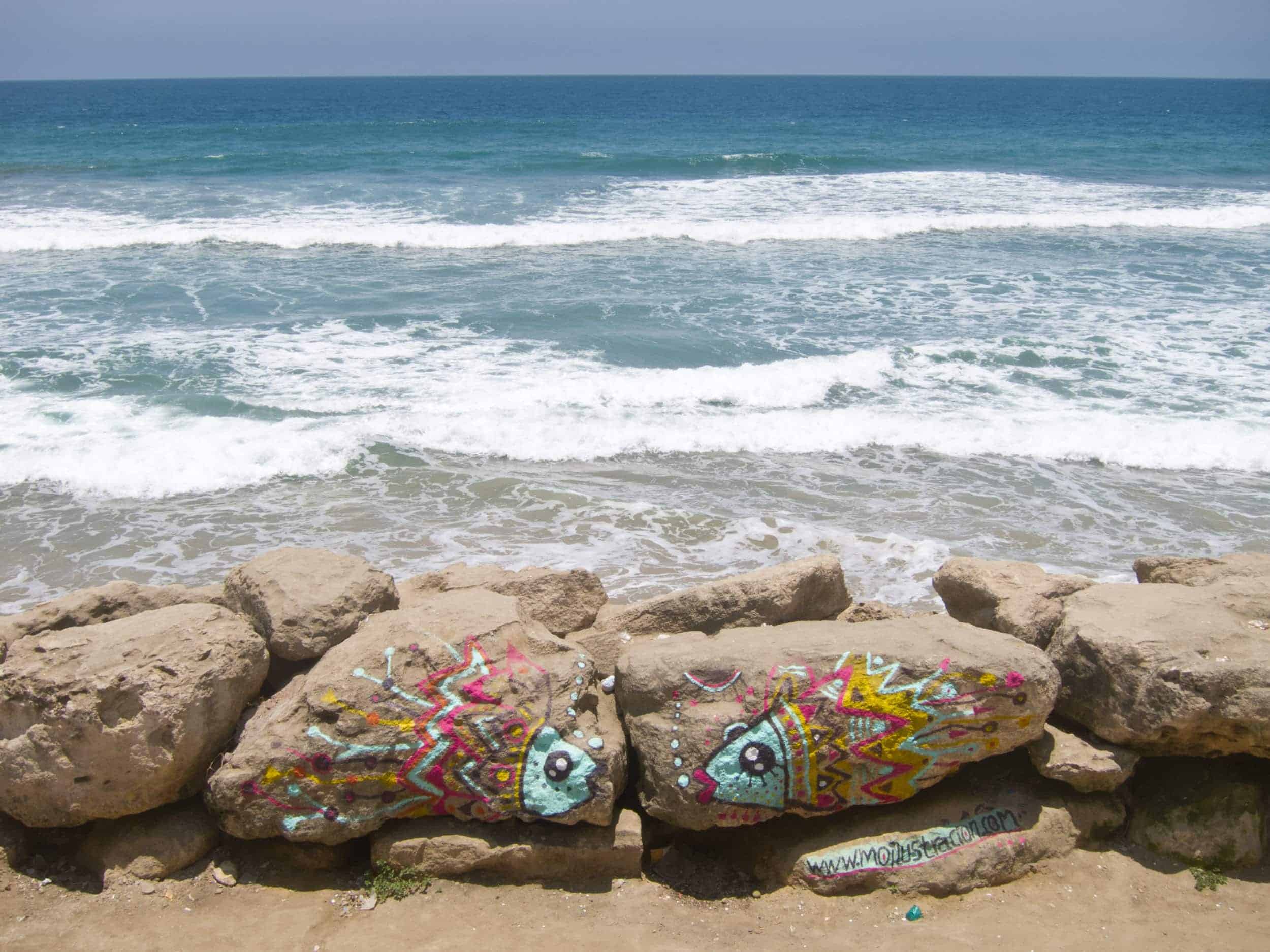 Where to Stay
Hostels
There are plenty of hostels and budget hotels in Montanita, Ecuador, with ever more under construction; you should have no trouble finding a place to stay for the night.
Book in advance or arrive before Friday to ensure a room of your choice on the busier weekends.
Due to a combination of construction and music at night, the center of town can be obnoxiously loud. If you want any hope of a good night's sleep, stay a few blocks away from the city center.
Kamala Surf & Backpacker Hostel – Some features are an oceanside cocktail bar and restaurant on-site, a large swimming pool, hammocks and relaxation areas, and a game room with billiards and ping pong. It's along the beach, away from the craziness of town.
Hostal Mochica Sumpa – Oceanfront hostel on the Malecon (boardwalk), adjacent to discoteca Nativa Bambu.
The best rooms face the ocean, and the waves are loud enough to soften any loud music from the nearby discoteca.
There's a Chilean-owned restaurant below. Every Sunday night, they host live bands and various traveling performers.
Private rooms with baths are $20/night. However, you can try to negotiate this down. I paid $10/night by agreeing to pay seven nights upfront.
Charo's Hostal – Oceanfront hostel on the Malecon (boardwalk).
Charo's features a pool with a bar, jacuzzi, and restaurant, more hotel than a hostel. The costlier rooms have ocean views. Good Wi-Fi.
Balsa Surf Camp – A good option if you're serious about learning to surf.
Short Term Housing
If you decide to spend a few weeks or months in Montanita, Ecuador, you can save a lot of money by looking for a room, apartment, or beach hut to rent.
Your best bet is to start asking around. The wait staff in any restaurant is an excellent place to start — most are foreigners.
The savings can be even more significant if you're willing to live outside Montanita. I met a Colombian paying $30/month for a room in a neighboring village.
Related: Montanita – Ecuador's Surf and Hippie Hangout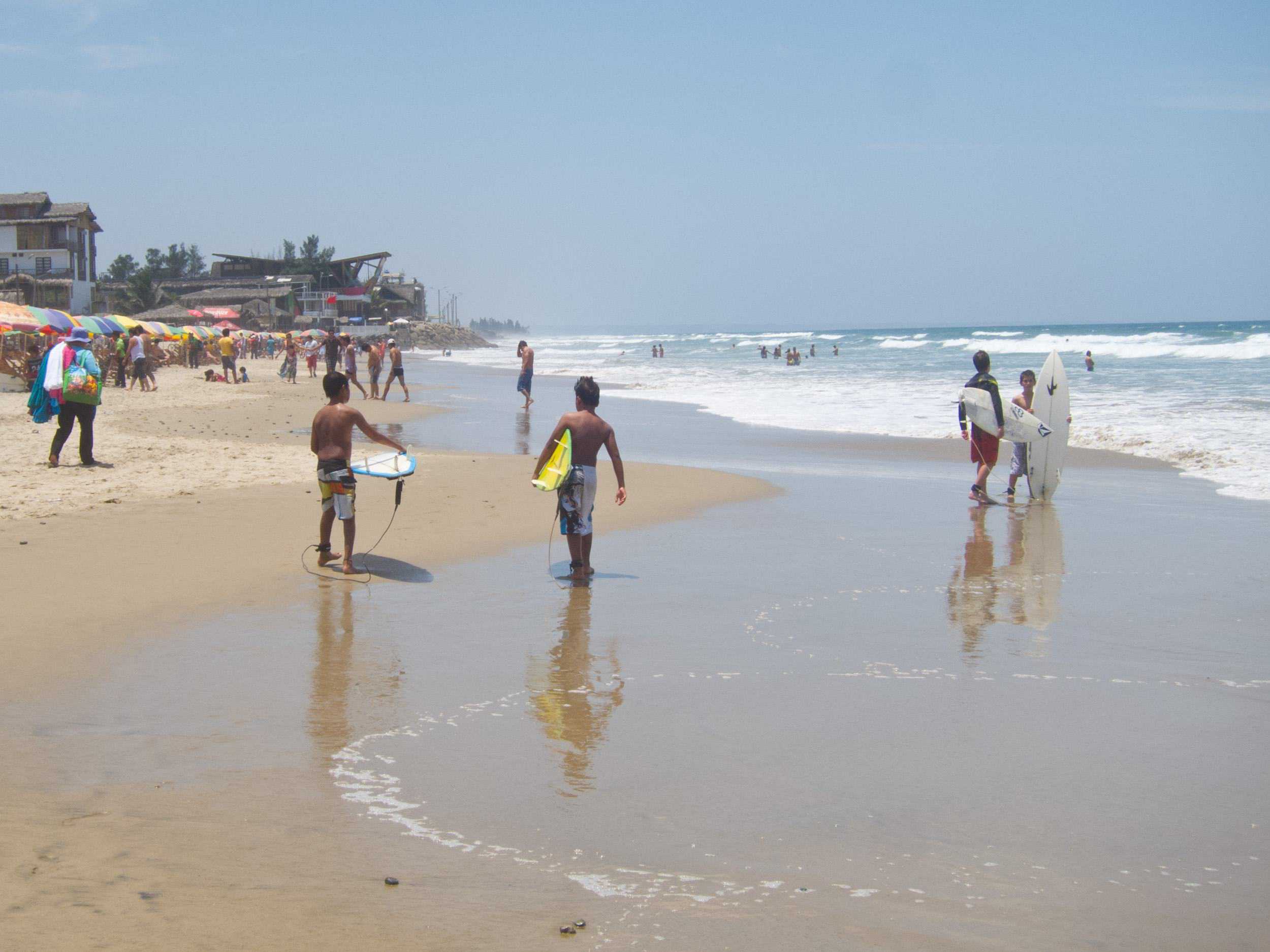 Things to See & Do
Montanita is a popular destination for surfing. As the town has developed, so have the options for other tourism-related activities, such as Spanish classes, whale watching, and scuba diving.
Beach
Montanita is at its best when the sun is shining. Whether you go for walks, get in on a pick-up game of soccer, or work on your tan, it's hard to deny life's a beach in Montanita.
Surfing
The waves at this surf spot are suitable for all skill levels. If you're a beginner, take a few lessons — they don't get much cheaper.
Study Spanish
If you're looking for something productive to do, consider taking group or private Spanish lessons.
The Montanita Spanish School sits above the town on a hill and features indoor and outdoor classroom spaces.
The school also offers accommodations and activities, from surf lessons to dance classes on the roof and spearfishing. There's a fun, community vibe; many students go partying together.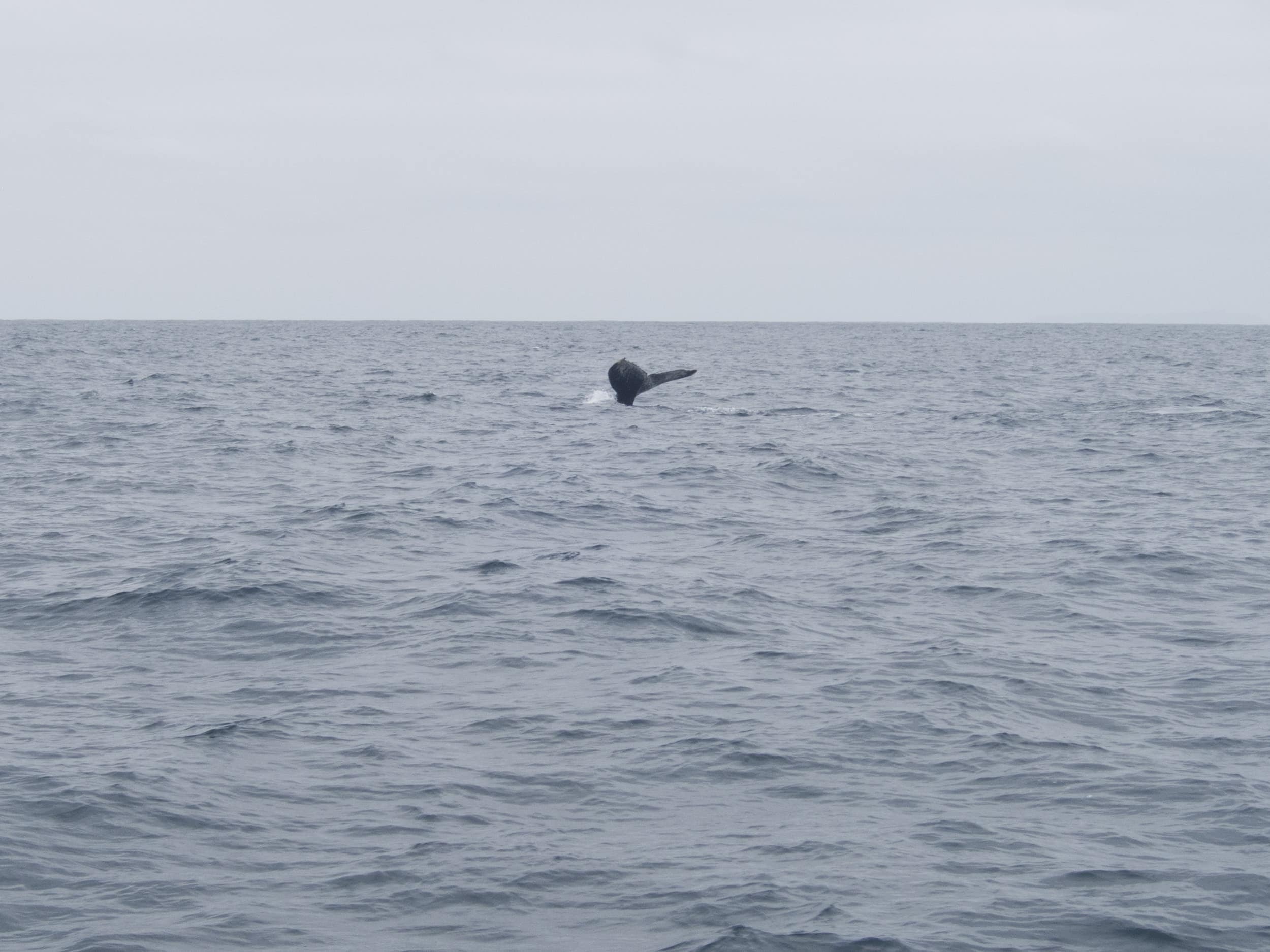 Whale Watching
During the high season, from June to September, humpback whales visit the coast of Ecuador. The best place to spot these extraordinary creatures is off the coast of Puerto Lopez, an hour north of Montanita.
Organized trips cost $30, including private transportation, a few hours cruising on a boat, and a mid-day snack.
Isla La Plata (Poor Man's Galapagos)
For travelers who can't make it to the Galapagos Islands, Isla La Plata is the perfect spot to view some of the same wildlife on a budget. A day trip here may include blue-footed boobies, frigate birds, sea turtles, and sea lions. Unfortunately, you won't see any marine iguanas.
Related: Cost of Travel in Ecuador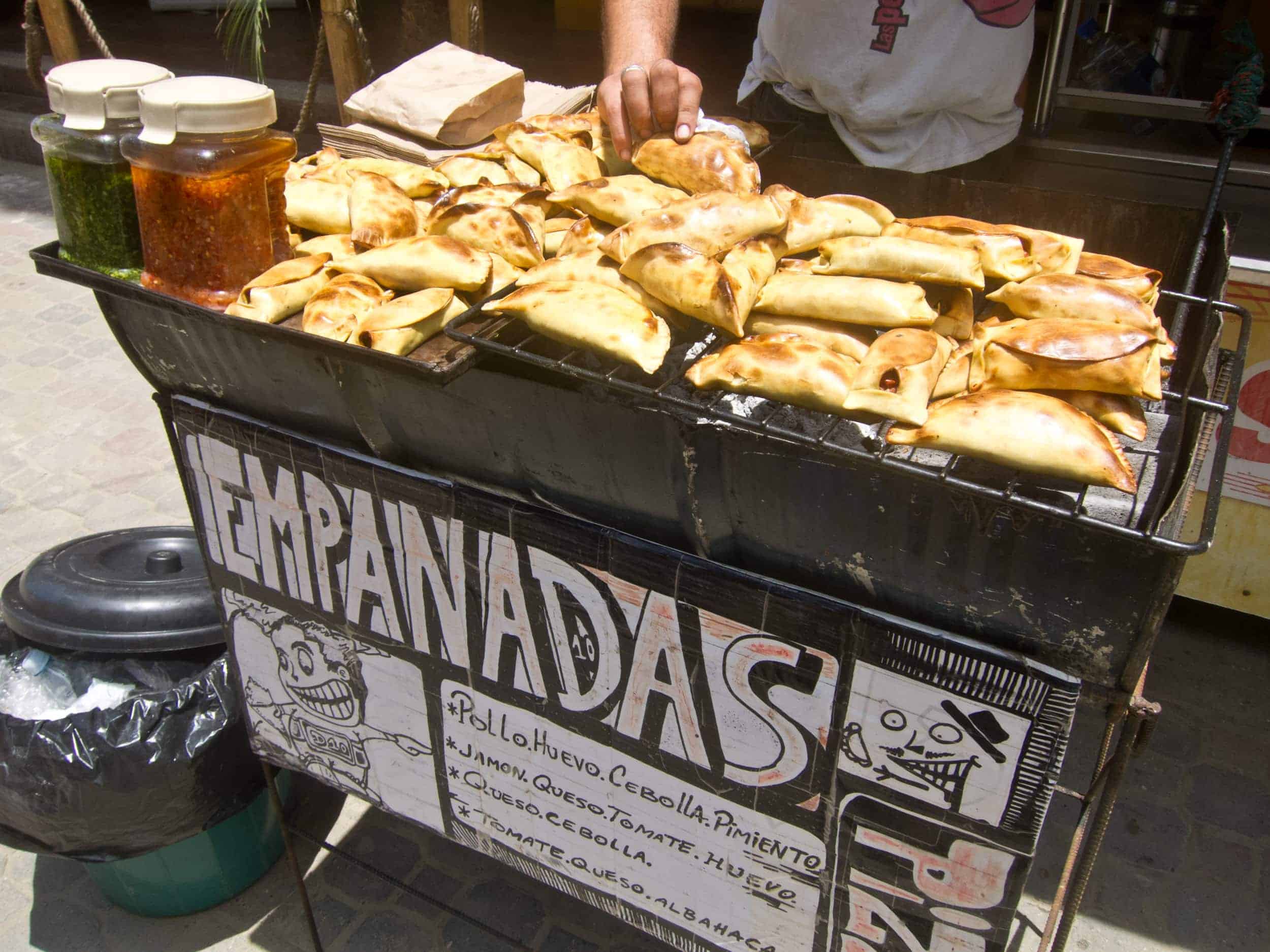 Food & Drink
The restaurant food in Montanita is average, at best. To save money and support fellow travelers, take advantage of the various street foods.
Hippies can be seen walking around town day and night, carrying platters of snack foods, like empanadas, pizza, and chocolate pastries. A serving usually costs $1.
Local Ecuadorian street vendors are also a great budget option. You can get a variety of typical foods, from meats on a stick to quesadillas and cheeseburgers, for $1.50 to $2.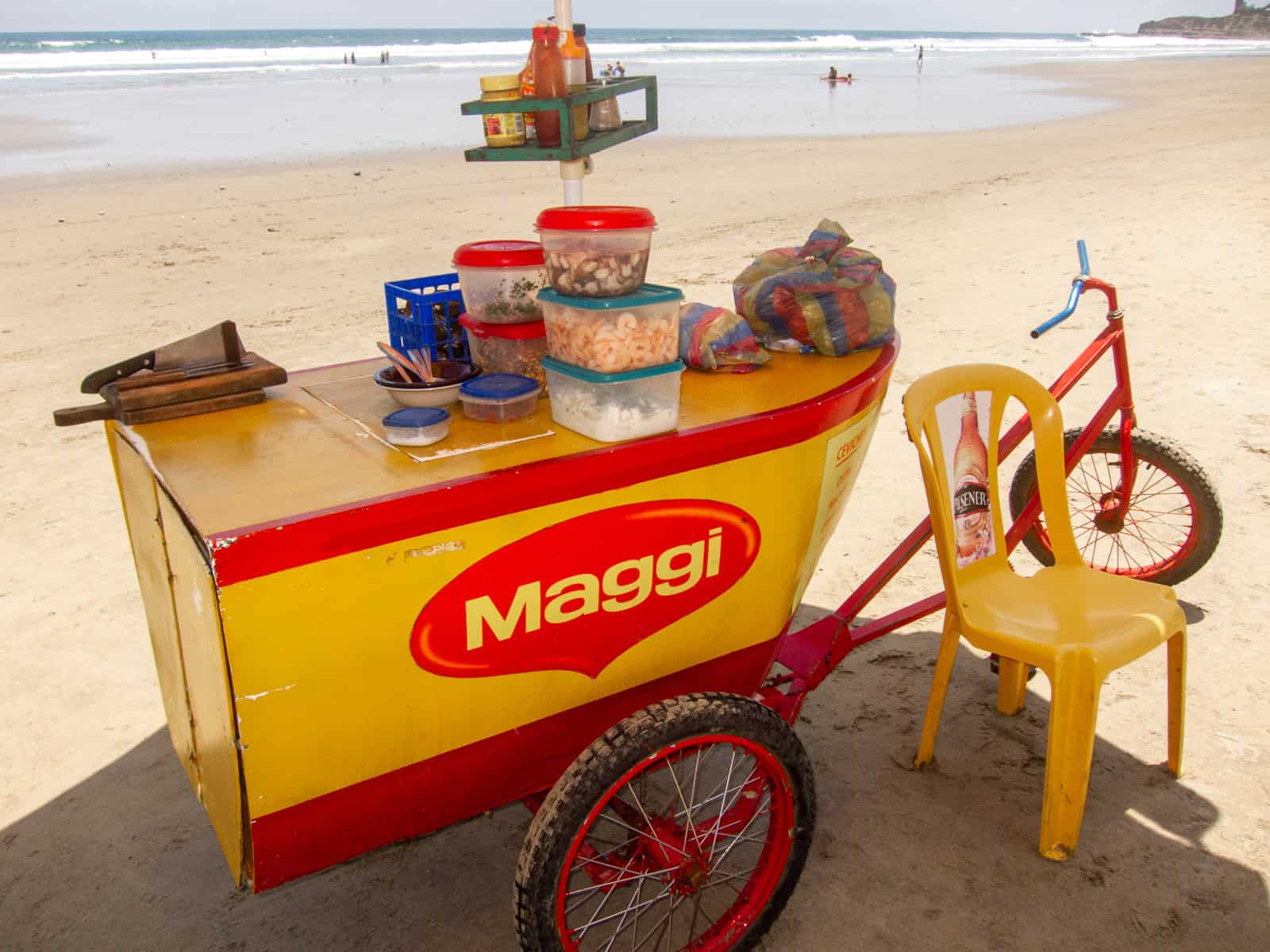 Regional Dishes
Ceviche – The coast is known for ceviche, and many vendors are happy to mix up a bowl of fresh seafood marinated in citric juices for you. The cost is $5; you can pick which ingredients you want.
Restaurants
Fragola Beach Heladeria – Adjacent Mahalo Bar, behind Hola Ola. Go here for artisanal ice creams.
Mont Kaffe – Main Street. This small, friendly cafe serves Colombian coffee and some of the best sandwiches in town.
Sakura – Adjacent Charo's Hostal. This tiny Asian restaurant was opened by a young Indian woman living in town. Several Indian, Thai, and vegetarian dishes are available. She does an excellent job creating flavorful dishes, given that not all the traditional ingredients are available.
Tierra Verde – Avenida de las Cocteles, next to Hostal Papaya. I can't speak for the food, but they offer shisha if you want to smoke.
Tikilimbo – Main street. This restaurant offers the most comfortable seating and the best Wi-Fi. There's a range of food on offer, from falafel to burritos. The food is hit or miss. Stay away from the tuna — it's frozen and has to be cooked thoroughly as part of the de-thawing process.
Related: Introduction to Ecuadorian Food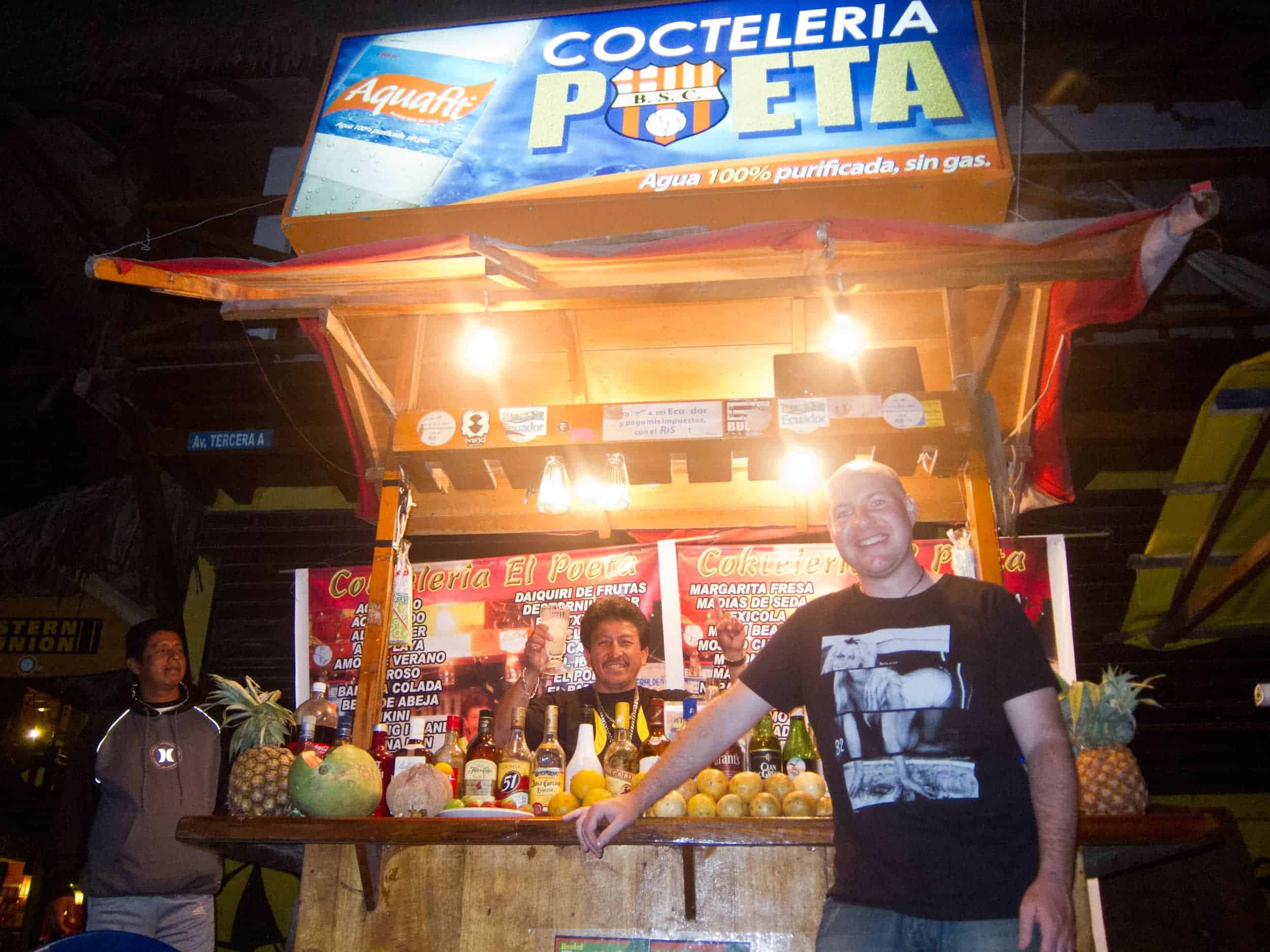 Nightlife in Montanita
For such a small town, there's no shortage of nightlife options in Montanita, Ecuador. You can find some entertainment even on Sundays, the quietest night of the week.
Bars & Clubs
Avenida de las Cocteles (Cocktail Alley)
A few years ago, cocktail stands began to set up shop on one of the streets running through the center of town to the beach.
One thing led to another, and now both sides of the street are lined with bars offering a full range of cocktails. Careful — the bartenders ensure you get more than your money's worth.
One or two cocktails can get you drunk before you even realize it. Most vendors will change the music they play upon request.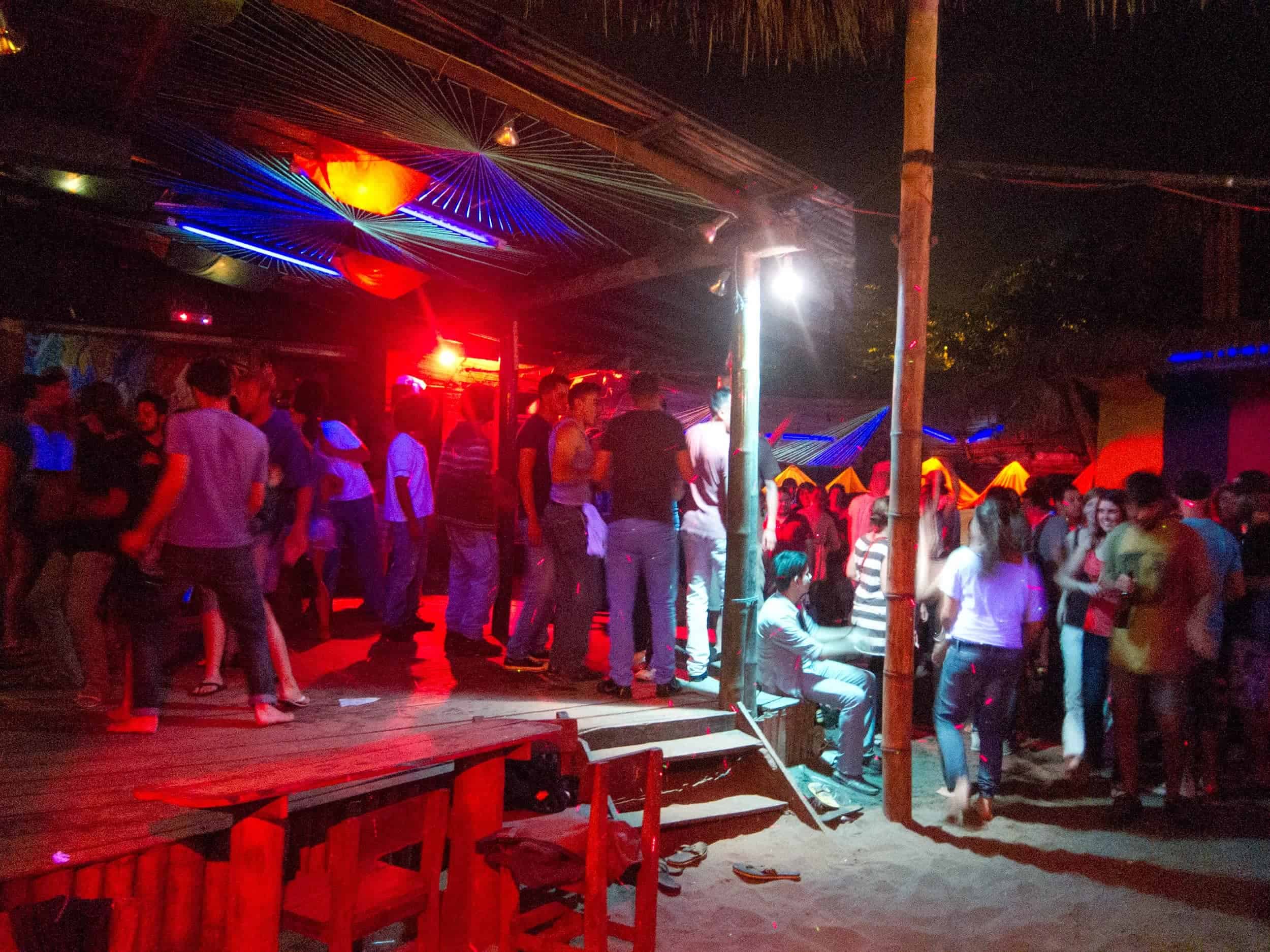 Cana Grill – Located along the Ave de Cocteles, this beach bar features a stage for live bands and dancing. If you're looking for a party on Wednesday nights, go here.
Gato Azul – After the concert outside Mochica Sumpa winds down late Sunday nights, people looking to party head to this tiny beach bar for beers and dancing in the sand.
Hola Ola Cafe – The weekend kicks off with Ladies' Night every Thursday. On Saturday night, $6 gets you a free vodka-juice concoction from 10 p.m. – 12 a.m. (cover $6).
Safety Tip: Be careful here. I spoke with a foreign girl living in Montanita, and she mentioned the staff at Hola Ola were known to drug people's drinks so they could later be more easily robbed.
Mahalo Bar – Located across the street from Hola Ola. Friendly rock bar, complete with a stripper pole and pool table.
Mochica Sumpa (Editor's Pick) – Malecon (boardwalk). Live bands perform outside the hostel every Sunday night, with the ocean as a backdrop. Shows start around 10 p.m. and often run for several hours.
Nativa Bambu (Editor's Pick) – Malecon (boardwalk). The largest club in this little town features ocean views and an airy atmosphere. Couches add comfort, and a large dance floor offers partygoers plenty of room.
Last Updated on September 11, 2023 by Dave Lee
Dave is the Founder and Editor in Chief of Go Backpacking and Feastio. He's been to 66 countries and lived in Colombia and Peru. Read the full story of how he became a travel blogger.