Twenty years ago, I scribbled my dream of taking a trip around the world on a piece of notebook paper and taped it to my bathroom mirror.
I taped a National Geographic map of the world below a whiteboard in my tiny studio apartment in northern Virginia for further inspiration.
The map and goal greeted me every morning as I got ready for work. Frankly, my apartment was so small there was no escaping them.
I'd stare at the world map and daydream about where I'd go once I'd met my savings goal and tendered my resignation at work.
I even recorded some early YouTube videos in front of it. Watch Exhibit #1 below.
I made my trip a reality in 2007, visiting 20 countries in about 13 months – more than I'd been to my entire 31 years until that point, and the list has only grown since then.
The result was a novel problem. How do I keep up with everywhere I've been? I didn't have enough fingers (and toes) to count that high.
Introducing the Visited App
Enter the Visited travel app, an easy-to-use mobile app for iPhone and Android devices that allows you to make custom maps.
I became aware of Visited when Anna, one of the co-founders, asked me to give it a try and share any feedback.
Anna's company, Arriving in High Heels, began as a travel blog before transitioning to mobile app development.
There's something so entertaining about listing the places I've traveled. Each country brings back memories, even if they only last a few seconds.
The jetlag of landing in Tahiti after traveling for two days, seeing mountain gorillas in Rwanda, and cruising through the Galapagos Islands.
Give me a reason to re-visit these places in my mind, and I'll always take you up on it!
Setting Up the App
The Visited app is free and easy to download from the App Store for iPhone users or Google Play for Android owners.
Once you've downloaded it, the sign-up process requires your email address.
Next, you'll designate where you live, starting with the country first, followed by the state (if you're in the U.S.), and city.
The second question asks where you've been, which is the fun part. Here, you'll scroll through the list and select all the countries you've visited.
Last, you'll need to agree to the Privacy Policy, Terms of Use, and receipt of electronic messages (i.e., emails, which you can always unsubscribe from).
Your Custom Map
Once you've completed the above steps, you'll be able to see your custom map. Look below for a portion of mine.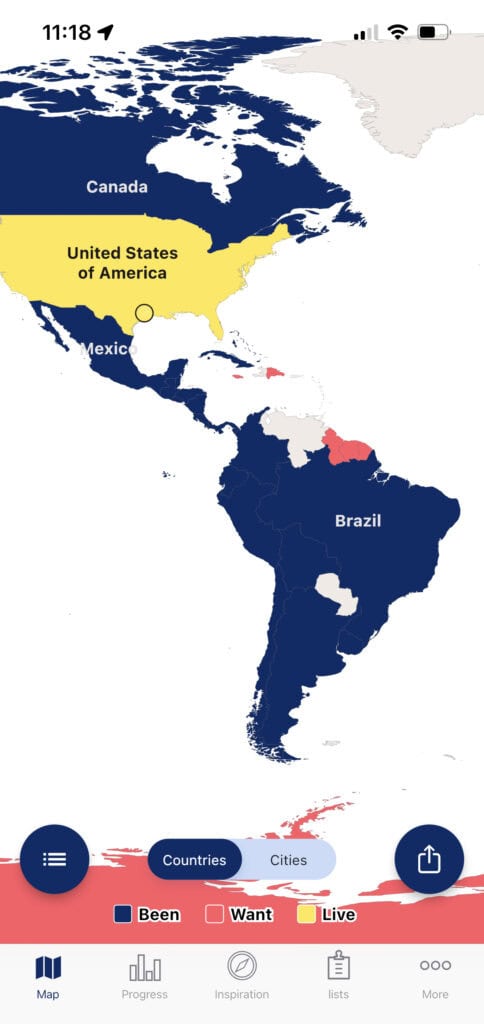 The navy blue indicates countries I've visited, red is where I want to go (I see you Antarctica!), and yellow indicates the country where I presently live.
Filling out a map like this makes it easy to see at a glance not only where you've been but for the well-traveled among us, regions of the world where you haven't.
For me, that includes a handful of countries in South America, Eastern Europe, Central and East Asia, and most of Africa.
There's also an option to toggle from countries to cities; however, the opportunity to create maps with cities visited is a premium feature. More on those later.
As you can see in the screenshot above, there's a navigation menu at the bottom of the app.
Click over to "Progress," and you'll see some stats.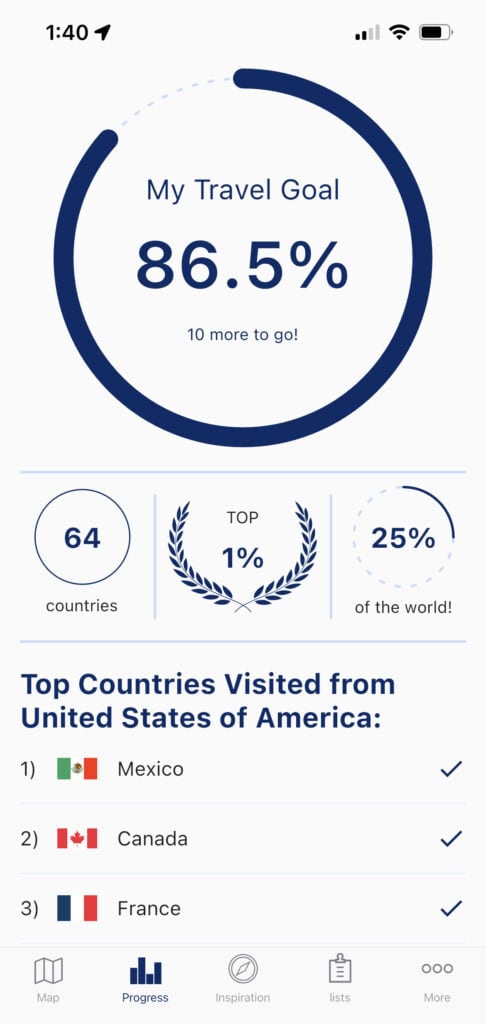 My Travel Goal shows the percentage of places you've visited out of everywhere you've been and want to go.
I have ten countries marked as places I want to go, so I'm 86.5% of the way to my travel goal.
But, that's a moving target as I'll always add new places to visit.
I don't expect to reach every country in the world before I die, but who knows. I've got time.
More helpful for me is the simple number of countries I've visited, 64, which doesn't include the one where I live.
I can also see that I'm in the top 1% of travelers who use the app, and I've seen 25% of the world.
There's also a list of the top countries I've visited; however, I don't see any rhyme or reason to what's shown.
Additional Features in Free Version
Inspiration
The Visited travel app also has a tab for "Inspiration," where you can see photos of specific places and either mark them as places you want to go or places you've been.
You can then see a collection of photos for each designation if you need some inspiration.
Lists
Another feature built into the app is "lists," which offers collections of specific places.
For example, if you click on the Pyramids category, you'll see a bunch of different pyramids from ruins around the world.
Click on all the ones you've visited, and you'll get a percentage score. I got 18.2%. My pyramid game could use some attention!
Other lists include art museums, world capitals, and wonders of the world. I scored 38.2% on the wonders list.
Customization Options
Under the "More" tab, there are some features I haven't seen in past travel maps I've created online.
These include whether to count only sovereign countries, whether to count U.K. countries separately and a choice of how to handle disputed territories.
I especially like that last option. For example, the app shows Crimea, and the user can choose whether it should go with Ukraine or Russia.
Other disputed territories include Hong Kong, Taiwan, Kashmir, and Abkhazia.
Paid Features in Visited Travel App
If you like the free version of the Visited app, there's even more to experience for a few extra dollars.
Remove ads for $2.99
Unlock regions (for 30 countries) for $2.99
Unlock cities (and create a city map) for $2.99
More inspirations (see more travel photos) for $2.99
Or, you can get all of the above in the form of a Pro license for $8.99.
Final Thoughts
The Visited app has a solid 4.6 rating on the App Store after 6,800 user reviews, a testimonial to Anna and her partner's work on it over the years.
If you're looking for an easy way to visually track where you've been and where you want to go, check out the Visited travel app.
______
This story is published in partnership with Visited App. All opinions are my own.
Dave is the Founder and Editor in Chief of Go Backpacking and Feastio. He's been to 66 countries and lived in Colombia and Peru. Read the full story of how he became a travel blogger.
Planning a trip? Go Backpacking recommends: