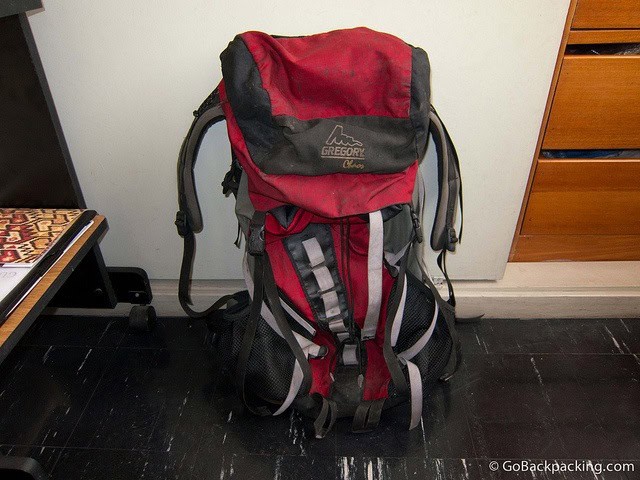 It is with a heavy heart that I type this post. After 14 years, and 40 countries, I've given away my trusty Gregory Chaos backpack.
This was the first one, and the only one, I bought as I began traveling the world on my own.
It has been beaten up, kicked across countless bus station and airport floors, thrown atop buses, and tossed in and out of many a boat.
Yes, it's a bit dirty but still fully functional. I have no doubt it'll last longer on this Earth than me.
But I donated it to a hostel before leaving Lima, which will donate it to the local community.
Why did the guy who has been blogging about backpacking for six years give it away?
Lower back pain.
It struck a few days after I arrived in Lima, following an arduous 26-hour bus ride from La Paz, Bolivia.
It started out as mild discomfort, but when it didn't go away after a few weeks, I went to see a doctor.
He ordered X-rays and proceeded to point out the areas where the bones in my lower back didn't quite come together like normal.
It's a variation I was born with and will have to live with for the rest of my life.
It's neither serious nor is there anything that can be done to fix the underlying problem, which makes me prone to bouts of lower back pain.
Instead of surgery or drugs, I need to focus on:
Improving my posture.
Strengthening and stretching the right muscles.
Reducing the amount of time I spend sitting at any one time.
Taking a protective approach toward lifting and carrying heavy things.
As much as I wanted to switch to a daypack and travel super light, ANY weight on my shoulders was aggravating my lower back pain.
So I switched to the dark side and bought the Overhead by The North Face.
It was more expensive than the other options I found, but it appears to be sturdy and durable and is a bit more stylish too.
You'll notice it is the same colors as my backpack, red and black.
There's less space in the Overhead than my backpack, so this change still forces me to get rid of some clothes I've been toting around South America for the last year.
One of the things I like about this product is the second, smaller pouch where I can slip my 13″ Macbook Air laptop if I want to take the bag as carry-on luggage.
I prefer to have the option, even if I don't use it all the time.
The rubber handle offers a good grip, and there's a red plastic button on the side that allows you to extend and compress the handle.
It works very smoothly, for now at least.
It might seem like a small detail, but the inclusion of The North Face motto on the handle won big points with me.
If I can't be toting around a well-worn backpack to broadcast my adventures, at least these words will help instead.
Unless The North Face has become so utterly commercial by this point that it means diddly-squat. Either way, it makes me happy.
On my site for a backpack, not wheeled luggage? Make sure to read this review and see the benefits of getting a versatile one.
After taking it on a test run, from Lima to Medellin, I noticed several pros and con's to using wheeled luggage.
Pro's
Less stress on shoulders, neck, and back in most travel circumstances.
Feel like a grown-up.
Looks more professional.
Easier to find stuff, pack, and unpack.
Con's
You can't move as quickly and easily as you can with a backpack. For example, it's harder to bypass pedestrians on a crowded sidewalk.
Rolling the luggage on a smooth airport floor is nice, but it can be a bumpy affair on rough and cracked sidewalks.
You still have to lift it up and put it in cabs, or overhead luggage bins, so it's not a complete savior for my lower back.
You can't easily walk down a beach or through a forest or jungle trail. You'd have to carry it, which would be way more stressful than using a backpack.
The main compartment's zippers do not curve around to the bottom of the bag, which means you can't fully flip the cover 180 degrees. It makes packing and unpacking the bag a little more cumbersome than it needs to be.
As you can tell, it's still a toss-up for me in terms of which is better.
But, until my back is pain-free again, and possibly from here on out, I don't have a choice.
If I'm going to keep traveling, I want it to be pain-free.
Dave is the Founder and Editor in Chief of Go Backpacking and Feastio. He's been to 66 countries and lived in Colombia and Peru. Read the full story of how he became a travel blogger.
Planning a trip? Go Backpacking recommends: