*** This Contest Is Over ***
Today I'm excited to announce the biggest contest in Go Backpacking history!
We've partnered with Skyscanner, the leading European-based flight search website, to offer one lucky reader a $600 USD (387 GBP) credit toward the flight(s) of his/her choice, OR a new iPad 3 (16 GB).
Where would you go if you had an extra $600 (387 GBP) in your pocket?
Take Dad to New York City to catch a Yankees game for his birthday. Send your brother to Las Vegas.
Always wanted to see the Eiffel Tower in Paris? Want to check out the brand-spanking-new Olympic Village in London?
The possibilities are endless.
About Skyscanner
Skyscanner officially launched in 2001 and offers users the unique option of being able to enter the departure city, while leaving the destination blank. This feature is perfect for those people who know they want to take a trip but can't decide where to go.
In addition to their easy-to-use website, Skyscanner has also created free travel apps for both iPhones and iPads.
These little apps allow you to search millions of flights, across 1,000 airlines, right from your iPad or iPhone.
Combined, they've got four million downloads and counting.
If you're not already familiar with Skyscanner, entering this contest will be a terrific introduction.
And we made it as easy as possible. Seriously, if you have 5 minutes to spare, enter this contest right now!
*** This Contest Is Over ***
How to Enter in 5 Easy Steps

1. In a separate browser tab or window, go to Skyscanner.
2. Pretend you have $600 (387 GBP) to spend. Search for the flight(s) to a destination you'd most like to visit, or a flight you'd like to give as a gift to a family member or friend.
Tip: You can change the default language and currency atop the Skyscanner page.
Tip: Remember, with Skyscanner, you do not need to select a specific destination.
Simply enter "everywhere" or leave the destination field blank to get a list of cheap flights departing from your local airport.
Tip: By choosing cheaper flights and destinations, you'll be able to afford a ticket for a partner, family member, or friend too! Mention who you want to take in your comment/entry.
3. When the results are given, click the "Details" link of your preferred flight. A pop-up box will appear.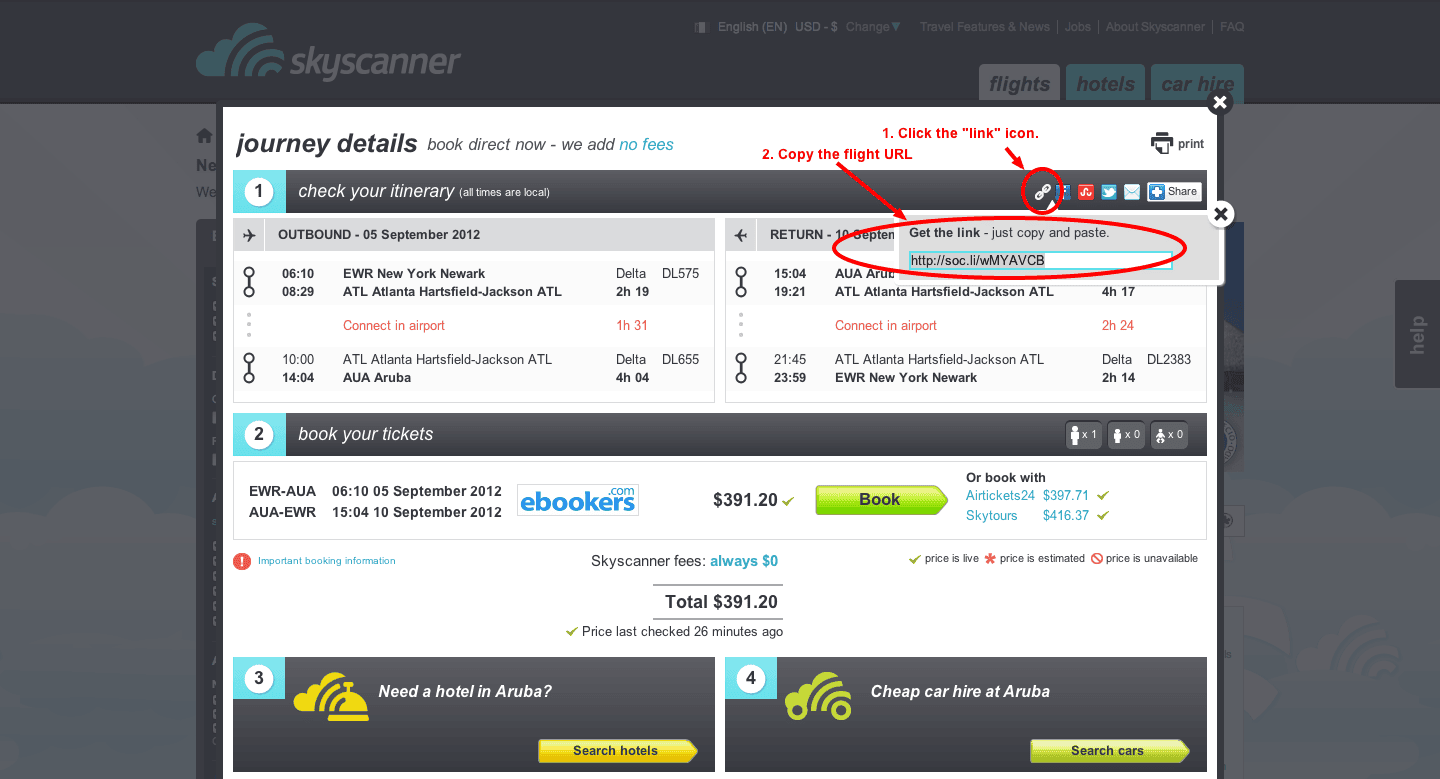 4. Click the "link" icon in the upper right corner of the pop-up box, and copy the unique URL for that flight.
5. Using your real name, leave a comment on this blog post with:
Destination (ex: Aruba)
Why you want to visit (ex: lie on the beach)
If you want to use the $600 to buy a flight(s) for someone other than yourself, tell us who (ex: spouse)
URL for your flight
Any comments using keywords for a name will be immediately disqualified and deleted. Please use your real name.
Contest Begins: 8:00 am (EST), Monday, August 6, 2012
Contest Ends: 8:00 pm (EST), Friday, August 17, 2012
*** This Contest Is Over ***
The winner will be chosen at random over the weekend and announced on Go Backpacking's Facebook Page Monday, August 20, 2012. His/her email address will be shared with Skyscanner.
Once the winner is announced, he/she can then choose either the flight(s) mentioned in the comment OR the iPad 3.
I'm excited to see all the places $600 can get you. Good luck!
Terms and Conditions
Entrants must be 18 years of age or older.
One entry per person. No multiple entries are allowed.
Commentators must use their real names when leaving a comment. Entries without a real name will be deleted and disqualified from winning.
Entries after the closing date will be not be considered eligible to win.
The winner will be chosen at random using this WordPress plugin.
The chosen flight (or flights) must be no more than $600 USD (or Euro/GBP equivalent – based on current exchange rates). If the flight(s) go up in price by the end of the competition, the winner can choose alternative dates/flights, up to the value of $600, or choose to pay the remainder.
If the airfare award is chosen, and the winner wants to cover a second or third person with the $600 credit, everyone must fly together to the same destination.
If the airfare award is chosen, the winner is not required to fly. As long as the flights are for a single trip, they can be given to another person as a gift.
By accepting the airfare prize, the winner accepts full and complete responsibility for their own safety and welfare at all times, including familiarizing themselves with visa and other travel requirements.
Any extra activities and costs beyond the specified prize are the responsibility of the winner.
The iPad 3 being offered is the 16 GB, Wi-Fi version.
The prizes are non-transferable and no cash alternative will be given.
The winner is responsible for paying any applicable taxes on the prize.
By entering this prize drawing, entrants will be deemed to have accepted and agreed to be bound by the conditions.
Questions?
*** This Contest Is Over ***
Dave is the Founder and Editor in Chief of Go Backpacking and Feastio. He's been to 66 countries and lived in Colombia and Peru. Read the full story of how he became a travel blogger.
Planning a trip? Go Backpacking recommends: