In June, I visited Canada for only the second time. Toronto, to be specific.
I was in town for the annual North American TBEX conference, so I didn't have a lot of time to go sightseeing, but I did try to squeeze in a few "must-see" things during my visit.
Below is a 48-hour itinerary I came up with, perfect for a quick weekend trip, especially if you're a first-timer.
So go ahead and permit yourself to splurge on one of the luxury hotels in Toronto, and let's prepare to hit the town.
Day 1
CN Tower
At 553 meters (1,815 feet), Toronto's CN Tower was the world's tallest tower (and free-standing structure) completed in 1976. Today, it still holds a respectable fifth place.
Adult admission for the Tower Experience is $27.20, but if you want to go all the way to the highest point, the SkyPod, it'll cost you $39.20.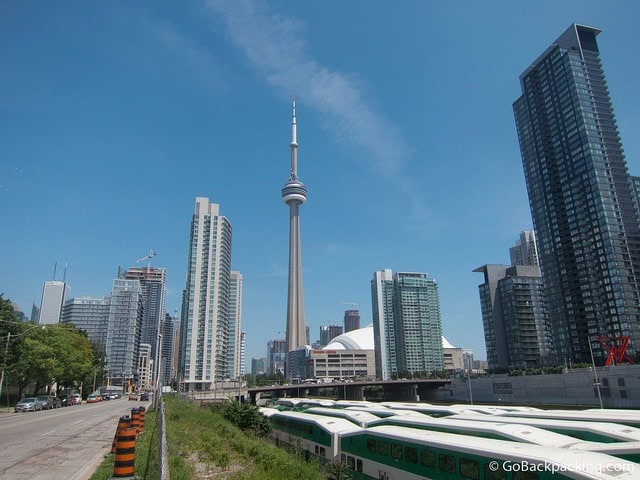 The views from either level are sweeping as you look down on Toronto and across Lake Ontario.
CN stands for "Canadian National," which was the name of the railway company that initially built it.
A mere hundred meters from the tower entrance is the Toronto Railway Heritage Centre, where you can walk amongst some old train engines and a giant circular switching station.
Steam Whistle Brewery
The Toronto Railway Heritage Centre is a multi-purpose park space home to the John Street Roundhouse, formerly used to repair locomotives.
Today, it houses the Steam Whistle Microbrewery, among other shops and restaurants.
Tours are available every day of the weekend, though it gets busier on the weekends, and each includes a free beer tasting at the end.
The Art Gallery of Ontario (AGO)
Located in downtown Toronto's Grange Park, the Art Gallery of Ontario features over 80,000 works spanning almost 2,000 years.
Go here for the most extensive collection of Canadian art and works from the European Renaissance and Baroque periods.
The museum has undergone several renovations, including the latest by famed architect Frank Gehry in 2008. Adult admission will run you $19.50.
Hockey Hall of Fame
Ice hockey is Canada's most prominent sport and one of its claims to fame.
Established in 1943, the Hockey Hall of Fame functions both as a museum and a place to recognize the most significant players and coaches of all time.
Adult admission costs $17.50.
Eat Poutine
I discovered poutine for the first time in New York City at a TBEX conference back in 2010, thanks to Jodi Ettenberg (proud Canadian).
But Toronto was the first time I had the chance to try this deliciously bad-for-you snack in the country that first produced it.
French fries and cheese smothered in gravy, what's not to love about it?
If that's not enough for you, then you can get all sorts of additional toppings.
The sky's the limit, though none of the options are cholesterol-friendly.
Poutine is the perfect post-party, late-night comfort food.
For a few dollars, you can indulge in this tasty treat. You won't regret it.
Day 2
Niagara Falls Tour
After my conference wrapped up, I dedicated a whole day to a Niagara Falls tour, and it was awesome!
You don't need more than a day when making the trip from Toronto, but trying to do it in less means missing out on some of the incredible opportunities.
I'm speaking specifically about the option to take a helicopter ride over the falls, as well as a ride in the traditional Maid of the Mist boats that take you up close to the world's most powerful waterfall.
_______
This post was written by Dave and brought to you by SLH.com.
Dave is the Founder and Editor in Chief of Go Backpacking and Feastio. He's been to 66 countries and lived in Colombia and Peru. Read the full story of how he became a travel blogger.
Planning a trip? Go Backpacking recommends: