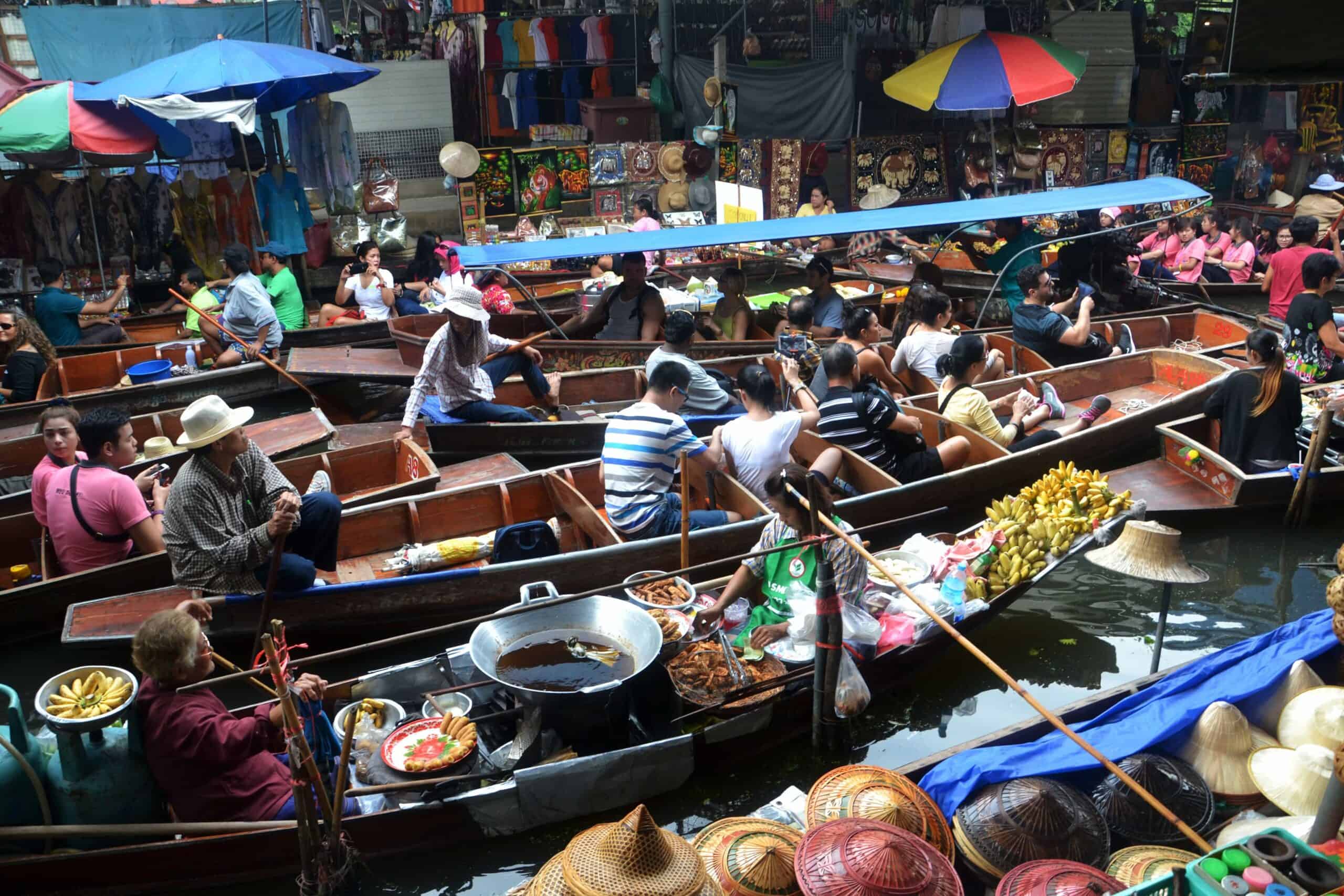 A floating market is a market that is located next to a body of water, and vendors sell things directly out of their boats.
Though some of the main waterways have since been filled in to make way for roads, Bangkok was once known as the Venice of Asia due to its extensive network of canals.
Many people got around by boat or even went to the market to sell their goods directly from their boat.
What was once a traditional way of life, floating markets throughout Bangkok have become a novelty form of entertainment.
Floating markets are located throughout Bangkok and the surrounding provinces, and they are trendy to visit on the weekends for both locals and foreigners.
Nowadays, the biggest attraction to a floating market in Thailand is the food that is cooked and served directly from a boat floating in the canal.
The markets also offer plenty of random trinket shopping and are just good places to walk around. If you wish, you almost always have the option of navigating the market on a personal boat tour as well.
Visiting a floating market on the weekend has become of the most popular things to do in Thailand. Here are five markets worth your time:
1. Amphawa
Easily the most popular market with Thai locals, Amphawa is an entire neighborhood community that turns into a Disneyland-like floating market on the weekends.
Tons of people escape Bangkok for the day, browse around the little stores, and dine on the delicious food served from boats.
I was genuinely impressed by the parking lot of boats on the canal and how they rapidly served food to all the demanding orders!
Don't miss out on the grilled squid and the roasted shrimp!
2. Damnoen Saduak
Located about one and a half hours from Bangkok, Damnoen Saduak is Thailand's most popular tourist floating market.
Over the weekend, hordes of foreigners flood the market on organized tours.
Due to the massive crowds and the overabundance of souvenirs, this is one of my least favorite floating markets.
However, if you hop in a canal boat, you can still manage to escape most of the traffic and reach some beautiful tree-covered canal areas.
Do it yourself, or book a half-day tour.
3. Khlong Lat Mayom
Located in southern Bangkok, Khlong Lat Mayom is probably one of my favorite markets in Bangkok.
It's like a garden oasis, full of green trees, cool shade, and it is in a much more relaxed environment than the two mentioned above.
Though there are plenty of shops and countless options for food, the market remains calm and low-key.
It's a great place to unwind and partake in a lovely meal on the edge of the canal.
4. Taling Chan
Taling Chan is famous for its fresh selection of roasted seafood.
If you show up on Saturday morning, you'll see a bunch of tables filled with people devouring crab legs, huge roasted prawns, and the all-famous roasted snakehead fish.
5. Bang Nam Phueng
Since floating markets are so popular throughout Bangkok, a few have been recently set up to cater to the rising demand of people looking for leisure on the weekends.
Bang Nam Phueng is located in an area of Bangkok known as Phra Pradaeng.
It is a relatively new market, yet another paradise for food lovers, and a relaxing place to walk around, take a boat, or sit and enjoy the lush ambiance.
When you visit Bangkok, be sure to visit a floating market for the day!
Need more itinerary ideas? Click here for all G Adventures trips to Thailand.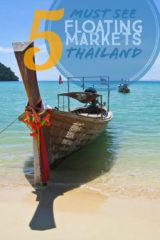 Mark was raised in central Africa before migrating back to the U.S. for University. After graduating, he decided to continue traveling the world. On Migrationology, he shares the cultural side of travel from a slow-paced local perspective that often revolves around his love for eating all forms of food. Join him on Facebook and follow him on Twitter @migrationology.
Planning a trip? Go Backpacking recommends: