For many travelers, Bangkok is their gateway to Thailand.
We've put together a Bangkok city guide to help ease your arrival and let you know what to expect.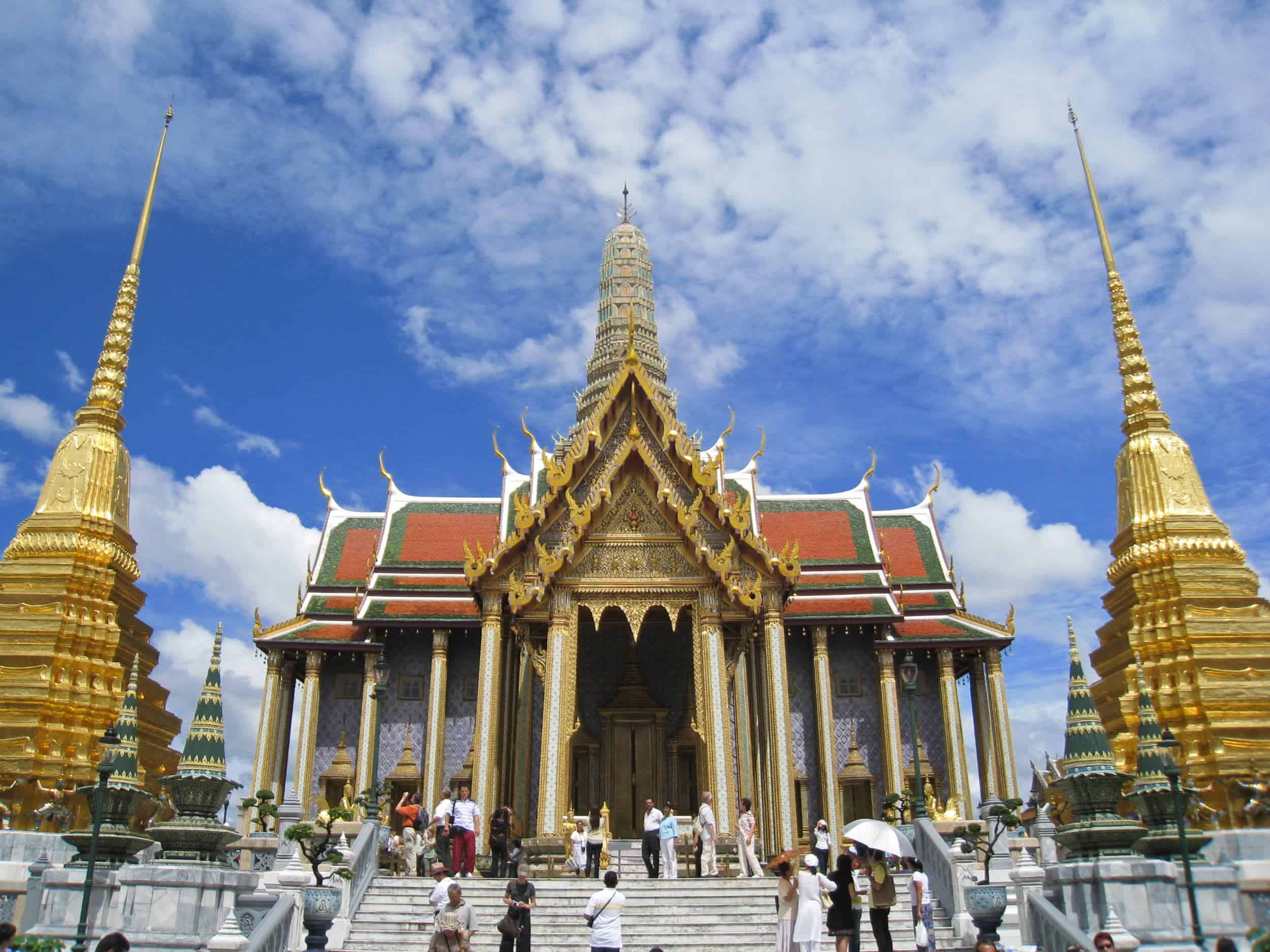 Note: Before entering Thailand, you
Getting There and Away
By Plane
Bangkok's main airport and hub is Suvarnabhumi Airport (BKK) in the city's eastern part, offering easy access to central Bangkok.
For travelers from Singapore, be sure to check out flights from Singapore to Bangkok, as you can find good deals here for your next upcoming trip!
The easiest way to get from the airport to the center of Bangkok is to take the newly opened Airport Train Link that connects with the BTS and MRT lines.
The train operates from 6 am to 12 pm, takes about 30 minutes, and costs 45 THB ($1.50) per ride.
If your hotel is far from the train line, you can also take a taxi or bus anywhere in the city.
Taxis run on an official meter and should usually cost 300 – 500 THB ($10 – $16) into central Bangkok.
If you are more adventurous and don't have much luggage to worry about, you may want to take a bus.
Check to see where you intend to go and look at this public bus schedule.
Everyone over the age of 12 will need to apply for a Thai Pass before arriving in Thailand from another country.
By Bus
Mo Chit bus station provides transportation to Northern cities in Thailand.
The mega station is located in the Northern part of Bangkok, not too far from Mo Chit BTS Station, but it's best to take a taxi.
Traffic around this area can be horrendous in the evening and morning. If you are catching a bus, be sure to give yourself plenty of time to fight traffic.
Sai Tai Mai bus station is the station that caters to Southern Thailand. The station is quite far from central Bangkok and might take up to an hour to get there by taxi or bus.
Ekamai bus station, in comparison to the other two colossal bus stations, is small and very manageable. It provides buses to small towns within a few hours from Bangkok.
This is the most accessible place to depart if you need to get to Pattaya or Hua Hin. The station is located right off Ekamai BTS station.
Khao San Road, backpacker central, has anything a tourist could ever need, including direct buses around the country and even to other Southeast Asian destinations.
You will pay a little more due to various people making cuts, but it might be convenient if you stay in the area.
By Rail
Hua Lamphong Station is the central railroad station for catching trains to the north or south of Bangkok.
Hua Lamphong is on the outskirts of Chinatown.
Bookaway is a good resource for buying plane, bus, and rail tickets online.
Getting Around Bangkok
Bangkok is a large city, and almost all forms of transportation imaginable are used to get from place to place. Here are the main methods you'll need to get around.
By Taxi
Taxis are widely available and painted bright colors.
Metered fare begins at 35 THB ($1.15) and goes up from there according to distance.
Taxis are incredibly affordable for a big city, getting most places in central Bangkok for 100 – 200 THB ($3.50 – $6.50).
By Train
The BTS is an elevated train with two lines that run through central Bangkok.
The Sukhumvit line runs from Mo Chit station in the North to On Nut in the East. The Silom line runs from National Stadium (MBK shopping center) to Wang Wian Yai, across the river.
The two lines cross at Siam station, Bangkok's biggest shopping hub.
Fare is 20 – 40 THB ($0.65 – $1.30) for a single ride.
The MRT is an underground train with a single line that runs from Bang Sue in the North to Hua Lamphong near Bangkok's Chinatown.
The MRT crosses the BTS at Sukhumvit and Silom stations. Fare is 20 – 40 THB ($0.65 – $1.30) per ride.
The Airport Link connects the city to the international airport and offers stops to Bangkok's Eastern districts.
Fare is from 15 – 45 THB ($0.50 – $1.50) per ride.
Take a look at the official website for information and routes.
By Bus
Buses are ever-present in Bangkok, and with a bus map, it's easy to figure out a few of the routes.
Buses regularly run from about 5 am to midnight, though a few go 24 hours.
The small orange buses charge a flat 6.50 THB ($0.20), and other buses range in price according to route, distance, and air condition or windows.
The city's average fare is 8 – 12 THB ($0.25 – $0.50).
By River Boat
Public riverboats can be one of the most convenient ways to get around Bangkok, especially when traffic becomes heavy.
Boats run up and down the Chao Phraya river at the cost of around 14 THB ($0.45) per ride. The boat runs from 6 am to 7 pm.
By TukTuk
Tuk Tuks are one of the more popular tourist forms of transportation.
Rides usually cost 50 THB ($1.65) and up for a short trip.
Where to Stay
Hostels
There are hostels, guest houses, and cheap hotels throughout Bangkok, although the well-known backpacker's hub is on Khao San Road.
If you head to Khao San Road, you will be surrounded by a ton of backpacker hostels to choose from.
Quick recommendations:
See also: The Best Hostels in Bangkok
Short Term Accommodation
Bangkok offers plenty of serviced apartment short-term rentals, and foreigners can rent apartments throughout the city.
Ordinary apartments ask for three to six-month contracts, but serviced apartments can be rented for shorter times with no contract.
A good starting point is to search on Thailand-specific forums.
Couchsurfing
Couchsurfing is not only a great way to find a place to stay but a great starting point for meeting locals and interacting with others.
There is a large community of couchsurfers throughout Bangkok.
Be sure to make contacts and arrange accommodation with plenty of time to spare as there are many requests and many people.
Things to Do and See
Temples and Palaces – Some of the most iconic symbols of Bangkok have to do with Thai Buddhist temples and Royal Palaces.
The most famous are the Royal Palace and Wat Phra Kaew. The entrance is 350 THB to enter both together, located on the same compound.
Museums – There are so many Bangkok museums that it can be hard to visit all of them.
The most interesting include Bangkok's Forensic Museum, Jim Thompson House, the Vimanmek Mansion, and the National Gallery.
Markets and Shopping – Shopping is one of Bangkok's biggest draws.
The area of Siam is home to giant modern shopping malls and countless stores.
Don't miss the Chatuchak weekend market, where nearly 15,000 vendors set up shop.
Chinatown (Yaowarat) – Chinatown is one of the most exciting areas of Bangkok, always something happening.
From morning till night, Yaowarat is filled with markets and food. Chinese New Year in Bangkok is exciting, chaotic, and beyond busy.
Parks and Outdoors – The biggest central park in Bangkok is Lumpini Park, a large green area near Silom.
It's a great place to do some exercise, take a walk, or hang out.
Street Food – Eating Bangkok street food is one of the most rewarding things to do.
Food is everywhere, and sampling Thai food is both fun and delicious!
Outside the City
Ayuthaya – About 1 -2 hours away by road is the ancient Siamese capital.
The town is home to numerous ruins and historical UNESCO heritage sites.
Floating Markets – Many floating markets near and around Bangkok offer shopping and food sold straight from a floating boat.
The most famous markets include Damnoen Saduak, Amphawa market, and one of my favorites, Khlong Lat Mayom floating market.
Zip Line – Flight of the Gibbon comes at a hefty price, but flying through the tops of trees on a zip line is an incredible experience.
Bung Sam Lan Lake – If you like sport fishing, Bung Sam Lan Lake is a lake on the outskirts of Bangkok that is stocked with some of the world's largest species of fish, like the Mekong giant catfish.
For many more suggestions, take a look at the Top 10 Things to Do in Bangkok.
Food & Drink
Regional Food
Isaan Food – The Isaan area of Thailand makes up the northeastern part of the country.
Popular Thai dishes from this area include sticky rice (khao neow), green papaya salad (som tam), grilled chicken (gai yang), and grilled fish (pla pao).
General Thai Food – Anything stir-fried, noodles, or plain white rice, fits under the general Thai food category.
Eat stir-fried dishes like pad ga pao moo (pork with basil), pad Thai (stir-fried noodles), kuay teow bpet (duck and noodles), or various forms of curry.
Restaurants
Som Tam Boo Maa – 25/48 Thanon Charan Sanitwong Bang Khun Non, Bangkok 10700. One of my favorite restaurants for Thai Isaan food.
Kuang Seafood Restaurant – 107/13 Soi Rangnam, Samsen Nai, Phaya Thai, Bangkok 10400. Popular and delicious Thai seafood restaurant.
Lan Loong Lui – Ta Prachan Pier (adjacent to Thammasat University Ta Prachan campus). An excellent restaurant for general Thai stir fried dishes.
Nightlife
Nightlife in Bangkok thrives almost every night of the week, and there's never a dull moment.
There are a few main nightlife areas, including Khao San Road, Silom, Ratchada, and Sukhumvit.
Bars and Clubs
Bed Supperclub – 26 Soi Sukhumvit 11, Sukhumvit Road, Klongtoey-nua, Wattana, Bangkok 10110 Thailand. One of the most prestigious clubs in Bangkok.
Narcissus Club Bangkok – 112 Sukhumvit soi 23 Wattana Bangkok, 10110 Thailand. Popular dance and late-night hours club in Bangkok.
Q Bar Bangkok – #34 Sukhumvit Soi 11 Klongtoey, Bangkok 10110 Thailand. Nice bar and club right near the Nana BTS station.
Saxophone Pub – Near Victory Monument. Great live music venue.
RCA at Ratchada – Rama 9 Road, Phetchaburi, Bangkok. A strip of popular nightclubs.
We hope our Bangkok city guide gave you enough tips and recommendations to help you plan your trip.
Last Updated on January 7, 2022 by Dave Lee
Mark was raised in central Africa before migrating back to the U.S. for University. After graduating, he decided to continue traveling the world. On Migrationology, he shares the cultural side of travel from a slow-paced local perspective that often revolves around his love for eating all forms of food. Join him on Facebook and follow him on Twitter @migrationology.