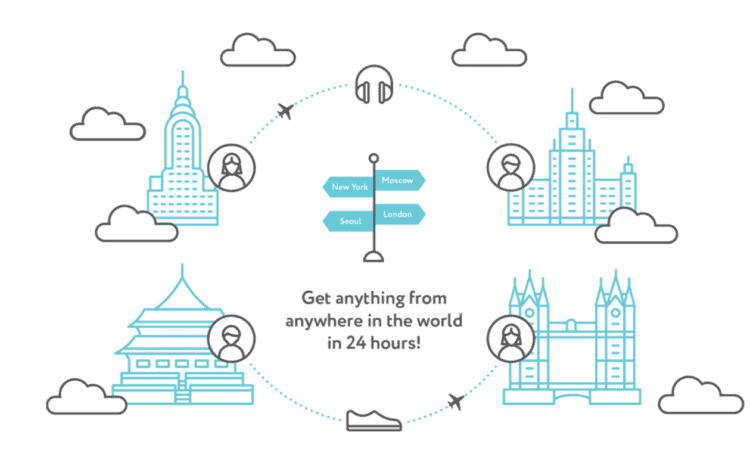 The company's claim is a big one: get anything delivered to you, on demand, from anywhere in the world.
Grabr – a peer to peer delivery service not only aims to make shopping internationally easier, but it also wants to reward travelers for helping to make their concept a global reality.
The Concept
Grabr has created an online platform that allows travelers and shoppers to collaborate.
The aim is for a faster and more convenient way of getting foreign goods delivered. This means that any traveler can accept requests for products and then pick up the items while on the road and deliver them to the buyer.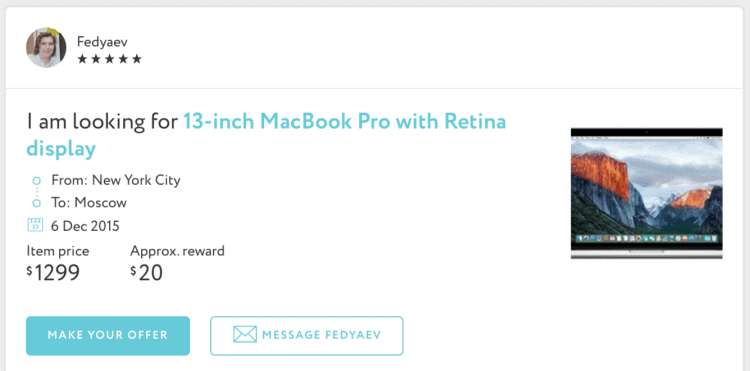 1. Make Money While You Travel
Grabr's website features simple navigation, offering visitors the option to click "Travel," "Shop" or "Blog." I began my tour of the site with Travel.
The Travel page's headline is "Make Money While You Travel," and asks if you've ever been asked to bring something home from a trip with the promise of "Now you can finally get paid."
Here I found a list of people and the items that they were looking to be purchased on their behalf.
For example, one listing was entitled "Fedyaev is looking for 13-inch MacBook Pro With Retina Display."
When I clicked the "Make Your Offer" button, I was prompted to connect via my Facebook page.
The item price was $1,299 and the default offer, or fee to be paid by the buyer to the traveler for purchasing the item (plus customs duty, and taxes) was $20. However, the amount of the offer can be customized by the traveler.
For example, a hard-to-obtain or heavy item will likely need a higher offer by the traveler to make it worth his or her time and effort.
The traveler can then set a delivery date and enter his/her personal information.
As the traveler collecting the item for sale, I get reimbursed the amount owed to me once the person buying it has received it, and confirmed that it is in good condition.
2. Order Products For You
What I like about Grabr is that you don't have to travel all the way back to a country to pick up those unique/hard-to-find goods/products that you wish you had bought.
If you're looking for inspiration, you can check out the Featured section and shop.
They display items such as Bayer Vital, Priorin hair capsules for $75. When I clicked on this product, it took me to a new page on the Grabr website where I could buy it directly. This is known as "Creating a grab."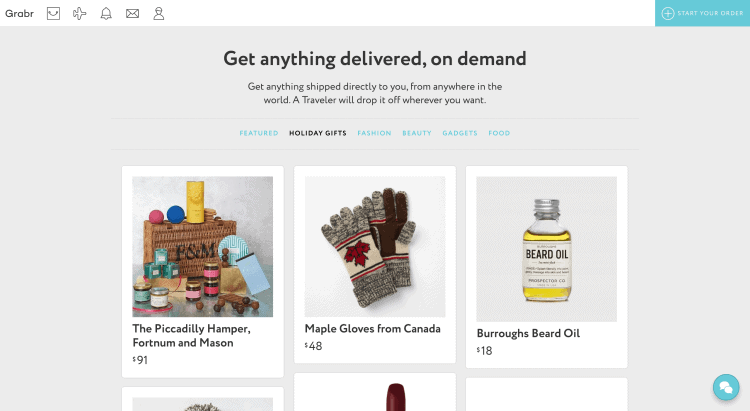 3. Order Gifts When You're Away
You can even order a gift from through Grabr to send to your best friend or favorite family member while you're away.
The Holiday Gift section includes gifts from all over the world, such as maple gloves from Canada and a Laduree teacup gift box.
This is especially handy for holidays like Father's Day as you can buy presents like the Kiehl's Ultimate Man Full Body Refueling Set, or click on the Food section to get your mom some Loose Leaf Tea from Harrods without having to fly to London.
4. Connecting With New People
It also allows us, travelers, to meet new people as we bring back an item they've requested.
As a buyer, if you're concerned about the site not being safe, Grabr puts the payment on hold until the grab has been delivered and confirmed by the shopper. Only then is the payment released to the traveler.
My Conclusion
After spending time on the website, the only limitation I see at the moment is that you need a bank account in the U.S. or Canada to take part.
In all my 17 years of travel, I've never seen anything like Grabr before. Not only is it entirely different, but it's a great way of getting your hands on an item without having to travel internationally.
_________
This story was written in partnership with Grabr; all opinions are the author's own.
Lisa Eldridge is a travel journalist specialising in solo travel. Her background in the travel industry fuelled her passion to see the world and for the last seventeen years, she has travelled extensively as a solo traveller, living and working in numerous countries. She has now been to 100 countries and 60 of these solo.
Planning a trip? Go Backpacking recommends: