There are never-ending possibilities to have fun in Amsterdam. It's lively, inclusive, and innovative.
You probably already know about all the go-to spots for tourists if you plan to visit Amsterdam, but that's not where you get to see the city.
Instead of following the usual itinerary for Amsterdam, we've combined a list of hidden gems across the city, where you will see and experience firsthand how the locals live and have fun in their free time.
Plus, you won't get swallowed up by the enormous crowds of tourists, which is a nice bonus.
1. Czaar Peterstraat
This lovely tree-lined street in Amsterdam is filled with independently-owned stores and cafes.
Every establishment has its unique vibe, inspiring story, and distinct style.
The street offers an entirely different feel to what you'd experience in a city center where all the cafes and shops are indistinguishable and have no character.
This is where the locals would spend a nice day outside, shopping and taking a coffee break between purchases.
This street houses the Netherlands' first ever peanut butter shop – De Pindakaaswinkel, and boutique shops like Dreamboat Design that are perfect for gifts any time of the year.
You can also get some delicious waffles at Wicked Waffles or have a piece of cake at Coffee and Friends.
If you feel like having something heartier at the end of the day, you can hit up a local favorite, InStock, which uses rescued food for all of its dishes.
2. IJ Brewery
Located right next to Netherlands' tallest windmill, IJ Brewery is the home to Amsterdam's craft beer movement.
"Brouwerij het IJ" was first created in 1985 in an establishment that used to be a public bathhouse.
In the 1980s, it was challenging to find good beer in Amsterdam, which is why the IJ Brewery was founded.
Many followed in its footsteps, and soon, getting a nice pint of beer in Amsterdam was more effortless than ever before.
IJ Brewery offers tours of facilities where you can try various brews, including limited editions and seasonal brews.
These breweries offer indoor and outdoor seating, but make sure to call in advance if you want to secure a table for the evening.
3. An Original Picasso in the Vondelpark
Vondelpark is a beautiful park to visit if you love outdoor picnics or being near nature in general.
But what many people don't know is that in Vondelpark, there is an original Picasso sculpture.
Picasso donated the "Figure decoupee l'Oiseau" or "The Bird" to the city to honor his friendship with Willem Sandberg, a former Stedelijk Museum director.
The sculpture was created in 1965 as a part of the outdoor exhibition celebrating Vondelparks' 100th anniversary.
After the exhibition, the famous painter decided to donate the sculpture to the city, where it has remained ever since.
4. Original 18th-Century Herbalists' Shop
Near Nieuwmarkt, an 18th-century herbalists' shop opened in 1743.
The shop still has the original decor, small barrels that feature the Latin names of the herbs and plants, wooden drawers, and a unique set of scales embellished with two serpents.
If you feel like going back in time, visiting this herbalists' shop will take you right back to the 18th century.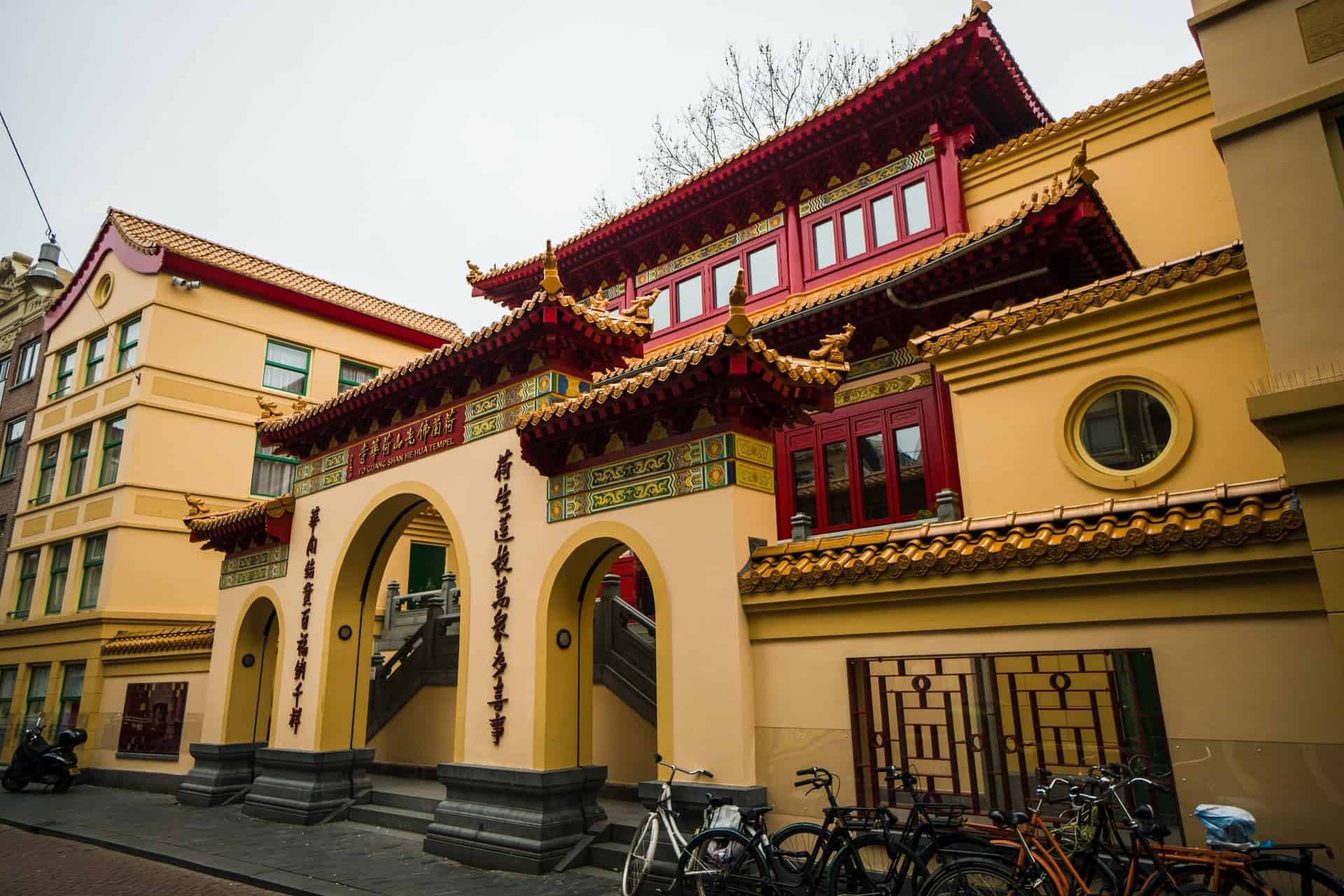 5. Buddhist Temple in the Old Town
Th golden-tiled Fo Guang Shan temple is often described as a "slice of Shanghai in the heart of Amsterdam."
The temple is in Chinatown, a part of the city's historic center. It simultaneously fits the surroundings and stands out with its ornamentation.
The temple is open to the public on Saturdays, and the temple even offers guided tours.
Visitors will also have a chance to book a tour that includes guided meditation, so if you are interested, make sure to reserve a spot.
How to Stay Safe Traveling in Amsterdam
Keep Your Personal Items Close To You
Amsterdam is generally a safe city, but pickpockets usually manage to snag a purse or two in areas where there are many tourists.
So when you are in crowded places, make sure to keep all your belongings close to you and stay mindful of where you place them.
Avoid Using Public Wi-Fi
Having access to the internet is essential when traveling, so it's understandable that tourists may be tempted to use public Wi-Fi.
But most people don't know the real risks of using public Wi-Fi. Therefore, these network connections aren't encrypted and are more vulnerable to attacks.
If you have to use public Wi-Fi, use it through a VPN. Get the fastest VPN on the market and browse the web with public Wi-Fi without risks.
_______
This story is brought to you in partnership with Harold Kilpatriack of PR Consultancy.
Planning a trip? Go Backpacking recommends: