Before leaving Lima, I spent a few nights outside the city in Asia, a Summertime beach and party destination about 1.5 hours drive due South of the capital.
Here, a large, modern outdoor shopping mall complete with restaurants, bars and discotecas has sprung up along the Pan-American Highway.
From what I could gather, most Peruvians rent apartments or beach houses when they go.
The Aquavit Hotel is the only hotel within the shopping center area, and it boasts the area's hottest pool parties every weekend.
I booked a few weeknights there, as weekends in the Summer are expensive, and fill up far in advance.
The exclusive guests-only pool was by far the coolest I'd ever enjoyed. I imagine it's similar to what you find in Las Vegas and Miami.
It's surrounded by beds for sunbathing, and 3 bars (one to the left and right of the DJ booth, and one behind it).
Speakers hang from nearby palm trees, and at night, the whole area is lit up by colorful club lighting.
The beach was a 15-minute walk away. Lined with houses, and plenty of chairs and umbrellas, it also featured frigid waters. Despite cleaning crews taking care of washed-up debris, it wasn't very nice.
Which is exactly what I'd heard, and why I preferred to stay at a hotel with a sweet pool.
____________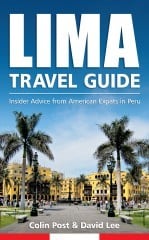 Dave's 160-page, all-original Lima Travel Guide is now available for Kindle.
Dave is the Founder and Editor in Chief of Go Backpacking and Feastio. He's been to 66 countries and lived in Colombia and Peru. Read the full story of how he became a travel blogger.
Planning a trip? Go Backpacking recommends: