Seeing the Inca citadel of Machu Picchu is a dream for adventure travelers worldwide. If you're wondering how to get to Machu Picchu in Peru, you're in the right place.
I've been fortunate enough to travel to Machu Picchu on three occasions: the Salktany trek as a budget-conscious backpacker, on an all-inclusive group tour, and booking everything independently.
This article focuses on the last approach, the steps required to organize a trip to Machu Picchu independently.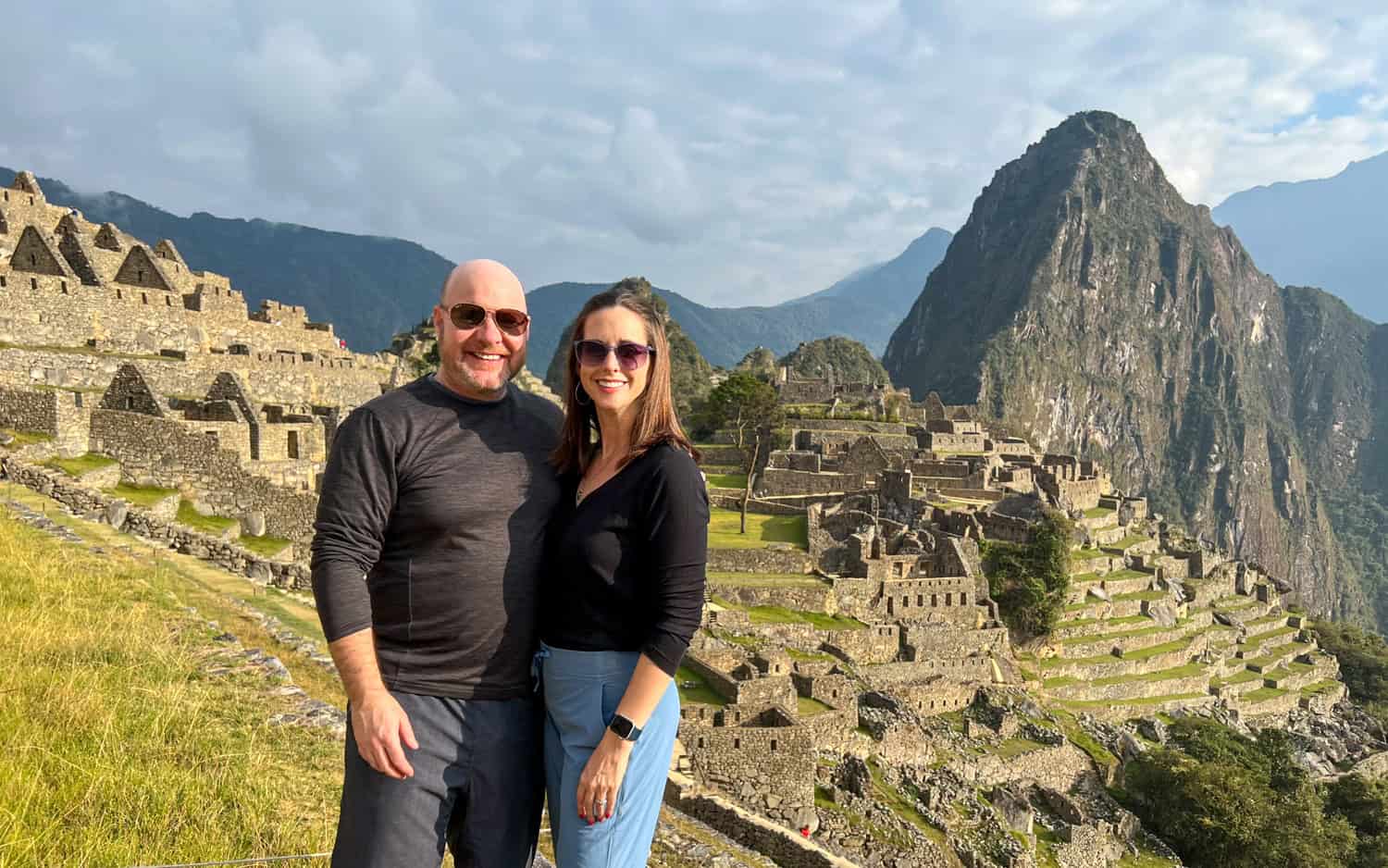 Planning Your Trip
Once you've decided to visit Machu Picchu in South America, you'll need to figure out what kind of experience you want and how much time and money you've got.
Let's assume you're going on a one-week vacation (as I did on my most recent visit with Kel).
One-Week Itinerary
Here's a brief overview of the logistics involved:
Book a roundtrip flight from your home city to Lima, Peru.
Make a hotel reservation for Lima.
Book a roundtrip flight from Lima to the city of Cusco.
Arrange a private transfer from the Cusco airport to Ollantaytambo train station.
Buy train tickets to the town of Aguas Calientes and back to Cusco.
Reserve a hotel for one night in Aguas Calientes.
Buy a Machu Picchu ticket (timed entry). Choose your circuit wisely.
Hire a tour guide (required to enter Machu Picchu).
Buy a roundtrip shuttle bus ticket from Aguas Calientes to the main entrance of Machu Picchu (or you can spend one hour hiking up the mountain for free, as I did the first time).
Arrange for a private transfer from the Cusco train station to your hotel.
Fly from Cusco back to Lima.
Depart Lima for home.
That's a lot to wrap your head around, and arranging it yourself is time-intensive. It wasn't until my third trip to Machu Picchu in Peru that I realized how complicated it is to get there.
Independent Trip vs. Group Tour
My first two visits were run by tour operators, one a trek with a local agency and the other a G Adventures tour I won in a drawing.
As I began designing the third trip, my girlfriend saw the work involved. She said she would've booked a group tour had I not embraced the planning required.
I want that effort to be of service to you, too. But if you get to the end and realize you'd rather pay for a group tour to make life easier, I wouldn't blame you!
There's no best way to see Machu Picchu. Do what will work best for you and any travel companions.
My biggest takeaway from figuring out how to get to Machu Picchu in Peru was that buying your entrance tickets first and building your trip around that day is best.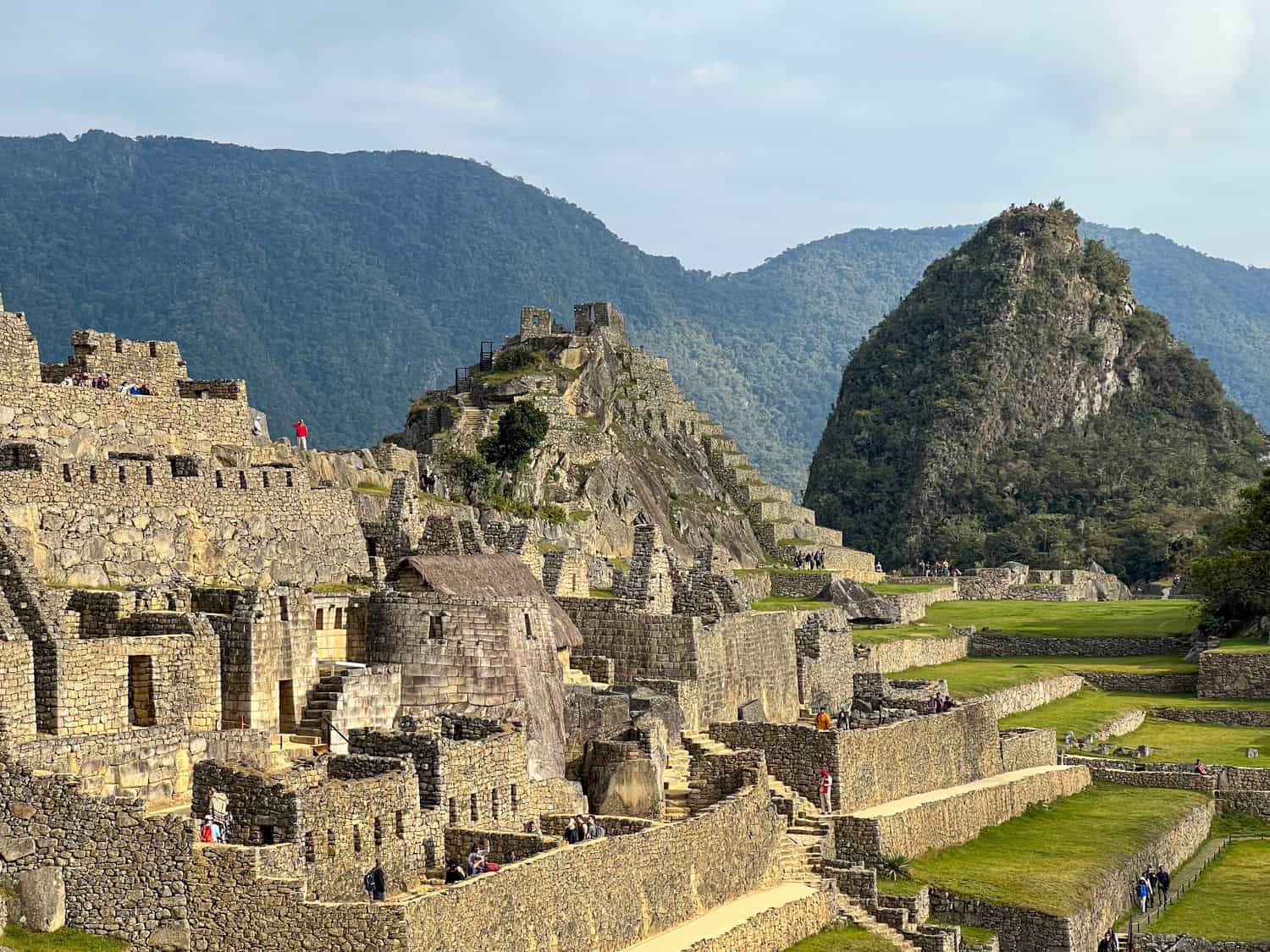 Machu Picchu Tickets
Due to the popularity of Machu Picchu, a UNESCO World Heritage Site, the Peruvian government has been implementing new rules to improve the site's sustainability.
While these measures can present challenges when planning, they're intended to protect and preserve the archaeological site.
Since 2019, these regulations include timed-entry tickets assigned to specific circuits (routes) through the Inca ruins.
Travelers must stick to the route assigned to the ticket they buy, and you're not allowed to backtrack.
The tricky part is that not all routes see the same views or features. Being forced to choose a circuit means missing out on some areas and vantage points at the ruins.
I suggest having a sense of the flights and trains you want to schedule but not buying those tickets until you've finalized your entry to Machu Picchu.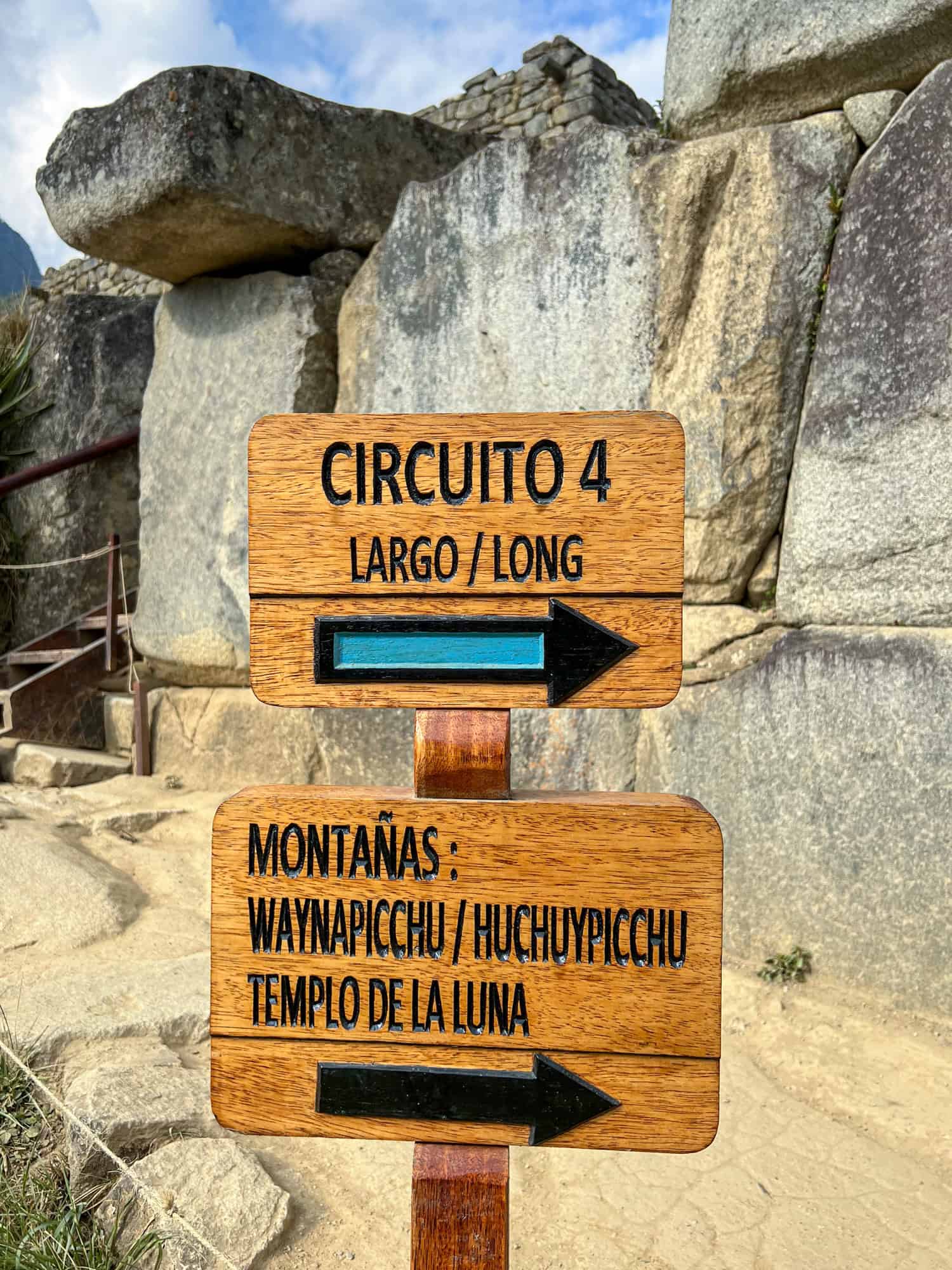 Choosing a Circuit
Even for someone who has visited Machu Picchu in Peru before, it can be difficult to visualize and compare the different circuits.
The official government website, where you can buy tickets online, is available in English and Spanish. There you can see maps of all five circuits through Machu Picchu.
The times indicated below are a guideline for the Machu Picchu site and do not factor in the time needed for side trips on Circuits 3, 4, and 5. You're given extra time if you choose those tickets.
Circuit 1 – Machu Picchu only (2 hours)
Circuit 2 – Machu Picchu only (3 hours)
Circuit 3 – Machu Picchu and Machu Picchu Mountain (1.5 hours)
Circuit 4 – Machu Picchu and Huayna Picchu (also spelled Waynapicchu) or Huchuy Picchu (2.5 hours)
Circuit 5 – Machu Picchu and Inca Bridge (1.5 hours)
The 1.5 to 2-hour hike to Inti Punku, the Sun Gate, is not allowed at this time. The only wait to see Machu Picchu from the Sun Gate is if you do the Inca Trail trek, as that's where you'll enter the ruins.
Unless you've read about and studied the ruins in detail, it can be hard to know what you're missing out on when you choose one circuit over another.
Making Your Decision
The easiest way to narrow your choices is to decide if you want a circuit with a side trip, such as climbing the popular Huayna Picchu. Since it's only an option on Circuit 4, your decision is made.
When Kel told me she wanted a birdseye view of Machu Picchu, I assumed she meant the view from atop Huayna Picchu, which I'd first climbed in 2011. Therefore, I bought our entrance tickets for Circuit 4.
It wasn't until we arrived at the ruins that we realized she was referring to the classic postcard photo (taken at the Guesthouse), which is only available on Circuit 1 and Circuit 2.
She took the mix-up in stride and got an unexpected mountain climb out of the experience.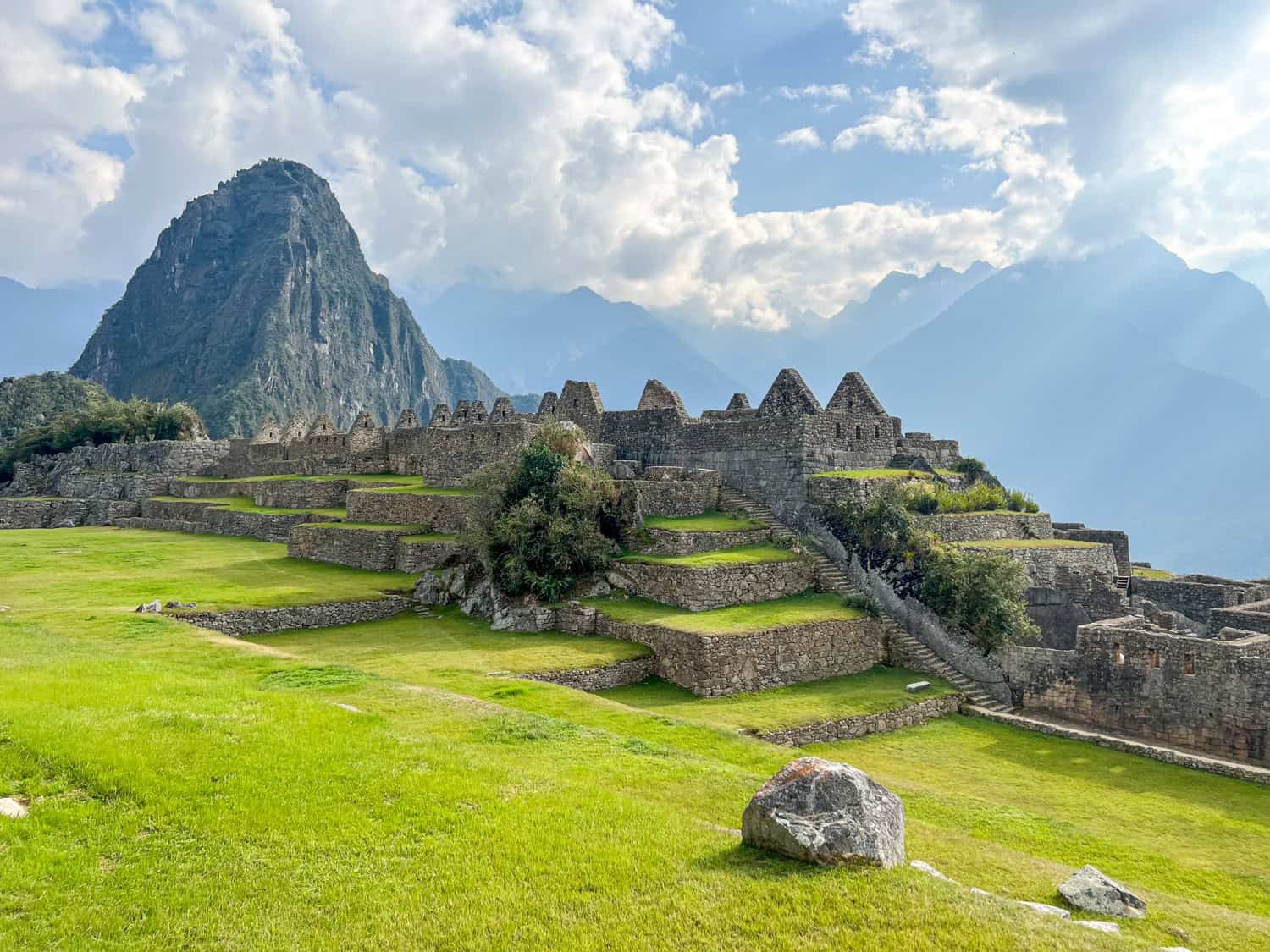 Buying Tickets Online
While you can buy tickets through the Peruvian government website, it's not the most user-friendly experience.
UPDATE: As of January 21, 2023, the government has indefinitely closed Machu Picchu and the Inca Trail to tourists due to anti-government protests in Machu Picchu Pueblo (often referred to as Aguas Calientes), Cusco, and Lima.

Per NPR, "Tourists who had already bought tickets for Machu Picchu from January 21, 2023, until one month after whenever the protests end will be able to obtain a full refund, the Culture Ministry said."
Alternatively, I recommend buying your tickets to the Machu Picchu citadel through a tour-booking site like Get Your Guide or Viator. They're better designed and easier to use.
I bought our non-refundable Machu Picchu and Huayna Picchu Entrance Ticket (Circuit 4) on Get Your Guide. Both the entrance to Machu Picchu and Huayna Picchu have specific times.
We chose the 8 a.m. time slot to enter Machu Picchu. Later, I learned this choice meant we could enter Machu Picchu as early as 7 a.m. to begin Circuit 4. 7 a.m. was the time on our ticket.
That's because it can take 40 minutes or more to reach Huayna Picchu, and our access to Huayna Picchu was from 8 to 9 a.m. Sounds confusing, I know.
And if you are late and miss entering Machu Picchu between 7 a.m. and 8 a.m., they can refuse entry to the park.
In that event, you'd only be able to get in on the same day if you could obtain a new timed entry for later in the morning or afternoon. As you'll see, that can throw off the rest of your itinerary and travel plans.
Our Experience
I believe 8 a.m. (really 7 a.m.) is the best time for Circuit 4 because it offers a nice balance between sleep and having time in the park.
We still had an early morning:
5:30 a.m. breakfast at our hotel
6 a.m. briefing with our local guide
6:30 a.m. shuttle bus to Machu Picchu entrance
7 a.m. enter Machu Picchu
8:30 a.m. climb Huayna Picchu
The tickets were $88 per person ($176 for two people). I also bought our roundtrip shuttle bus tickets from Aguas Calientes to the Machu Picchu entrance for an additional $35 per person.
The same non-refundable 8 a.m. Machu Picchu and Huayna Picchu ticket is available on Viator for $84 per person ($168 total for two people).
Once you buy the ticket, you'll receive confirmation via email, and at least with Get Your Guide, a second email with the actual entry ticket from a local tour operator.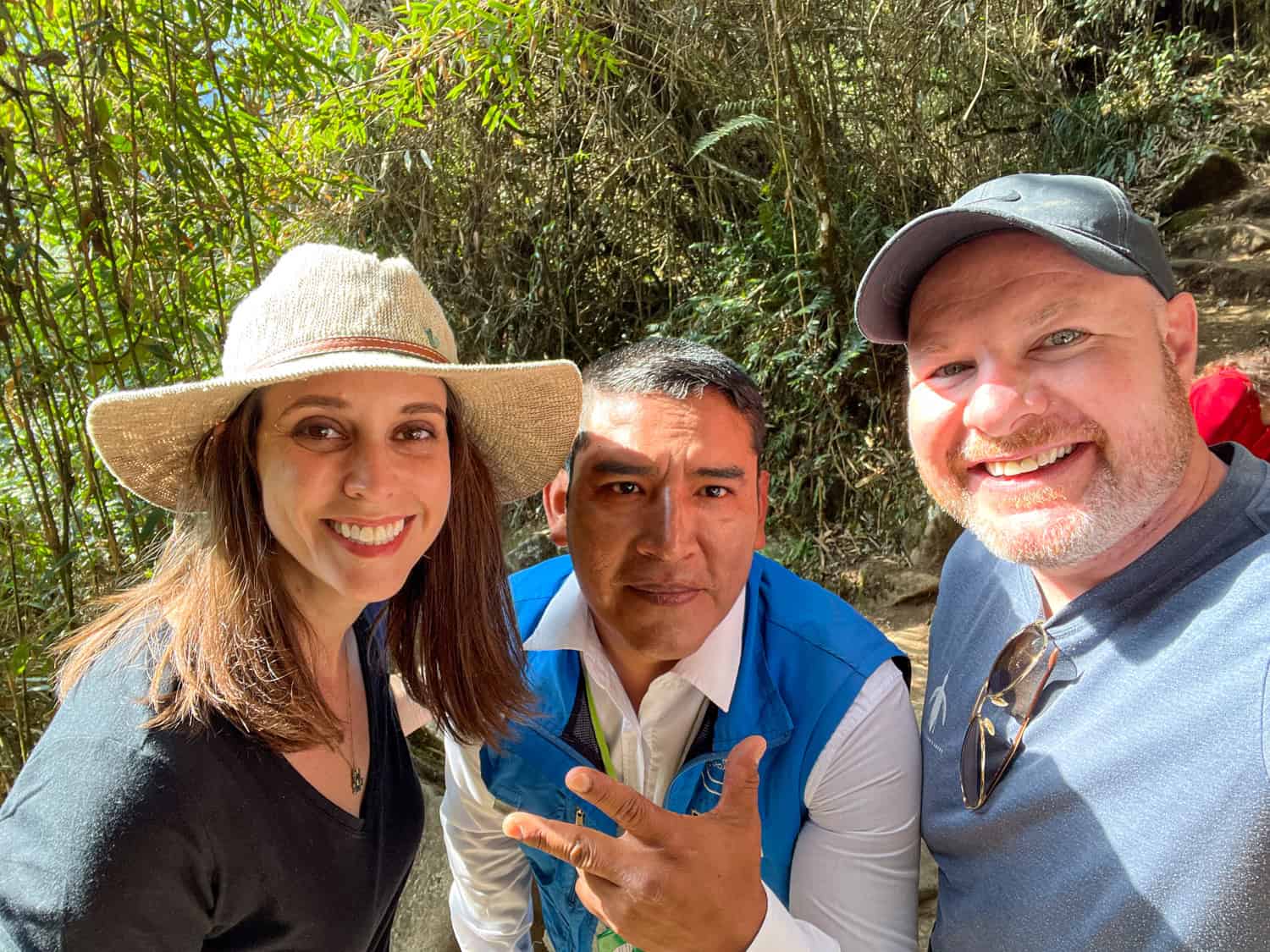 Hiring a Machu Picchu Guide
We received emails for our Machu Picchu tickets from Get Your Guide and the local tour company, emphasizing that an official tour guide must be hired to enter Machu Picchu. It's a park regulation.
Being a budget-conscious traveler, I researched this online. I found reader comments on other blogs saying a guide isn't required, or they weren't questioned upon entering Machu Picchu without a guide.
However, given our tight schedule, and it was Kel's first trip to Machu Picchu, I didn't want to risk any last-minute problems.
We hired a licensed, English-speaking private guide, Linder, for two hours for $78.
Getting a guide was easy to arrange through the tour operator that provided our Machu Picchu tickets. I could've also paid for the guide when I bought the entrance and bus tickets.
A group tour would've been $25 per person, or $50 total, through the same operator.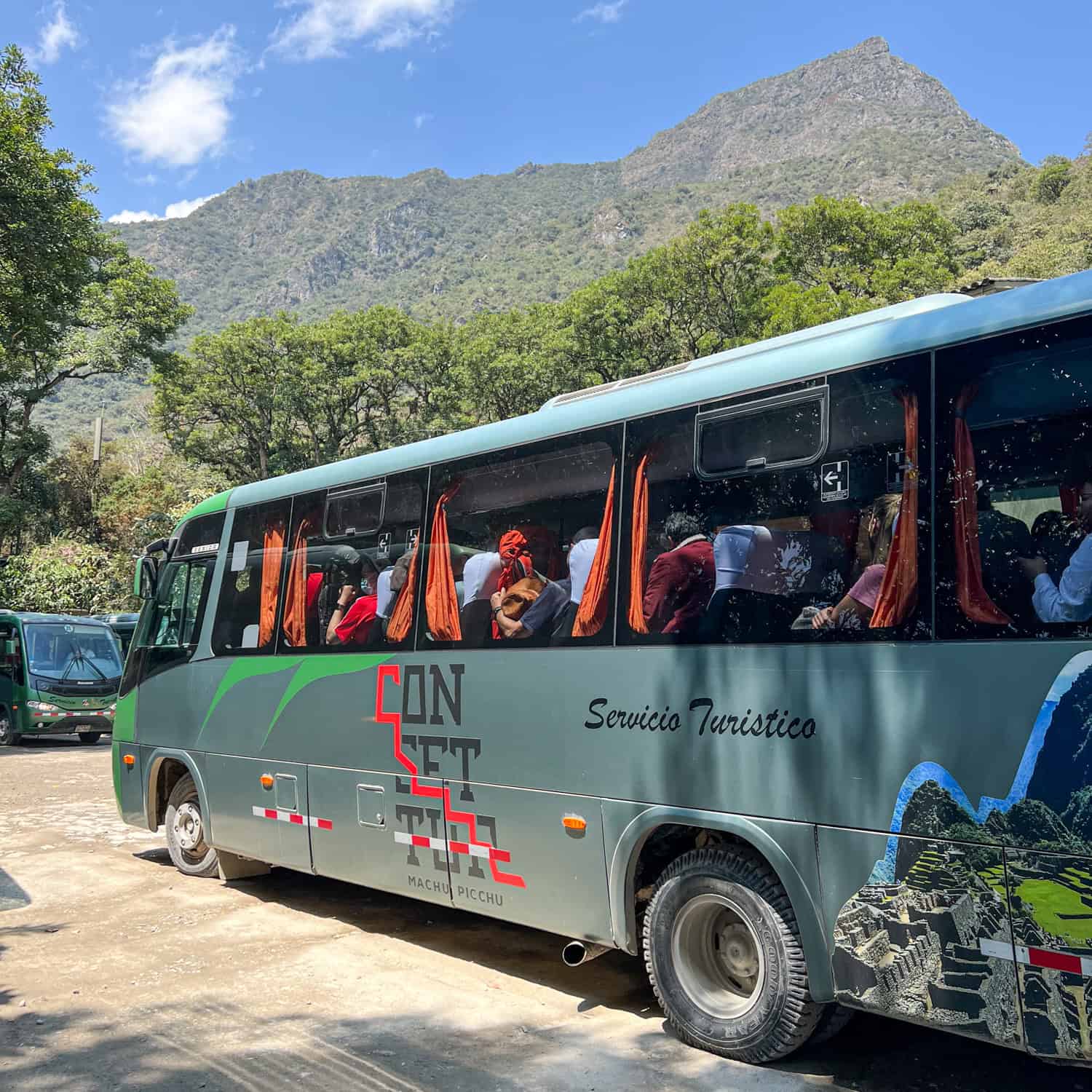 Shuttle Bus Tickets
In addition to your Machu Picchu ticket and guided tour, I recommend buying a roundtrip ticket for the shuttle bus from Aguas Calientes to the entrance of Machu Picchu.
The roundtrip cost is about $30 per person for foreign visitors, give or take a few dollars. Like the entry costs, it's significantly less for Peruvian nationals, students, and children.
This is a relatively cheap way to save yourself the time and energy of climbing up the mountain for an hour (while watching others in the buses whiz by you). I speak from experience.
I was so excited on my first visit to Machu Picchu that I awoke around 5 a.m. and climbed up the mountain via the path crossing through the many switchbacks used by the buses.
If you're in good physical shape but are prone to motion sickness or want the added challenge, by all means, go for it!
The views aren't that great due to the foliage, and it'll still be dark if you leave early in the morning.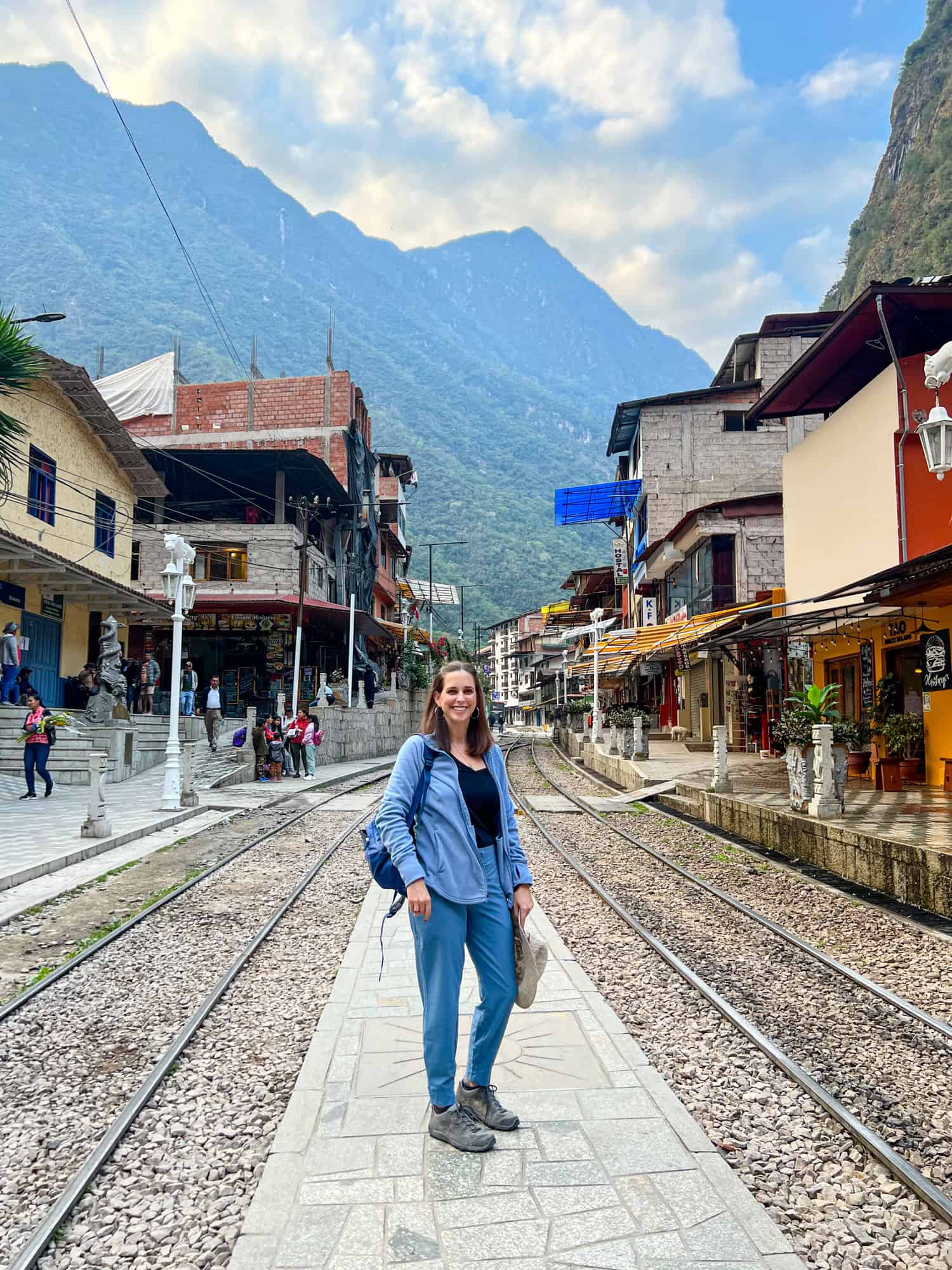 Hotels in Aguas Calientes
Now we're making some progress. While you can get to Machu Picchu in Peru as a day trip from Cusco, it'd be a long, tiring day that I wouldn't recommend.
I've spent the night before my visits to Machu Picchu in a hotel in Aguas Calientes on all three trips.
It's a small town, easy to get around on foot, and offers opportunities to support this remote community (through buying meals at restaurants, hotel stays, shopping, etc.).
Expect basic but comfortable accommodation; this isn't the place for luxury hotels. All the materials and resources in town must be brought in via the train tracks or on foot.
I booked one night at Tierra Viva Machu Picchu via Booking.com for $118. There are cheaper choices, but I liked that this one is adjacent to the river running through town.
Check all the hotel prices in Aguas Calientes. It only takes about ten minutes to walk from one side of town to the other, so location doesn't matter too much.
Pro Tip: Despite the town being named after hot springs, they're not much to look at, let alone get into. It's a bit of a walk to reach them, and I wasn't impressed.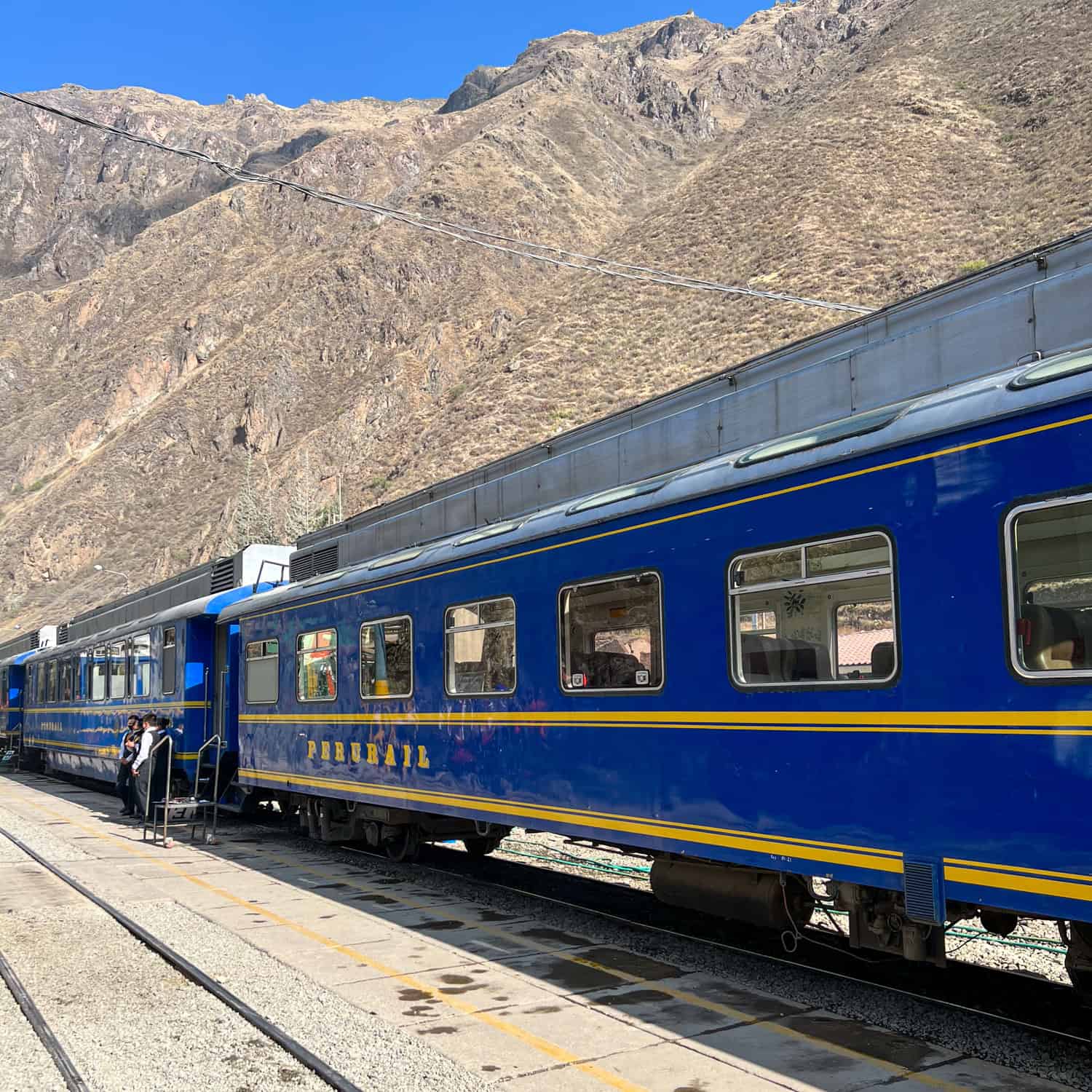 Train Tickets to/from Aguas Calientes
Aside from trekking, the only way to reach Aguas Calientes, and therefore Machu Picchu, is by train.
There are two train companies to choose from: Peru Rail and Inca Rail. Both offer a variety of service levels and departure times. The only luxury train is Peru Rail's Belmond Hiram Bingham.
The train schedules are available on each company's website. We used Peru Rail, and I bought the tickets through their website.
The 1:27 p.m. Vistadome train with panoramic windows departing from the town of Ollantaytambo for Aguas Calientes was $95 per person and took 90 minutes.
Cusco to Aguas Calientes
If you're staying in Cusco for at least one night before going to Aguas Calientes, you can catch an early-morning train from the city's train station (about a 30-minute taxi ride from the historic center).
This isn't a bad idea, as Cusco's elevation is higher than Machu Picchu, so the time spent acclimatizing can help you avoid altitude sickness if that's a concern.
Lima to Aguas Calientes
If you want to travel from Lima to Aguas Calientes in a single day, like we did, then you'll need a morning flight from Lima to Cusco and a private transfer from the Cusco airport to the Ollantaytambo train station.
Our Expedition train from Machu Picchu (Aguas Calientes) to Cusco departed at 3:20 p.m. It was $72 per person and took 4 hours and 25 minutes.
I don't know whether it was the train or the tracks, but it was a bumpy train ride.
Upon arrival at the Cusco train station in the evening, there weren't many taxis around, but we still managed to get one.
It took another 20 to 30 minutes to reach our hotel near the Plaza de Armas in the historic center.
Transfer from Cusco Airport to Ollantaytambo Train Station
If you need to get from the Cusco airport to the Ollantaytambo train station, you can either show up and negotiate with a taxi driver at the airport or book a transfer ahead of time.
I chose the latter and again used the company that had sent us our Machu Picchu tickets. The 2-hour private transfer was $25 per person.
This is a similar amount to what I found when researching the cost of a taxi ride when you show up at the Cusco airport.
On Get Your Guide, a private transfer was going for about $55 per person, so it pays to shop around.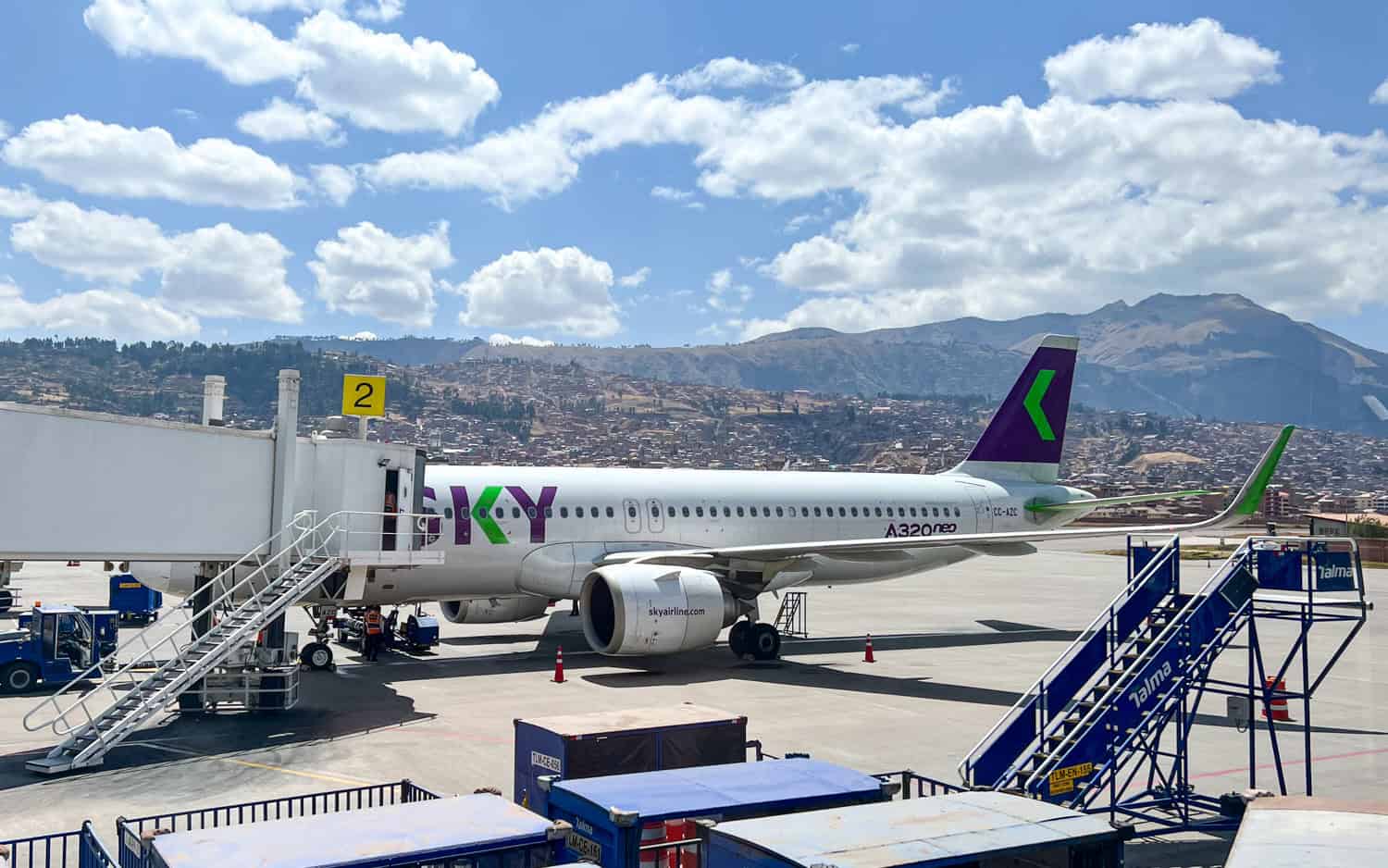 Flying to/from Cusco
The Alejandro Velasco Astete International Airport is Cusco's main airport. There are direct flights from Lima by several carriers throughout the day.
SKY Airline and Viva Air Peru are low-cost carriers with daily flights between Lima and Cusco. The larger and pricier LATAM Airlines also covers this route.
It's about an 80-minute flight, with a little more than one hour up in the air.
We used SKY Airline for our roundtrip flights between Lima and Cusco, and the experience was fine.
If I were to book Sky Airline flights a few months from the day I'm writing this article, the base fare would be $14 each way and $50 total. Expect to pay extra for seat selection and checked luggage.
Pro Tip: Prices can increase quite a bit during peak season (dry season) as demand soars. Your best option for a trip during the high season (think U.S. summers from June to August) is to book months in advance to get the times and says you prefer. The rainy season is in January, and best avoided.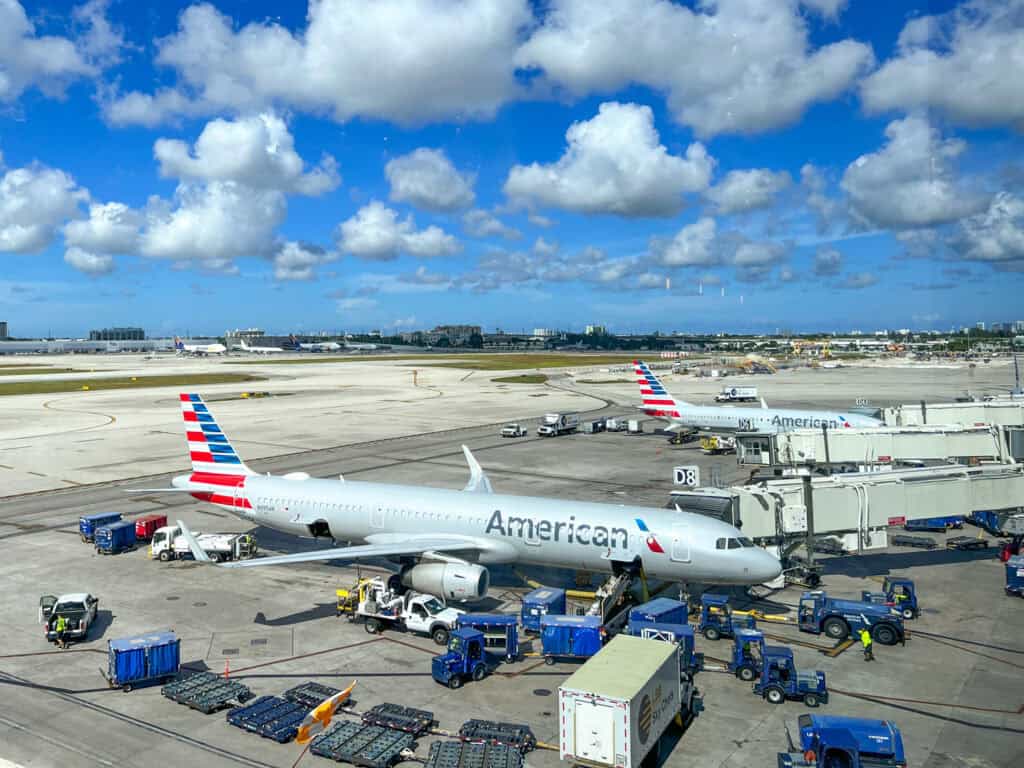 Flying to/from Lima
And finally, we arrive at the flights to/from Lima or wherever you decide to enter and exit Peru.
I like to begin with Kayak or Skyscanner to get an overview of carriers and costs.
We ended up flying from Austin to Lima via Miami with American Airlines. I used 49,029 Chase travel points worth $735 to cover the cost of my roundtrip flight.
Check out my story on travel hacking to learn more about how you can earn free flights.
***
If you're still with me, I appreciate your time and hope this information helped answer any questions about how to get to Machu Picchu in Peru.
The more time you can afford to spend on this trip, the more relaxed it will be. However, I can now attest to doing it in 7 days and 6 nights if time is short.
One last tip. There's much more to Peru than Machu Picchu. From the desert coastline, once home to ancient civilizations like Chan Chan, to the snow-capped mountains around Huaraz and the Amazon rainforest of Tambopata, Peru is incredible.
Dave is the Founder and Editor in Chief of Go Backpacking and Feastio. He's been to 66 countries and lived in Colombia and Peru. Read the full story of how he became a travel blogger.
Planning a trip? Go Backpacking recommends: