Hiking Huayna Picchu mountain, the iconic peak in the background of every visitor's photos of Machu Picchu, is a short but strenuous undertaking.
What began as a miscommunication ended as a magnificent addition to our Peruvian adventure.
For years, I've longed to see Machu Picchu in person. Dave had visited twice, first trekking in 2011 and again on a seven-day Machu Picchu tour he won.
When he discovered the ancient city in South America was high on my destination bucket list, he went into planning mode to make it happen.
That's when the misunderstanding occurred. As we discussed the trip, I mentioned my desire for a picture with the ruins below me.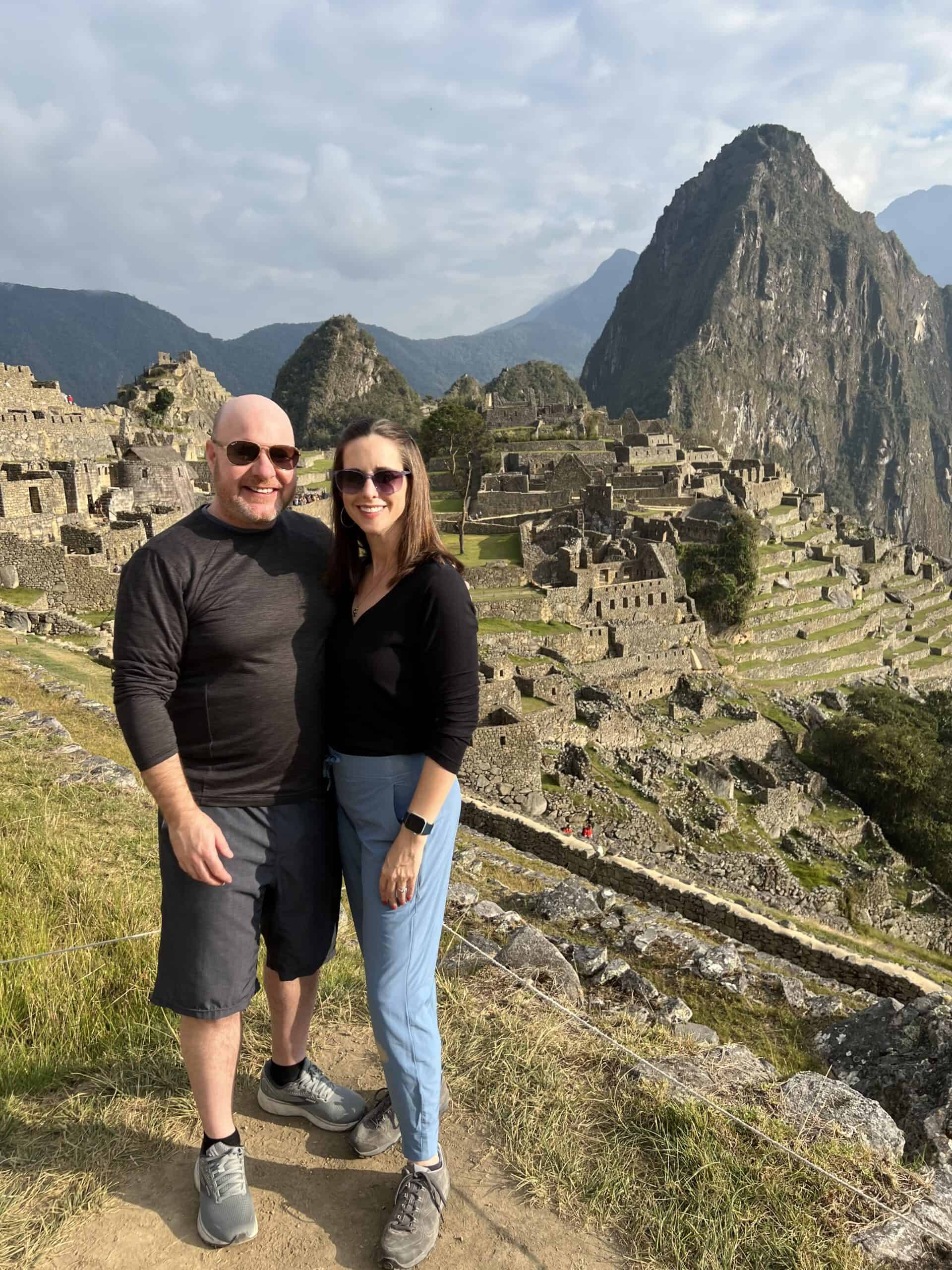 Dave interpreted this as a bird's eye view. In the past, this required purchasing Huayna Picchu tickets in Cusco in addition to Machu Picchu tickets; however, the process has changed in recent years.
To get that shot today, we needed to buy Machu Picchu tickets for Circuit 4, the only route that provides access to climb Huayna Picchu (also spelled Wayna Picchu).
Only months later, Dave realized I meant the classic shot tourists take at the Machu Picchu citadel.
Too late, we were already in Aguas Calientes, Peru, and committed to climbing Huayna Picchu.
Pro Tip: While Machu Picchu is a year-round destination, be aware that the rainy season runs from November to March and brings a greater chance of wet weather.

However, Dave's first two visits were in November and February, and he didn't experience rain. If you want to play it safe, the best option is to plan for the dry season between May to September.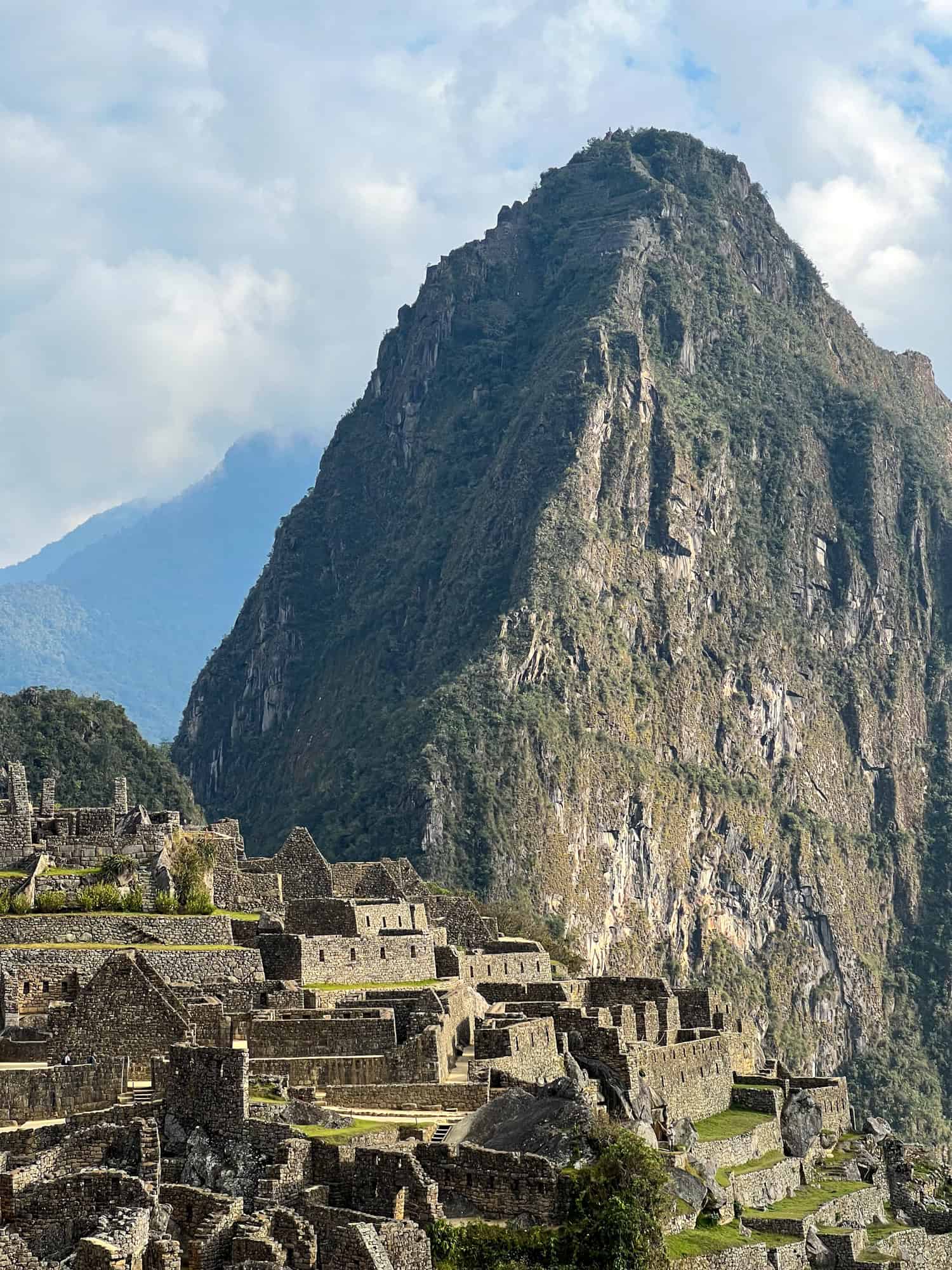 About Huayna Picchu
While Machu Picchu is the big draw for visitors, you shouldn't overlook an opportunity to hike Huayna Picchu.
In Quechua (the language of the Incas), "Wayna Picchu" means "young mountain." The peak looms in the background of most Machu Picchu tourist photos.
The Incas utilized granite at Machu Picchu to build their massive citadel in the 15th century. Their superior stonework is also evident on Huayna Picchu, the mountain behind Machu Picchu.
Terraces, like the ones found at the main site, were likely used for agriculture.
Stone dwellings were also built on Huayna Picchu, which locals believed housed the high priest, and may have also been used for religious services.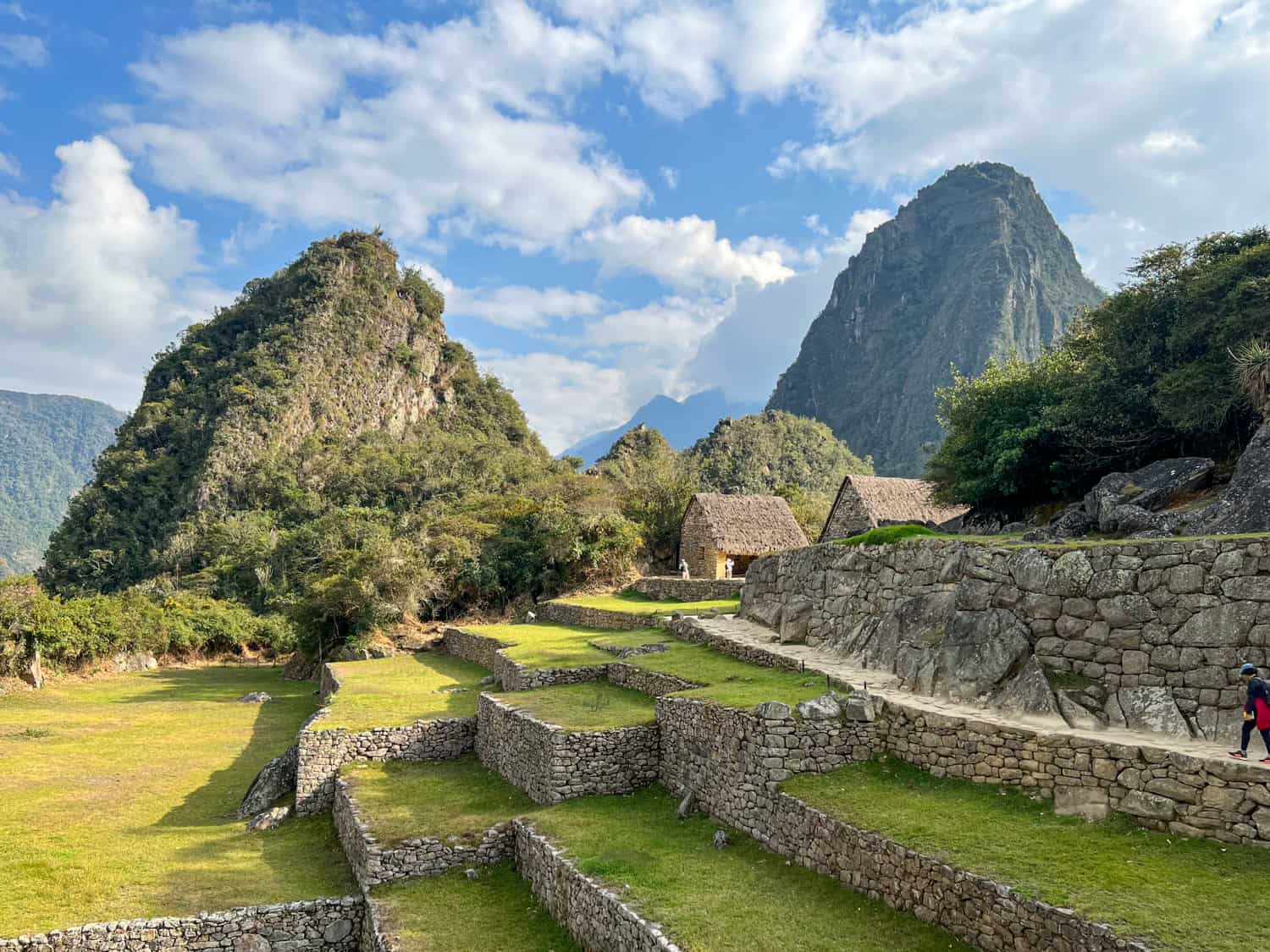 Choosing a Circuit for Machu Picchu
On Dave's initial visit to Machu Picchu, his trekking guide provided a guided tour, after which he could wander more freely than visitors can today.
In recent years, regulations have become more strict; visitors must choose a circuit to walk in advance when they book their tickets and can't backtrack.
Keep this in mind, as you won't see every aspect of the Incan ruins.
Visitors must choose one of five circuits that take different paths through the ancient Incan ruins when buying tickets.
To climb Huayna Picchu, you must choose Circuit 4. With only 400 permits issued daily, it's best to book tickets months in advance.
Dave purchased our tickets through Get Your Guide, although you can also buy them from the official website run by the Peruvian government.
Dave wrote about our complicated process of getting to Machu Picchu, which included trains, planes, and automobiles.
We chose the 8 a.m. entrance time for Machu Picchu, knowing early mornings offer cooler temperatures and potentially fewer people.
Considering the weather conditions, crowds, and sleep, we believed this to be the best time.
After booking it, we received our Machu Picchu ticket with an entrance time of 7 a.m. as it takes 40 minutes or more to reach the entrance to Huayna Picchu, and our access to that mountain from 8 to 9 a.m.
It was a smart move as we had two hours in the main park and two to climb the majestic mountain overlooking Machu Picchu.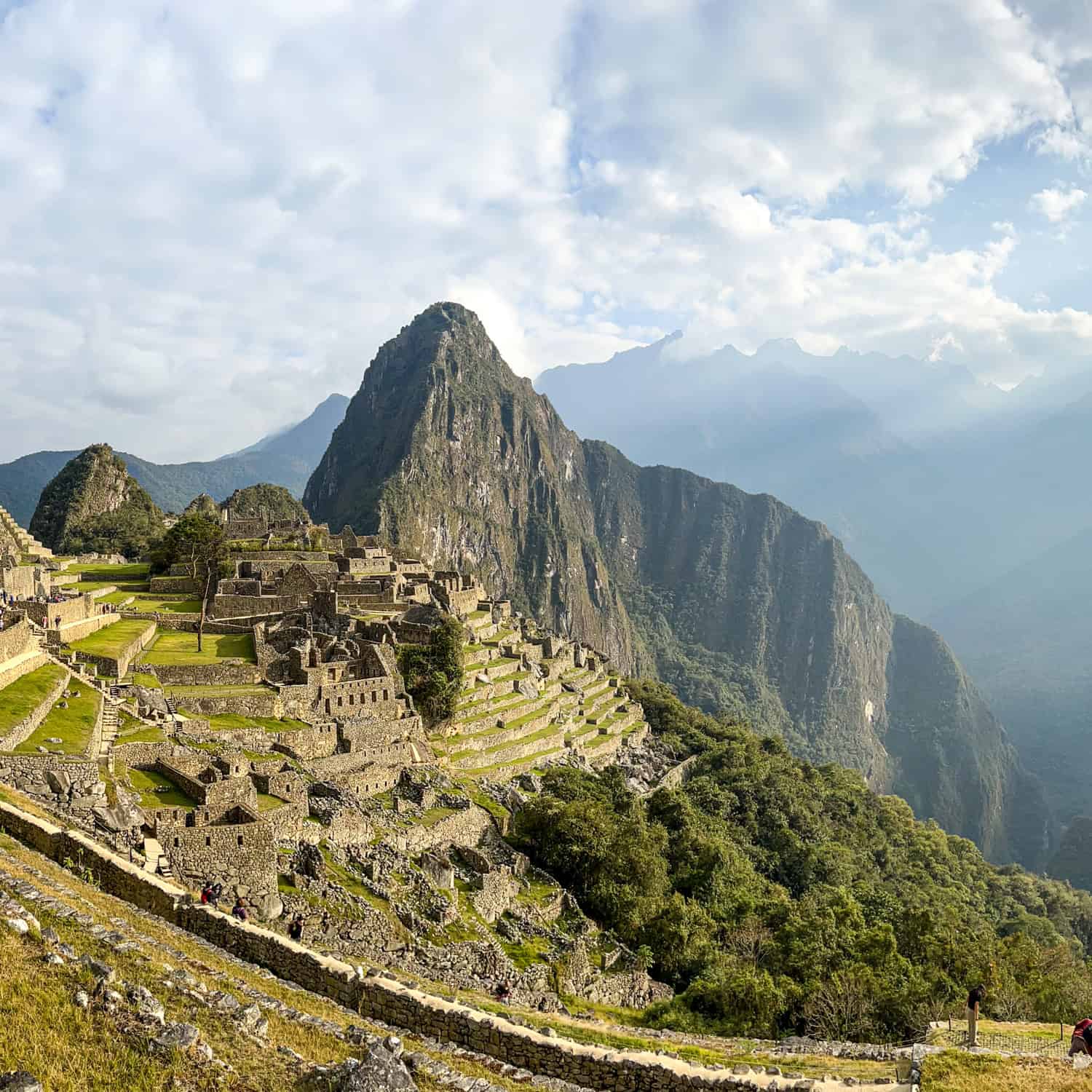 Historical Guidance
A tour guide, Linder, led us along the paths throughout the Machu Picchu portion of our trip. It's required to hire a guide, and we aptly chose the slightly more expensive private tour option.
We passed a more extensive group trying to listen to the guide and take in the surroundings, and it was clear they weren't having the experience we were.
Linder was knowledgeable and fun, gamely taking photos and suggesting picturesque spots.
His knowledge of the site reinforced stories I read in Take a Left at Machu Picchu, a captivating retelling of American explorer Hiram Bingham's "discovery" of the city in the clouds.
Although Peruvians knew of the ancient Incan site, it had been abandoned for centuries and was unknown to the rest of the world until 1911.
Bingham's photos and story in a 1913 issue of National Geographic created quite a sensation.
In 2019, a record 1.5 million visitors saw Machu Picchu in person. Thanks to Bingham, it was the find of a century.
After trekking through the granite citadel and admiring the precisely cut stones, Linder led us to the base of Wayna Picchu.
He recalled climbing the mountain and was happy to say his goodbyes without revisiting the experience.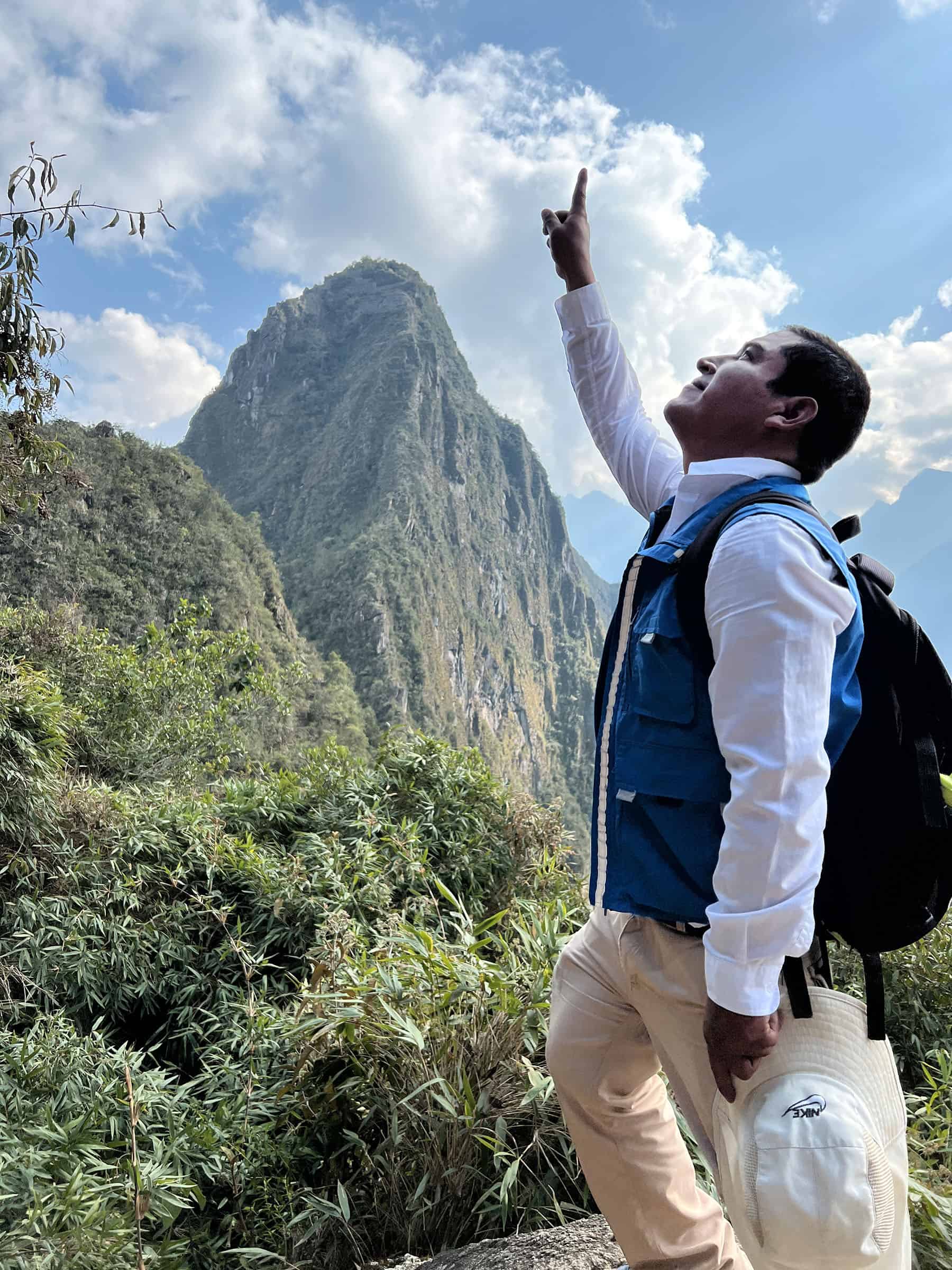 Huayna Picchu Hike
We signed the logbook with our names, entry times, nationalities, and passport numbers at a small guardhouse at the base of Huayna Picchu.
The mountain, at 8,750 feet (2,667 meters) above sea level, was slightly intimidating to us amateur climbers. And Dave has a mild fear of heights.
But we were also excited to see Machu Picchu from the peak of Huayna Picchu and check out the additional stonework on the taller mountain.
A large sign at the trailhead directed us up the first of many sets of stairs. The wide stairs were an easy entryway to our journey upward.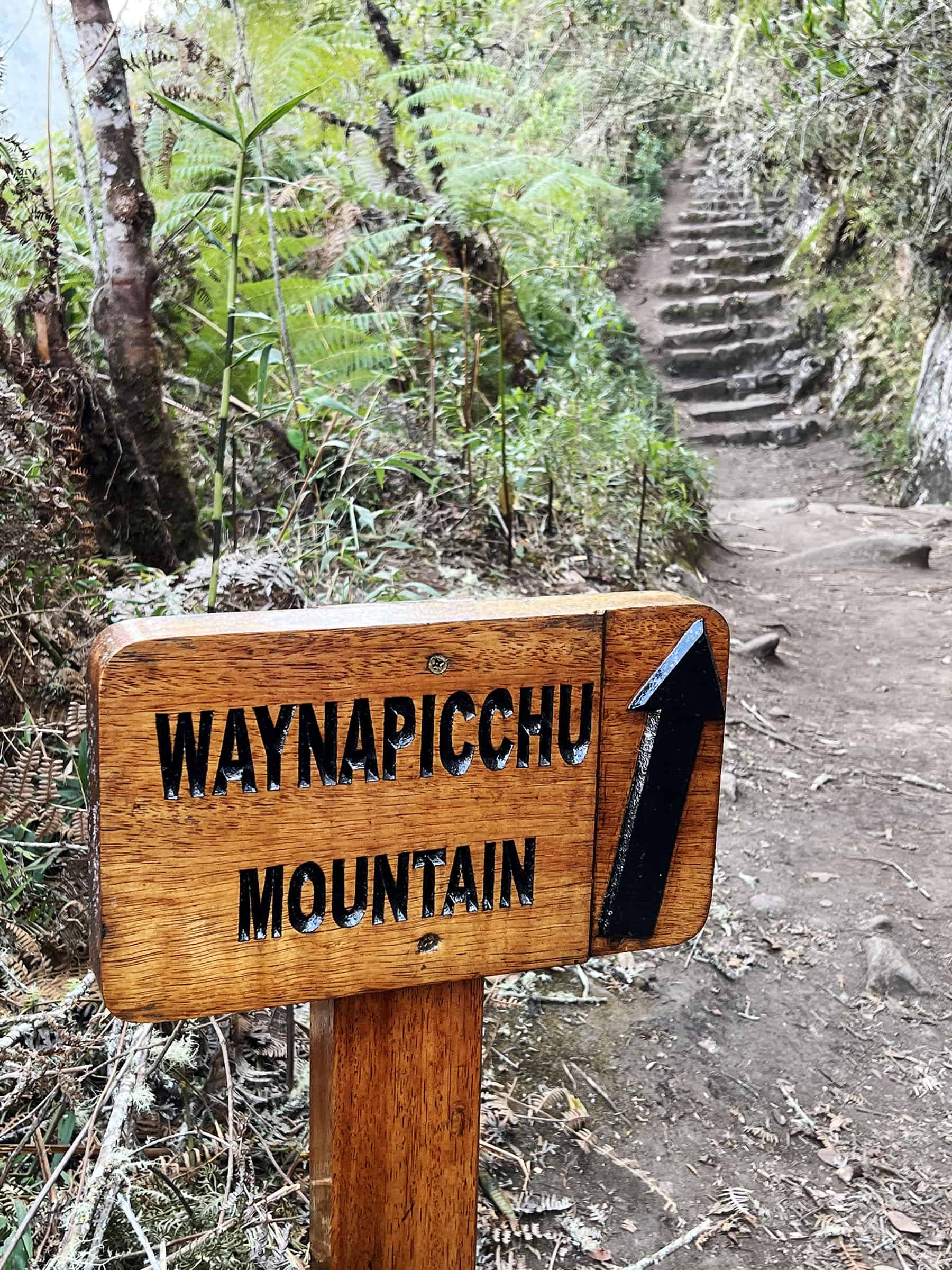 As we rose higher, the stairs became narrower and steeper. Steel cables and wooden handrails made it more manageable, and we were rewarded with sneak peeks of Machu Picchu below.
As Linder suggested, we took breaks as needed, adjusting to the higher altitude. I can't stress enough the importance of acclimatizing to the altitude before embarking on this hike.
It's recommended to spend a day or two in Cusco, which is at a higher elevation, before going to Machu Picchu. This can help you avoid the adverse effects of altitude sickness.
Climbers on their way down encouraged us, estimating how much more of an ascent was before us.
We also noticed people chewing coca leaves, an ancient Andean method of helping the human body to cope with high altitudes.
In preparation, we'd sipped coca tea the previous days and at breakfast that morning.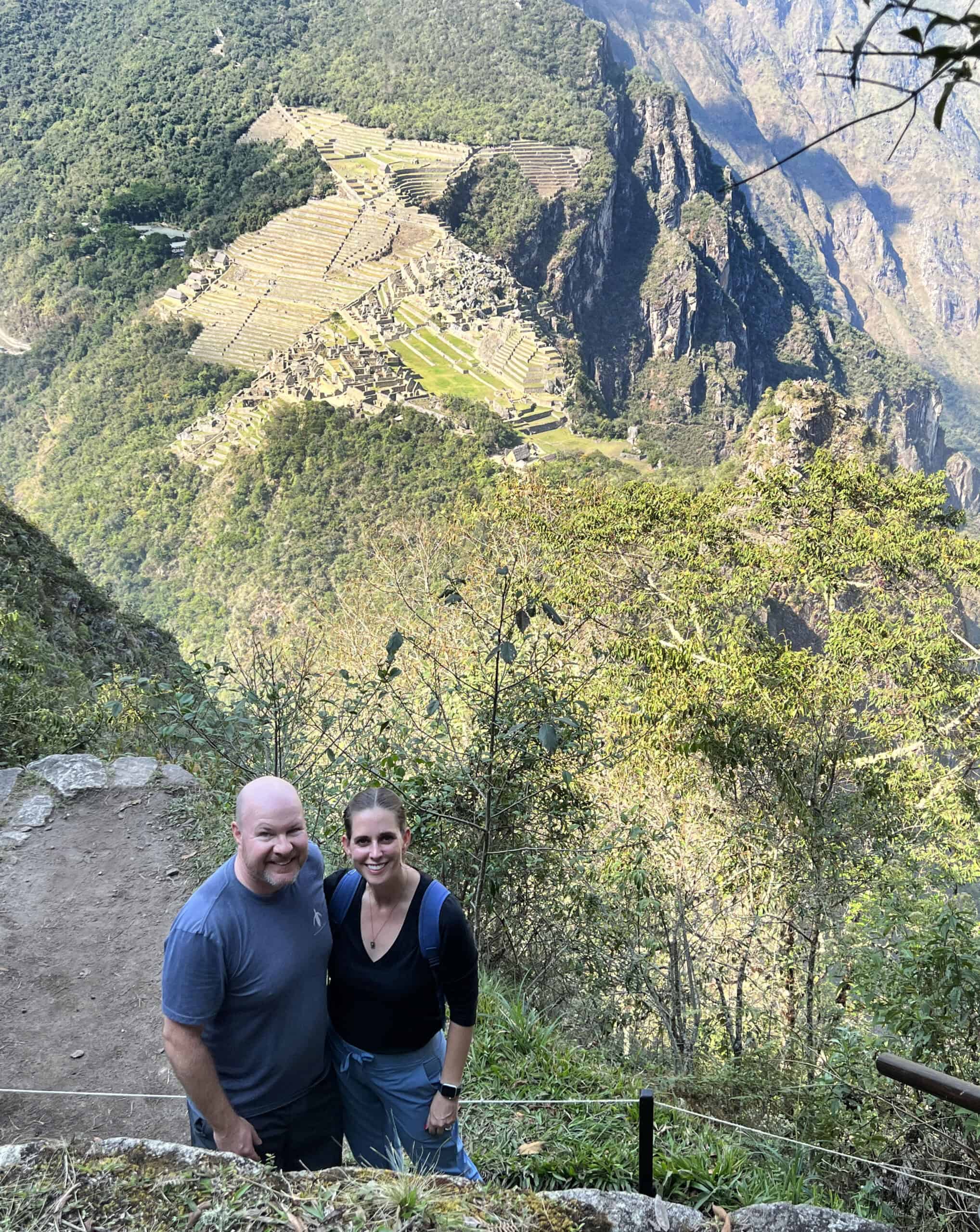 Winding around the mountain, we kept climbing. After an hour, we reached the first remnants of civilization besides stone steps.
A steep set of terraces greeted us, and we could see the walls high beyond, a physical announcement of our final destination.
The first terrace offered a clear view of Machu Picchu below and all the surrounding mountains. You don't truly grasp the city's vastness until you see it from above. Bird's eye view indeed.
We encountered narrow, steep steps adjacent to the terraces. The railings helped, but I utilized my hands where they didn't exist as we drew closer to the top.
It was a steep ascent, but I always felt safe climbing. We were a bit tired but knew the summit was near. With our thighs trembling, we soldiered on.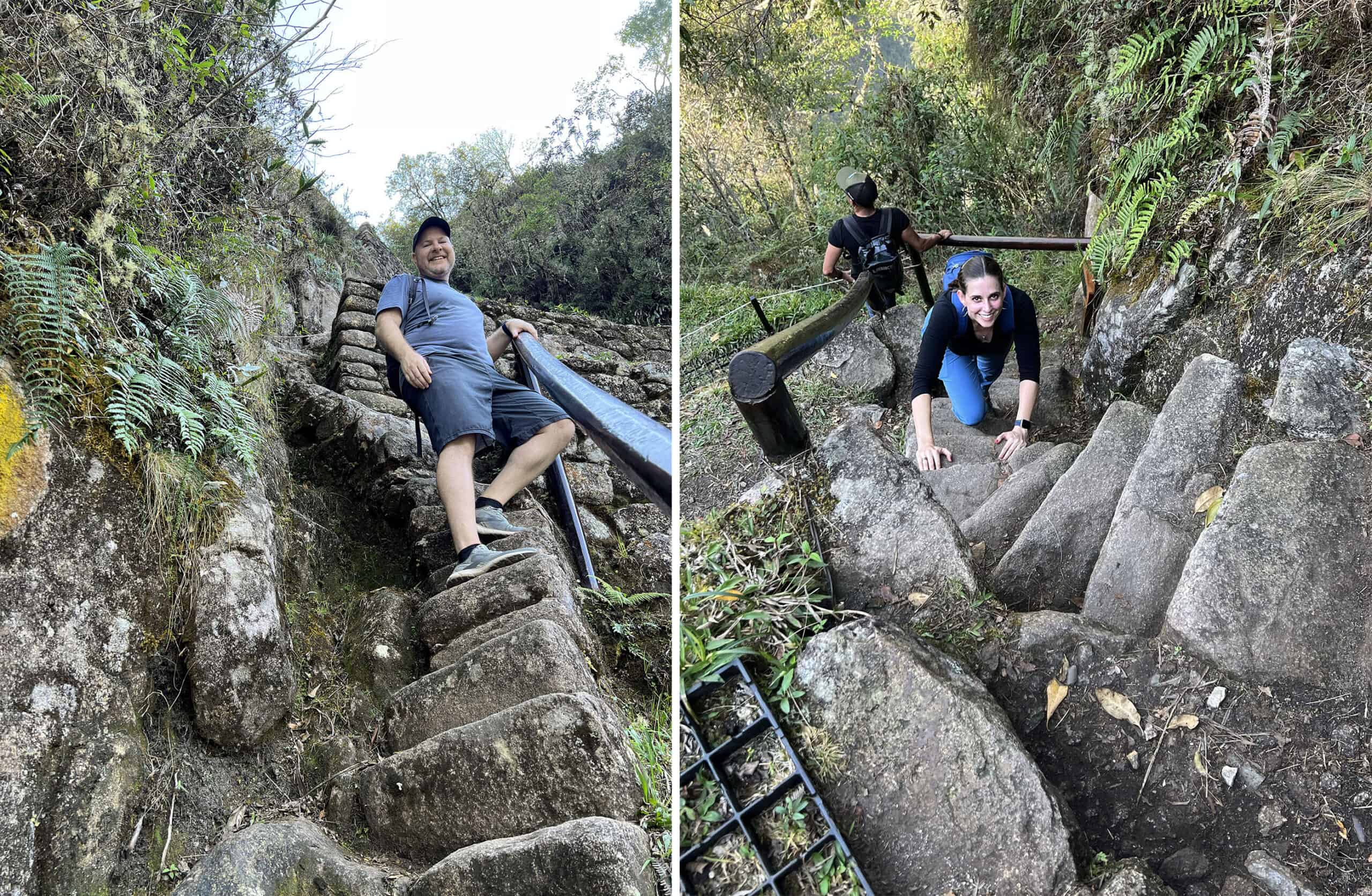 Top of Huayna Picchu
Before reaching the top of the mountain, we checked out a stone building with open windows and doorways, providing breathtaking views of the Andes.
The intricate stonework at Machu Picchu is a fantastic feat, particularly the granite blocks that fit so perfectly there's no mortar.
But to see that same craftmanship on a mountain even taller is another testament to the ingenuity and determination of the Incas.
Leaving the granite house, we reached the final stairs to the summit. A daunting final climb, these stairs have lovingly been dubbed the "Stairs of Death."
While they are steep and it doesn't look very safe, it's an easier climb than it appears. On the open side, there are terraces below, so there is no real danger of falling.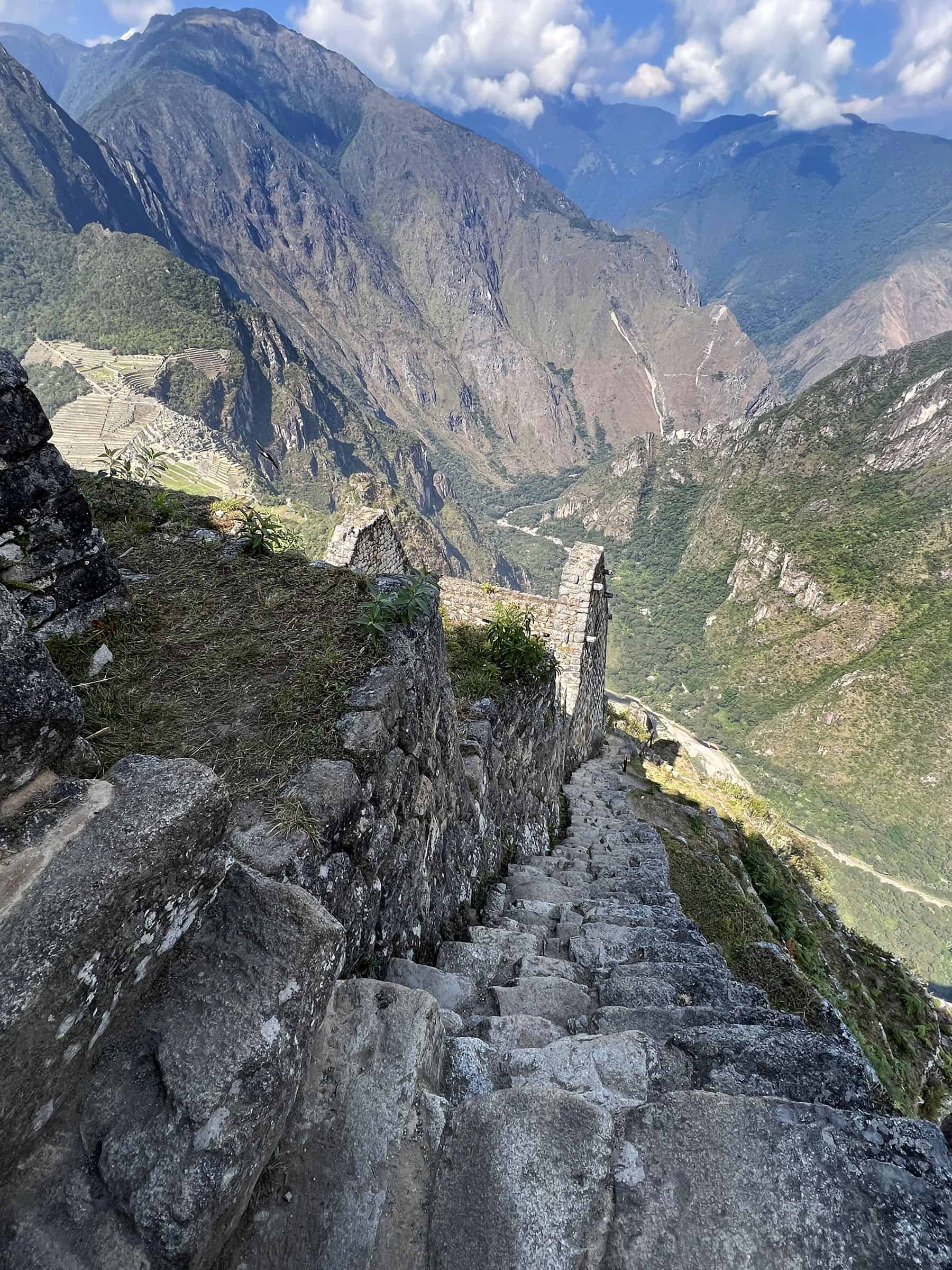 Looking back down, the Stairs of Death appear more menacing than they are in reality.
At the top, we snapped pictures with the elevation sign and wandered around to the edge.
To say it was majestic views is an understatement. In every direction were blue skies and green mountains.
Below, the Urubamba River snakes around the Putucusi mountain, cutting through the Andes.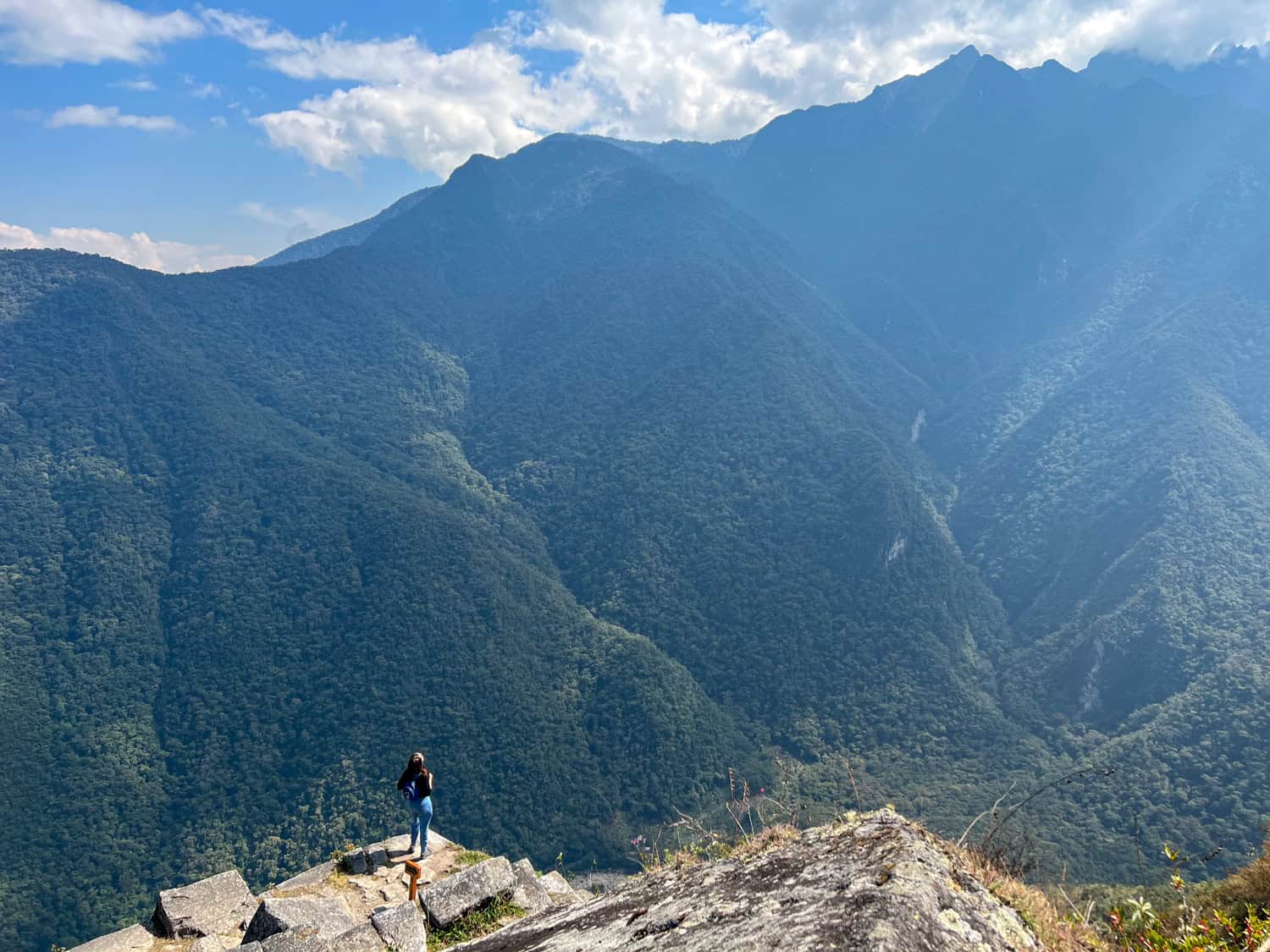 The Andes mountains greet you in all directions at the summit. Arrows directed us around the mountain, returning us to magnificent views of Machu Picchu.
There were numerous spots to snag photos, including rocks that were easy to sit on and looked more treacherous than they were.
This vantage point provided epic views of the ancient city nestled among the mountains.
We relished the emptiness of a nearby ledge. It felt like we had Huayna Picchu and Machu Picchu to ourselves for a few moments.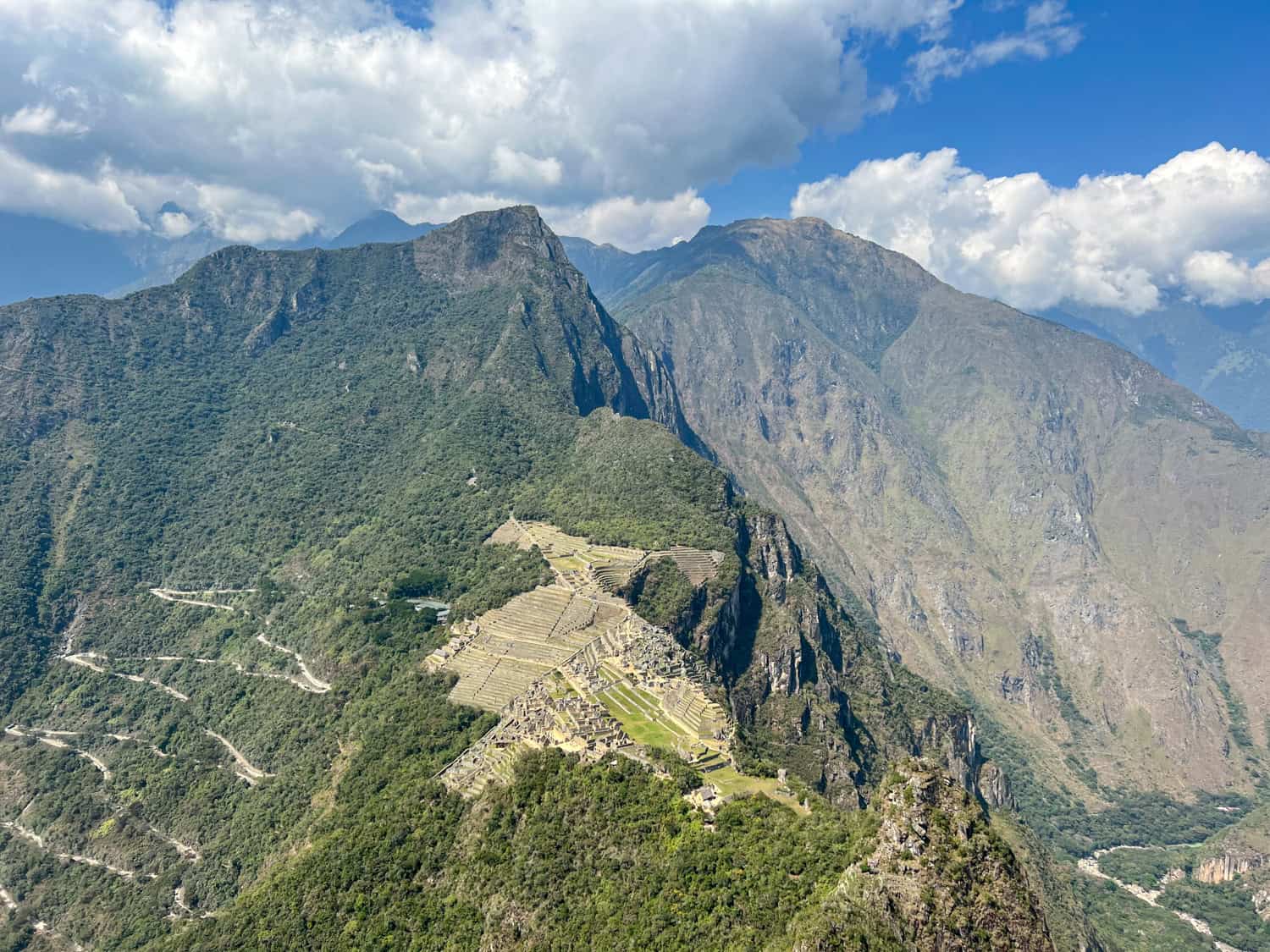 We also felt safe standing near the ledge, considering there was another ledge about three feet down.
We spied several tourists climbing onto a large granite rock jutting out with the sprawling citadel below.
Waiting our turn, Dave and I each gamely climbed out on it while a local, perched on a higher rock, took individual pictures of us.
In hindsight, although I like seeing the winding bus route up the mountain, I prefer the photo taken from the easier-to-get-to vantage point.
On the left, there's an easy rock to walk up and safely sit on for pictures. On the right was a more challenging spot where you had to climb over rocks and carefully scoot up the incline.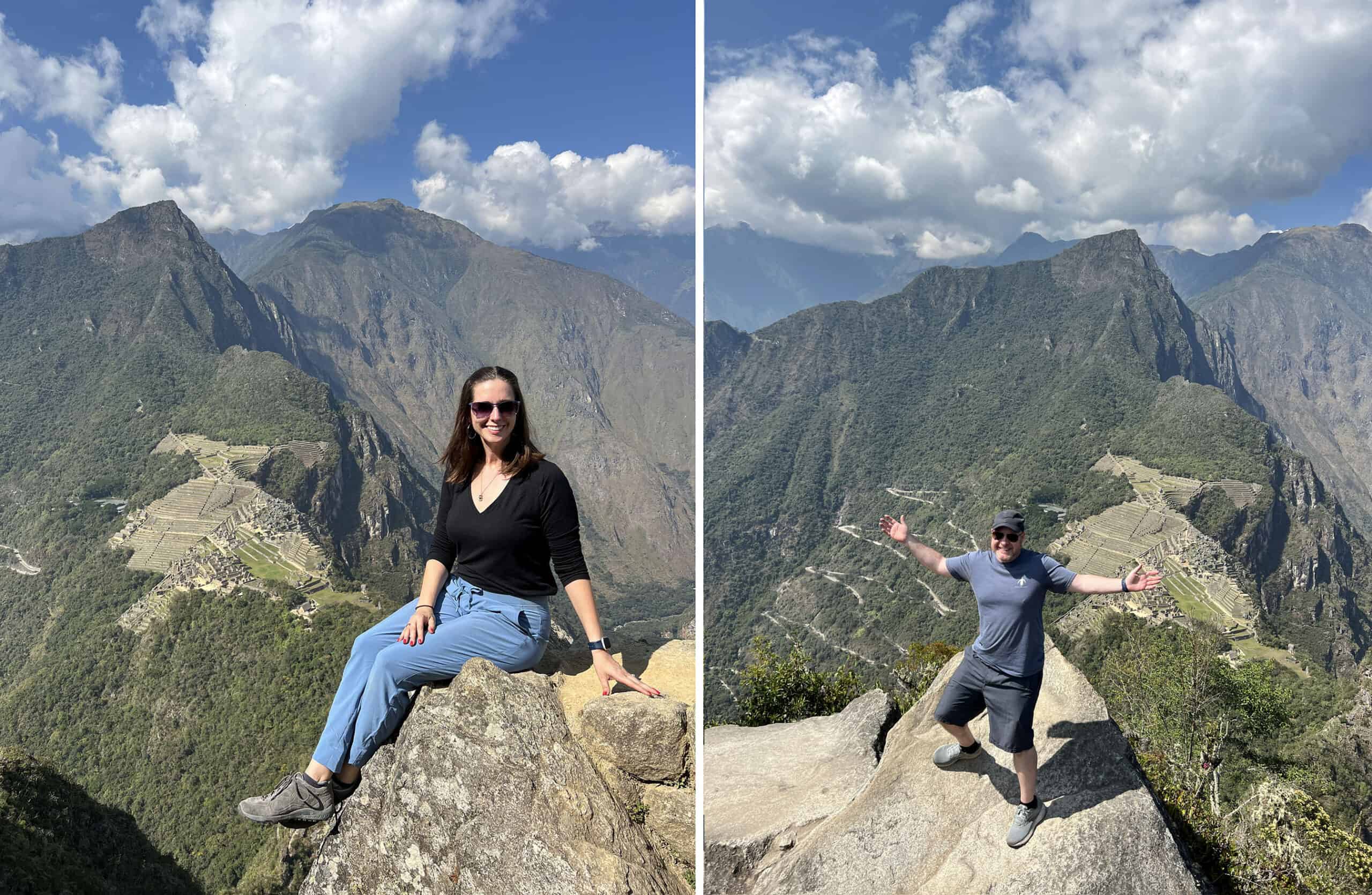 Hiking Down Huayna Picchu
What we weren't expecting was trekking through a natural cave to go back down. Following the signs, stone stairs led us through a small crevice in the rocks.
Ducking, we walked through the small enclosed passage and toward the other end; I wedged myself through the opening and, thankfully, back into the light.
After passing through the tunnel, we were reunited with the original path and headed back down the mountain.
A spur trail also leads down to Gran Caverna and the Temple of the Moon (you'll need extra hiking time if you plan on taking this side trail).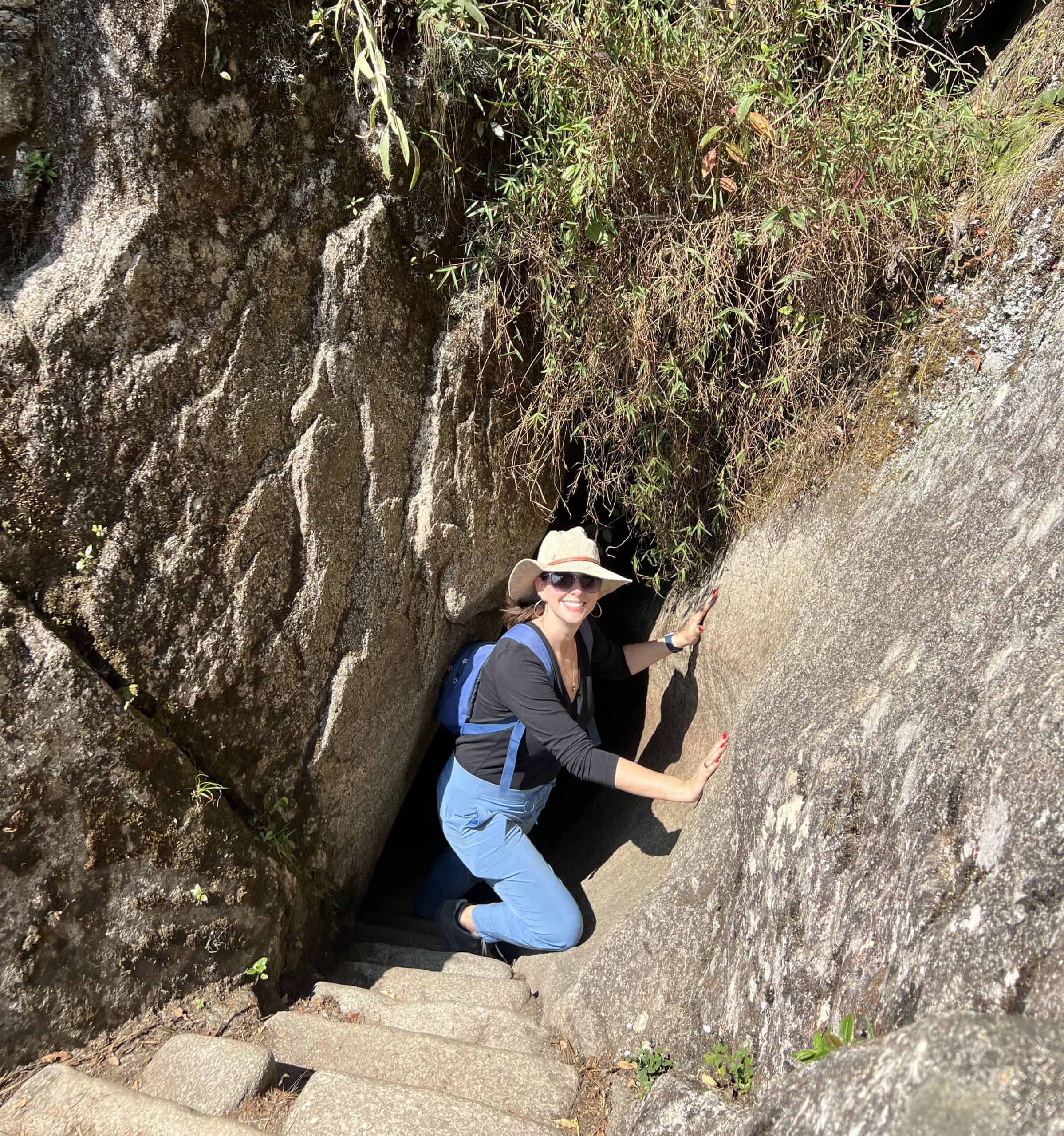 Heading back down from the summit of Huayna Picchu was a quicker venture, and like was done for us, we encouraged climbers on their way up.
Multiple visitors asked how much further, and also, like our predecessors, I'm sure our estimates were wildly off.
At the bottom, we signed out of the logbook, and I was pleased to see the trip took us around two hours in total.
As we headed back to the grounds of Machu Picchu, I looked back to admire the mountain we had climbed.
An easy trek for the experienced climber; average hikers in good physical condition can make the trip in two to three hours.
You'll hike about 2.5 miles with about 1,000 feet in elevation gain. The ascent is steep at some points, so take time to catch your breath and rest your thighs; they will hurt the next day.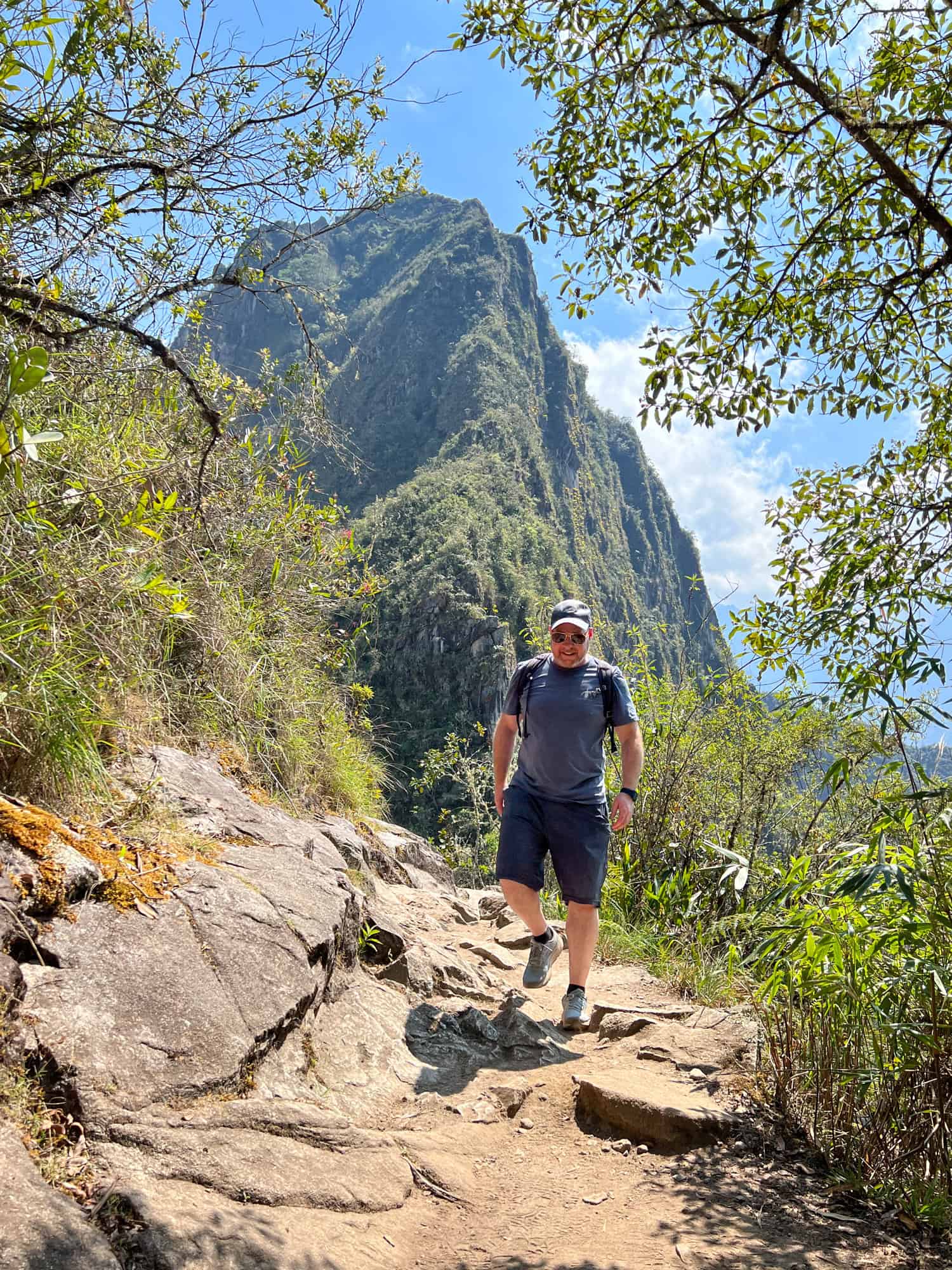 Completing Circuit 4
Upon leaving Huayna Picchu, you'll resume Circuit 4 through Machu Picchu until you reach the exit.
It's one more opportunity to admire the stonework and the massive grounds. It's awe-inspiring to see the number of buildings, walls, and terraces that make up the citadel on a mountain.
For them to stand more than 500 years later, despite erosion and earthquakes, is a testament to the Incas' building skills.
As we headed out, we had one more chance to snap that iconic image everyone takes at Machu Picchu.
Thanks to a misunderstanding, I had the image I wanted and one I didn't know I needed.
If you can visit the Inca citadel of Machu Picchu, it's worth the extra effort to hike Huayna Picchu. From the top, you'll enjoy some of the best views of the ruins.
____
Note: We're appreciative of the opportunity to visit Machu Picchu and Peru, considering the unrest in late 2022 and early 2023. As of January 2023, the historic site is temporarily closed.
Planning a trip? Go Backpacking recommends: