When is the best time to visit Miami, Florida? Whether your trip to Miami includes a stay at one of the area's exclusive hotels like the W Hotel or staying in one of the many luxurious vacation rentals in Miami Beach, when you visit impacts what you'll pay and can experience.
If you go in the high season, you'll get great weather in the summer, but you'll miss out on lower prices and smaller crowds (but still pleasant weather) in the winter months.
Of course, Florida is the Sunshine State. South Florida and Miami are noted for a moderate average temperature year-round, but significant events and seasonal adjustments will play a part. Let's take a closer look.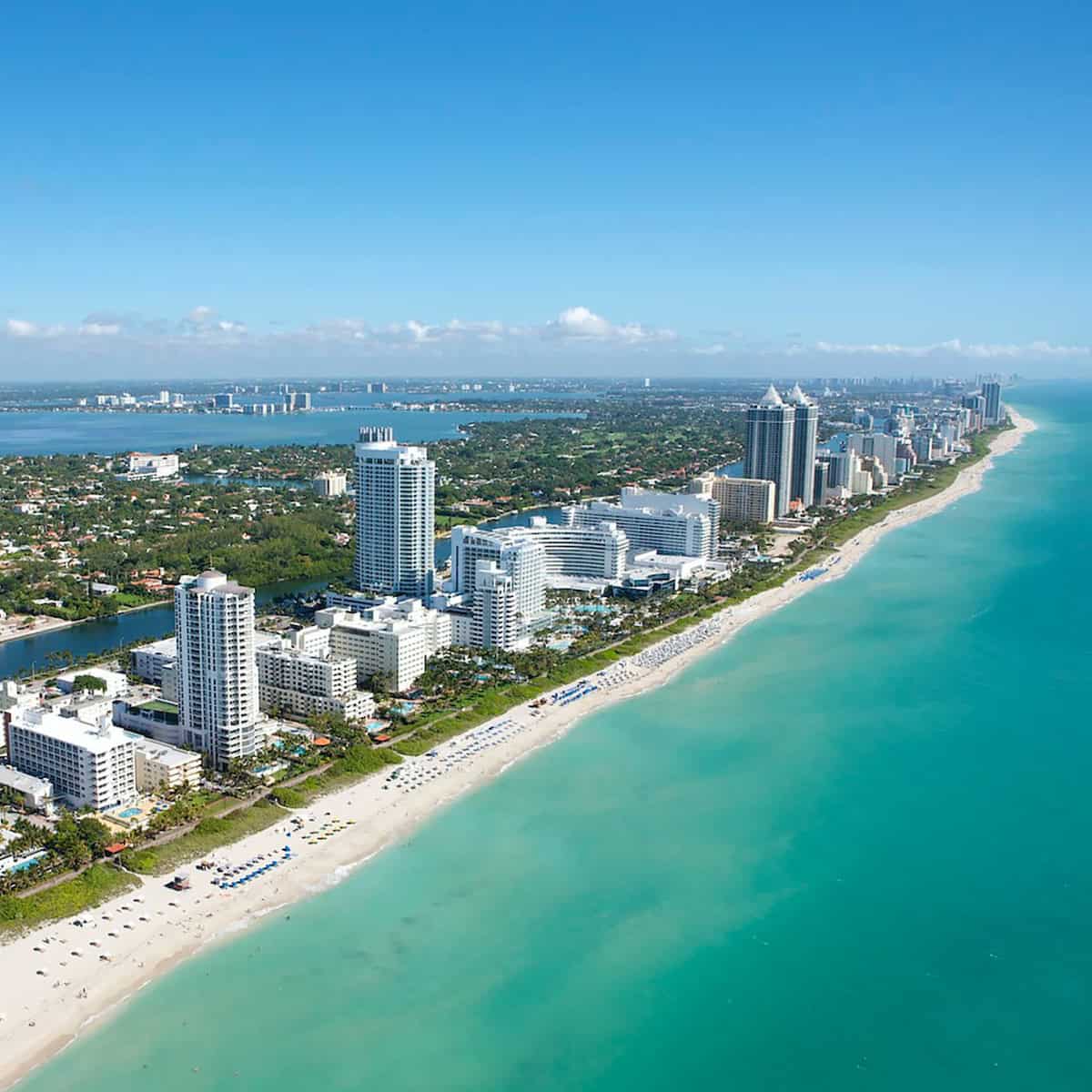 What To Expect in Miami
January
In January, Miami enjoys mild temperatures that are a far cry from the sweltering heat of summer.
The average high hovers around a comfortable 74 F (23 C), while the average low dips to about 60 F (16 C). It's weather that's perfect for a light jacket in the evening and beachwear during the day.
In addition to being the coldest month, January is one of Miami's drier months, with an average rainfall of about 1.7 inches.
If you're interested in visiting Miami at one of the most cost-effective times of the year and work or children in school aren't a burden, January is a good time. There are often great deals available.
While January in Miami can be cool, and the beach may not always be an option if a cold wave reaches South Florida, it's the off-season.
In the off-season, you can visit Miami's clubs, museums, zoos, and other attractions with fewer crowds and possibly better prices, including luxury accommodations.
There are also great events at this time of the year (especially in late January), such as the Miami Marathon and the famous Art Deco Weekend.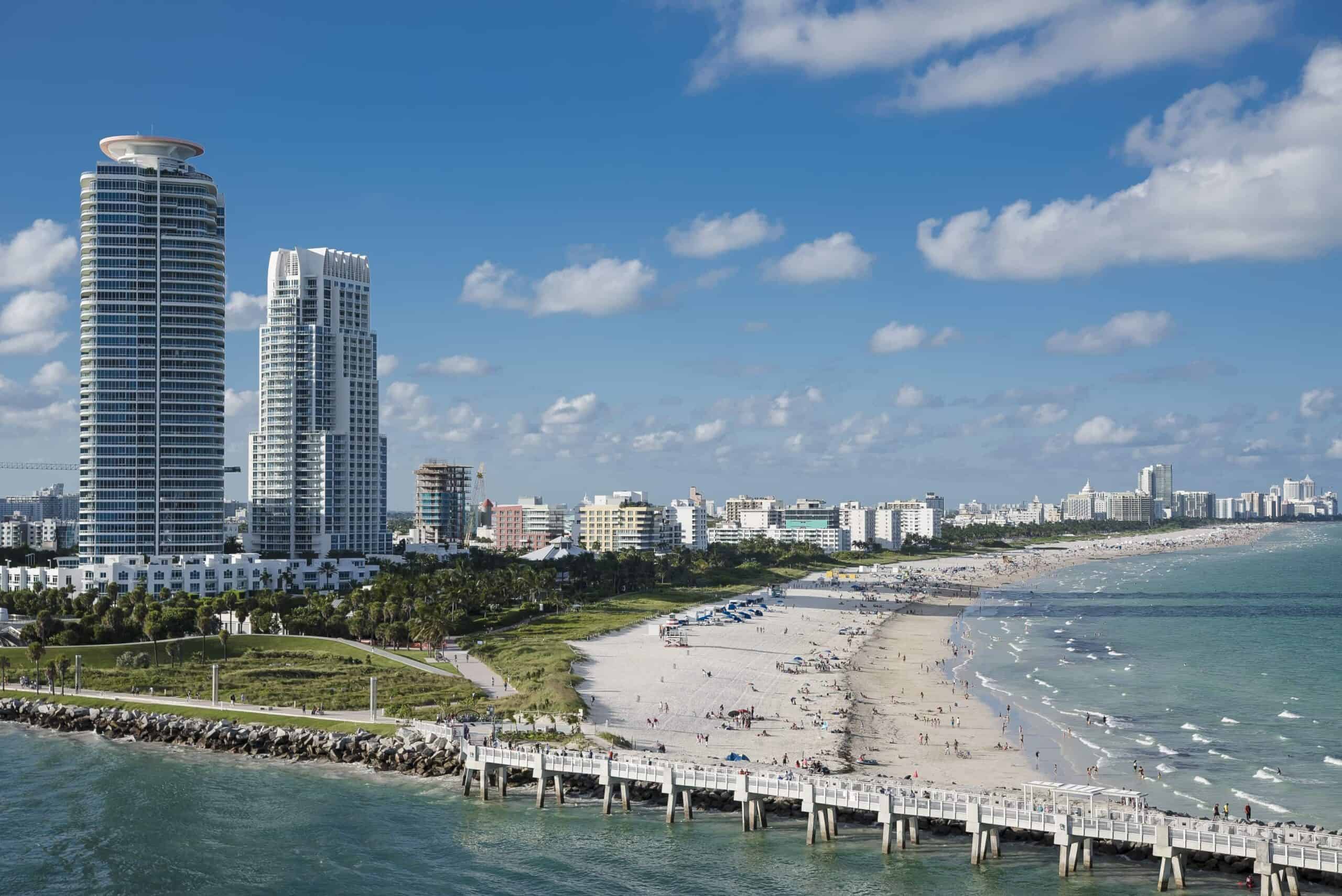 February
February continues the mild, pleasant weather trend, making Miami a winter escape haven.
Temperature-wise, you're looking at an average high of around 76 F (24 C) and an average low of about 62 F (17 C).
It's that sweet spot where you can still rock a swimsuit by day and maybe throw on a light sweater for those evening strolls along Ocean Drive.
As for rainfall, February is still in Miami's dry season, but it's a tad wetter than January. The average rainfall for the month is approximately 2.3 inches.
While you might see a few more clouds in the sky, rain showers are generally short-lived and often happen overnight or in the early morning.
So, your beach plans are pretty safe, and an umbrella is more of a "just in case" item than a necessity.
The South Beach Wine & Food Festival (SOBEWFF) is in late February.
March
The weather is nearly perfect in Miami and South Florida during the spring months.
From March to May, the Magic City starts to heat up in more ways than one, offering a blend of warm temperatures and a lineup of outdoor events that'll make you want to extend your stay.
The dry season is still in place, and temperatures are warm but generally moderate. This period has a low chance of rain, so it's a great time to get out and enjoy live music or a food festival.
March kicks off the spring season with average high temperatures around 78 F (26 C) and lows around 64 F (18 C). Rainfall is still relatively low, averaging about 2.3 inches for the month.
The month of March is known for world-famous events like the Ultra Music Festival and Miami Music Week.
April
April sees a slight uptick in temperatures, with highs averaging around 81 F (27 C) and lows at 68 F (20 C). Rainfall starts to increase a bit, too, with an average of 3.1 inches. April is the shoulder season.
It's often the best time of year to visit, with warm weather and outdoor events but without the days of rain that you can get in the wettest months.
While large crowds of college students on Spring Break impact the community, its adverse effects are minimal, like elsewhere in Florida.
The Miami Heat (basketball team) is winding down their season, while the Miami Marlins (baseball team) are getting started with theirs.
May
May is when you'll start to feel that Miami heat. The average high temperature climbs to about 85 F (29 C) and lows around 72 F (22 C).
As for rainfall, May marks the beginning of Miami's wet season, with an average of 5.3 inches.
While you might encounter more frequent showers during the rainy season, they're often in the late afternoon and clear up quickly, leaving you plenty of sunshine for daytime adventures.
Travel Tip: Save money in Miami with Go City. Buy a 1, 2, 3, or 5-day all-inclusive pass to enjoy tours, museums, and the Everglades at a discounted rate. Get your Go City pass here.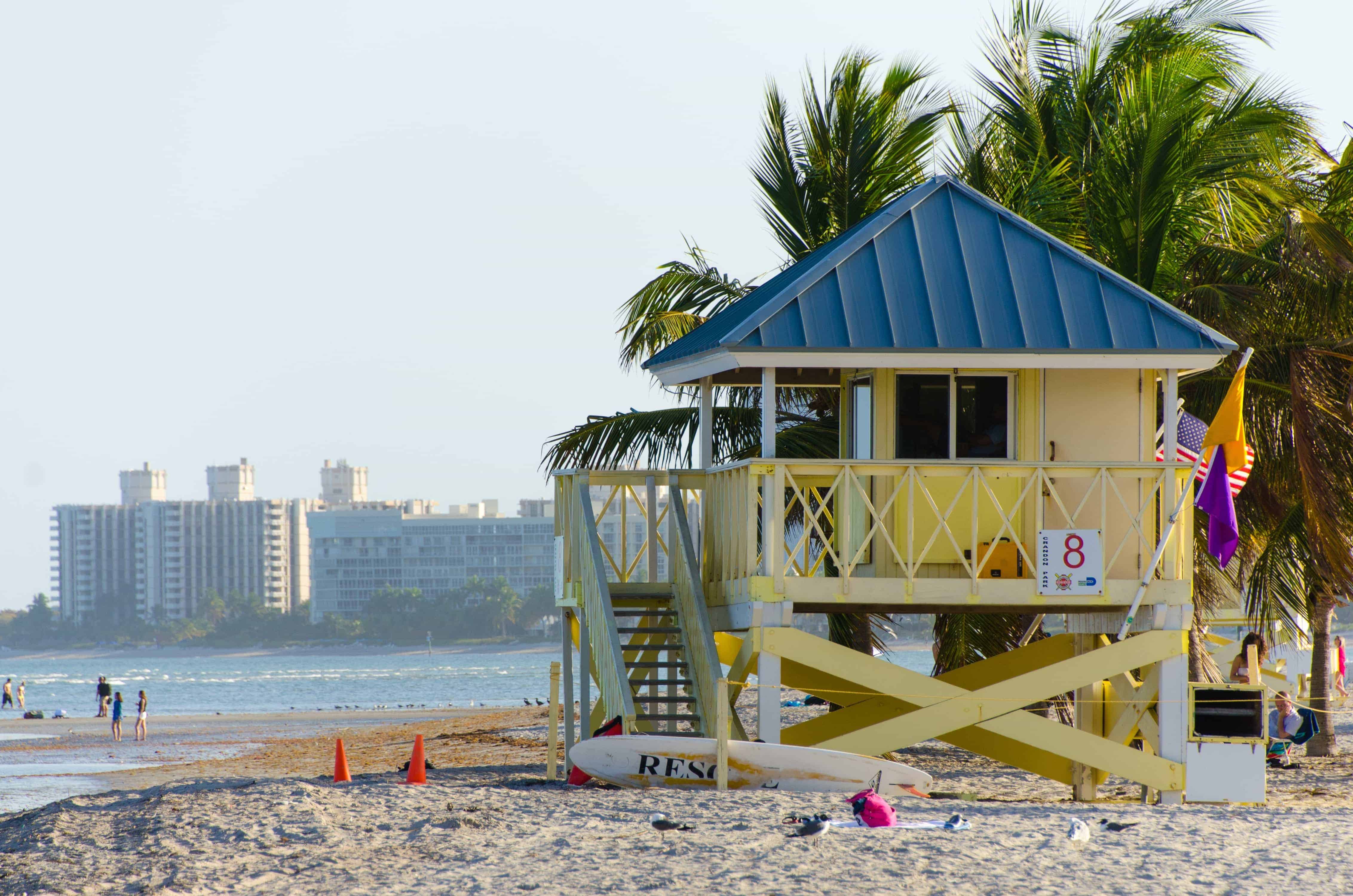 June
June is when Miami's wet season is in full swing. The average high temperature is around 88 F (31 C), while the low averages at about 76 F (24 C). Rainfall is significant, with an average of 7.4 inches for the month.
It's also the start of the Atlantic hurricane season in Florida. As temperatures are heating up, so does the tourist season and the number of events scheduled throughout the community.
South Beach is popping every night of the week, and the beautiful beaches are packed, making it perhaps the best time to travel to Miami.
The summer peak season is also the time when this city shines. Weekend festivals, art shows, and community events abound—you'll enjoy your time during this period, no matter your interests.
July
July is the hottest month of the year in Miami, so prepare to embrace the heat.
The average high temperature is a toasty 89 F (32 C), and the low is around 77 F (25 C). Rainfall averages about 5.8 inches
August
August keeps the heat coming with average high temperatures of 89 F (32 C) and lows around 77 F (25 C). Rainfall is a bit higher than July, averaging around 6.8 inches for the month.
The afternoons often feature brief showers or thunderstorms that are seldom cause to cancel plans, although you may need to adjust.
September
Fall is another opportunity for great deals, with terrific off-season pricing and exceptional availability of luxury accommodations.
The humidity in Miami's weather lessens, and locals begin to appreciate more moderate temperatures.
The average high temperature is around 87 F (31 C), and the low is about 76 F (24 C). Rainfall is still significant, averaging about 8.1 inches, making it one of the wetter months.
It's still hurricane season, but it's coming to an end. The beach weather is outstanding, and the crowds have begun to thin out.
The Miami Dolphins (football team) and college football's Miami Hurricanes start their seasons. Again, if your situation allows, this is a prime time to schedule a visit to the city.
October
October marks the beginning of the transition to cooler weather. The average high temperature drops to about 84 F (29 C), and the low hovers around 72 F (22 C).
Rainfall decreases to an average of 6.3 inches, and you'll start to feel the high humidity lifting.
Related: Underrated U.S. Cities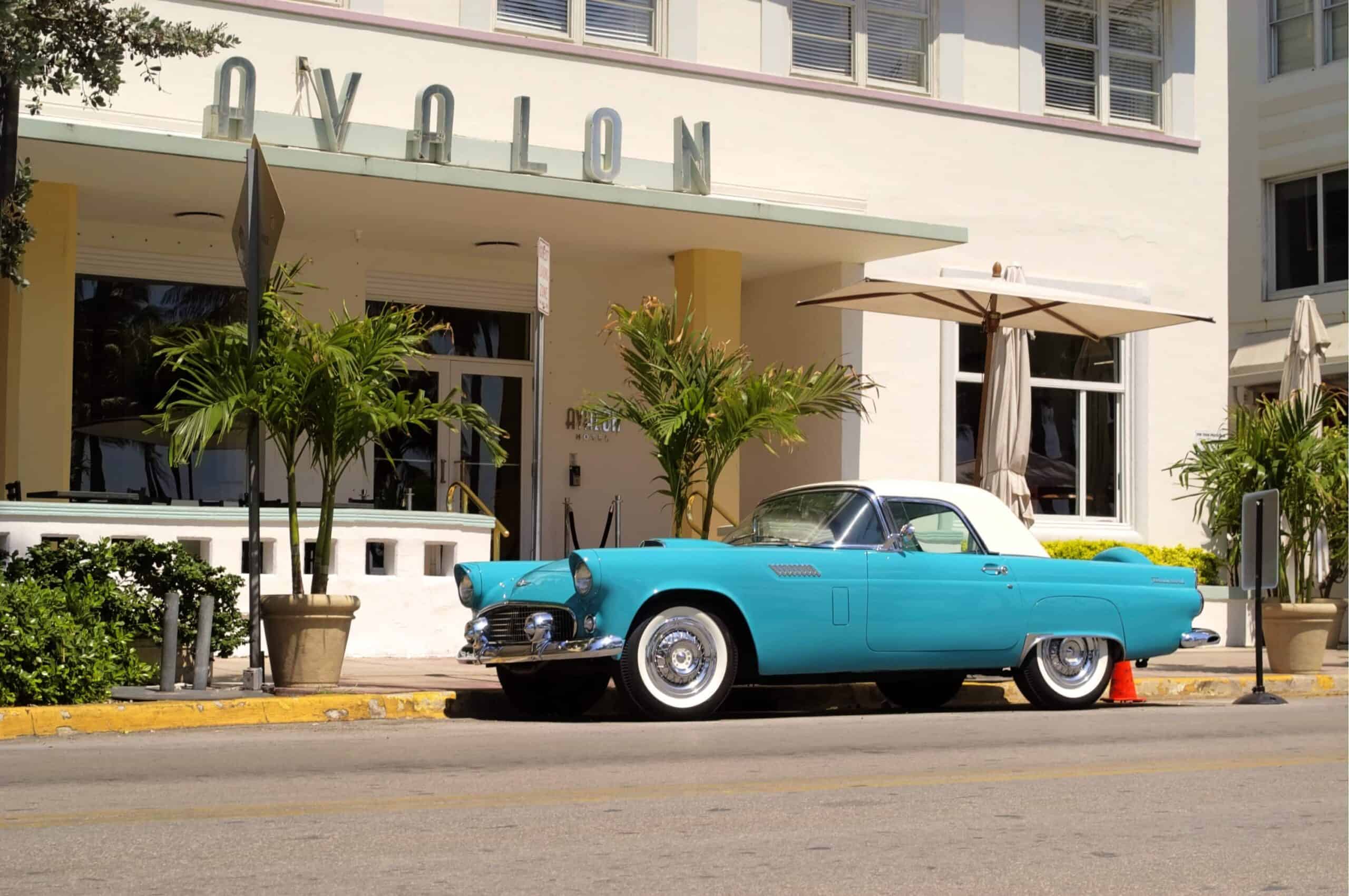 November
There are good values to be found toward the end of the year, but visitors and rates increase as the holidays approach.
The average high temperature is around 78 F (26 C), and the low dips to about 66 F (19 C). Rainfall drops significantly to an average of 3.3 inches, making it an excellent time for outdoor activities and al fresco dining.
December
December is one of the most pleasant months to visit Miami.
The average high temperature is a comfortable 75 F (24 C), and the low is around 61 F (16 C). Rainfall is at its lowest, averaging just 2 inches for the month.
One of Miami's major cultural events of the year, Art Basel Miami Beach, takes place in early December, and the Christmas season is hectic.
Plan for the accommodations you desire during this time, and you shouldn't be disappointed.
If you're arriving from a colder climate, the combination of shorts, sandals, holiday decorations, and palm trees can be both disorienting and enjoyable.
Conclusion
Alright, folks, let's wrap this up! When it comes to the best time to visit Miami, the answer depends on what you're looking for.
If you're all about that sun and surf, the summer months are your jam. Just be prepared for higher prices and bigger crowds.
On the flip side, the winter months are a solid bet if you're looking for milder temperatures and fewer people.
Miami is a city that thrives all year round, each season offering its unique vibe and set of activities.
From the high-energy events of March's Ultra Music Festival to the cultural richness of December's Art Basel, there's always something happening in the Magic City.
So, when's the best time to visit Miami? Well, whenever you decide to go, know that Miami is always ready to show you a good time.
Just pack according to the season, keep an eye on event calendars, and, most importantly, bring your sense of adventure.
With its year-round moderate temperatures and vibrant lifestyle, Miami is always a good idea.
______
This story was published in partnership with Luxury Rentals Miami Beach.
This post was written by a guest contributor. Please reference the author's byline in the post above for more information. If you would like to guest post on Go Backpacking, please read our submission guidelines. For information on advertising opportunities, go here.
Planning a trip? Go Backpacking recommends: