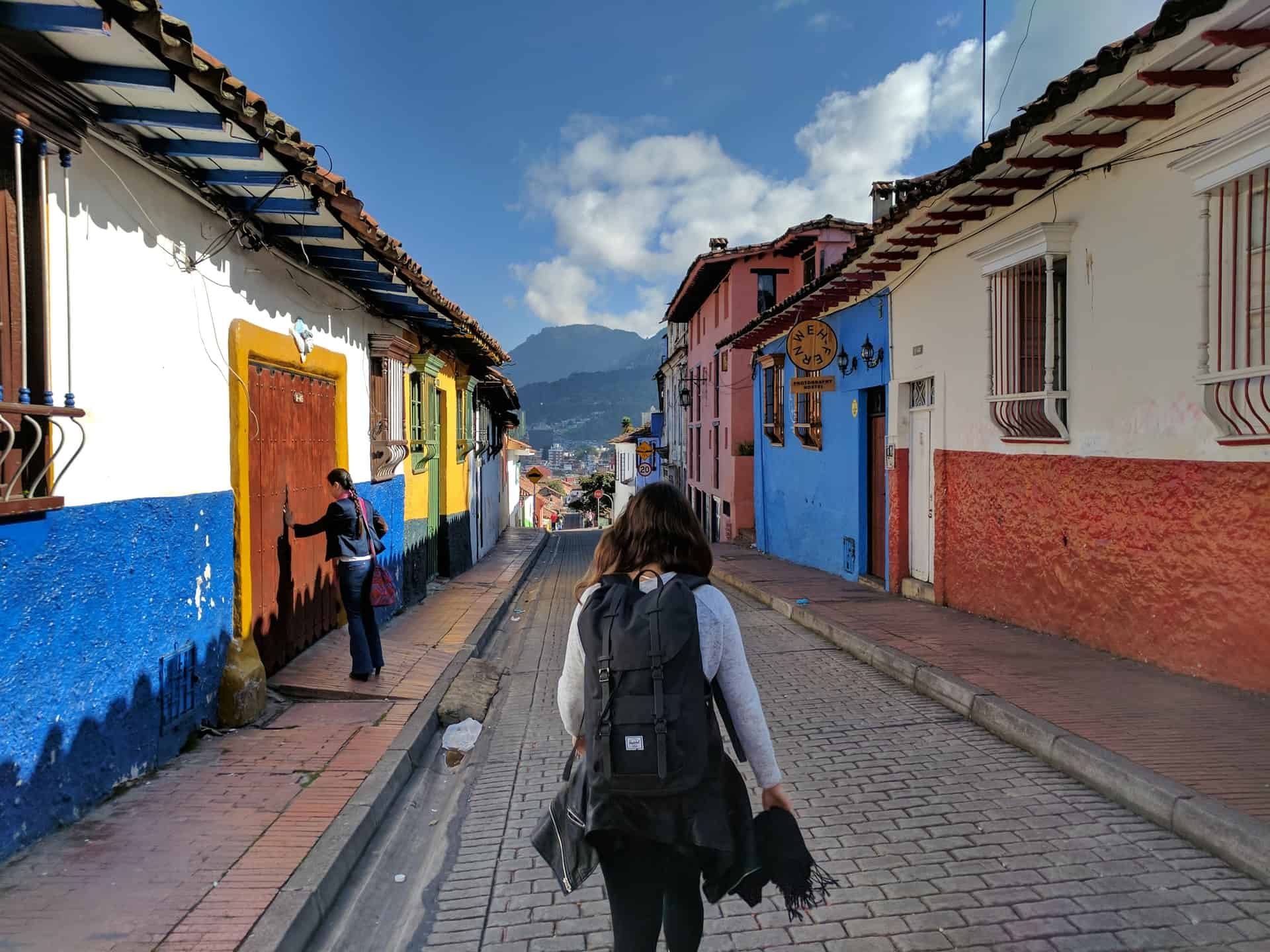 Buying a new backpack is a challenge for all travelers. You want a sturdy material that doesn't wear and tear while hiking and can withstand a decent amount of rain.
You need to look for the correct size as a bag with little room for all your stuff is a waste of money, but it would be difficult to carry around if it's too big.
Whichever backpack you end up choosing, you have to carry it on your back. And since men and women are not built the same way, the weight of a backpack is distributed differently across their bodies.
So if you are a woman buying a backpack for the first time or replacing your old rucksack for new adventures, you can factor in these differences to make a better purchase.
Do women need a different backpack? Or is it just a marketing gimmick created by travel gear companies to appeal to women wanderers- a profitable market segment?
Many women hikers would scoff at the idea of women backpacks and feel that companies are imposing their ideas of femininity on them.
But the differences between men and women's backpack goes beyond feminine colors. Let's take a deep dive and understand.
While the same fearless spirit fuels their intrepid adventures, there is a difference in the way men and women carry weight on their backs.
Men have wider shoulders and a longer torso, while women have narrower shoulders and a slender torso.
Also, women have a stronger lower body. So when they put on a rucksack, men tend to carry more weight on their shoulders, while women balance more weight around their hips.
Considering these differences, there are a few modifications in the design for women-specific backpacks, making them a better purchase for women travelers.
Differences in Design
S-Shaped Shoulder Straps
Backpacks designed specifically for women have different shoulder straps. The straps are curved and set closer together to give a better fit to their narrow shoulders.
Whereas unisex backpacks or backpacks for men have J-shaped shoulder straps. These straps would fall in the middle of the chest of the wearer.
The J-shape straps can be uncomfortable for women with fuller breasts, which get painfully squished with such straps. Loosening the straps doesn't help much because the backpack would move from side to side while walking.
That's why backpack makers came up with S-shaped straps that are suited to the feminine contour.
Men with an athletic build would also appreciate these curved straps, allowing for more movement around the armpit region.
Hip Belts
Women's hips are curvier and have a greater weight-bearing capacity as compared to male bottoms. Their waists also have a smaller circumference.
A backpack is designed to place more weight on the hips than the shoulders is more comfortable for a woman while hiking or climbing.
That's why the hip belt of backpacks for women is narrower than other backpacks. The straps have more padding to prevent the narrow straps from causing discomfort while walking.
The straps are flared upwards, so when you put them on, they get appropriately placed on your higher hip bones.
Torso Length
The torso of an average woman is shorter than the torso of an average male. So a backpack of shorter length, covering the torso but not going beyond it, is better for their physique.
Whether you are a man or a woman, your backpack should not bob over your head or sag down below your hips.
It would be uncomfortable to put it on and move around, and it could also lead to aches or injuries. That's why you shouldn't head to a store and simply buy the biggest bag available.
If you are a woman, buying a women-specific backpack in the required capacity would be more suitable for your body.
Backpack or Suitcase: Which One Should You Buy
It's not that we don't like suitcases. They are great for a short trip or staying at one destination for a long time.
But if you plan to circumnavigate the world (or haul long distances), then a backpack is the right choice for you.
You won't have to plan your trip worrying about your luggage- you can be in a luxury Airbnb one day and on a hiking trail in a village the following day. Your backpack is equally suitable for the cobbled roads of European destinations as it is for the rugged Himalayan landscape of Nepal.
Your hands would stay free, so you can use your Google Maps to locate your hostel. And with the backpack on your back and your carefree adventure, you could officially call yourself a backpacker.
You also won't have to wait at the baggage claims area if you are traveling with a backpack. You don't have to worry about traveling on a bus as you could simply keep your bag with you. You can easily take it up on a flight of stairs or get on an escalator. You can squeeze it in a tiny space or climb a hill carrying it.
You don't have to worry about dragging a backpack on an uneven surface and wearing down the wheels. Backpacks are also quite rugged and can withstand years of exposure to elements of nature.
While the pros favor a backpack, you could always depend on a suitcase if you are going on a short trip to a comfortable location.
Many folks don't want to haul a backpack due to existing issues like backaches. In that case, it's easy to find lightweight suitcases which are great to travel with.
If you are a business traveler, then a suitcase would go better with your professional persona (and keep those formal dress-shirts unwrinkled).
How to Choose the Best Travel Backpack?
With the wide variety of travel backpacks available, buying your first backpack is puzzling. Apart from the women-specific features that you should look for, there are essential considerations to make.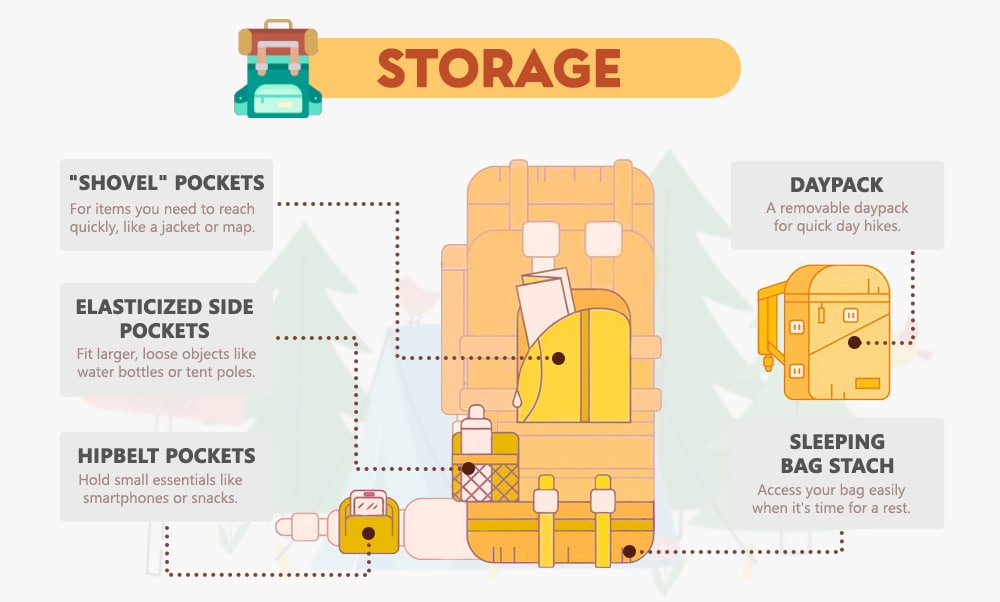 Size or Capacity
The backpack size is the first thing that you need to look for. You can't have a backpack that's too small to hold all the things you need for your trip.
An over-packed bag is difficult to carry, and packing too much stuff also overly stretches the material and ruins the zips.
You can't buy a backpack that's so huge that it towers over your head. It's very uncomfortable to balance such a bag, and it is terrible for your back.
Also, there is a maximum weight that all of us can carry, depending on our body weight and height.
So basically, we are talking about a bag that fits everything you need for the duration of your trip.
If you don't like to travel for more than a couple of days, you don't have much to worry about here. But if you are in for long adventures, then we have more to discuss.
You need a spacious bag that can hold everything together and still has some extra space left but is not bigger than you or weighs you down.
Here is a guide that can help you decide the correct size.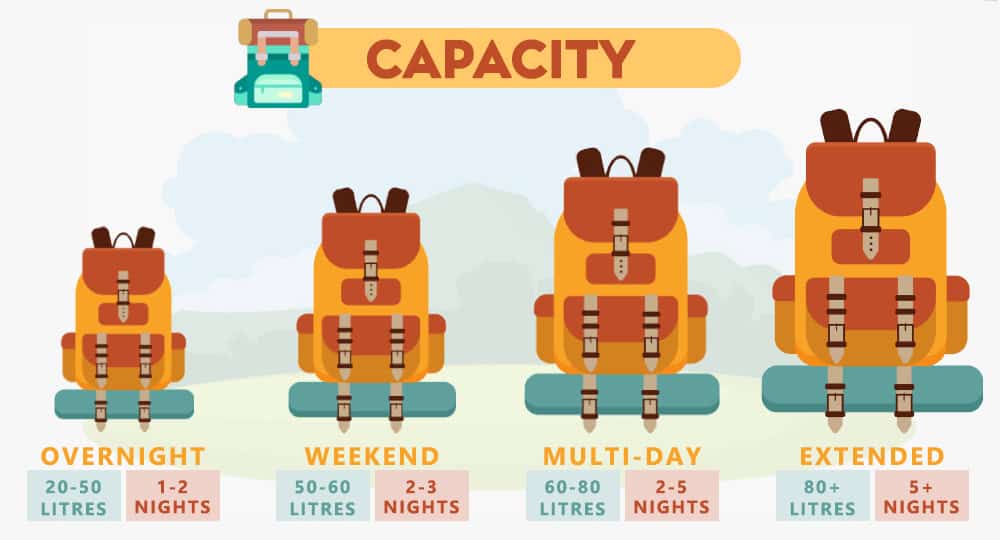 Daypacks
20 to 30 liters
If you believe in packing light and are heading out for a day hike, a daypack will serve you well.
The size accommodates enough for one to two days if you prefer to pack sensibly. Daypacks are great for night camping or desert hikes.
A daypack comes with straps to fit your camping gear. And it has enough space and multiple zip enclosures to store a two-liter hydration pack, food items, first-aid box, space blanket, and light insulation layers.
You can also utilize your daypack for other purposes- you can take them to your office, gym, or when you need that a spacious bag for picking stuff from a store.
10 to 20 liters
This daypack is strictly for light-packing for a one-day trip. It has sufficient space for your food, water, emergency essentials, and light-weight clothing.
Less than 10 liters
This backpack is suitable for storing your hydration pack and a snack for a small hike or a long run or keeping your extra stuff accessible when you are on a trip.
Backpacks For extended trips
While daypacks are great for a one-day adventure, you need a larger backpack for longer journeys.
40 to 50 liters
These backpacks have enough space to store all the things you need for a 4 to 5-day trip.
They could also be used for hiking or camping, as they can easily hold your sleeping bag, a two or three-person tent, mattress, your clothing and personal items, and the foodstuff you need for the adventure.
50 to 60 liters
These backpacks are more spacious, so if you like to carry extra stuff for comfort or your tent or sleeping bag is heavier, then it could be the right choice for you. You can keep more clothes or more food based on your plans.
And for an average man or woman, the weight and the bag's size would be suitable enough to carry around.
For a hardcore adventurer who knows what to pack and what not to, a 60-liter backpack is enough for a couple of weeks.
(Then, some folks live several months out of their bags! But that's a territory not all travelers would charter, yet one can take cues from these folks on utilizing a backpack.)
70 liters
A 70-liter backpack means more space, which means you can keep more stuff. But more stuff would lead to more weight.
So you need to size yourself up and see if this bag goes well with your physique and body weight. Buy it only if your body is capable of carrying it, whether you are a man or a woman.
More than 70 liters
This backpack is strictly for folks who do some kind of trail work, like hauling supplies to a base camp and beyond.
Unless you are tall, well-built, and physically strong to carry heavy loads, we would not recommend a backpack this huge.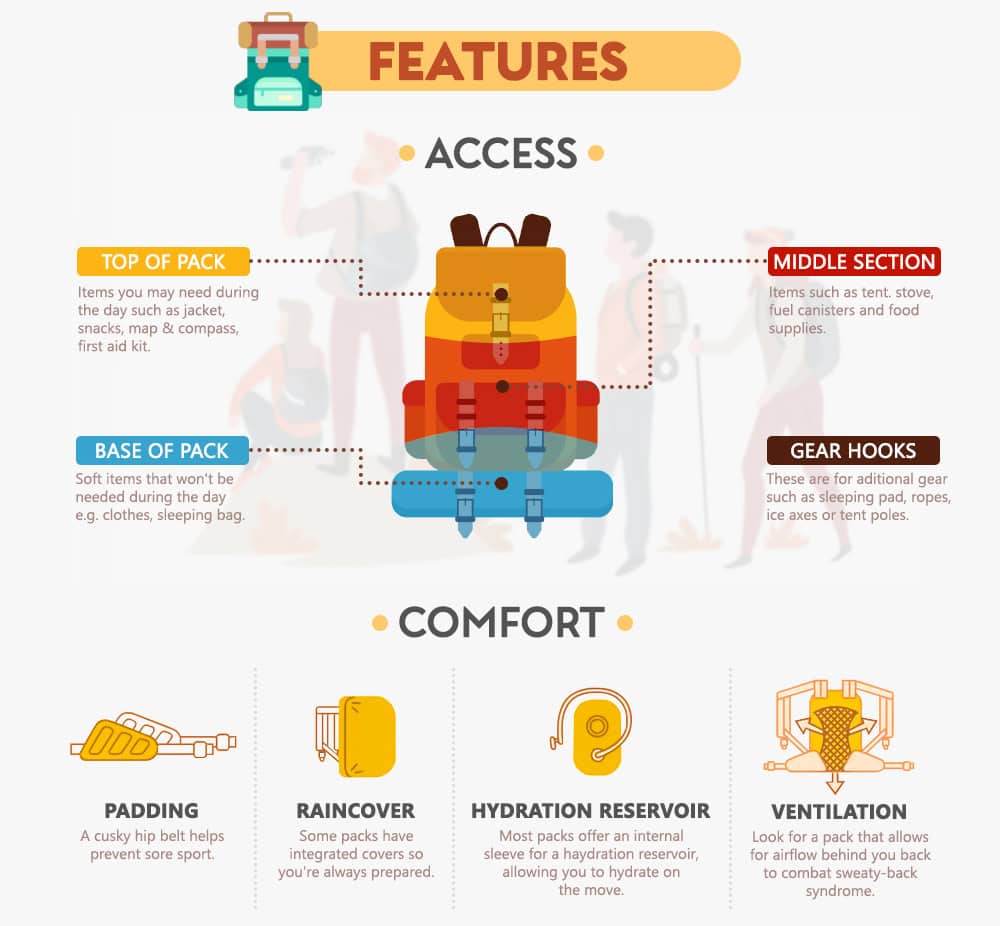 Features
Many brands such as Kipling, Loungefly, UTO, Adidas, Motile, and such make backpacks with many features. Check some important features you need to see in your next bag.
Top-loading vs. Front-loading
Top-loading backpacks have a drawstring on the top. Hiking-style packs are usually top-loading.
The top opening is excellent for shoving down your sleeping bag and accommodating all your clothes and stuff around it.
But if you plan to vacation in a city and pack your outfits in a top-loading backpack, you would have to empty your whole bag to find your favorite skirt and that cute blouse.
You could opt for a front-loading backpack with a long zip-enclosure on the front for such trips. It makes packing and locating your clothes a lot easier.
What's better is that you can also find bags with a top as well as a front enclosure. Such bags would give you the freedom to top-load or pack from the front so that you can use the same bag for hiking and the trip with your girls!
Other variants are panel or clamshell loading backpacks.
Front-loading bags have a long zipper for opening the bag, but a panel loading backpack lets you open a front panel or a flap. This makes it easier to pack and essentially gives you the convenience of loading your backpack like a suitcase.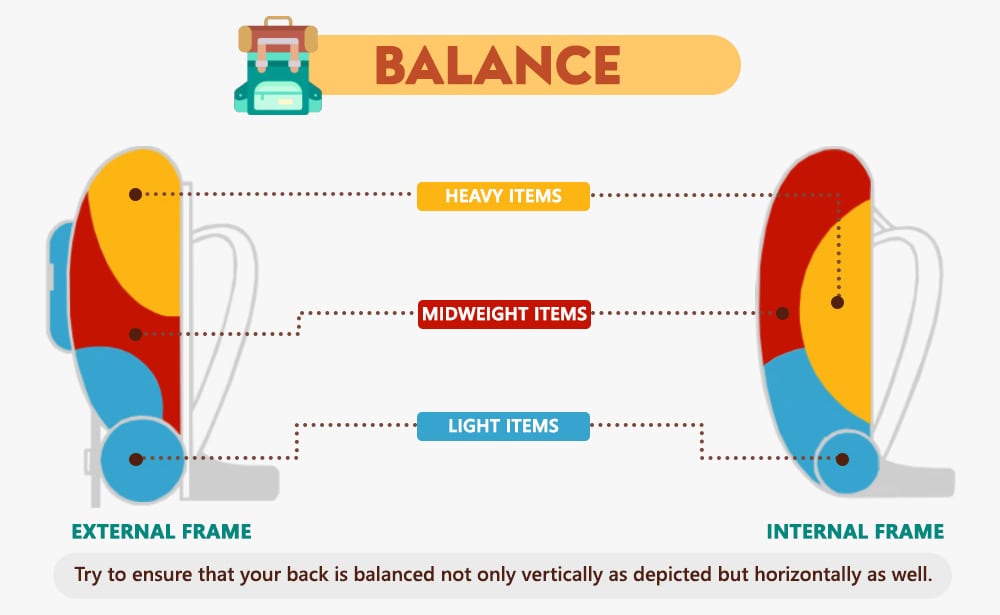 External Frames vs. Internal Frames vs. Frameless
External frame backpacks are heavy and are suitable for carrying a hefty load with lots of gear.
You won't see many adventurers with these as external frames have become obsolete, and makers have come up with better, lightweight alternatives.
Even if you get inspired by the travel movies of yore, don't invest your dime in an external frame pack.
Instead, opt for a backpack with an internal frame. Nowadays, most packs come with an inner structure that distributes the weight properly over your back and hip.
The internal frame is built of carbon or strong plastic, making it lighter than those old external frames. Also, there is no risk of the bag getting caught on anything.
There is also an option of buying a frameless backpack. They don't have a supporting structure in place, so they are helpful only for travelers who pack pretty light and move quickly.
Frameless backpacks are often equipped to keep your back cool and sweat-free, and they can be easily squeezed into a suitcase.
External Water Bottle Pocket vs. Internal Hydration Pocket
If you prefer to carry a water bottle on your trips, then you should look for deep pockets on your backpack. Many low-quality or cheap variants have shallow water bottle pockets.
Frankly speaking, these don't serve any purpose as your bottle would easily pop out while you are walking around with your backpack.
Most hikers and travelers prefer a hydration pack over carrying a water bottle. That's primarily because they hold two liters of water (more than your average water bottle), and you can easily sip water from its pipe, even as you walk.
While if you carry a bottle, it's a bit of a pickle to take it out from the pocket and thrust it back again after drinking.
If you are more comfortable with a hydration pack, you can look for a bag with a separate pocket for it.
Many bags have this feature, along with a port and a clip that holds the water tube in place so that you can sip water without stopping in your tracks.
Back Ventilation
No woman (or a man either!) would feel comfortable after getting swamped with sweat on their backs after walking or hiking with their backpacks.
Many companies use open-cell foam and mesh lining on the back and shoulder straps to make the backpacks more breathable. This feature doesn't improve the backpack's overall performance, but it increases the comfort factor.
Padded Shoulder Straps
When you load your bag and put it on your shoulders, the shoulder straps weigh your shoulders down. If the straps are thin, they will cause significant discomfort to your shoulders.
You should always look for padded shoulder straps as they even spread the weight on your shoulders, make you feel comfortable, and last longer as well.
Sleeping Bag Compartment
While you can easily pack a sleeping bag inside a rucksack with more than 50-liter capacity, a separate sleeping bag compartment would simplify the whole packing process.
Lockable Zippers
Each compartment of your backpack should have two zippers so that you can put a lock on them. You can always buy TSA locks with a special valve that TSA can open to check your bags.
Removable DayPack/ Hipbelt
Some backpacks come with a removable part that can turn into a daypack or a hip belt. If you plan to leave your luggage behind and roam around the town for a day or set a base camp at a place to do day-hikes, you don't need to take an extra small bag with you for the purpose.
You can simply use the detachable part to keep your wallet, water bottle, snacks, and other essentials.
Contoured/ Padded Back
A contoured or lumber-shaped back is comfortable to carry. And the shape of the bag leaves a space between its material and your back, allowing your back to breathe freely.
Compression Straps
These are useful for compressing and holding together your gear and temporarily attaching any other item.
Drawstrings/ Bungee Ties
You can use these to hold and carry the items you don't want to keep inside your bag, like your sleeping bag or dirty shoes.
Rain Cover
While a backpack can bear some moisture, you need a rain cover to protect it from the pouring rain. Many packs come with a rain cover and a pouch or a flap to store it so that you don't have to buy one separately.
Pockets
A bag cannot be 'the bag' unless it has multiple organizational pockets. An ideal rucksack should have numerous pockets at strategic locations so that you don't have to dump everything in the main compartment and empty the whole bag to search for something important.
Outer pockets – To store small, lightweight items that you would not want to keep inside the main compartment.
Elasticized side pockets – Pockets that are stretchable and deep, used for holding water bottles or any other object.
Shovel pockets – A shovel pocket is rugged enough to store gears with sharp surfaces. These pockets are located on the backside of the pack, and you can keep your layers or crampons inside them and take them out quickly.
Hip belt pockets – To snuck in stuff that you need quick access to, like your energy bar or sunscreen. You can take them out without off-loading your backpack.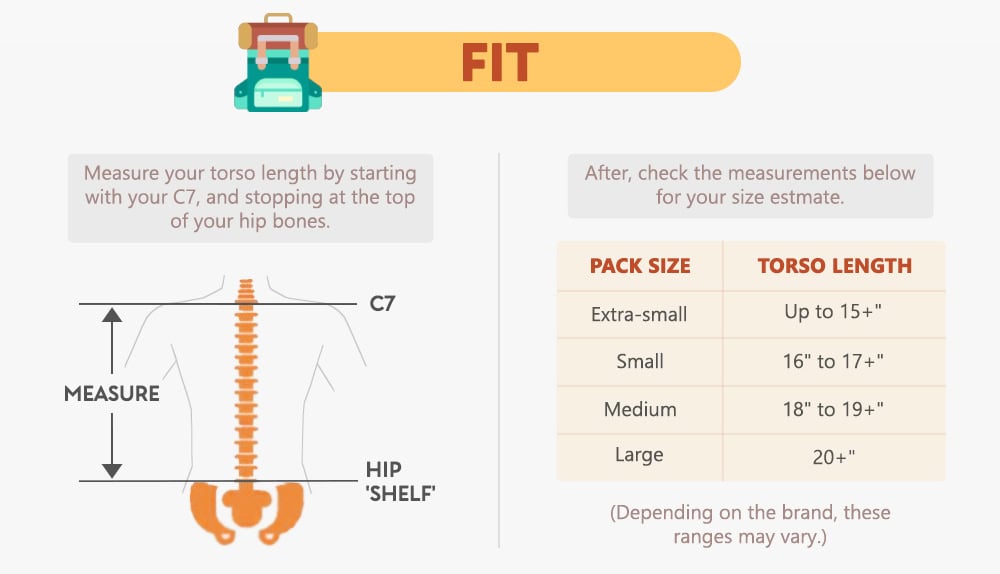 Fit
We have discussed how backpacks made for women are designed to give them a better fit. The backpack fit plays a crucial role in ensuring weight distribution and comfort.
To get a good fit, you should get yourself measured. Ask a friend to measure your torso.
You can place your hands on your waist just above your hips and have the distance between these areas to the base of your neck measured. Most women have a torso length of 14 to 18 inches.
Since backpacks are available in many sizes, you can use your measurements to compare and choose the right size for your back.
You could also go for a backpack with adjustable suspensions if you find yourself confused between bag sizes.
Hip Belt Size
Since women carry more weight on their hips, they should pay extra attention to the hip belt size.
Women with a slender waist and smaller hips might find the hip belts of unisex or men's backpacks too big for them. That's why women's backpacks have smaller hip belts to fit the female form.
To ensure that the hip belt has a good fit for you, you can take your hip measurements before you purchase a backpack. Remember that the hip belt should cover your hip bone and not your waist, so you need to measure yourself accordingly.
Also, look for padded hip belts for extra comfort. After fastening the padded hip belt, there should be a gap of three to six inches between the belt's padded areas (over the buckle).
This will ensure that the belt is neither too loose nor too tight for you, and you won't have trouble while traveling with your backpack.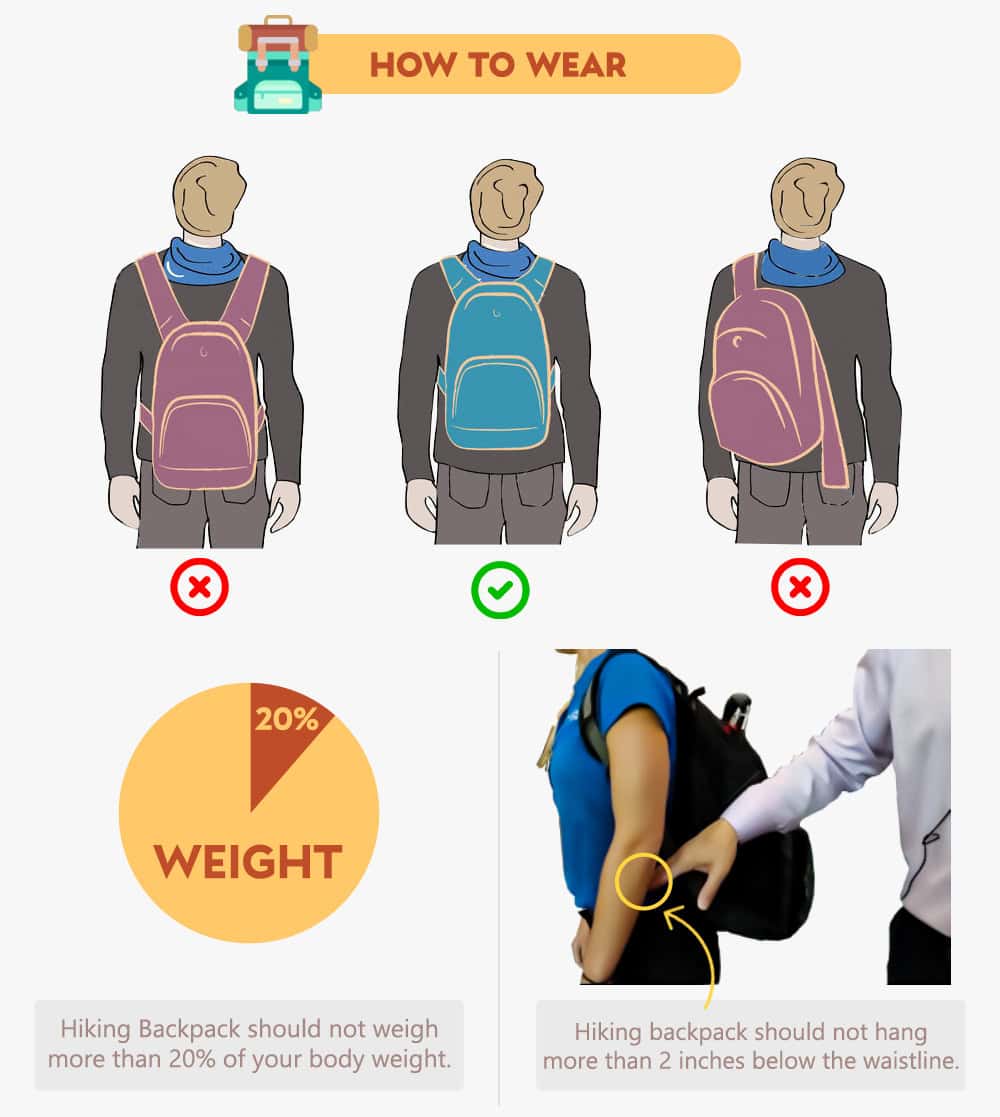 Weight
Any man or woman should not carry more than 20 percent of bodyweight. For example, if you weigh 60 kgs, your backpack's total weight should be around 12 to 14 kgs.
Always buy a lightweight backpack in your desired capacity to maintain the total weight of the backpack.
***
Before You Wander Away
Buying a new travel backpack is exciting as well as daunting, as a wrong purchase might spoil your travel experience.
If you are a girl gearing up for her next adventure, remember these tips before you head out to purchase a new backpack for yourself.
We would also suggest you buy or order from a store with an easy return policy- so that you can pack the new backpack, put it on and ensure that it's comfortable before you hit the roads.
______
This story is brought to in partnership with TopOfStyle.com.
Planning a trip? Go Backpacking recommends: