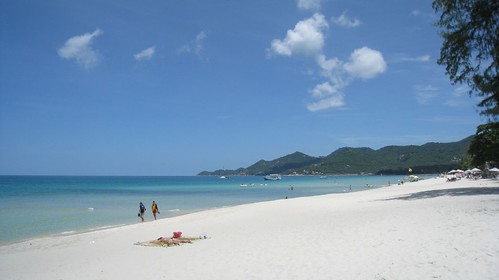 I took an overnight, double-decker bus filled with backpackers from Bangkok to Surat Thani.
The bus-ferry combination was $14, half the cost of the train-ferry option, and more readily available, so I went with it.
I got a few hours of sleep during the ride. I found the provided blankets necessary given the air-conditioning, which was kept cranked up the whole way.
I was sitting next to a nice Australian woman who was previously mistaken for a ladyboy by a drunk old white guy while waiting to be shown to the bus from Khao San road.
I witnessed the awkward exchange and felt bad for her.
Around 6 am, eleven hours after we began our journey, the bus dumped us off at a small outdoor cafe.
The cafe was a staging ground for people to be shuttled to various connections depending on their ultimate island destination.
After watching someone ride off on the back of a scooter, and a gaggle of people headed for Phuket pack into a pick-up, a giant luxury bus pulled up for those of us headed to Koh Samui.
I grabbed a seat in the lower-level lounge, which was fit for a rock star.
What I expected to be a short ride turned into another hour of driving. Along the way, we filled up the bus with more of the Koh Samui bound.
The bus pulled right onto the pier, so it was only a few steps to the waiting ferry. Another one and a half hours later, the ferry stopped at Koh Samui.
Next, it was into the back of one of the modified pick-ups with the bench seating. These cool contraptions are the cheapest way to shuttle yourself around on the islands.
Air-conditioned taxis are too costly, and I have no intention of learning how to ride a scooter after seeing the walking wounded upon arrival in Bangkok.
I hopped off at Chaweng Beach, the busiest area on the island.
I found a bungalow along one of the beach access roads, dropped off my stuff in the room, and before checking in, walked out to the water for my first view of a Thai beach.
It was truly picture-perfect.
Dave is the Founder and Editor in Chief of Go Backpacking and Feastio. He's been to 66 countries and lived in Colombia and Peru. Read the full story of how he became a travel blogger.
Planning a trip? Go Backpacking recommends: